Businesses can benefit from making step-by-step guides because they give employees clear steps to follow and help them be more efficient and productive.
Research shows that following directions makes it more likely that you will finish a new task successfully. However, creating these guides is frequently time-consuming and difficult.
In this blog post, we'll show you how to make simple step-by-step guides in minutes using simple tools and templates. With our step-by-step guide, you'll be able to quickly and easily create high-quality guides, giving you more time to focus on other important tasks.
So, don't wait any longer; let's get started creating those guides!
What is a Step-by-Step Guide?
A step-by-step guide is a set of instructions that break down the steps needed to complete a specific task. In a business setting, these guides are often called standard operating procedures (SOPs).
An SOP tells employees how to do different business tasks in a way that is consistent with the organization's policies. Businesses often distribute SOPs and guides electronically. Electronic guides are easy to create, edit, and share among staff.
If there aren't step-by-step guides, employees may have to try things out on their own or ask others for help, which can lead to mistakes and wasted time.
Also, step-by-step instructions can help train new employees because they give them a way to learn how to do their jobs in a structured way. 
Without step-by-step instructions, new employees may struggle to get up to speed, affecting their productivity and the overall efficiency of the business.
Why Your Business Needs Step-by-Step Guides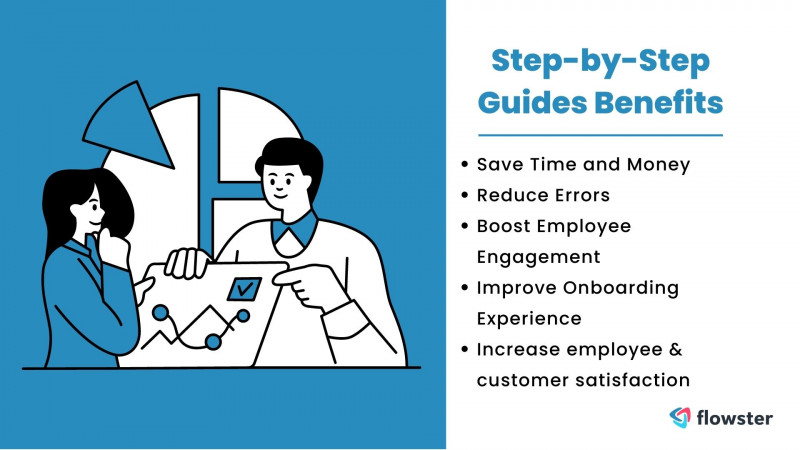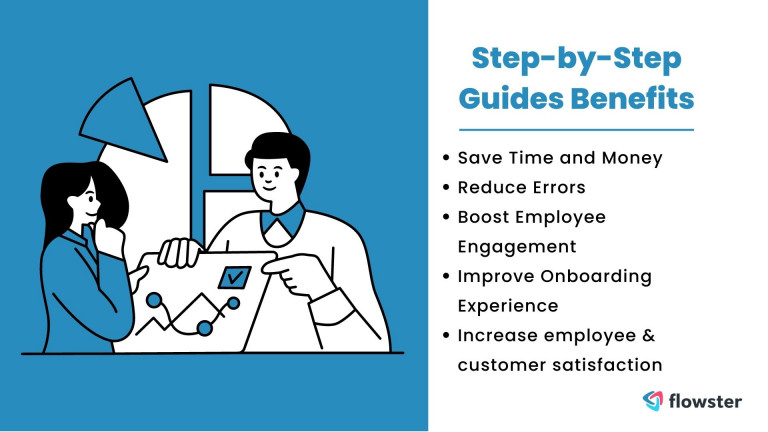 SOPs are beneficial for businesses in all industries. Some of the advantages of using step-by-step guides include:
 

Saving time and money

 

Reducing errors

 

Boosting employee engagement

 

Improving the onboarding experience

 

Increasing employee and customer satisfaction
Using step-by-step instructions helps improve the efficiency of your operations. It saves time, energy, and money in several ways.
Guides eliminate the need for direct instruction from a superior. Workers can receive the information that they need from the guide instead of going over each step with a supervisor or manager. Fewer people are directly involved in a task, which makes the independence that a guide provides more useful.
Following a guide also improves efficiency by reducing errors. Workers are less likely to make mistakes when following clear, step-by-step instructions. Avoiding mistakes that result in penalties or loss of business also saves money.
Fostering a more efficient work environment may also improve employee engagement. When people work in a chaotic or disorganized place of business, they are often less engaged and less productive. Providing clear instructions helps create a more harmonious environment and increases collaboration.
You may also improve your onboarding experience. Use guides to improve your onboarding process and build stronger relationships with employees and customers.
How to Make Your Own Step-by-Step Guide
If you are interested in making a step-by-step guide from scratch, you may not know where to start. Here are the steps to creating your own guide from the ground up.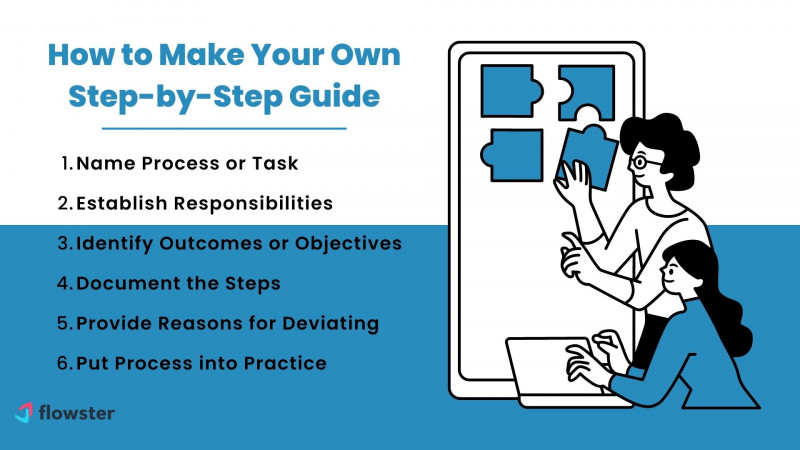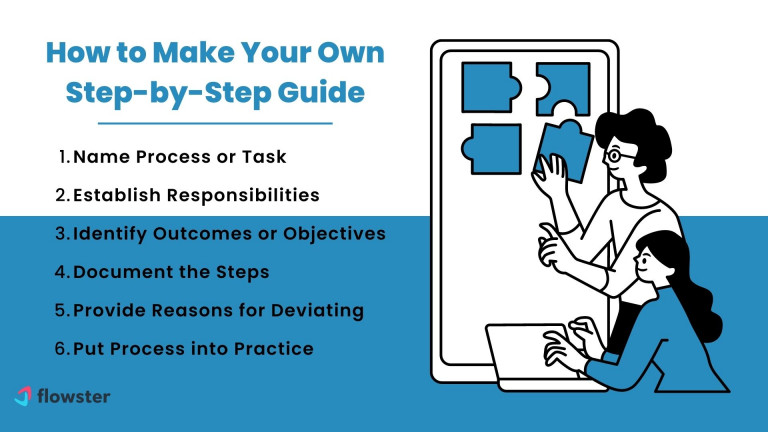 Step 1: Name the Process or Task
Use a word processor document or spreadsheet to outline your guide. Start by naming the process or task that you want to document.
Step 2: Establish the Individuals or Departments Responsible
List the individuals or departments responsible for the process or task. Identifying the responsible parties helps improve accountability, which makes people more likely to follow the guide.
Step 3: Identify the Ideal Outcome or Objective
Identify the preferred outcome for the process or task. An ambiguous objective may keep workers from fully completing a task. You need to provide a specific or measurable goal.
You should also provide estimates for the ideal timeframe for completion. Workers should understand how long a task should typically take to ensure that it is completed within a reasonable timeframe.
Step 4: Document the Steps with All Required Details
Create a list of each step needed to complete the process or task. Start with gathering the required resources, which may include people, equipment, or supplies.
Create a rough outline of the workflow for completing the task. Break the task into as many steps as necessary.
After creating the outline, go into as much detail as necessary. Each step should have clear instructions and give you access to all the information you need to finish the job. You may need to add links to extra content, such as URLs for websites, images, charts, graphs, and other content.
Step 5: Provide Potential Reasons for Deviating from the Steps
Some tasks may have more than one way to do them or more than one possible outcome, which can cause workers to go off course. In these cases, you need to make branching steps that explain why they are different from the first steps.
Explain any situations in which workers might need to use a different process, skip a step, or ask for more help.
Step 6: Put the Process into Practice
After documenting the process, put it into practice, and continue to monitor its use. Using a step-by-step guide makes it easier to track and measure the success or failure of your current practices.
Continue to look for ways to increase efficiency and improve your workflows. Along with the data that you collect and analyze, listen to input from those who are completing the task. Making small, incremental improvements to your processes can have a significant impact over time.
How to Easily Create Step-by-Step Guides
Use a template from the Flowster Marketplace instead of starting from scratch to make a step-by-step guide. Templates save time by providing a general outline. You can customize the template to better match the task or process that you want to document.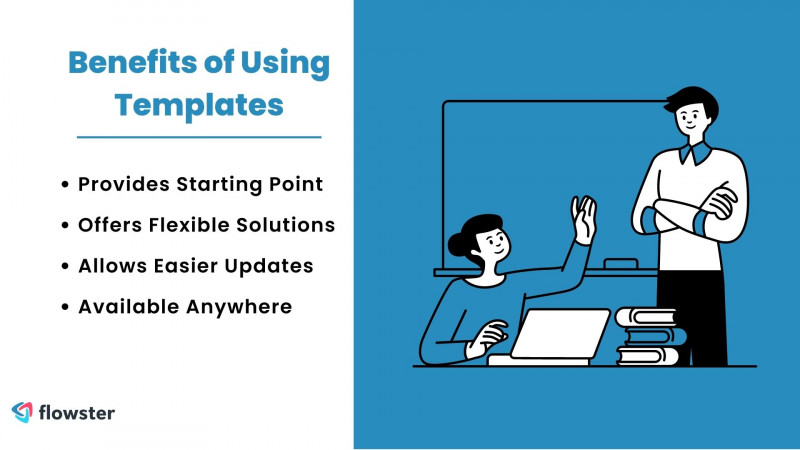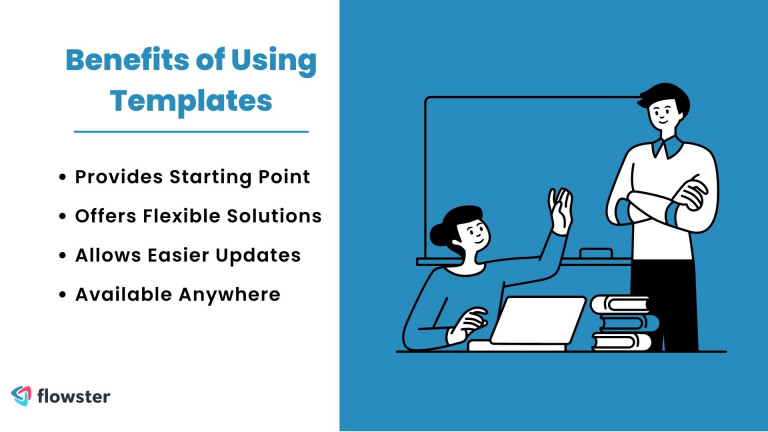 Check out some of the benefits of using templates to edit step-by-step guides:
 

Provides the ideal starting point

 

Offers flexible solutions

 

Allows for easier updates

 

Available anywhere
Our templates provide the perfect starting point for creating your own guides. Everything you need to get started is available in the template.
Using a template also provides greater flexibility, as you can easily edit the document. The ease of use of a template also allows for faster updates. To keep improving your processes, you need to keep your instructions up-to-date, which is easy to do when you have a template you can change.
The following template can be used as guide or customized to fit the needs of your organization:
Employee Onboarding Template
The employee onboarding template is designed to help you, onboard employees. It covers what you need to prepare before you start the onboarding process, project assignments, and what to do during the first month of onboarding.
In the employee onboarding template, there is also a section about how to evaluate and improve your onboarding process. HR staff and supervisors should find this template invaluable. (Click anywhere on the template to begin using it)
More templates are available on the Flowster Marketplace. We have a library of ready-made templates that you can customize to easily build guides that match your specific needs. You may share them in many ways, including through URL links. Your guides may be accessed electronically by colleagues and consumers in seconds.
How to Make Your Step-by-Step Guide in Three Minutes
Our templates allow you to create step-by-step guides quickly. However, along with editing our templates, we offer other solutions, including our "Capture" extension.
You can create step-by-step guides on the fly with the Flowster Capture Extension. There are numerous types of guides that can be created. Businesses often use our software and the Capture extension to make step-by-step guides for onboarding new employees or clients, content creation, the launch of new products, and campaign creation.
Flowster's Capture extension provides a way to make and share your own guides in as little as three minutes. You can learn how to create step-by-step guides in just a few simple steps:
 

Turn on the capture recorder

 

Complete your process

 

Turn off the recording

 

Customize the workflow

 

Share your guide
The extension records your actions. You can then edit the guide as needed before sharing it directly with your staff or coworkers using a URL link. You can also save the guide as a PDF, add it to other tools, send it to Flowster, or copy it into an HTML document. You can have a new guide up and running in minutes.