Documenting Your Business Processes Sucks.
Flowster Makes It Easy.
Quickly Create Detailed Business Processes​
Scale Your Business Faster

Delegate More Work to a Remote Team

Cut New Employee Training Time by 90%

Reduce Errors
(Even if you've never created a Standard Operating Procedure before!)
What's A Business Process...?
Flowster is a Business Process Management Tool for Entrepreneurs
Yes, Flowster was created so that entrepreneurs like you, who aren't business process experts, can easily create highly detailed Standard Operating Procedures (SOPs) that will allow you to make more, while working less in your business!
When it comes to getting more done, there is nothing better than having a proven process to show you the exact steps you need to take.
You now know HOW to do something, but what if you don't personally have the bandwidth?
To make it dead-simple to delegate work to new people on your team, Flowster's workflow interface makes it super easy to assign work to any member of your team.
Once that work has been assigned, all your team member needs to do is work their way through the highly-detailed checklist, step by step by step.
Voila! Work gets assigned to team. Work gets done correctly. It's almost like magic!
In a rapidly growing small business, change is the only constant, and thanks to Flowster's "magic button", any time you make a change to your workflow template, Flowster will ask you if you would also like to update all the active workflows that are based on that template.
Simply select "Yes Please!" and every member of your team will be instantly working from the very latest version of your workflow template.
No more manually copying and pasting the same bits of updated content, one at a time, across all your internal or client-facing processes!
Now the only thing you have to do is figure out what to do with all the time you just saved!
With proven playbooks for every aspect of employee onboarding and training, bringing new employees and virtual assistants up to speed has never been easier.
Access to Flowster's ever-expanding library of fully customizable workflow templates and business playbooks will allow you to simply select the process you need, assign the workflow, and get on with your day.
Can't find a process for exactly what you need? Create your own in minutes using our highly-intuitive drag-and-drop interface.
With so much on your plate every day, it's pretty easy to forget to schedule your quarterly planning, employee performance reviews, tax filings, KPI reviews, and so much more.
Thanks to Flowster's workflow scheduling engine, it takes less than 20 seconds to create a recurring schedule for whatever workflow(s) you like.
Plus, you can assign these recurring workflows to any member(s) of your team that you like… all with just a few clicks of your mouse.
Collaboration with your team is vital, and Flowster was built from the ground up to make collaboration as easy and efficient as possible.
When working their way through a given workflow checklist, team members can easily start a discussion thread about a given step of that workflow simply by @mentioning relevant team members.
In addition to embedded conversations, Flowster makes it easy for team members to assign each other tasks, set due dates, and upload files to the workflow they're working on.
This keeps everyone in the loop – and your business running at peak efficiency.
The workflow embedded below is fully functional. Take a quick peek inside the app right now.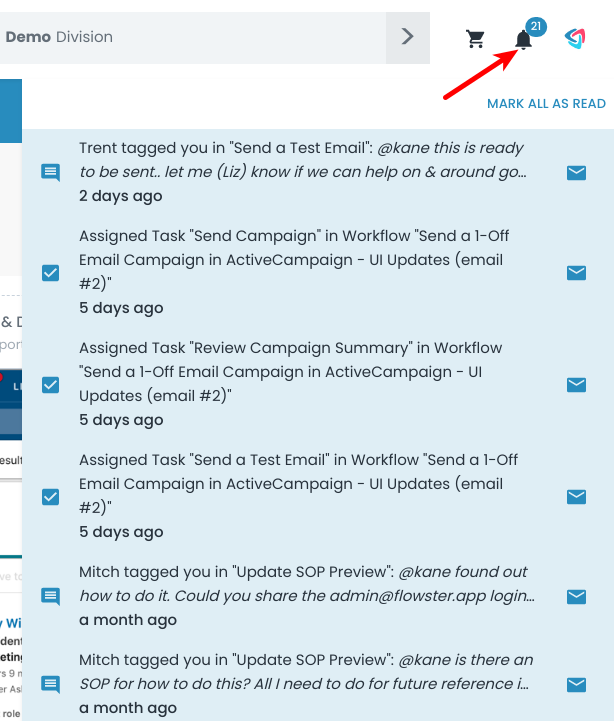 In-App Notifications
Never miss out on your team's activity. Get instant push notifications when someone @-mentions you, or a task is assigned or due soon.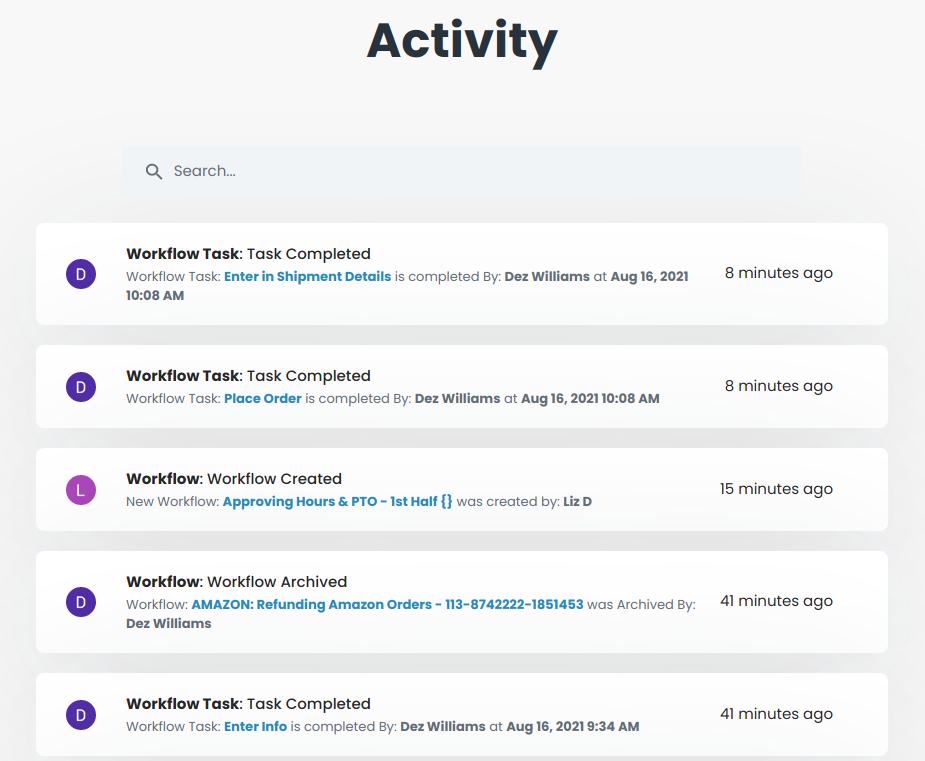 Audit Trail
Accountability is key. Every activity your team performs is tracked, so it's easy to look back and see who did what & when.
Email Reminders
When you have tasks that are upcoming, or past due, Flowster will send you an email notification to ensure your team stays on schedule.
Here Are a Few Other FAQs We Get A Lot:
Q: Do I have to pay for updates?
A: No. We give regular updates to our software, add new templates and you get all templates made by Flowster for FREE. Because Flowster is on the cloud, when we make an update or add new features, they automatically show up in your account!
Q: Do I have to install anything?
A: No! We created Flowster so you wouldn't have to have a whole IT department to run your process management software! Just log in, start clicking, and you can build or customize all of the processes you need.
Q: Are my processes secure?
A: Yes! Security is our top priority, and we built Flowster from the ground up to make sure your process templates are secure. You don't have to worry about staying up-to-date with "plugins" that can easily be compromised.
Q: How long are your contracts?
A: There are NO long term contracts or commitments. You can use Flowster month to month, and cancel at any time you'd like!
Q: If I have questions, is there someone I can talk to?
A: Yes! We have a first class support team who can answer your questions in a jiffy! Just click on the "support" link on the bottom of any of our pages or contact support@flowster.app.
Q: How are my SOP templates updated?
A: The best way to keep your templates updated is to use them often so you can spot areas that are in need of an update. If we publish a new version of a marketplace template, we do NOT overwrite your customizations. 
Q: If I cancel my account, will I lose my data?
A: No, you can export your processes as PDF files. 
Q: How do I cancel my account?
A: Simply log in to your account, click on your account settings and click "cancel my account". No need to call, email, or talk to anyone!
An increasing number of entrepreneurs and business owners are hiring virtual assistants (VAs) and remote workers from overseas to grow their businesses.

Running a successful company is rarely easy. Many business owners get stuck working in their business, and take on too many roles within their company, from the receptionist to data entry clerk to salesperson. This is especially true for entrepreneurs with one-person operations.

Why should you consider using workflow software?

Workflow tools are useful for businesses in any industry. You can use workflow software to automate or streamline operations.

The scope of the software varies. You may use simple checklist apps to track progress. You can also find comprehensive workflow software to centralize data and standardize procedures.