There are many keys to operating a successful business, but one of the most important is consistency. You want every product you produce or service you provide to customers to meet the same quality standards.
How do you reach consistency, especially if you are working in a larger organization or with complex processes? The answer is a standard operating procedure (SOP), ideally housed in an SOP app.
Almost every successful business uses SOPs to ensure consistent output, smooth operations, and most importantly, safety on the job. However, many people don't know how to create SOPs.
This free guide will help you understand the importance of SOPs, and how you can implement them in your business. Using an SOP builder can help you streamline your operations and reach new successes—simply click on the Complete Task button below to get your copy of this free template.
What is a Standard Operating Procedure (SOP)?
Before you can build an SOP, you have to understand what it is that you're trying to create. Here is your introduction to SOPs.
What Are SOPs?
SOPs, or standard operating procedures, are documents that contain complete, clear instructions on how to complete an important task within your business. Every step of the process is outlined in the document, including every detail needed to complete the task.
SOPs are common in manufacturing, where companies use these documents to standardize how to make individual products. However, you can use SOPs for any task that is relevant to your industry. For example, HR departments can use SOPs to create uniform procedures for onboarding new employees.
The goal of an SOP is to standardize how everyone in your organization does something. If everyone completes a task the same way, the results will be the same.
SOPs are written documents, but that doesn't have to mean handing out printed sheets to everyone in your company. You can have employees download SOPs onto their laptops and smartphones or access them in an SOP app. This makes it much easier for process updates to be shared across a company.
The Difference Between a Process Document and an SOP
If you're experienced in the field of process management, you may have worked with process documents already. Process documents are written documents that provide an overview of a given business process, including step-by-step instructions.
If both process documents and SOPs give detailed instructions on how to complete a given task, then why do we need both terms?
The main difference is that SOPs are focused more on the on-the-ground reality. These documents are often more detailed in the steps that they outline. The goal of an SOP is to help employees on the ground function with minimal supervision.
Process documents are usually more "big picture" in their scope, explaining how a process should be done to fit with the business's larger goals, values, and standards. An SOP is focused instead on the concrete tasks happening during business hours, including any related safety procedures.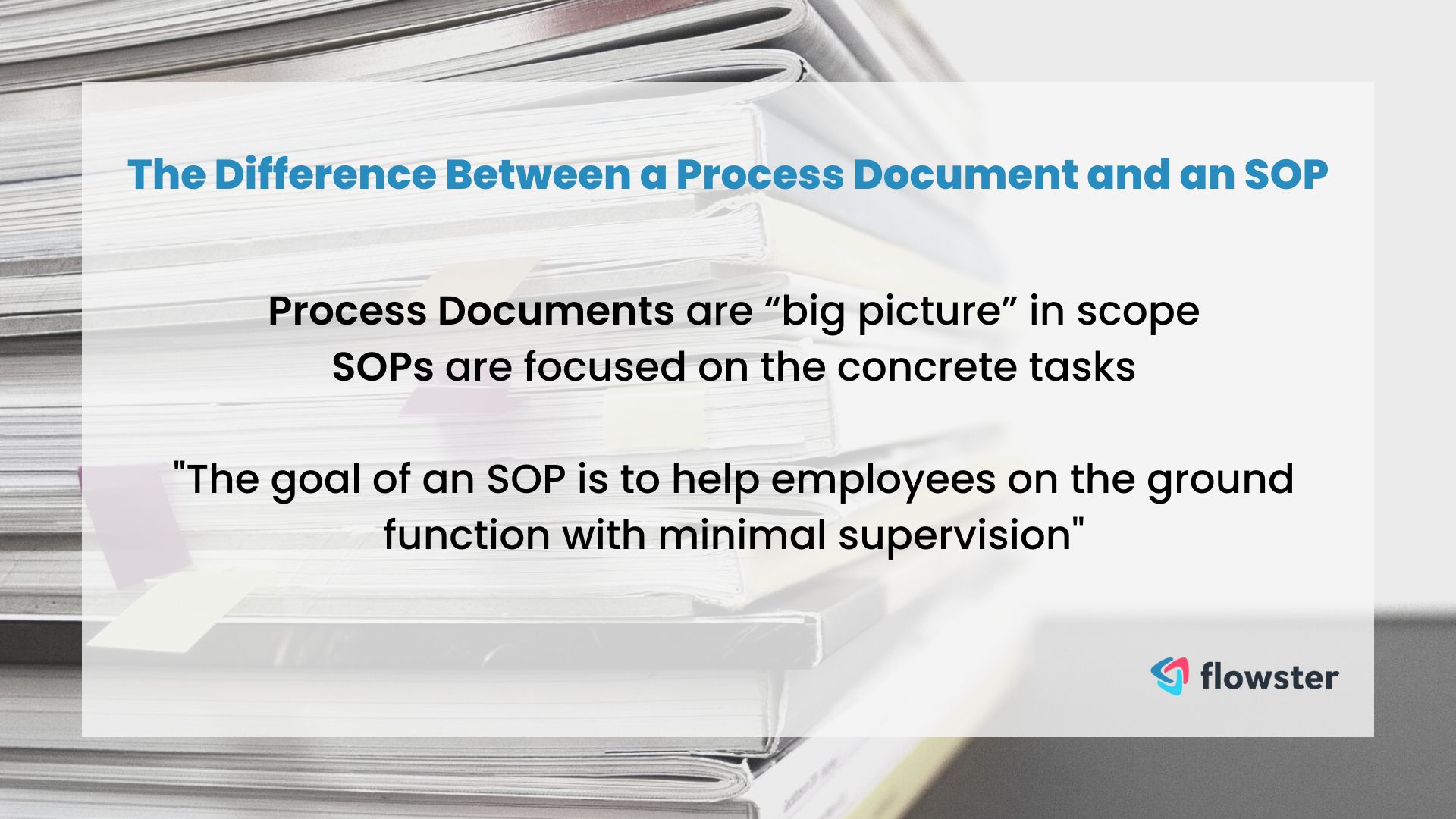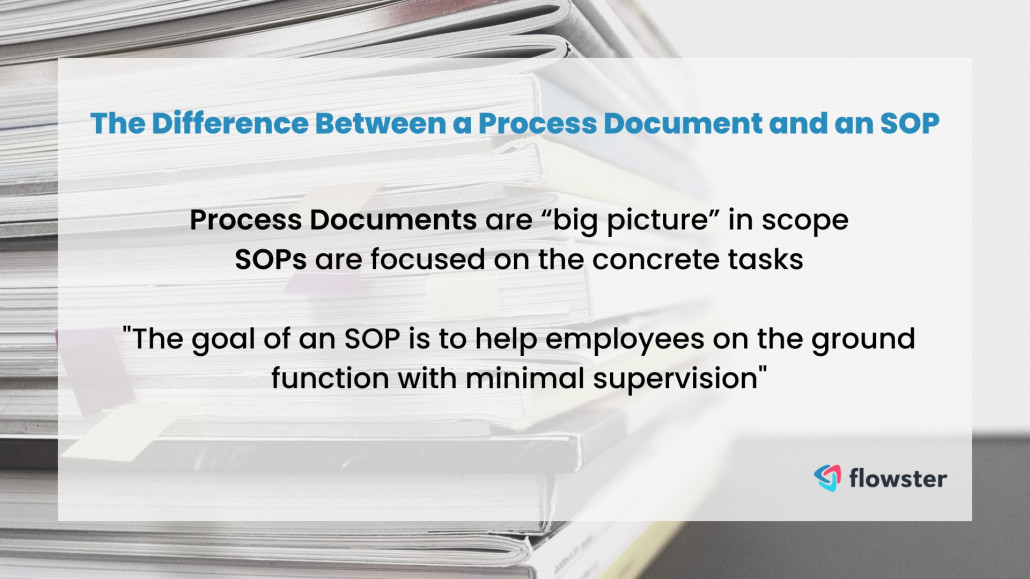 When Should You Write an SOP?
The best time to write an SOP is when you first begin business operations. Early standardization ensures that you train all your employees easily and that your output will immediately follow all quality standards.
If your business is already established but you don't have any SOPs, don't worry—it's not too late to learn how to create an SOP. You can always build an SOP once you change how your business completes a certain process, you add new tasks, or you expand your business and onboard new people.
Besides knowing when to write an SOP, it's important to know when to review these documents. SOPs should be standardized and up to date. If you change how your business does something, update the relevant SOP.
You can review SOPs with your team on a regular basis to see if you need to update anything. Or, you can simply enable your team to update SOPs as they work through them.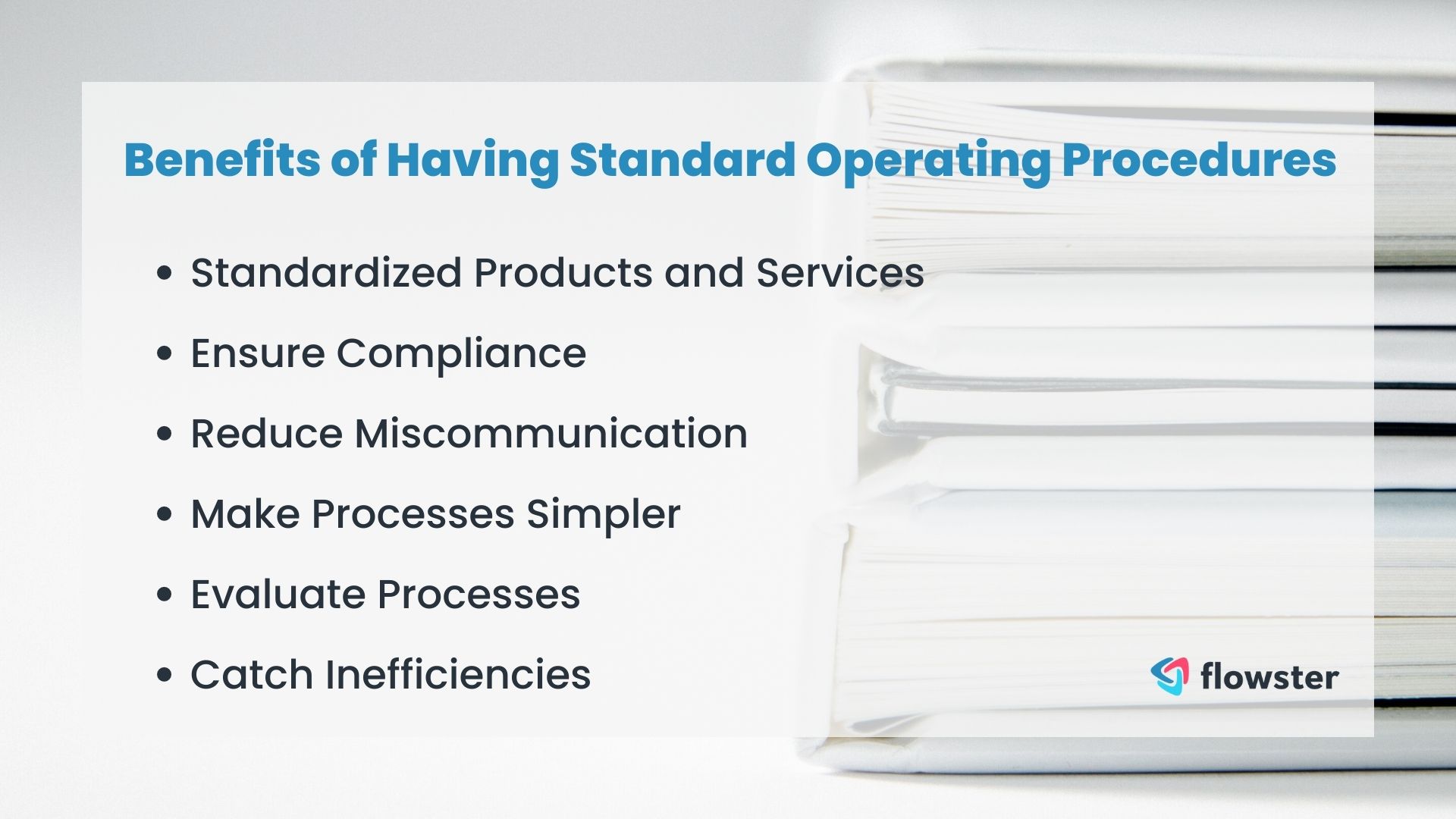 Benefits of Having SOPs
There are many benefits of having standard operating procedures in place, including:
     

Standardizing products and services across your organization

     

Ensuring compliance with safety regulations or quality standards

     

Reducing the possibility of miscommunication

     

Making complex processes simpler for employees

     

Evaluating standard processes and catching possible inefficiencies
These documents are beneficial to employees, managers, quality control analysts, and customers—basically, anyone who comes into contact with your organization!
When Are SOPs Best Practice?
Depending on your industry, you may have different standards from regulatory agencies that you have to follow. SOPs are the best practice for ensuring best practice.
For example, management practices such as Six Sigma, which uses statistics to reduce errors, recommend SOPs to minimize variation within your organization. Other industry systems such GAAP and IFRS for accounting, ITIL for IT systems, and ISO 9000 for quality management do the same.
Regulatory agencies governing workplace safety, such as OSHA and VPP, also recommend SOPs as best practices for ensuring you meet relevant standards.
When Are SOPs Required?
Depending on your industry, you may be required to have SOPs on hand.
OSHA requires detailed standard operating procedures for processes that are potentially hazardous to employees' safety. If you work in the food industry, FDA auditors will request SOPs if they come to your facility. Other agencies that often require SOPs are the EPA and DOT.
Besides government agencies, government laws such as the 2002 Sarbanes-Oxley Act (SOX), which regulates corporate transparency, require SOPs.
If your business has any possibility of coming into contact with government regulators, having SOPs on hand will make the process much easier.
Who Should Write an SOP?
Obviously, business owners and managers have a hand in deciding what an SOP should look like. However, one individual typically can't (and shouldn't) take on this sizable task alone.
One person can write the SOP, but a group should review and edit the document.
People Conducting the Procedure
The group that writes each SOP should include the people who know the most about the procedure—the ones who do it on a daily basis. It makes no sense for people writing a manufacturing SOP to be the ones who never touch the machinery, after all!
On-the-ground knowledge is crucial in breaking down each step that goes into the process. People with this experience can also adjust SOPs in real time if they have insight into a way in which the current method of doing things is inefficient.
Experts with Relevant Knowledge
Besides having people currently working with the procedure contributing to the draft SOP, your writing team should include knowledgeable experts with relevant process experience.
Experts can look at the big picture of the SOP, for example, compliance with government regulations. They can also conduct risk assessments of the process to give a business insight into possible liabilities.
Depending on the process, these experts can be managers supervising the employees who are performing the relevant process, members of the HR department, or company lawyers.
Do you currently document procedures at your company?
Users tell us that Flowster cuts the time it take to document procedures by over 80%. Give Flowster a try with a Free Trial - no Credit Card Required!
What Should Be Included in an SOP?
The exact guidelines as to what to include in an SOP will depend on your industry as well as the process you are creating guidelines for. However, there are a few elements that every SOP should include.
The Purpose
No employee should look at your SOP and wonder why you are making them read this document. State the purpose of the SOP clearly at the very beginning.
Obviously, begin the SOP by naming the process that the document is trying to explain.
It helps to include a sentence or two about what you're hoping to achieve by standardizing the process on the title page of your SOP. You should also state your purpose to your team during the process of writing the SOP.
Scope
The scope of your SOP is the document's use and applicability. Be clear about which processes your document covers, how often a user should refer to the document, and its importance within the organization.
Responsibilities
An SOP is partially about accountability—the document helps you clearly identify who to turn to if there is a problem in the flow of work.
Your SOP should clearly state who the document is for and who will perform the process you are describing. Be as specific as possible: name the departments, teams, and even specific roles you are targeting.
Responsibilities go both ways. In your document, indicate who to turn to in case problems come up during the process.
Your title page should also clearly state who wrote the SOP—not only for accountability but also for people to know who to turn to if something needs to change in the document.
Procedures
The bulk of your SOP will be the procedural part, which is everything after the title page.
When you are writing your SOP, include all of the tasks someone needs to complete before finishing the procedure. Order the tasks in a way that makes sense, usually in chronological order.
Include detailed instructions on how to complete each task. How you present these instructions will depend on the format that you choose for your SOP.
Other Relevant Information
Depending on the length, format, and purpose, you may need to include a table of contents. For example, if your SOP turns out to be longer than a page or two, include a table of contents section to make navigating it easier.
Here are examples of some other information you may want to include in your SOP depending on the purpose of the document.
If the purpose of your SOP is to standardize a process that is sometimes hazardous or uses dangerous equipment, include relevant safety information such as required safety equipment at the start of the document.
If your employees need any specific tools for a given procedure, include that information in your SOP as well. You should also include how to access that equipment, where to find it, and where to store it once the process is done.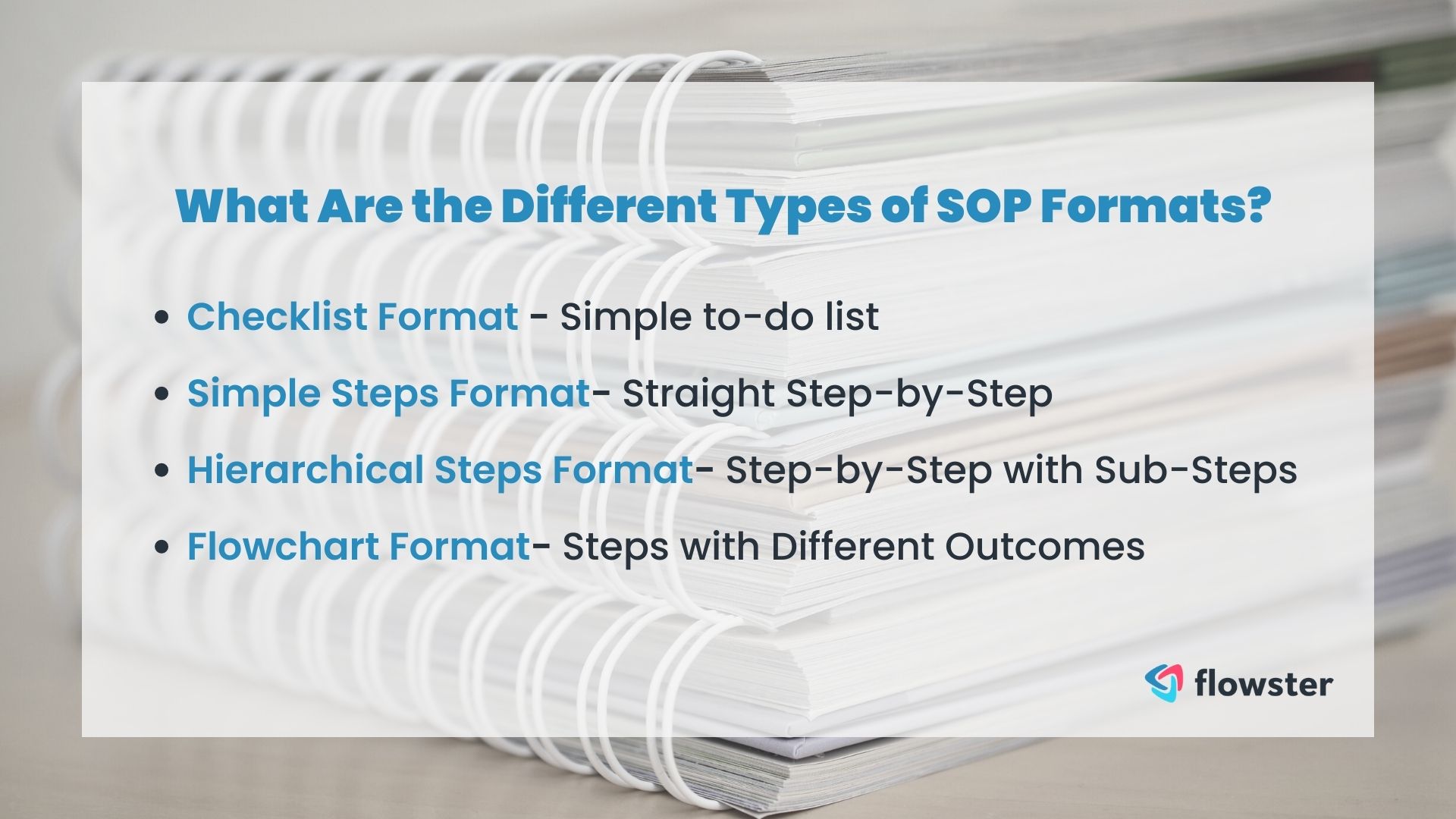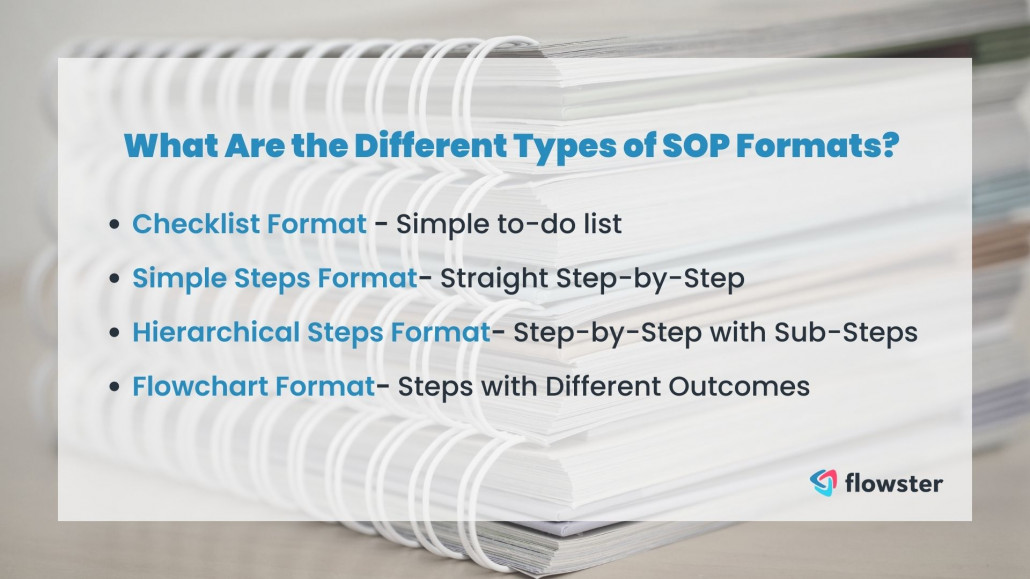 What Are the Different Types of SOP Formats?
There are a number of different types of SOP formats.
Each one is a great way to organize the information in such an important document. Choose the one that makes the most sense for the process you are describing and that is the clearest to understand. (Building an SOP within Flowster's SOP builder? Grab one of the SOPs below and edit it.)
Checklist Format
The checklist format is the easiest format for an SOP builder. It's just like a regular to-do list containing a list of tasks that someone has to complete as they go through a process.
Employees check off the different tasks as they go. When they check off every task, the process is over.
Checklists are the easiest to format, read, and use. They also provide tangible accountability as you can collect completed checklists or read digital checklists to see if everyone completed the full process.
However, checklists only work for simple processes. If there are multiple sub-steps for each task or different outcomes depending on one task, a checklist doesn't provide enough detail.
Simple Steps Format
A simple steps SOP is similar to a checklist because it contains instructions in a linear sequence. However, employees don't check off any boxes as they go.
Using a simple steps format gives you a bit more space to elaborate on the individual steps and give necessary details. However, you lose some of the built-in accountability of the checklist, and you still don't have enough space to elaborate on very complex processes.
Hierarchical Steps Format
A hierarchical steps format is similar to a simple steps format because it has steps in sequential order. However, it has different sub-steps for smaller tasks you need to complete before you can check off a larger task.
The way a hierarchical steps SOP is formatted is that you have "Step 1" for the larger task, for example turning on a machine, then "Step 1a," "Step 1b," and so on for the smaller steps you need to complete.
A hierarchical steps format is more complex to read than the previous two formats, but it is very useful if you have lots of small tasks your employees need to complete before checking off one bigger task in the procedure. This format also helps if employees need to engage in complex decision-making during a process.
Flowchart Format
What if the procedure you're planning with your SOP doesn't look the same each time you do it but has a few different outcomes? That's where a flowchart format comes in.
A flowchart uses arrows and text boxes to outline a few different ways that a procedure could happen. Each step comes with a list of possible outcomes. Then, each outcome leads to a different next step, and the same format repeats.
Flowcharts are more complex to read and are probably unnecessary for very straightforward processes. However, they are crucial if you are trying to standardize a complex operating procedure with a few different possible outcomes.
What to Have in Place Before Creating an SOP?
An SOP is a very important, sometimes complex, document, but with the right preparation, creating one doesn't have to be painful.
Some preparation before you sit down to write your SOPs will make the whole process much easier. Here are a few things to gather before you sit down with your team.
A Master List of SOPs
If only life was so easy that you only have to create one SOP at a time. However, you probably have many processes that need standardizing, especially if are doing this as your business is opening.
Keep a master list of all the SOPS you need to develop so that you have a clear picture of what is ahead of you.
Order your list in terms of priority. That way your energy is focused on the SOP that is most crucial to your organization.
Your Resource Persons and Materials
To create an SOP, you need resources: human resources and physical resources.
In terms of human resources, you need people who are experts on the procedure you are outlining. Gather your team, including managers and people who are on the ground conducting the process at the moment.
Your other resources include as much information as possible about the procedure. Collect everything you need to know before writing the SOP, including relevant data and steps.
If the procedure you outline depends on government regulations, you should have the relevant regulations on hand to include safety information and check compliance as you go.
Determine How You Will Store & Disseminate Your SOPs
As you write your SOP, you should keep the purpose of the document in mind. You're not writing just for yourself, but to share with everyone in your organization who needs to know how to do the process you are describing.
Before you write, you should know where your organization will store your SOPs and how you will share them with relevant people. Will you hand out printed sheets, keeping it old-school, or store SOPs on an easy-to-access cloud server or SOP app? The storage and sharing method will affect the format you write in, which is why you should know it before you sit down to write.
There's no need to stick to inefficient, old-fashioned methods when you have so many modern process management tools at your fingertips. For a list of tools for managing and storing SOPS, including Flowster, go here.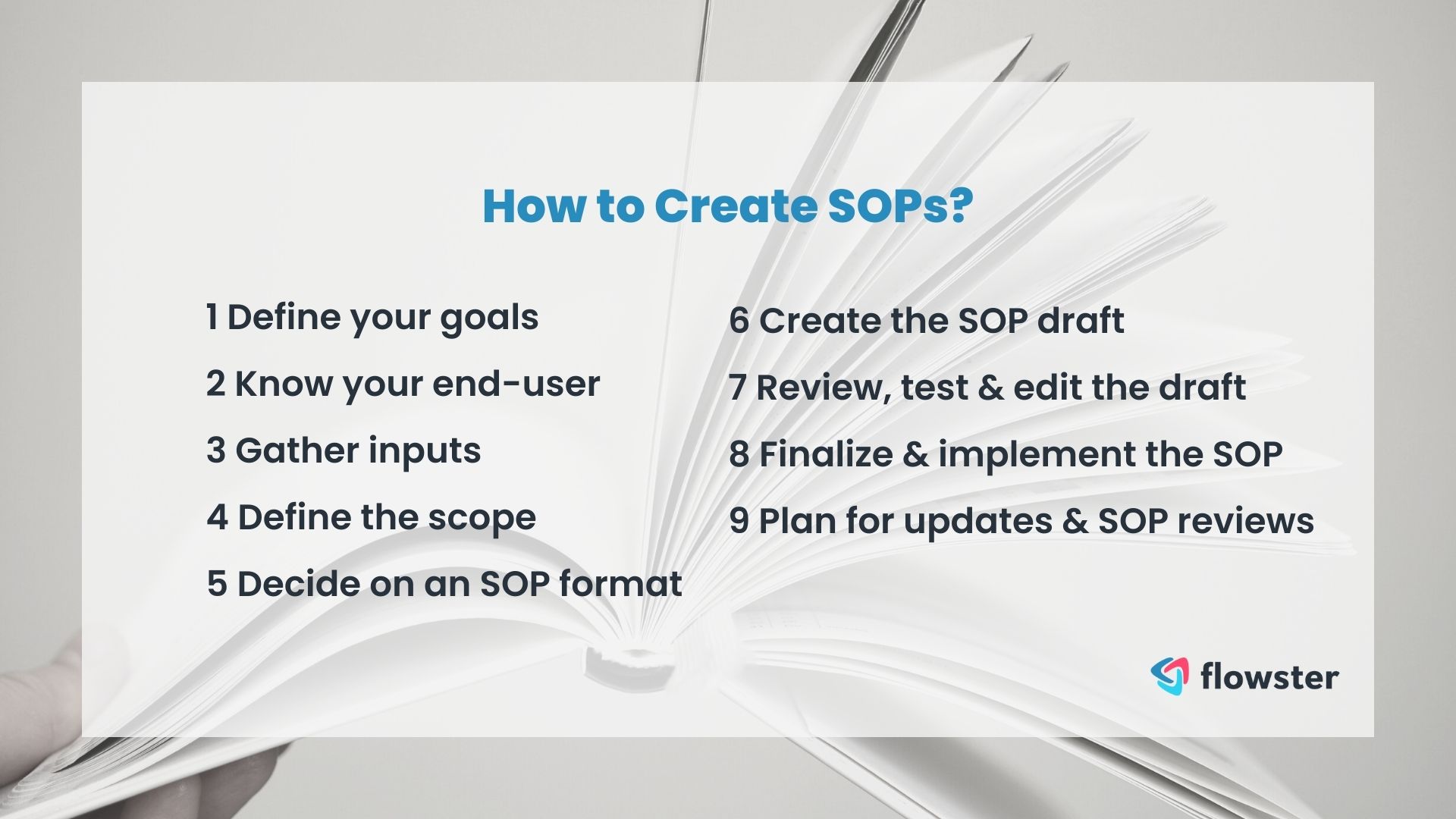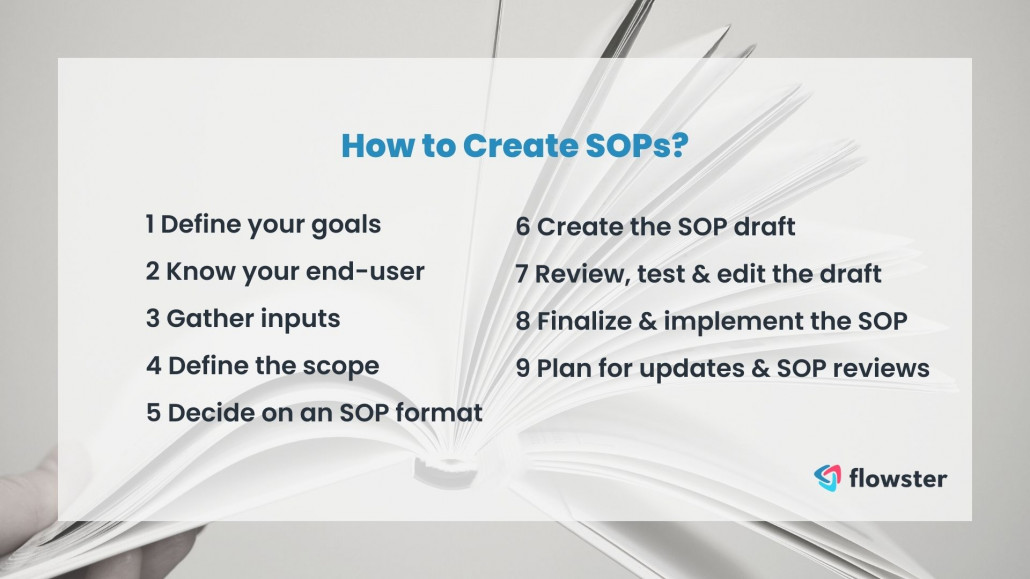 How to Create SOPs?
Once decide on a format and gather all of your necessary materials, there's no putting off the task further. It's time to sit down and write your SOP.
If staring at a blank page feels daunting, especially with such an important document at stake, don't worry. Here is a step-by-step process that will guide you through creating your SOP.
1. Define Your Goals
You don't want to reach the end of the writing process only to realize that the document you produced is nothing close to what you wanted. Defining your goals ahead of time gives you more direction as you write.
Think about why you are writing an SOP in the first place. Some good questions to answer are:
How will the document you are working on improve employee efficiency, customer satisfaction, and your bottom line?

How does this specific process fit in with your company's larger goals?

What are inefficiencies or points of confusion that you want to fix with your SOP?
Once you answer these questions, you'll have a clearer idea of your goals for creating an SOP, which, in turn, will guide your writing.
2. Know Your End-User
Besides thinking about your abstract goals as you write, you should also be thinking about your end users, the people who will eventually be reading the SOP and relying on it to do their work.
Make sure you are only giving relevant information to the end user. Even if a task performed by someone else is relevant to the process you are describing, avoid including it unless absolutely necessary.
Make the document accessible to the end user. That means using readable language and relevant terminology, and not including jargon your end user might not know.
3. Gather Inputs
There's no "I" in team, and there's no "I" in SOP. You shouldn't work on this document alone.
Gather your team of experts and ask them for input on the process. What steps are absolutely necessary to include? What format will make your document easiest to understand?
Typically only one person will write the actual text of the standard operating procedure. However, gathering information from knowledgeable people and using that to create an outline and information bank will make the actual writing process much easier.
4. Define the Scope
As you're writing your SOP, you may suddenly realize that another process is relevant to the one you are describing or that there is another similar task your end user has to complete. You start including other tasks, and soon your SOP becomes an unreadable mess.
The key to a legible SOP that is easy to follow is clearly defining its scope. Define the process you are focusing on with a beginning, middle, and end. If, as you're writing, you realize you need to document another process, you can create a separate document for that later, and simply make reference to that document within the SOP you are writing.
5. Decide on an SOP Format
As mentioned above, SOPs come in a few different formats. You can use anything from a simple checklist to a more complex flowchart.
Once you decide on the best format for your document, choose the right template and just input the relevant information (more on templates later).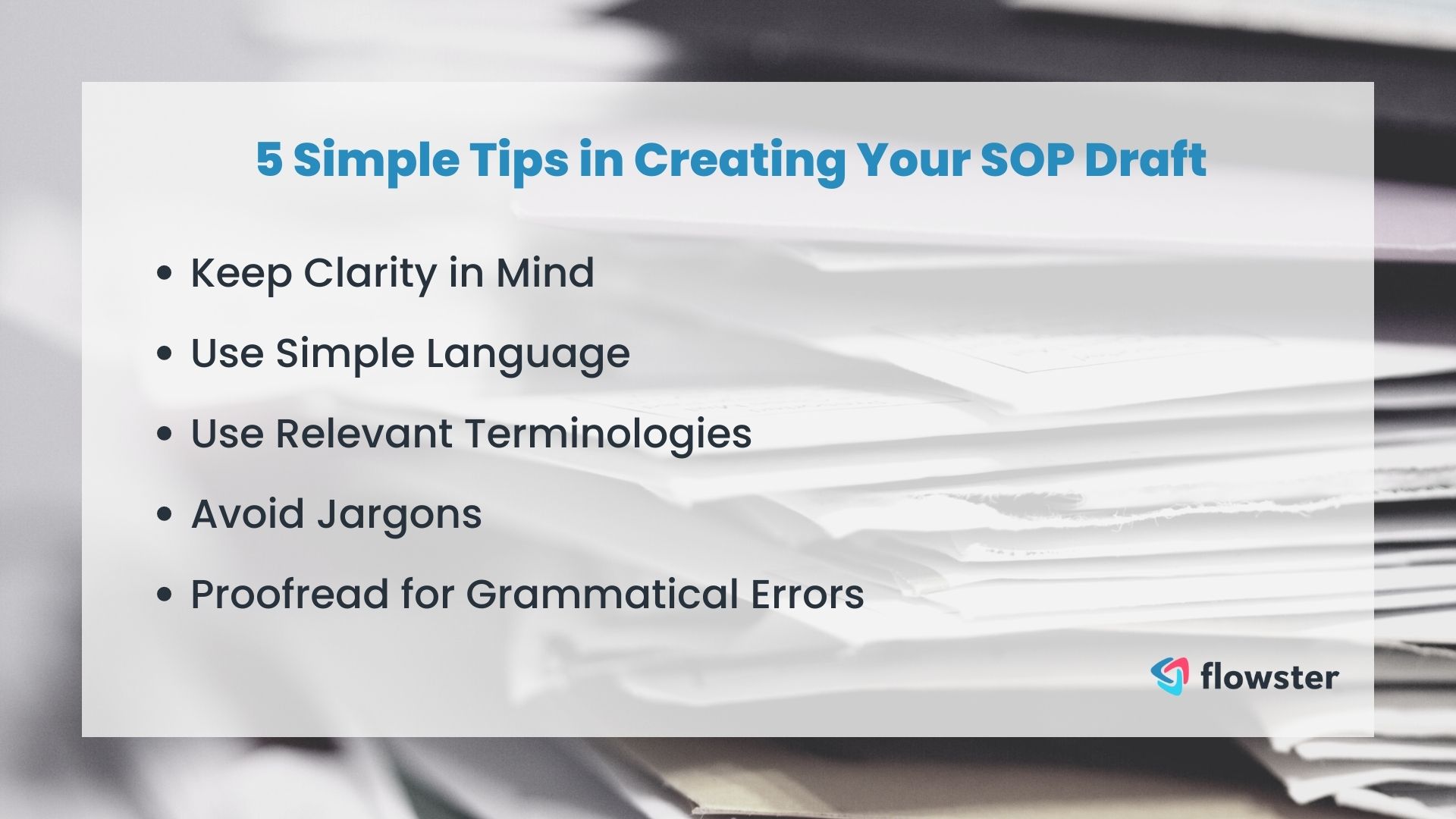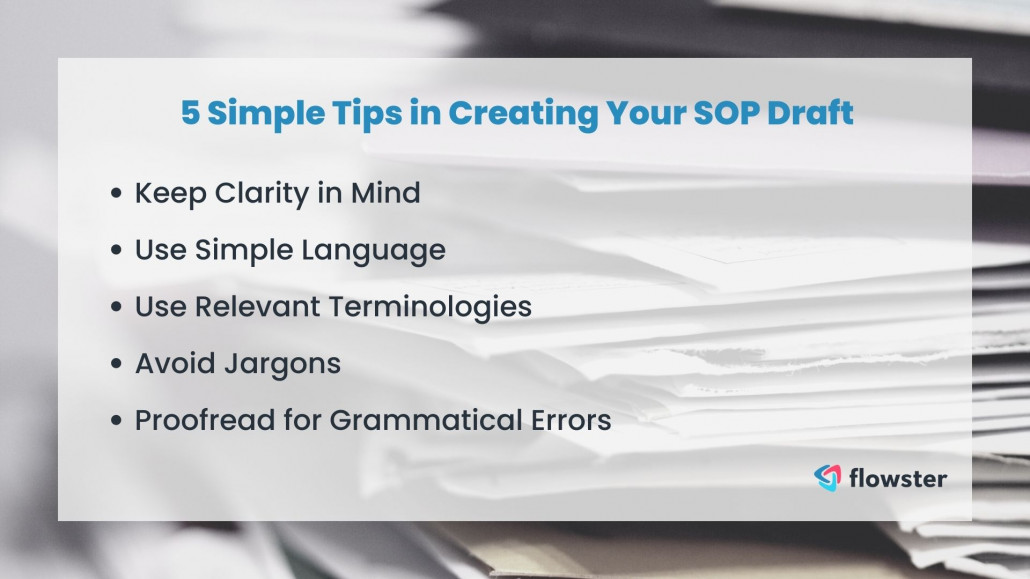 6. Create the SOP Draft
Now it's time to start writing! Once you have all the relevant information in place and a format to follow, writing shouldn't be that hard. Just plug the information into your document in the relevant order (this is even easier if you use a template).
As you write, keep in mind the different components of your SOP outlined above. Include relevant information on the title page if you have one, such as the purpose of the document, who it's for, and who wrote it. If your SOP is long, add a table of contents to make it easier to navigate.
Then, write the methodology. Include every step in the process you are describing, no matter how small. Add relevant information along the way, such as standard procedures and safety precautions. Be as detailed as you can be without overwhelming the reader.
Besides completion, keep clarity in mind as you write. Use clear, simple language so the end user can understand what you are writing. Use relevant terminology but don't fill the page with undefined jargon. Proofread for any spelling or grammatical errors, especially mistakes that could affect a reader's understanding.
7. Review, Test, and Edit the Draft
Before you send out your SOP to your whole company, make sure that the document you made is actually functional.
Test it yourself by following the steps exactly as you wrote them down. Do you get the result you expected, or did you encounter problems along the way?
Send the SOP to a few members of the team and have them test the document as well. Their feedback can help you identify any places where your instructions weren't clear or where the steps weren't accurate.
Edit the document implementing any feedback. Repeat the tests until you get a satisfactory result every time.
8. Finalize and Implement the SOP
Once you've gone through multiple reviews and edited your SOP for clarity and comprehension, you're finally ready to share it within your organization! Now you can implement the SOP into your daily workflow.
Share the SOP with any employee who will need it. Now's a good time to put those sharing and storage options you researched earlier to good use. Creating a shared app or other digital tools for process management makes it easy for everyone who needs to access the document to have it ready with a touch of the finger.
9. Plan for Updates and SOP Reviews
Even when you type the last word in your document, you're not actually finished with your SOP.
Figure out when you need to sit down and review your SOP. A good rule of thumb is every six months or after major changes to the way you run your business, including relevant new government regulations. Maybe you won't change anything in the document besides a few minor tweaks, but it's still good to have that check-in.
Have a process in place for flagging any needed changes, including the person employees should turn to and what the review process will look like.
Making the Writing Process Easier
Having the right framework in place makes writing anything, even a complex document such as an SOP, easier. That's why Flowster created an easy step-by-step guide. See below, or check out our templates on the Flowster marketplace.
How to Easily Create, Access, and Update Your SOPs
As we mentioned earlier, an SOP is a living, breathing document. It needs to flow and change as your process changes or as end users notice possible adjustments that could improve comprehension.
That means your organization needs an easy way to update SOPs as the need arises as well as a way to share them so that everyone can access the most recent versions. While analog process management tools have their place, one of the easiest ways to achieve this goal is with an SOP app such as Flowster.
The Value of SOP Apps
Flowster makes it easy not only to store and update existing SOPs but also to create new ones as the need arises thanks to its many features, including templates.
Flowster also makes it easy for everyone to access SOPs and communicate about the process in real-time. You can assign tasks from a checklist to employees, collaborate with colleagues, set due dates, and schedule recurring tasks all within the app.
Flowster also makes it much easier to update all relevant SOPs. When you make a change to one process document template, the app prompts you to make the same change to all workflows using that template. That means that every employee instantly has access to the most up-to-date process document.
No matter the size of your business or industry, an SOP app such as Flowster can make your workflow much easier.
Key Takeaways
An SOP or standard operating procedure creates consistency across your business, limits confusion, and helps with compliance.
There are no strict rules for writing an SOP because the final content and appearance of the document will depend on your industry, process, and preferences. However, these guidelines can help you develop an effective document no matter what.
Besides following these guidelines, a fast and easy way to create an SOP is to use a template and customize it. Flowster's Marketplace has plenty of templates that you can customize to your needs.
Do you have any tips for creating SOPs? Comment down below and share them!
An Easy Way to Get Your First SOP
Easy, customizable templates to get you started on your first SOP are just a click away in Flowster's Marketplace.
If you don't have time to customize the templates, our Done For You service will take care of everything from start to finish.