SOP templates allow you to customize SOPs to fit your processes and overcome the challenges that typically come with writing a standard operating procedure. Use the following guide to explore free SOP templates you can easily customize.
What Are Standard Operating Procedures?
A standard operating procedure (SOP) is a set of step-by-step instructions for carrying out various business activities. Businesses typically use SOPs to outline the procedures used to comply with industry and statutory standards and internal specifications.
Using SOPs helps your business reduce errors and increase efficiency. You may maintain a safer work environment and avoid noncompliance issues or increase the effectiveness of your workforce.
What Does an SOP Cover?
Some of the key questions addressed in a standard operating procedure include:
 

What is the intended goal of the task?

 

Who is responsible for completing the task?

 

What steps need to be followed to achieve a satisfactory outcome?
SOPs clearly define work tasks. Some SOPs use flowcharts, workflow diagrams, or hierarchical steps. SOPs may also use numbered or bulleted lists.
If you want to quickly create an effective SOP, consider starting with an SOP template. You can take an SOP template and customize it or use it as an outline for creating an SOP from scratch.
You can use the following template to help with your first SOP:
Along with the example SOP, Flowster has many templates you can edit and customize. Check out our complete selection of templates on the Flowster Marketplace.
Why Do You Need to Edit and Customize SOP Templates?
Every business has unique needs. Not everyone follows the same process, even when they belong to the same industry. The steps that you take to complete a task depend on your business strategy, scope, and other available resources.
Instead of a one-size-fits-all approach, you should edit an SOP to better suit the needs of your business. You can cut down on the time needed to create an SOP by editing an existing one to match your business processes.
Advantages of an SOP Template
Here are some of the advantages of customizing an SOP template:
 

Improve the effectiveness of your procedures

 

Continually make improvements to your processes

 

Save time compared to creating an SOP from scratch
Customizing an SOP template helps you enjoy these benefits. You can edit the SOP template to match your requirements and streamline your work processes.
What Are the Challenges in SOP Writing?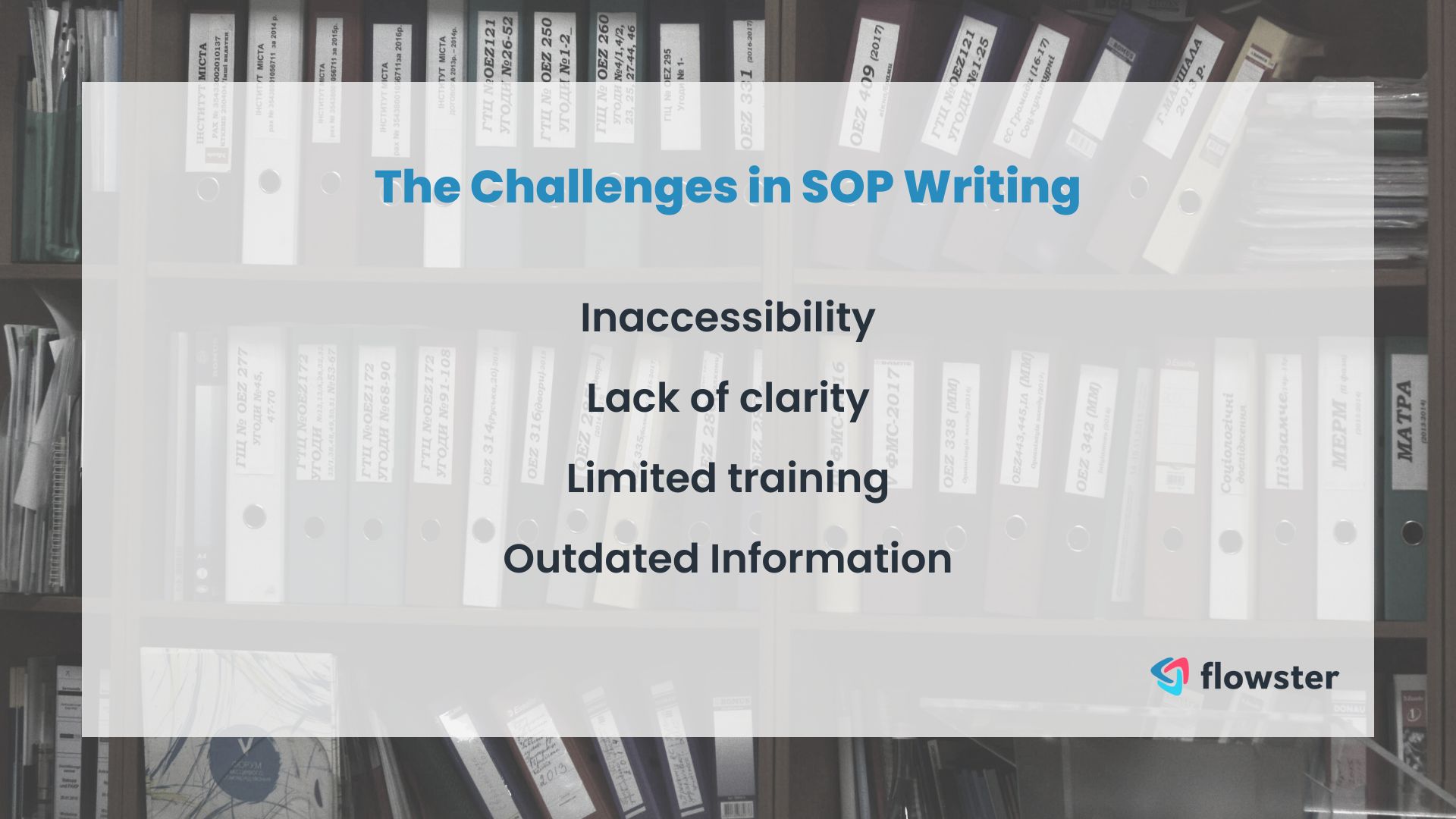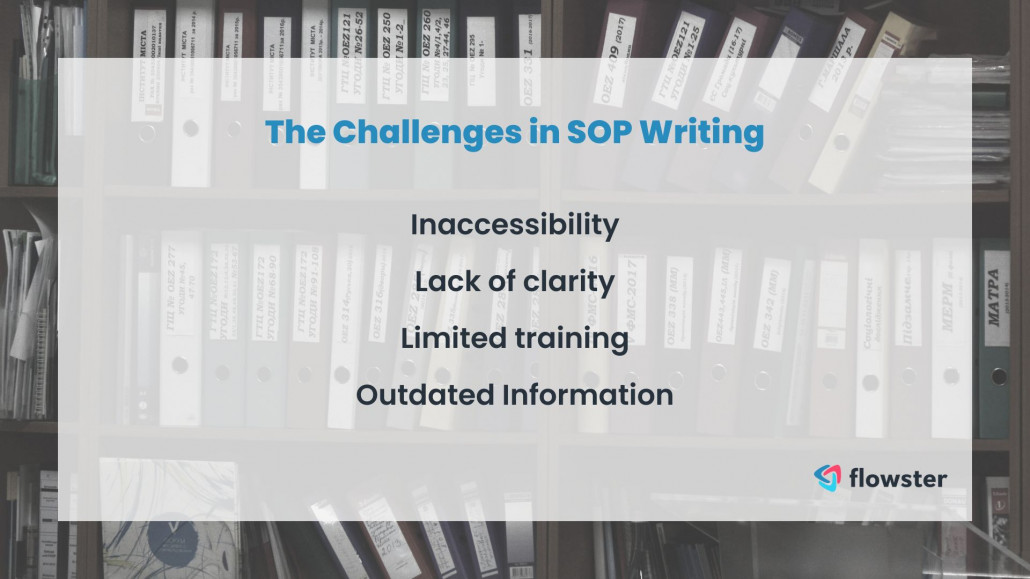 Developing an SOP involves many challenges. You need to involve all stakeholders and ensure that they have access to the SOP whenever necessary. However, there are many additional challenges to writing an SOP, including:
 

Inaccessibility

 

Lack of clarity

 

Limited training

 

Outdated information
If your SOP is not accessible, employees cannot follow it. Adoption of your SOP depends on its accessibility, which is where using an SOP app can help. An SOP app makes it easier to distribute the SOP to all relevant employees and stakeholders.
A lack of clarity can also limit the effectiveness of an SOP. Instructions that are too vague or complex increase the risk of errors. Employees may overlook steps and make mistakes without clear guidance.
Teams also require proper training to implement the processes outlined in your SOP. Organizations need to make their employees aware of the SOP and continue to update them whenever the procedures change.
Improvements in technology, changes to personnel, legislative updates, and industry developments may also require you to revisit existing SOPs.
Your SOP needs to continue meeting the needs of your stakeholders while complying with industry and regulatory standards. Using an SOP template simplifies the process of meeting your responsibilities and legal requirements.
Do you currently document procedures at your company?
Users tell us that Flowster cuts the time it take to document procedures by over 80%. Give Flowster a try with a Free Trial - no Credit Card Required!
SOP Apps Help You Customize, Disseminate, and Store Your SOPs
Using an SOP app streamlines the way you create and use SOPs. The app can help format your SOP, store it, and share it. You can ensure maximum accessibility and clarity to avoid the challenges that typically come with SOP writing.
Here are some of the ways that an SOP app can assist your organization:
 

Automate SOP updates

 

Simplify SOP assignment and monitoring

 

Create, store, and share your SOPs

 

Choose from a wide variety of

SOP templates

 

Quickly edit

SOP templates

to suit your needs
You have many SOP apps and platforms to choose from. Common choices include Office 365, Asana, Trello, Google Docs, LucidChart, Airtable, and Flowster. Out of these options, Flowster stands out for providing the most efficient process management solution.
Flowster is a dedicated workflow management tool. Unlike the alternatives, Flowster was built specifically for managing SOPs. It is a web-based solution that allows you to quickly create, edit, and manage all your SOPs.
Types of Standard Operating Procedures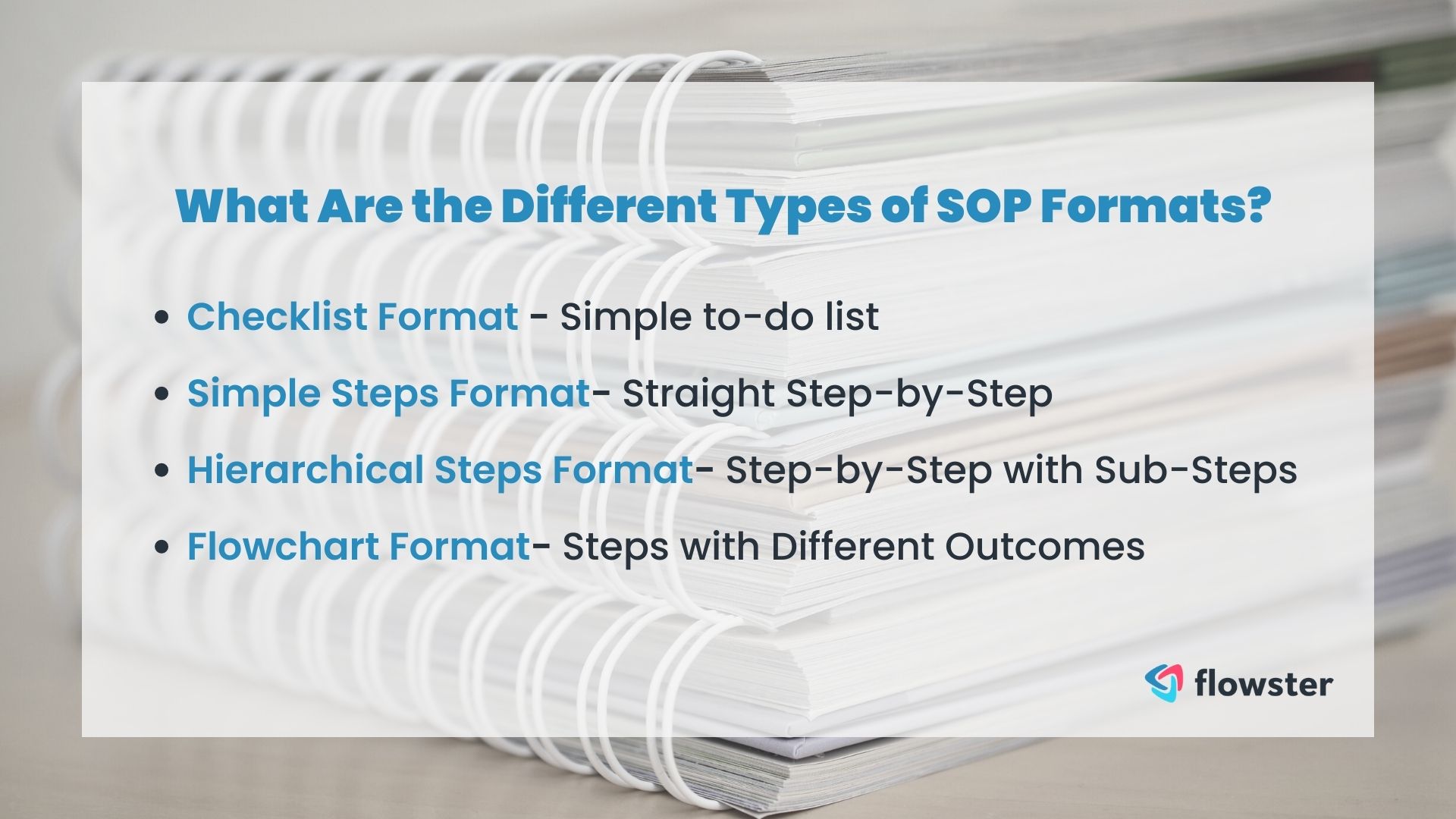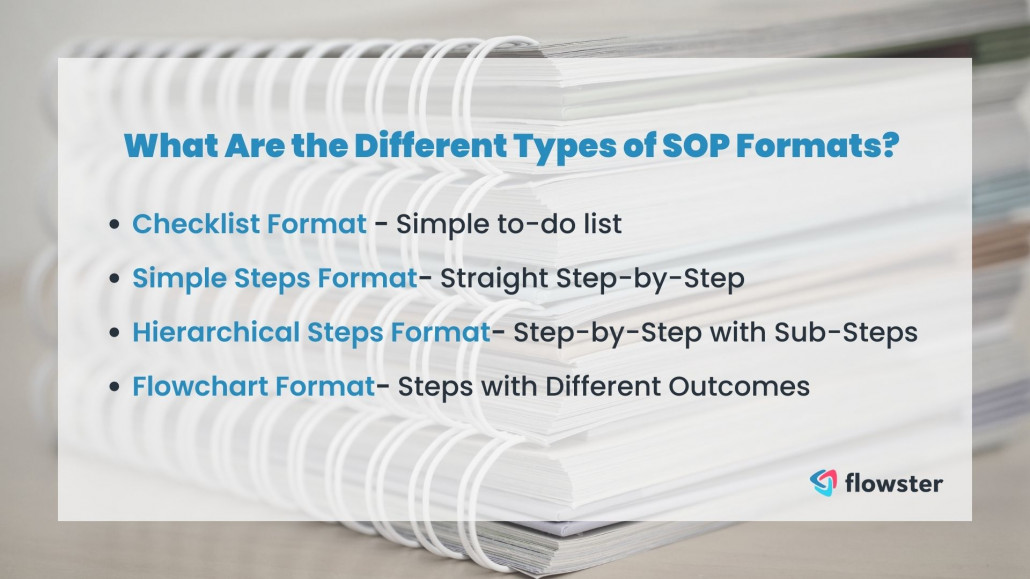 There are several types of SOPs:
 

Hierarchical steps

 

Step-by-step instructions

 

Checklists

 

Flowcharts
Hierarchical SOPs are used to break complex processes into smaller tasks. The typical hierarchical SOP may start by defining the scope of the SOP before outlining the steps needed to complete various processes. The SOP may also include guidelines and supporting documentation.
Step-by-step instructions and checklists provide straightforward explanations for processes. A worker completes the first step or item in a checklist before moving on to the next step or item.
Flowcharts help map out processes that involve multiple steps and several potential outcomes. You should consider using a flowchart when you need to anticipate multiple scenarios. Instead of completing a set of linear steps, the worker completes steps based on specific conditions.
After creating an SOP, you can track processes using workflow checklists. You can assign tasks and set due dates from a single web-based application. With Flowster, tracking progress and ensuring better collaboration require less effort.
Standard Operating Procedure Templates
Using standard operating procedure templates gives you a starting point and a foundation for your project. While you can create processes from scratch, our templates save you time and provide an outline for making your processes more efficient.
Flowster gives you access to a large list of templates. Check out our complete selection of templates on the Flowster Marketplace.
Customizable SOP templates are available to cover any of your business processes, no matter the industry. Below are some of our most popular SOP templates. You can edit and customize the SOP template of your choice to meet your specific needs.
Business Strategy SOP Templates
Use business strategy SOP templates to create the policies, processes, and standards needed for your organization to succeed. From SOP templates on creating SOPs to strategies for nurturing your customers, we offer a variety of business strategy solutions.
Business strategy SOPs provide your team with the structure needed to bring your vision to reality. These strategies help outline the steps needed to achieve your business goals.
Business SOPs also ensure that future projects align with your organization's objectives. Managers can use these SOPs to continue working toward the bigger picture.
Quarterly Planning and Strategy Template
Our quarterly planning SOP template provides an outline for setting quarterly goals and strategies. You can set it up as a recurring template for use each quarter. Quarterly goals help managers and team members prioritize tasks and better track their progress.
Get more Business Strategy SOP examples here:
Management SOP Templates
Management SOP templates help managers create processes for setting targets and assessing the performance of individual team members. Employees who follow these SOPs understand what is expected of them, allowing them to work with greater efficiency.
Management SOPs are designed to keep members of your management team on track. Executives and supervisors gain a better understanding of how to evaluate their projects, complete performance reviews, and delegate tasks to other workers.
Executive Assistance Inbox and Calendar Management Template
Use the ultimate guide to ensure that your executive assistant stays on top of their tasks. Our Inbox & Calendar SOP example provides clear instructions for managing your inbox and schedule, helping you stay organized.
Get more Management SOP template examples here:
Human Resources SOP Templates
SOPs can play a vital role in defining and streamlining HR processes. Almost every organization has an HR manual. It covers HR policies, rules, codes of conduct, and more. As one of the most essential sets of practices, human resources SOPs are often comprehensive and detailed.
Due to the importance of HR practices, an SOP template can be an invaluable tool. You can save time while ensuring that your organization adheres to employment laws and regulations.
Along with mapping out HR practices related to employee conduct and policies, HR SOP templates can help outline various HR tasks, such as the recruitment process. You can simplify almost any HR process using one or more SOP templates.
Determine Your Next Priority Hire Template
Deciding who to hire is rarely an easy decision. Our HR hiring template includes a checklist for determining which new hire is likely to provide your organization with the greatest return. Use the template as-is or customize it to better suit your organization.
Get more Human Resources SOP examples here:
Marketing SOP Templates
Standard operating procedures are incredibly important in the marketing world. SOPs ensure that your team stays productive by making it easier to track progress. You can easily analyze the progress of your marketing campaign and better understand which tasks each team member should be working on.
Marketing is an area where many businesses fail to maintain a consistent approach. The style of your marketing should remain consistent across all platforms, whether you are publishing a blog article or releasing a white paper.
Using SOPs ensures that your marketing team sticks to the same set of guidelines for writing marketing and advertising copy and developing new campaigns.
Effectively Manage Your Marketing Projects Template
Use this SOP template for step-by-step instructions on how to manage your marketing projects. Make sure that your marketing managers follow the best practices for promoting your products or services.
Sales SOP Templates
Sales SOPs give your sales team a set of guidelines for ensuring that all customers receive the same level of service. You can guarantee a consistent degree of polite professionalism.
Consistently delivering superior service and anticipating the needs of your customers is easier when the members of your sales team follow a set of standard operating procedures. You can also use sales SOPs to create sales targets, monitor quotas, and track the sales performance of each department or individual.
Sell an SOP in the Marketplace
Our SOP on how to sell an SOP in the Flowster Marketplace is the perfect sales SOP example. It offers clear guidance for completing a sales task. In this case, the task involves selling an SOP on our platform. Feel free to modify the template to suit your sales goal.
Get more Sales SOP templates here:
Conclusion
Standard operating procedures help organizations systematize their processes. You can ensure that every work task has clear procedures for employees to follow. You can maintain a higher level of consistency across the board, from management and marketing to customer service and human resources.
Providing your workers with specific instructions can ensure adherence to all applicable laws and industry standards. You also increase conformity, which makes it easier to analyze and improve your processes.
While SOPs are beneficial, you need to write SOPs that are customized to fit your processes. Using our SOP templates allows you to quickly edit a workflow to suit the needs of your organization.
You may also need to edit your SOPs due to changes in technology, personnel, legislation, or industry standards. An SOP app, such as Flowster, allows you to manage and edit your SOPs from a single platform. You can easily update your SOPs as needed to address any changes.
The fastest way to create an SOP is to start with an SOP template. Customize it as you see fit and share it with all relevant parties.
Flowster has many templates, covering a wide range of business categories. Check out our complete selection of SOP templates on the Flowster Marketplace.
If you don't have time to customize the templates, our Done For You service will take care of everything from start to finish.
Related Articles
If you want to learn more about this topic, check out our other articles.
Ultimate Guide to Creating Effective Standard Operating Procedures (SOPs) – with Free Template
What is an SOP? How to Create Your First SOP From Scratch
How To Write the Best Standard Operating Procedures (SOPs) for Your Business