Documenting your workflows could be the solution you need to boost productivity, streamline your operations, and make your business more profitable.
Every business has unique workflows. The processes that you and your workers complete each day impact every aspect of your business, from total profits to customer retention.
A workflow management system provides a way to document and improve your business processes. So, how do you get started?
The following document workflow guide covers the steps needed to document your business processes using a workflow tool.
What is a Workflow, and Why Do You Need One?
What is a Workflow?
A workflow is a series of tasks intended to achieve a specific outcome. Employees may follow a specific workflow when completing a sales order or submitting a vacation request.
Documenting a workflow involves defining the tasks included in the process, typically using a web-based workflow tool, such as Flowster. Each step is documented, making it easier to track, analyze, and improve any business process.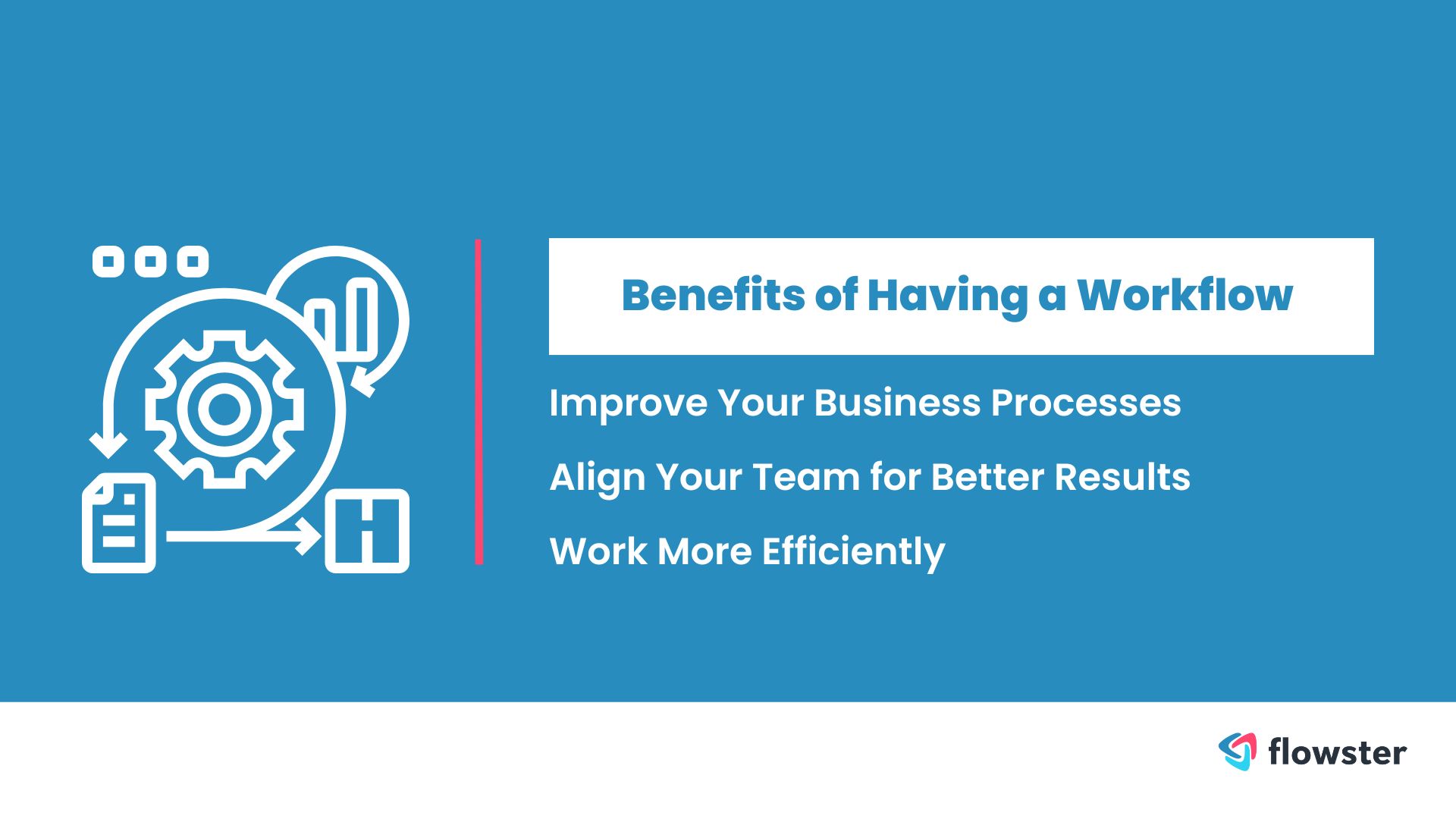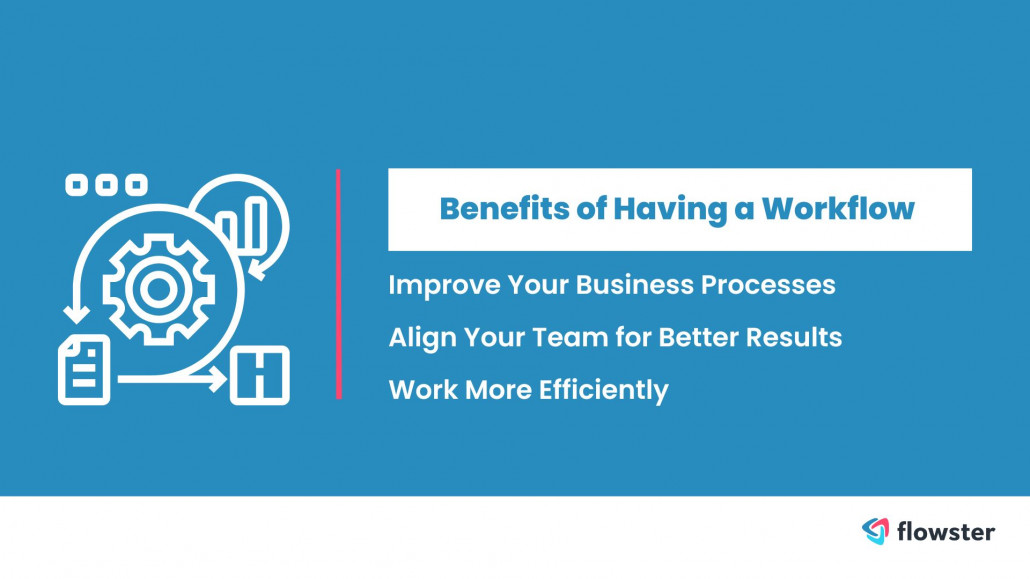 Why Document Your Workflows?
No matter the size of your business operations, you can benefit from documenting your workflows. Outlining the steps needed to complete an activity helps:
 

Improve your business processes

 

Align your team for better results

 

Work more efficiently
Here is a closer look at the advantages of documenting workflows.
1. Improve your Business Process
Analyzing your workflows provides the opportunity for continual improvement. You can track the performance of yourself or your staff.
Analyzing workflows helps you detect issues that you can fix. You may find ways to improve communication, eliminate redundant steps, and increase accountability.
2. Align Your Team
A workflow helps align your team. It ensures that everyone is on the same page, as everyone has the same set of instructions to follow.
When you document workflows, you provide standard operating procedures that anyone can use. You can rely on workers to perform the same steps each time, making any process more repeatable and consistent.
3. Work More Efficiently
Document workflows to boost the efficiency of your workforce. A detailed workflow increases productivity. It helps reduce the risk of errors and miscommunication.
You can also eliminate the need to document workflows manually, which frees up resources and time. Each process that you document may help further streamline the way you run your business.
Document Workflow Examples
Flowster offers access to a variety of customizable templates that you can edit to better document workflows for your organization. You can use the customizable templates as a framework for your own processes.
Find more templates on the Flowster Marketplace, including the following examples:
Business Template – Quarterly Planning Template
The Quarterly Planning template is used as a recurring template for managing business goals. You can run the template quarterly to set revenue goals and other objectives. You can also create a tracking log to track your progress.
HR Template—Onboarding New Employees the Right Way
The Onboarding template streamlines your onboarding process for newly hired or transferred employees. You can ensure that employees have the skills and knowledge needed to carry out their duties. Some of the areas covered in this template include project assignments, onboarding process evaluation, and more.
Management Template—Executive Assistance Inbox and Calendar Management
Use our Executive Assistance template to help your executive assistant stay organized. The template documents workflows for managing calendars, inboxes, and messages. You can filter out email that does not require your attention, helping to save time and energy.
How to Document Workflows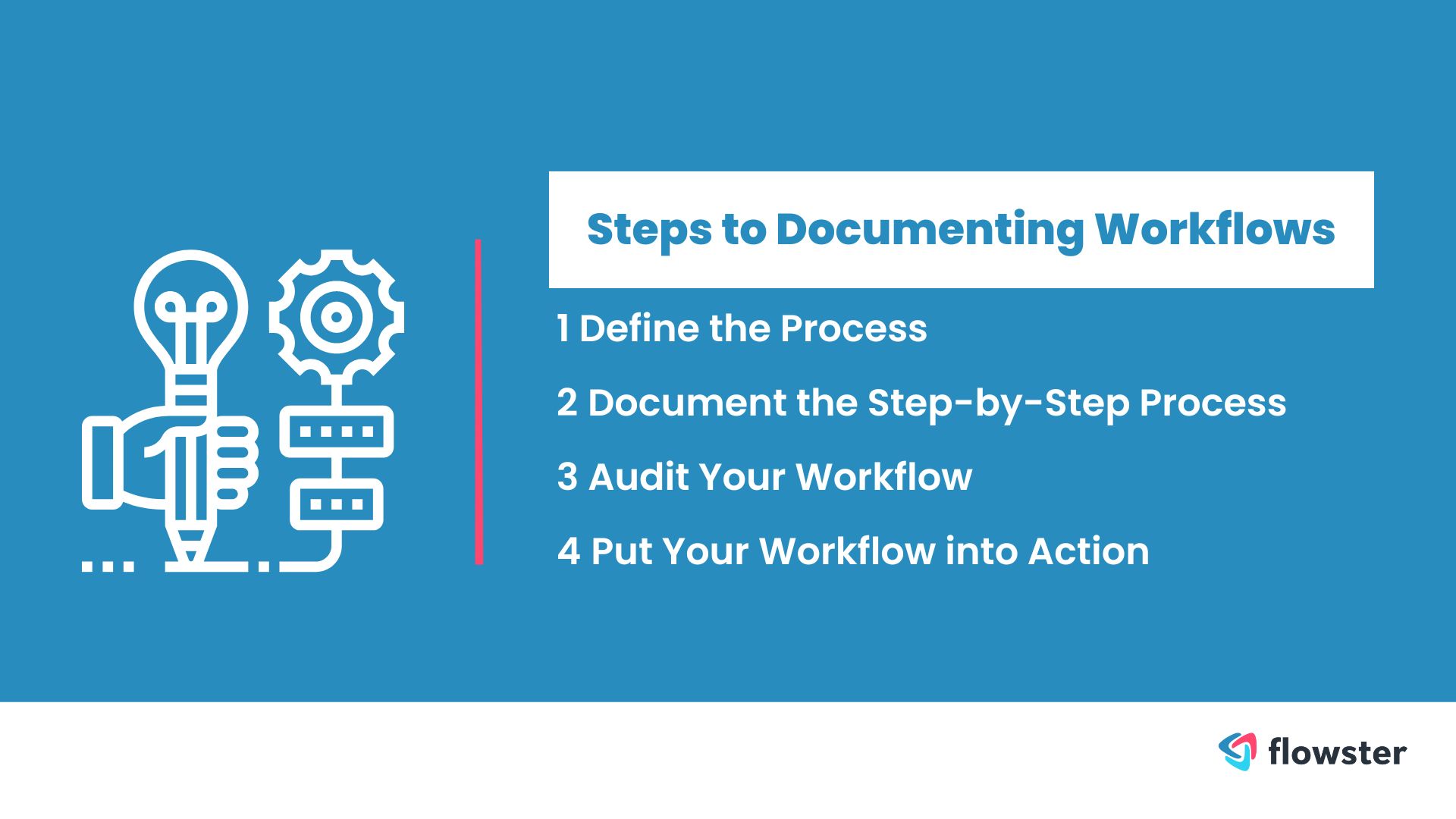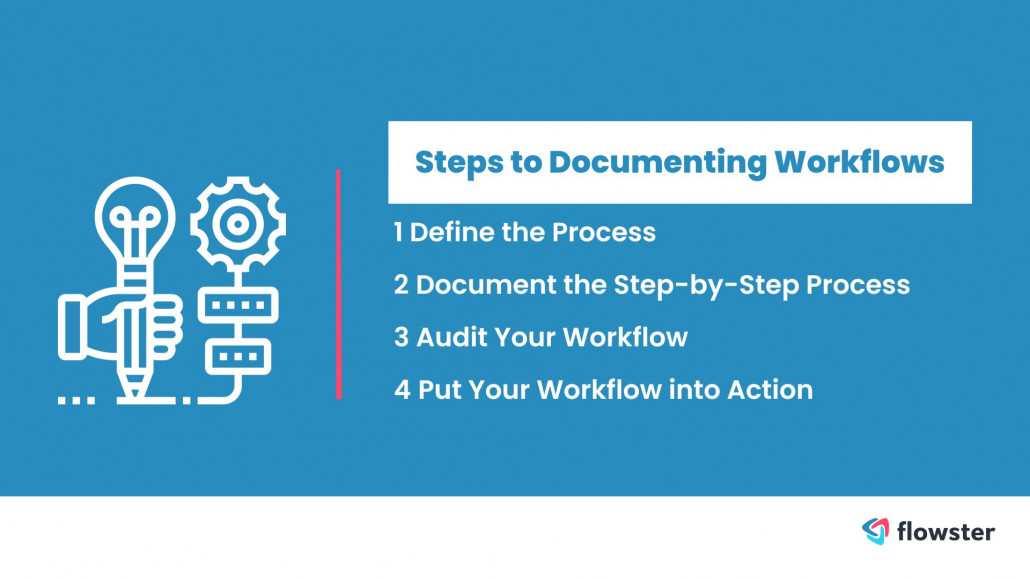 Steps for Workflow Documentation – From Beginning to End
Along with templates, you can document workflows from scratch. Here are the steps involved in proper workflow documentation:
Define the process
Document the step-by-step process
Audit your workflow
Put your workflow into action
1. Define the Process
Start by defining the process that you want to document. Identify the goal that you want to achieve when workers complete the process.
The process definition should also outline the scope of the process and the timeframe for completion. The scope of a process may include multiple departments or a wide range of resources. The timeframe may vary from a few hours to days or weeks, depending on the process.
2. Document the Step-by-Step Process
List the steps in your workflow.
Some processes may include conditional rules. For example, the next step in a process may depend on the outcome of the current step.
You can break steps into sub-steps and branching paths based on different variables.
Creating a visual workflow makes it easier to track these variables. You can outline each outcome, making it easier to follow all potential paths for the workflow.
3. Audit Your Workflow
Review the workflow process. Use feedback from supervisors and those who carry out the processes. Look for redundant steps and other issues that you can fix before implementing the workflow.
Consider customizing your workflow based on approvals, reviews, and decisions from those involved in the process.
4. Put Your Document Workflow into Action
You now put your workflow into action. Continue to monitor the efficiency of the workflow and look for areas of improvement.
Do you currently document procedures at your company?
Users tell us that Flowster cuts the time it take to document procedures by over 80%. Give Flowster a try with a Free Trial - No Credit Card Required!
Tips for Creating Efficient and Effective Workflows for Your Team
Use the following tips to get more out of your workflows:
 

Talk to your team

 

Clearly define team member responsibilities

 

Diagram the team workflow
Ask for input from your team. You should listen to those who are directly involved in the process, as they are more likely to provide valuable feedback.
You should also clearly define the responsibilities of each team member. An effective workflow needs to define team roles and duties so everyone understands what is expected of them.
Diagram the team workflow to improve collaboration. Creating a team workflow allows multiple teams to work toward the same goals with greater efficiency.
Easily Create & Customize Your Workflow Using this SOP Template
Using a workflow builder such as our free template can help streamline your operations. If you want to take your business to a new level of success, start using our customizable SOP template.
The Creating an Effective Standard Operating Procedure (SOP) template covers the steps needed to develop your own SOPs.
Optimize Your Workflows Using Workflow Management Systems
While you can use a spreadsheet or document to manage your workflows, a workflow management system provides a more effective solution.
What Are Document Workflow Management Systems?
Document workflow management systems are a complete solution for creating and managing business processes. You can document workflows and track progress from a single system.
These systems also typically allow users to submit requests, approve work, share documents, and assign tasks.
What is Workflow Software?
Workflow software helps automate your processes. It provides a central place for editing, managing, and tracking your workflows.
Who Uses Workflow Software?
Workflow software is beneficial for businesses of all sizes. No matter your industry or business size, you have specific tasks and procedures that you must complete.
Documenting your workflows using computer software helps save time and energy that you can use for other areas of your business.
Entrepreneurs also benefit from the use of workflow software. You can increase the efficiency of repeatable processes, such as generating new blog posts or developing a new product.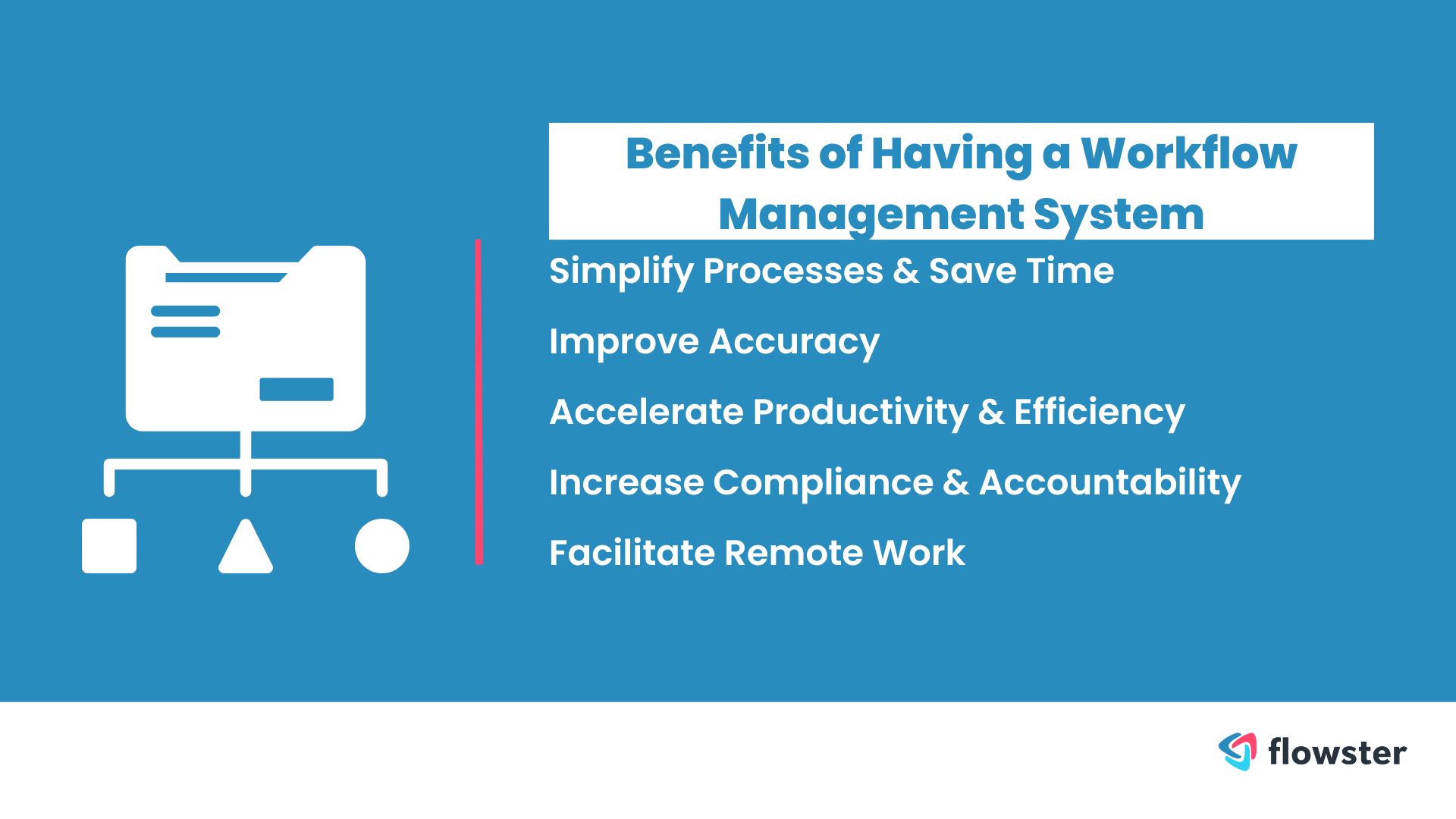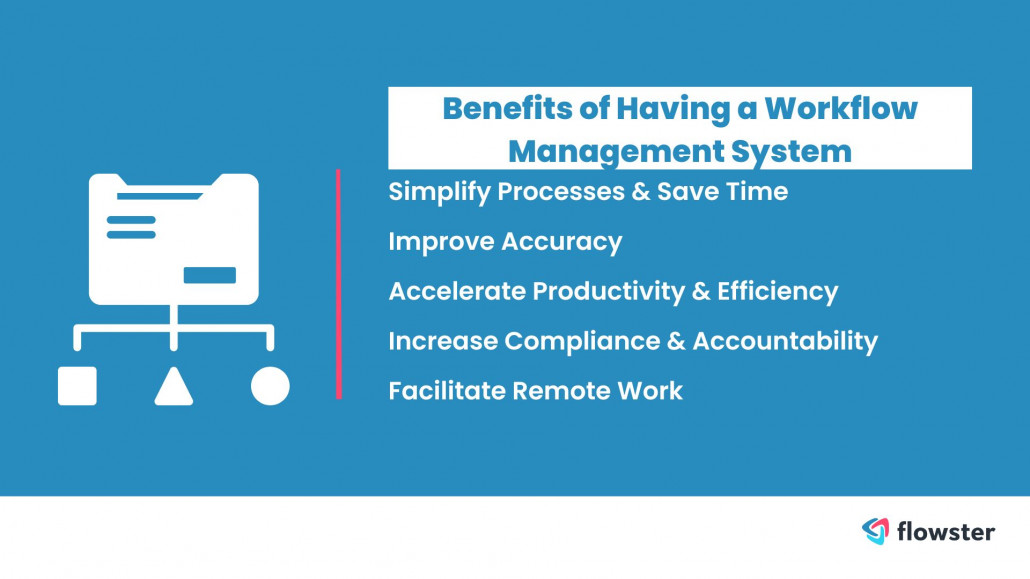 Benefits of Workflow Management Systems
Explore the key advantages of implementing a workflow management system:
Simplify Processes and Save Time
Using a workflow management system can help simplify any process, which can save time and money. After documenting a workflow, you can analyze it and look for ways to simplify it.
For example, you may find a way to remove a step or streamline the completion of the task.
Any small change in the way you complete a process could save time. Simplifying your processes may also contribute to the remaining benefits.
Improve Accuracy
Streamlining your processes and documenting them helps improve accuracy. People are less likely to make mistakes when they have clear step-by-step instructions to follow.
Documenting workflows also allows you to identify potential issues that may occasionally result in errors. You can provide workers with a repeatable process with less margin for error.
Accelerate Productivity and Efficiency
Many of the benefits provided by workflow management systems help lead to increased productivity and efficiency. Simplifying your processes and preventing errors means that your staff spends less time on unnecessary tasks.
Increase Compliance and Accountability
The roles and responsibilities of each team member are clearly outlined in the workflow. These clear definitions ensure accountability and increase compliance.
Facilitate Remote Work
Workflow software can help facilitate remote work. You can easily share workflows with remote workers, which ensures that they stay on track.
Steps to Digitize and Automate Your Workflows
Examine the steps needed to digitize and automate your workflows using a workflow builder: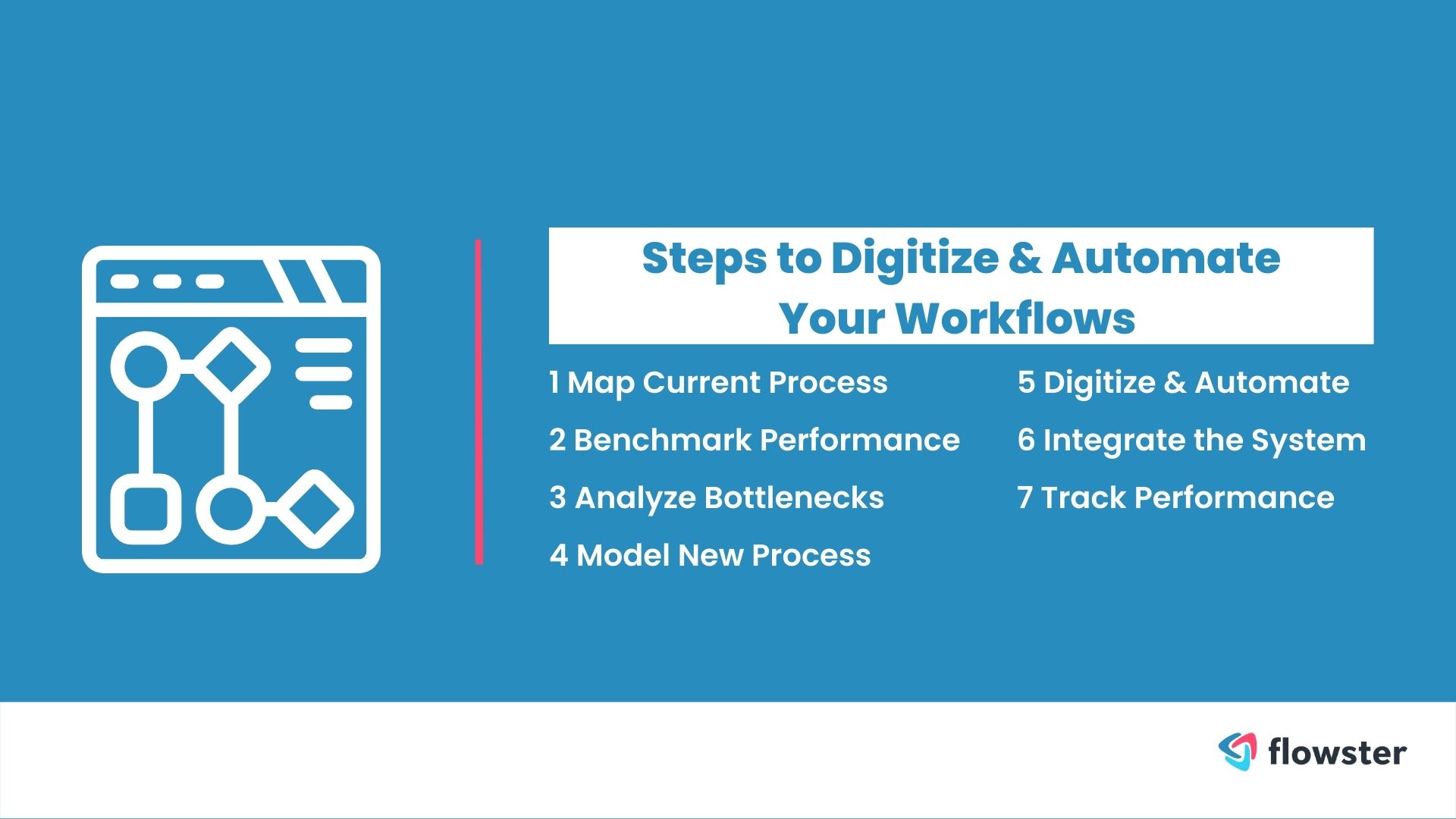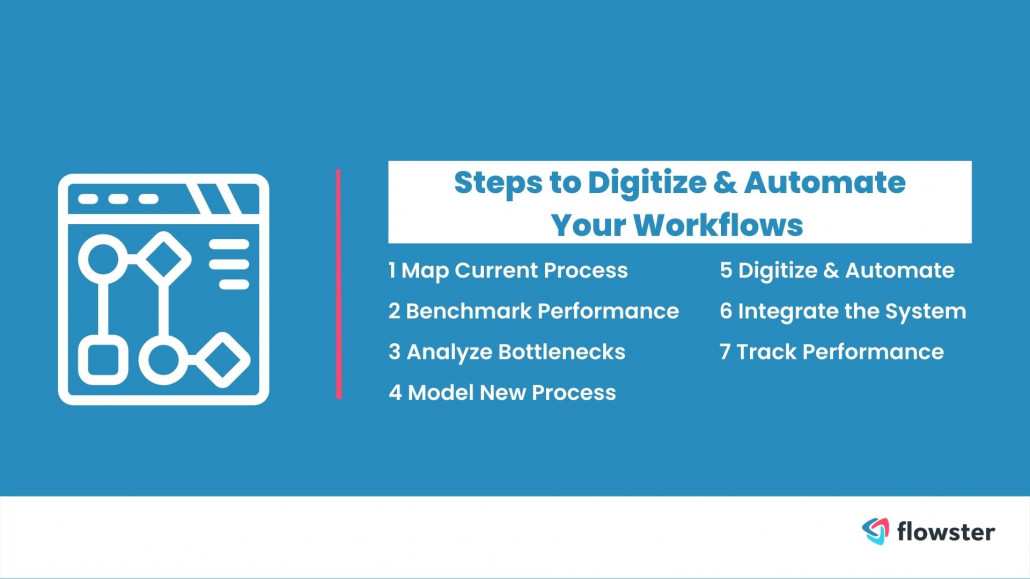 1. Map Your Current Document Management Process
Start by mapping your current document management process. List the steps that your staff currently uses to complete the task.
You may want to receive input from the workers who complete the task to ensure that you accurately document the current process.
2. Benchmark the Performance of Your Existing Document Process
Track the performance of the current process to create a benchmark. You can use this benchmark as a comparison for evaluating the improvements after you digitize your workflow.
3. Analyze the Bottlenecks in the Process
Analyzing the performance of your existing process helps you identify bottlenecks. Look for the areas that result in slowdowns in the process.
For example, you may find that workers need to frequently wait on a specific step due to delays from another department or team.
4. Model the New Document Management Process
After analyzing the process, develop a new model for the process. Try to create a more efficient model compared to your existing process by paying attention to the issues uncovered during the previous steps.
5. Digitize and Automate Document Management
Digitize your document workflow using a workflow management system. Enter each step into the software. The process should also list the roles and responsibilities of team members.
6. Integrate Your Electronic Document Management System
Integrate your workflow with your electronic document management system (DMS). Make sure that all relevant team members receive access to the system. Supervisors and managers may also require special permissions, such as the ability to assign tasks or edit documents.
7. Track Performance and Adjust Accordingly
Continue to track the performance of your processes and adjust the steps accordingly. You may gradually tweak and finetune each process to maximize the efficiency and profitability of your business.
Using Flowster to Document Your Workflow
If you are ready to document workflows for your organization, start with a Flowster free trial.
What is Flowster?
Flowster is a robust process management software. You can use it to create and customize standard operating procedures (SOPs) from scratch or using templates.
Why Use Flowster?
Flowster offers an efficient solution for documenting workflows. It also helps improve collaboration between teams by enabling members to start discussion threads. You can even set up recurring schedules to prevent users from forgetting about essential tasks.
You can also browse a wide range of templates from our marketplace. We offer a variety of templates to cover all areas of your business operations, including human resources, advertising, business strategy, and more.
The customizable templates allow anyone to create more effective workflows using a no-code, drag-and-drop user interface. The simple workflow interface makes it easy to assign work to individual members within your team.
Summary
Choosing to document workflows helps boost the efficiency of your operations. Creating step-by-step instructions reduces mistakes, improves communication, and keeps everyone working toward the same goals.
Using a workflow builder template, such as the templates available from Flowster's Marketplace, offers a faster way to document workflows. You can quickly edit the template to suit your business needs.
However, using a workflow tool is just the start. You also need to audit your workflows. Reviewing your processes helps you find ways to increase productivity, cut costs, or improve the quality of your output.
Ready to Start Customizing Your First SOP?
Browse the full selection of SOP templates in Flowster's Marketplace.
Choose from a wide variety of templates for documenting and managing any business process, no matter how simple or complex. Customize the templates to suit your needs or use our Done For You service to let our experts build your SOPs from scratch.