Ever stumbled upon the acronym "SOP" and thought, "What on earth is that?" Well, let me tell you! SOP stands for standard operating procedure. Therefore, SOP templates for remote teams, or, as some refer to them, the SOP format, are a fancy way of saying a step-by-step guide to doing things for remote teams.
Now, if you're part of a remote team, which I'm guessing you are, SOPs are your best buddies. They're essential internal processes that ensure clear and consistent instructions. 
Why, you ask? They're like a universal remote for TVs—they make things simple, clear, and super streamlined. So, let's dive deep into why SOPs are vital for streamlining business processes for remote teams.
Why are SOP Templates for Remote Teams Important?
When you're not in the same physical space as your team, communication can sometimes become a challenge. That's where SOPs, especially ones using a standardized HR SOP template or onboarding SOP, swoop in like superheroes. 
They help in the SOP creation process, ensuring everyone's on the same page. They provide clarity and consistency and ensure that there's no room for "Oh, I thought you meant…" kind of mix-ups.
And the next big question on your mind is probably, "How do I create SOP templates?" Or better yet, "Is there a free SOP template available?" Stick around, and I'll break it down for you with a focus on process documentation!
How to Easily Create SOP Templates for Remote Teams
Tech and AI are making waves, aren't they? And guess what? They're making our lives easier in the world of detailed instructions and SOPs too! 
If you're a bit tech-savvy or even if you're not, Flowster's AI feature is your go-to tool. It's like having a personal assistant that's helping you craft these templates, ensuring that every SOP document aligns with best practices. Just provide it with some key points, and bam! You have a template ready to go.
What is Flowster?
But first, let's get to know more about Flowster. It is a software platform that helps businesses create, manage, and share SOPs. It has a number of features that can make it easier to create SOPs, including:
A library of pre-built SOP templates: Flowster has a library of pre-built SOP templates that can be customized to fit your team's needs.

An AI assistant: Flowster's AI assistant can help you create SOPs by suggesting relevant content and formatting your text.

A collaborative editing tool: Flowster's collaborative editing tool allows you to work on SOPs with other team members in real time.

A version history: Flowster keeps a

version history of all your SOPs,

so you can easily track changes and revert to previous versions.
To use Flowster's AI feature to create SOPs, you can simply start by selecting a template from the library. Then, the AI assistant will prompt you to provide some information about the SOP, such as the task or process that it describes, the target audience, and the desired outcome. The AI assistant will then use this information to suggest relevant content and formatting for your SOP.
You can then customize the SOP as needed. Once you are finished, you can share the SOP with your team or publish it to a central repository.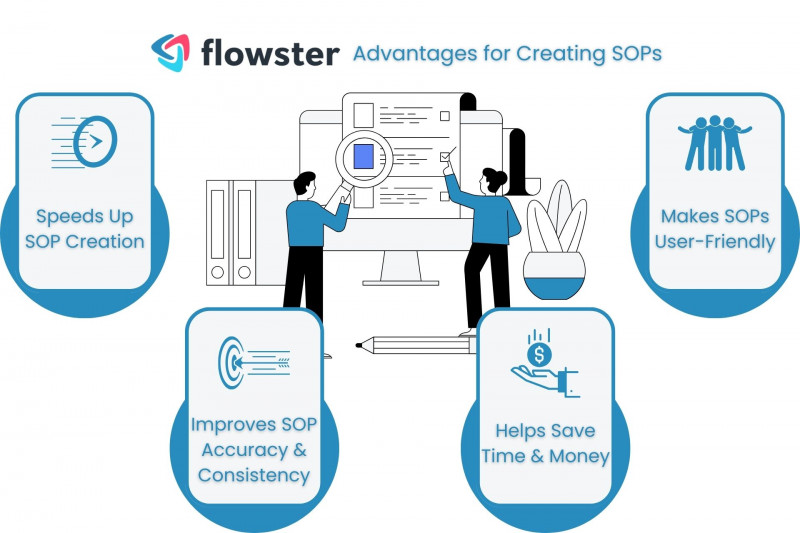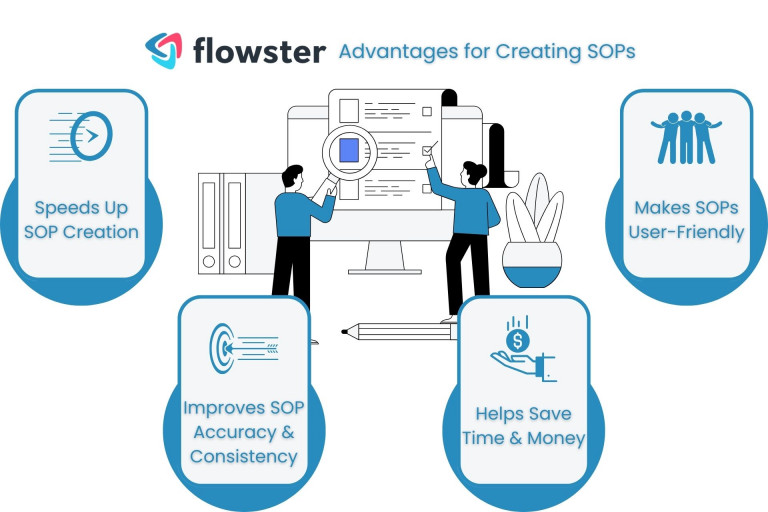 Why Use Flowster to Create SOP Templates for Remote Teams?
Here are some of the benefits of using Flowster's AI feature to create SOPs:
It can help you create SOPs more quickly and easily.

It can help you create SOPs that are more accurate and consistent.

It can help you create SOPs that are more user-friendly.

It can help you save time and money.
If you are looking for a way to easily create SOPs, Flowster is a good option to consider. Its AI feature can help you create SOPs more quickly and easily, while still ensuring that they are accurate and consistent.
Now, Let's get some tips on how to use your SOP templates for effectively
Transform Your Business Processes with Flowster's AI-Driven Automation
You can streamline your business process and complete more tasks with the sophisticated app Flowster, which uses AI technology. Experience the future of workflow management with Flowster's free 7-day trial. Start optimizing your business processes today!
Tips for Using SOP Templates for Remote Work
Alright, folks, pay attention, because here comes the real meat of the matter:
Choose the right templates

: Not all tasks are created equal. Some need a lot of detail, while others can be pretty straightforward. So, make sure the template matches the complexity of the task.

Customize the templates to fit your needs:

Think of these templates as your favorite pair of jeans. Sometimes they fit right off the rack, but other times they need a bit of tailoring. Add a pinch of your own team flavor to them!

Train your team on the templates:

It's no use having an amazing SOP if no one knows how to use it, right? Spend some time walking your team through the process.

Keep the templates up-to-date:

Like milk, templates can go sour if they're not updated. Ensure you revise them as processes evolve.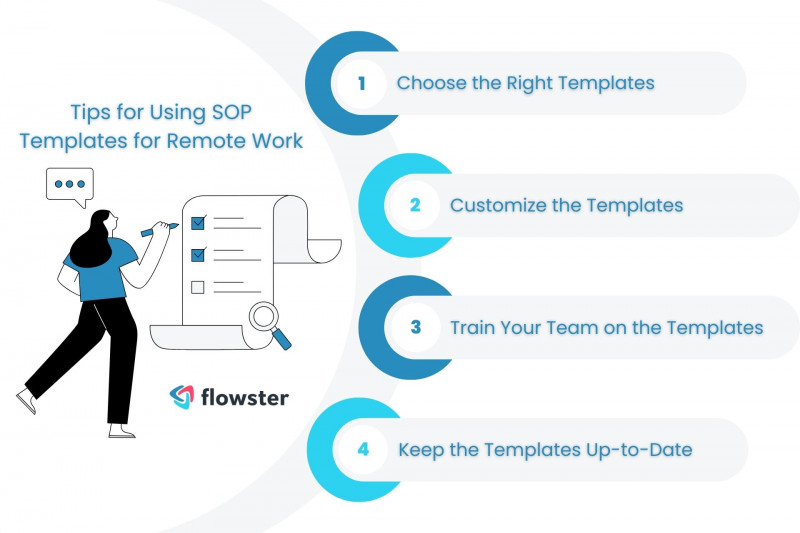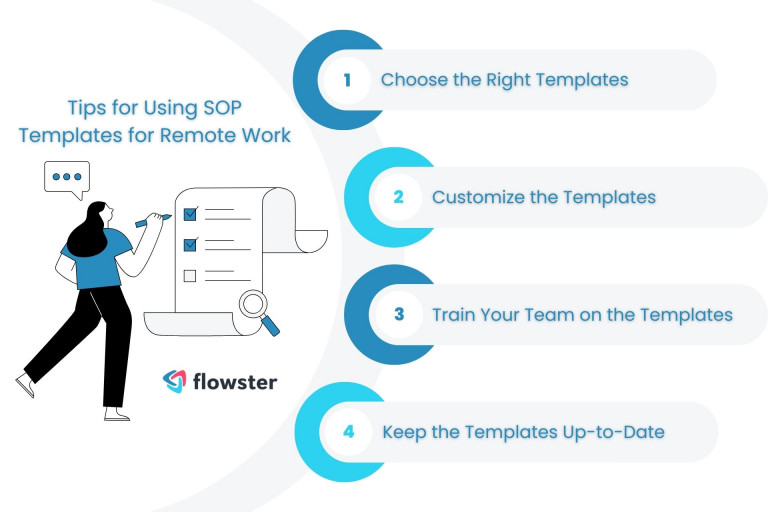 Now, Are you ready for some free sop templates you can start customizing? Let's get going!
Examples of SOP Templates for Remote Teams
So, let's spill the beans. SOP templates are a starting point. They're the foundation, the base layer. But for them to really shine, you've got to mold them to your team's unique rhythm.
For instance, the needs of a software development team might be very different from those of a marketing team. So, here are some examples of free SOP templates for remote teams:
Customer Onboarding SOP Template Example
Customer onboarding: Welcome new customers with open digital arms! This SOP will make sure that every new addition feels right at home.
To get a free copy of this template, just click the button below that says "Complete Task."
Project Management SOP Template Example
Project management: Remote or not, projects can be a handful. This template is designed to keep things smooth, especially during the submission and approval process and ensure everyone knows their role and timeline.
Get your free copy of this template by clicking the "Complete Task" button below.
Task Management SOP Template Example
Executive Assistant Inbox and Calendar Management: The ultimate guide to ensuring your Executive Assistant is on top of their game! With this Inbox and Calendar SOP Template, an Executive Assistant will know how to manage your inbox, schedule you on the fly, and help you stay organized.
Oh, there's a universe of SOPs out there. From content creation to HR processes and financial reporting – the list goes on. Find out what resonates with your team's vibe by clicking on the link below.
Get Started Creating SOP Templates for Remote Teams!
To wrap it up, if your team is spread across different time zones or even different rooms in the same house, SOPs are your secret weapon. 
They're the bridge that fills the gap of distance and miscommunication. And with free SOP templates and the right SOP format, getting started is as easy as pie! Dive in, customize, and watch your remote team thrive.
To get started, use this template for creating an effective Standard Operating Procedure (SOP). Simply click the "Complete Task" button below.
Having Trouble Writing Your Standard Operating Procedure?
With Flowster, you can easily create standard operating procedures or workflows by leveraging the power of AI, or you can browse our library of pre-built templates in the Flowster Marketplace.
Do you want assistance? Use our "Done for You" services to have our quality and improvement professionals create custom workflows for you.