Hey there! If you're looking to supercharge your workflow automation and boost productivity, you're in the right place. In this article, we'll dive into Flowster's game-changing AI feature, which is transforming how businesses across various industries streamline their processes.
Get ready to learn the ins and outs of this new feature, find out how it can help you save time, work more efficiently, and make things more personal, and find out how to easily add it to your existing workflows.
So grab a cup of coffee, and let's dive into the world of AI-powered workflow automation with Flowster!
Introduction to Flowster's AI Feature
What is Flowster?
Flowster is a modern workflow and process management app that makes it easier for teams to work together and makes them more productive.
It lets people make, manage, and run workflow templates, which are step-by-step instructions for different tasks and processes. Team members can easily share and modify these templates, ensuring that everyone is on the same page.
Key Features of Flowster
Some of the primary features of Flowster include:
Intuitive drag-and-drop interface for creating and editing workflow templates

Ability to assign tasks and due dates to team members

Centralized dashboard for tracking progress and managing team workflows

Integration with popular tools such as Slack, Trello, and Zapier
The New AI Feature in Flowster
Artificial intelligence (AI) is becoming more important in many industries, including workflow automation, as technology keeps getting better. AI has a lot of potential, so Flowster has added a new AI feature to help users create their workflows better.
What is the New AI Feature?
Flowster's new AI feature is an advanced machine learning algorithm that helps users create their workflows by looking at data, finding patterns, and making smart suggestions. The AI streamlines the automation process, making it more efficient and enjoyable.
Why is this AI Feature Important?
Adding AI to Flowster not only makes the platform more useful but also gives users a competitive advantage. The AI feature lets users create workflows with more accuracy and efficiency, leading to better business results and higher productivity.
Watch our short video demo to see this new AI feature in action. The video will demonstrate how easy it is to use this powerful new feature by creating a new SOP template with Flowster and ChatGPT.
The Power of Flowster's AI Feature in Workflow Management
The latest addition to Flowster's long list of useful features is an AI-powered feature that changes how teams make and manage workflow templates. Let's take a closer look at how AI is shaping the future of workflow management.
AI-Driven Workflow Templates
With Flowster's new AI feature, users can automatically make workflow templates based on the needs of their team and project. By looking at past data and user preferences, AI can make custom templates that improve efficiency and help teams work better together.
Enhancing Collaboration with AI
AI not only helps create workflow templates but also assists teams in working together more effectively. The AI can find possible bottlenecks, make suggestions for improvements, and make sure that everyone on the team knows how everyone else is doing. This heightened level of collaboration translates to increased productivity and more successful project outcomes.
AI and Continuous Improvement
The AI in Flowster learns from user interactions and continually refines its recommendations. This means that the more you use the application, the better it gets at understanding your team's specific needs and generating workflow templates that are truly optimized for your unique requirements.
Interested in improving your business processes?
Consider Flowster. You can use this app to automate repetitive tasks, manage workflows, collaborate, and get updates all in one place. Flowster is free to try for 7 days to see if it is right for you. Use Flowster today to improve your business processes.
Benefits of Flowster's AI Feature
The integration of AI technology in Flowster offers numerous advantages.
Time Savings
AI-made workflow templates save users a lot of time that they would have spent making and improving templates by hand. This frees up team members to focus on other important tasks and responsibilities.
Improved Process Efficiency
The AI's ability to create optimized templates makes processes more efficient because it finds places to improve and gets rid of steps that aren't needed.
Reduced Human Error
By automating the creation of workflow templates, AI makes it less likely that a person will make a mistake. This makes workflows more accurate and reliable.
Customized Workflows
The templates that are made by AI are customized to fit the needs and preferences of each team. This makes sure that they are as useful and effective as possible. This level of customization results in more streamlined processes and better overall performance.
Getting Started with the AI Feature in Flowster
To take advantage of Flowster's AI capabilities, follow these simple steps:
Creating a New AI-Generated Workflow Template
In the Flowster dashboard, click on "New" then "Template."

Choose the "AI-Generated" option.

Provide relevant information about your project, team, and desired outcomes.

The AI will look at the data and come up with a workflow template that fits your needs.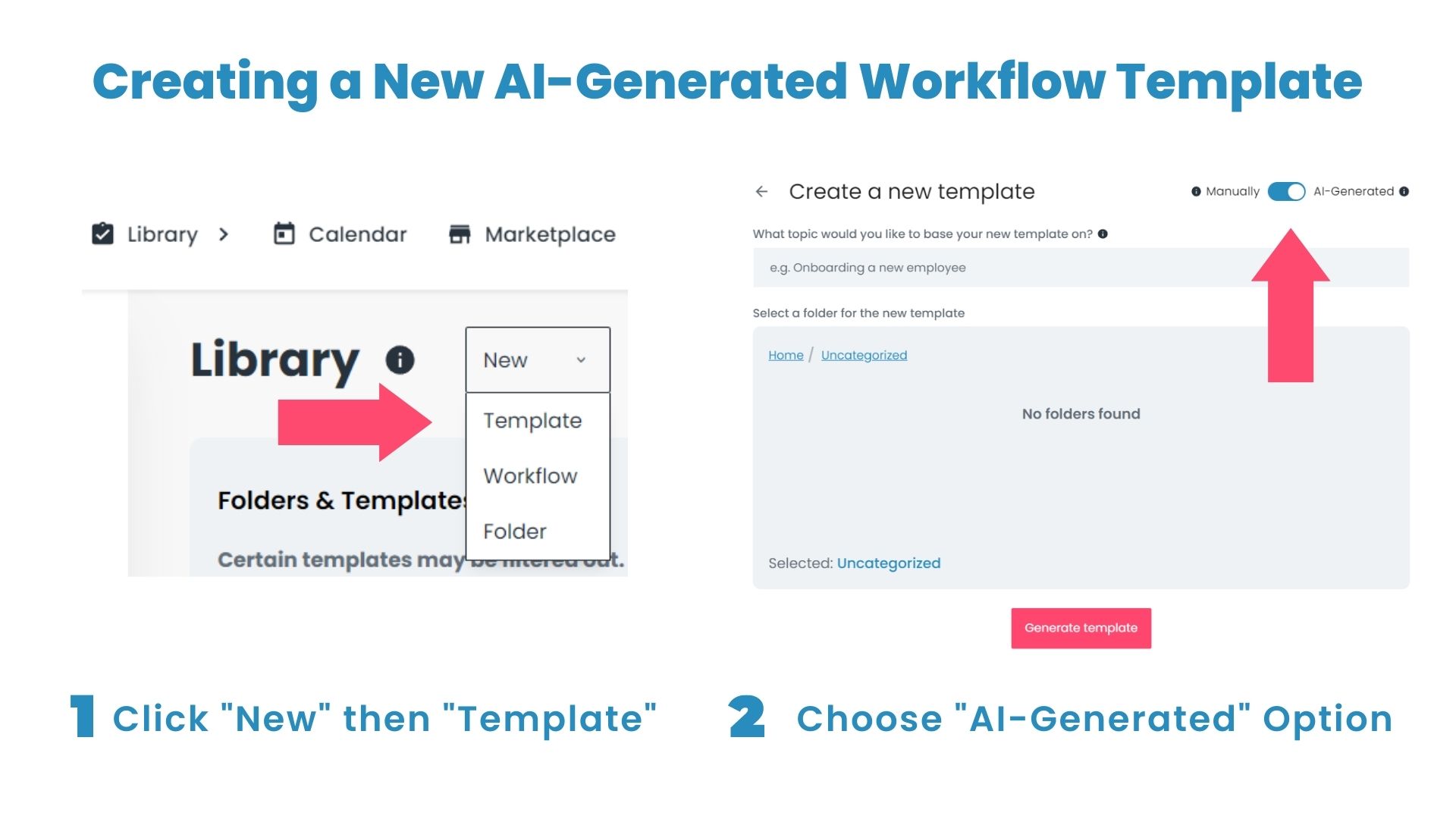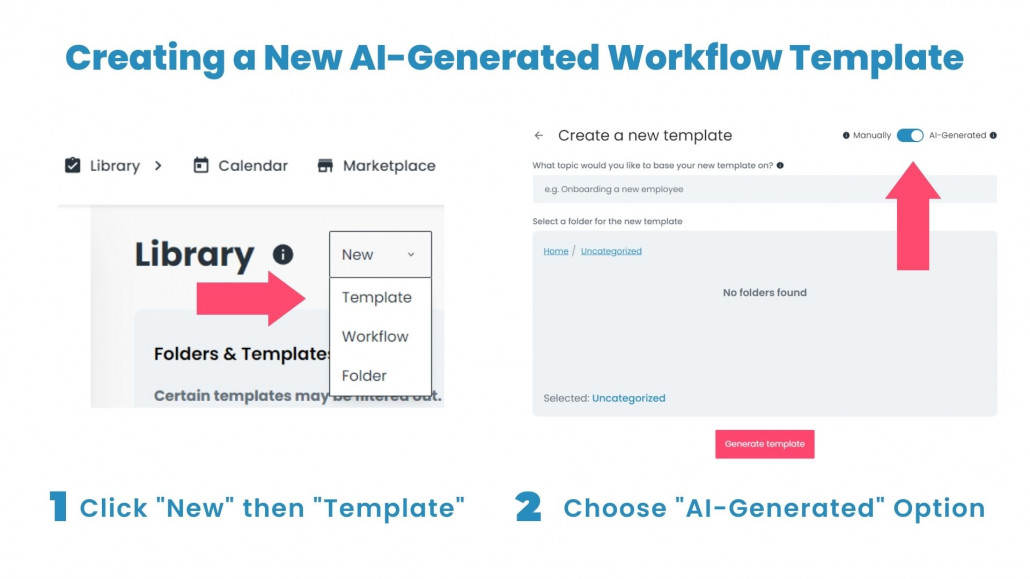 Editing an Existing Workflow Template with AI Suggestions
Open an existing workflow template in Flowster.

Click on the "AI Suggestions" button.

The AI will analyze the current template and provide recommendations for improvements.

Implement the suggested changes to enhance your workflow template.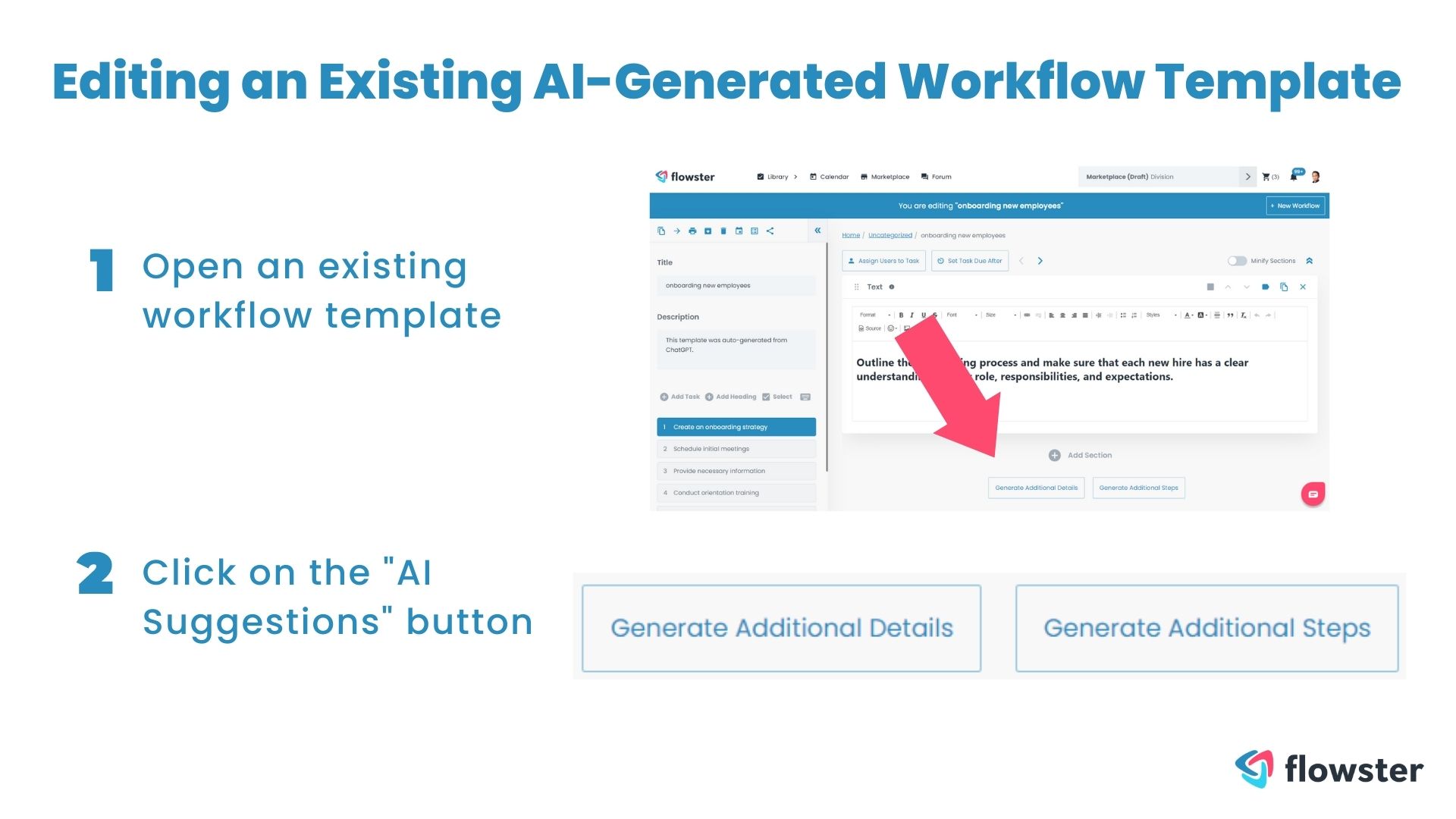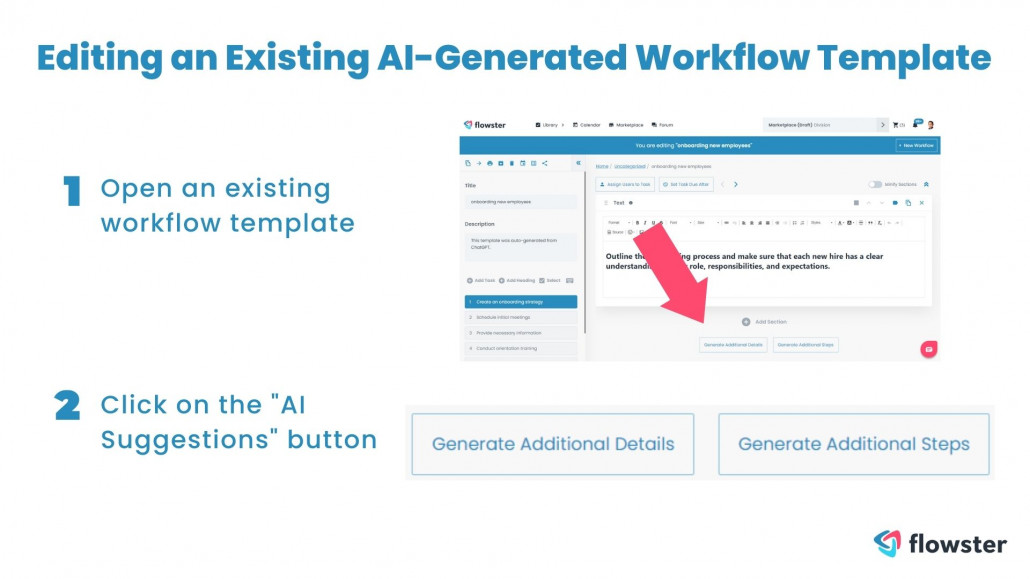 FAQs About the AI Feature of Flowster
Is the AI feature available to all Flowster users?
Yes, the AI feature is available to all Flowster users, regardless of their subscription plan.
How secure is the data used by the AI?
Flowster takes data security seriously and uses strong encryption and privacy measures to protect all user data.
Can users make further changes to the AI-generated templates?
Absolutely! Users are encouraged to edit and change the templates that are made by AI as needed to make sure they work for their team and project.
How long does it take for the AI to create a workflow template?
The templates made by AI can be made quickly, usually in just a few minutes, depending on how complicated the project is and how much data is given.
Do I need any special skills or expertise to use the AI feature in Flowster?
No, the AI feature is designed to be user-friendly and does not require any specialized knowledge or skills to use effectively. Simply follow the steps outlined in this article, and you'll be on your way to a more efficient and productive workflow.
Conclusion
The new AI feature in Flowster is a major step forward for managing workflow and processes. Flowster can now make customized, efficient, and accurate workflow templates that save time and make it easier for people to work together. 
AI has made this possible. As AI keeps learning and changing based on what users want, it could lead to ongoing improvements and more efficient workflows. With Flowster's AI-powered features, it's time to embrace the future of process management.
Ready to Create Your First Workflow Template?
Start from scratch to make a workflow template, or look through our templates in Flowster's Marketplace.
Want help? Use our "Done for You" service to let our experts build custom workflows for you.