Business process mapping involves documenting your core business processes to show how things are done from start to finish. It may also be the key to the success of your business.
Unorganized, inefficient businesses typically struggle to grow. You may become bogged down in mundane administrative duties. Luckily, business process mapping can streamline your operations.
Business process mapping helps you manage and scale your business. It also makes it easier to switch from manual to automated tasks.
In this article, you will learn what business process mapping is, the benefits it provides, and how you can use it to manage and grow your business.
What is Business Process Mapping?
Business process mapping (BPM) refers to the business activity of documenting work processes. Flowcharts and diagrams are often used in BPM to show how each step in a process looks. It maps out the process from beginning to end.
The main purpose of process mapping is to answer the following questions:
 

What are the tasks in the process?

 

Who is responsible for each task?

 

When does each task occur?
Mapping out a process involves defining each task needed to achieve a successful outcome. A business process map covers each task in the process, including who is responsible for each task and the sequencing of the tasks. You need to decide the order in which the tasks occur to ensure that the process runs smoothly.
Business process maps may also define the purpose of a process, the standards for success, and the individual roles and responsibilities of each person involved in the process.
Business process mapping is similar to other ways of writing down business processes, like making business workflows in spreadsheets and other types of documents. However, process mapping is often visual.
It may include a flowchart or diagram to provide an overview of a process. The chart or diagram provides a quick look at the relationship between steps.
Why Do You Need A Business Process Map?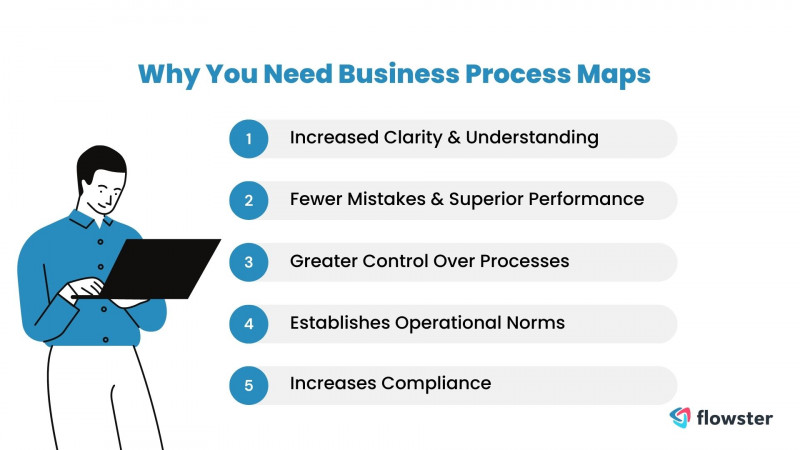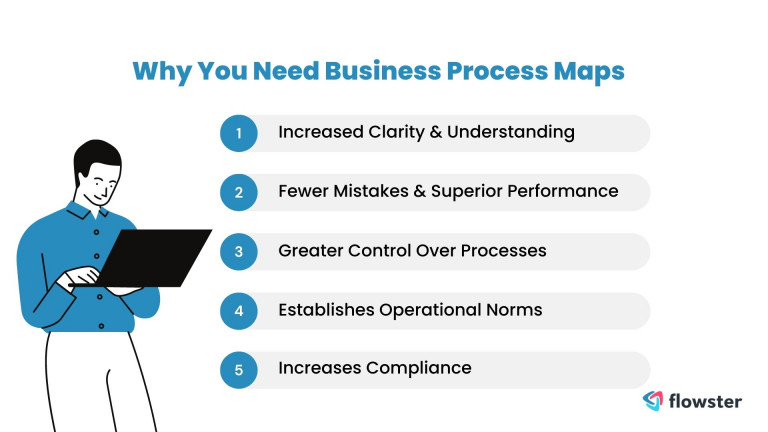 The advantages of using a business process map include the following:
 

Increased clarity and understanding

 

Fewer mistakes and superior performance

 

Greater control over how processes are completed you can outline a specific way of completing a task and ensure that others follow the same steps. You can explain how to do something in detail and make sure everyone else does it the same way.
Standardizing processes and establishing operational norms are also crucial for improving your processes. By establishing a baseline, you can evaluate how well the process is working and find problems like duplicate tasks or bottlenecks.
You could also make a map of how your business works to make it easier to follow rules or industry standards. You may need to include specific steps to make sure you don't break the law or go against an industry standard.
How Do Business Modeling & Business Process Mapping Differ?
Business modeling and business process mapping are two different ways to improve productivity and give a starting point for getting things done. However, the terms "business modeling" and "business process mapping" are also occasionally used interchangeably.
The main difference is that business process mapping can be done using any medium, including a piece of paper or a whiteboard.
Business modeling is typically completed using software that can also automate your processes. Both options allow you to map out processes. However, business process mapping simply focuses on documenting the processes instead of automating them.
Business Process Mapping Examples
Business process mapping often includes a visual representation of the processes that it documents. Here are some of the most common methods for mapping out business processes:
 

Basic flowchart

 

Data flow diagram

 

Business process modeling diagram
A basic flowchart includes a visual illustration of each step flowing into the next. The flowchart covers the sequence of tasks needed to complete a process.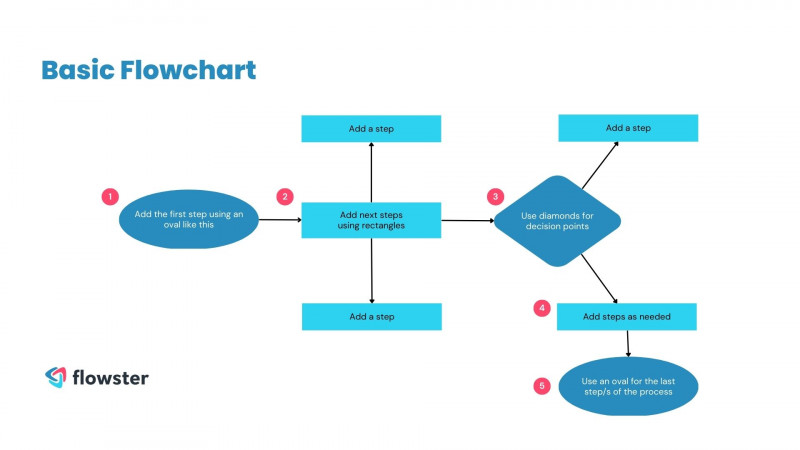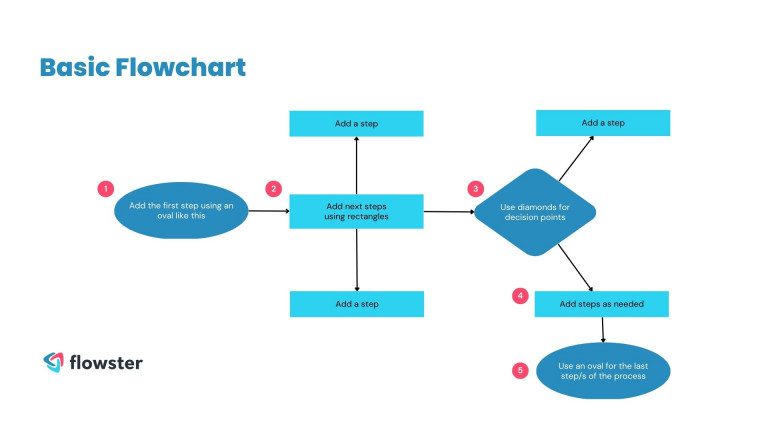 A data flow diagram (DFD) shows all the things that go into the task and what comes out of it. It covers the flow of data and resources, along with the steps involved in the process.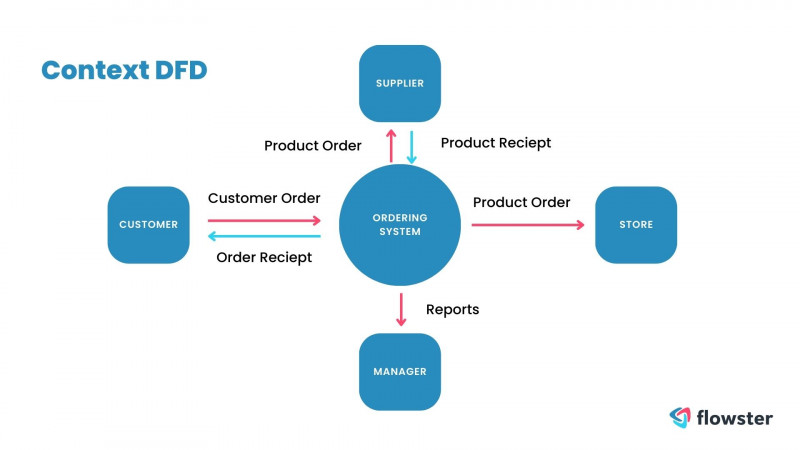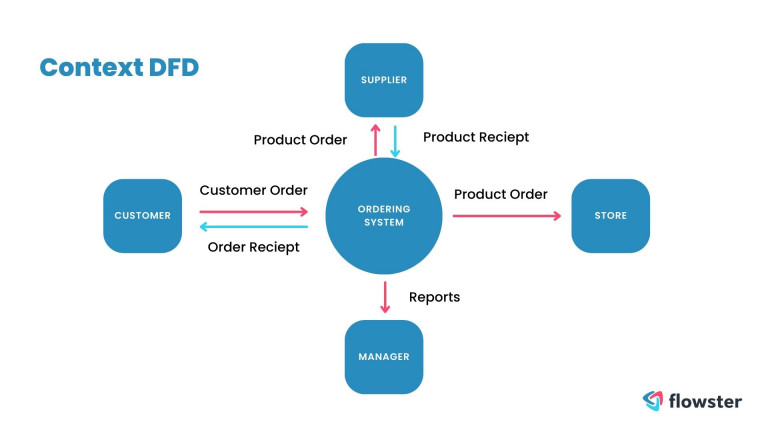 Business process modeling diagrams map out business processes using flowcharts or diagrams with a set of specific notations.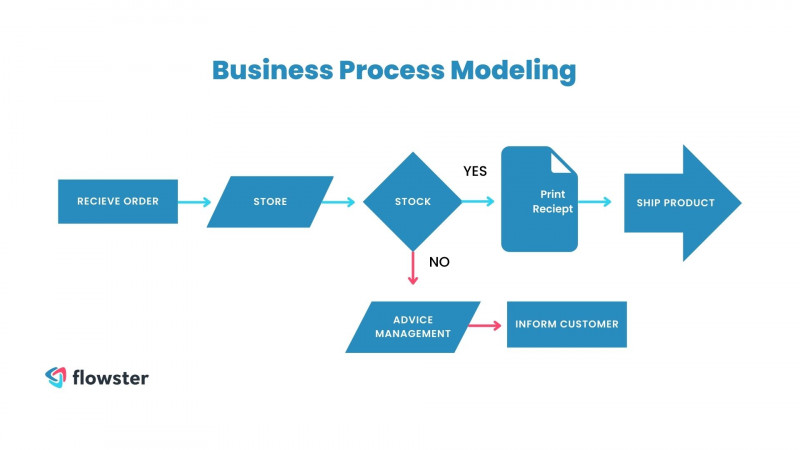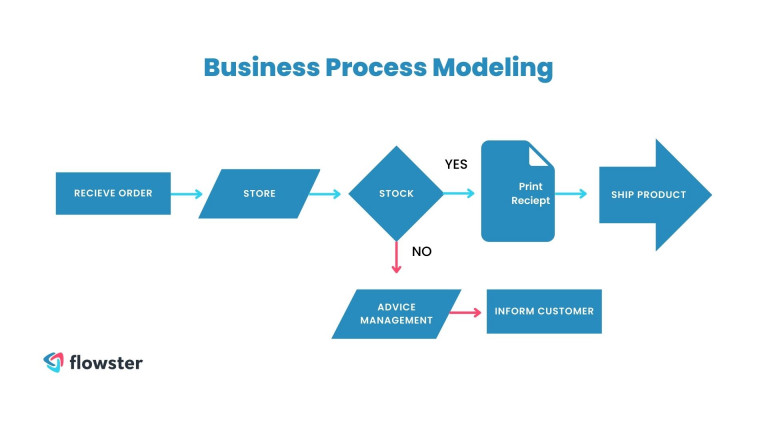 You can use process mapping for virtually any business process. However, businesses often use process maps for improved management. Often, the goal is to make business processes more efficient and make sure that each task fits with the values and needs of the organization.
How to Create Your Business Process Map
Creating a business map does not need to be a boring or formal process. You can keep it simple and fun by gathering your team and mapping out one or more of your most essential business processes. Here are the steps involved in mapping out a process from scratch: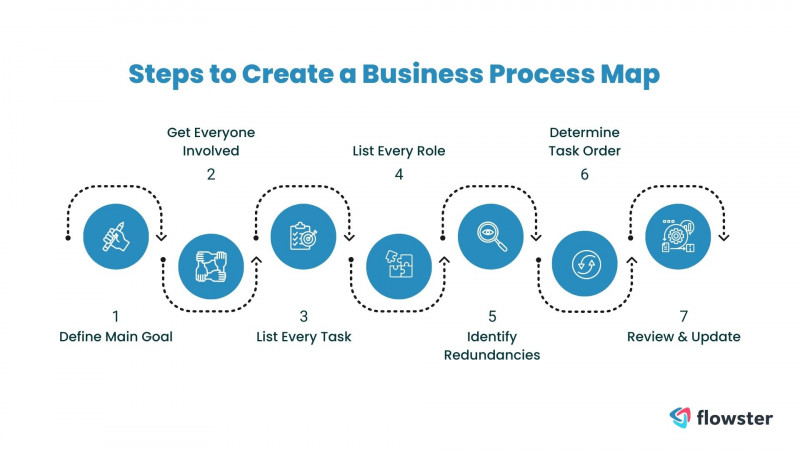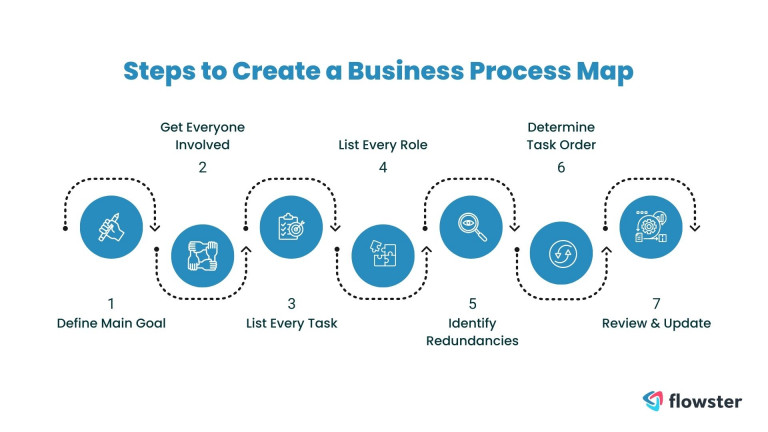 1. Define the Main Goal of the Process
Defining the goal of the process is the first step in creating a business process map.
2. Get Everyone Involved
Gather everyone involved in the process. Ask for input about the processes that you want to map out. Use feedback from anyone who may be affected by the process. This may include stakeholders and the employees that carry out the tasks.
3. List Every Task
Create a list of every task needed to complete the process. Try to describe the task in just a few words.
You do not need to worry about the order of the tasks. You simply need to ensure that you avoid omitting any tasks that are relevant to the process that you want to map out.
4. List Every Role Required to Complete the Process
Define the roles and responsibilities of everyone involved. Find out who is in charge of doing the things you wrote down in the last step.
You should also figure out who is in charge of keeping an eye on the task or signing off on its completion.
5. Identify Redundancies to Boost Efficiency
As you map out a process, look for redundancies. You may find that some of the tasks are unnecessary or repeat steps completed in a previous task. These redundancies waste time and resources.
6. Determine the Order of the Tasks
After removing redundant steps, determine the order of the remaining tasks. At this point, you can start entering the tasks into a flowchart or diagram. Start with the very first task and work your way through the process.
7. Frequently Review & Update Your Process Maps
Review and change your process maps often to keep making your business operations more efficient.
Look for bottlenecks that may cause delays in your processes. You may also uncover additional redundant steps or vague tasks that need greater clarity. Try to find ways to reconfigure processes and reduce waste.
Using Business Process Mapping to Boost Efficiency in Your Business
Standard operating procedures (SOPs) can be made with the help of business process maps, which show the steps of a process in a visual way. 
This can help you figure out where the process is slowing down or not working as well as it could, so you can make changes to improve the workflow. 
Additionally, the visual nature of the process map makes it easier to understand and follow the steps involved, which can be helpful when creating SOPs that will be used by multiple people. 
By breaking down the process into individual steps and visually representing each one, it becomes easier to create clear and concise SOPs that are easy for people to understand and follow.
You Can Create Your SOPs Easily by Using Templates
Not everyone feels that they have the time to create SOPs from scratch. If you want to save time, consider using a template.
An example of a task and process that may be covered by a business process map is your business's quarterly planning.
Quarterly Planning Template
Our Quarterly Planning Template gives you a basic way to set up a plan to reach your quarterly goals. The template has spaces for setting a sales goal, laying out your strategy, keeping track of your progress, and more.
The Quarterly Planning Template can be changed just like any other template on Flowster's Marketplace. You can edit it or use it as is. (Click anywhere on the template to begin using it)
At Flowster, we have a marketplace full of templates that you can use and customize to suit your needs. Using one of our ready-made templates and editing it to fit your processes can help you generate business process maps faster and with greater ease.
Using Business Process Mapping to Automate & Grow Faster
Mapping out your business provides a solid foundation for future growth. You can also easily see which areas benefit most from automation.
Using the most up-to-date tools, you can automate many common business tasks, like keeping track of employee hours and paying them.
Automating these tasks ensures that you have a process in place for completing the same work at any scale. You can grow your business with less administrative work. Automated workflows also help maximize everyone's time and efficiency.
How to Automate Your Business Process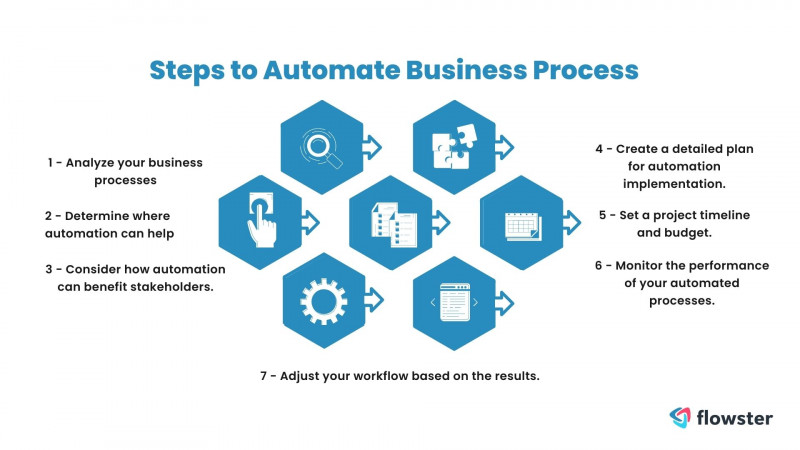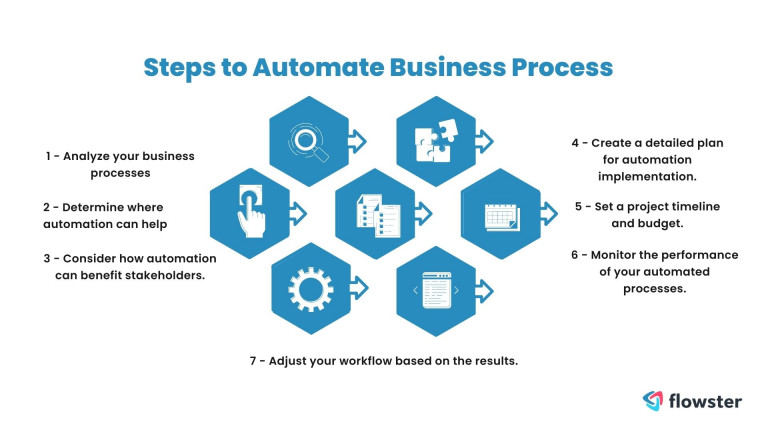 Here are the steps involved in automating your business:
Analyze your business processes.

Determine where automation can help.

Consider how automation can benefit stakeholders.

Create a detailed plan for automation implementation.

Set a project timeline and budget.

Monitor the performance of your automated processes.

Adjust your workflow based on the results.
You first need to analyze your current business process to find improvement opportunities. Look for areas where automation can help, such as repetitive or time-consuming business tasks.
You should also analyze how automation can benefit the stakeholders in your organization. Understanding how it benefits them makes it easier to pitch your automation project.
Create a detailed plan for your automation recommendations. Your plan should include the goals of the process and list who's responsible for each step. Set a project timeline and budget.
After receiving approval, implement your automated processes and continue to monitor their performance. Adjust your workflow based on the automation's performance.
Conclusion
Business process mapping can help you better manage your business. It can help you run your business more smoothly and give your employees clear instructions on how to do important tasks. Taking the time to improve the management of your business is also important for scaling your operations.
Before expanding your business, you need to ensure that it is manageable. Consider using business process mapping to increase the efficiency of administrative tasks and get more done faster.
Thanks for reading. Please feel free to leave a comment or a suggestion.
Ready to Create Your First Business Process Map?
Start creating a business process map from scratch or browse our templates in Flowster's Marketplace. Want help? Use our "Done for You" service to let our experts build custom workflows for you.
Related Articles
Would you like to learn more? See our other informative articles.
What Process Management Tool is Right For You? Flowster vs Alternatives
How to Document Workflows for Easy and Efficient Task Management