Problems develop inside businesses. There are a wide range of possible causes for this. Only by investigating the causes of these problems can they be resolved permanently.  
You can get to the bottom of a problem and figure out how to fix it by following a procedure known as root cause analysis (RCA). RCA is different from other methods because instead of just trying to fix the symptoms of a problem, people who use it look into and try to fix its root causes.
It is best not to rush to find a solution to a problem but rather to take one's time determining why the problem is occurring in the first place. By doing a root cause analysis (RCA), you will learn more about how problem-solving can be done in an effective way.
Reading this article will help you understand how root cause analysis (RCA) can lead to effective problem-solving.
What is Root Cause Analysis?
The phrase "root cause" refers to the main reason for the problem being discussed as well as the first event in the chain of events that led to the problem (or problems).
"Root cause analysis" (RCA) is a term used to describe a wide range of methods, tools, and strategies that are used to figure out where problems come from. When trying to find the "root cause" of a problem, these methods and strategies can be used.
Some root cause analysis methods focus on finding the real causes, while others offer more general solutions to problems or just add to the RCA process.
There are many reasons why a root cause analysis (RCA) might be needed, such as human error, broken physical systems, problems with how an organization works, or any number of other things.
How Do Root Cause Analyses Benefit You?
In order to fix problems and prevent them from happening again, you need to know where they are in your business process. If you use this on a factory line, you can increase output per shift while reducing mistakes at the same time. 
For these reasons and more, identifying and addressing root causes is crucial.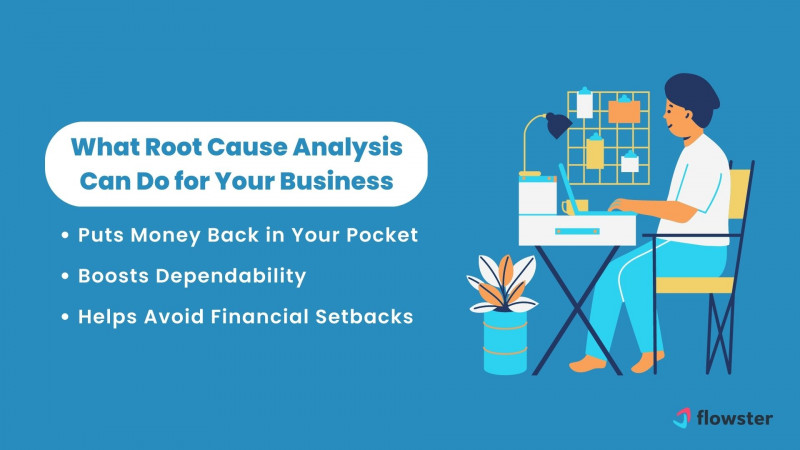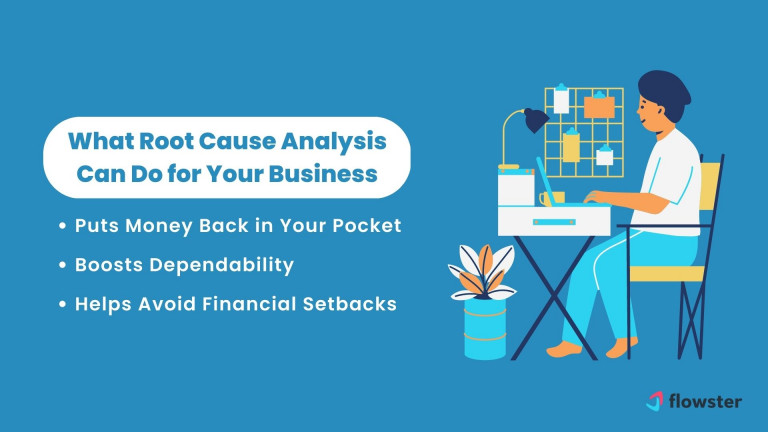 Puts Money Back in Your Pocket
Spend as much time and money as you like on a root cause analysis, and you'll always come out ahead. This is because your business will always have to deal with the damage and ongoing costs that come from not fixing a problem for good.
Boosts Dependability
To make your business more secure and reliable, conduct a root cause analysis. Quality-focused businesses can benefit from it as well. Reducing the number of errors made during production is one way to win over skeptical customers and increase product reliability.
Helps Avoid Financial Setbacks
Because it provides a framework for developing SOPs, root cause analysis can help businesses gain the public's trust if they use it to concentrate on prevention. Finding the true cause of a problem will also help you come up with a plan for fixing it.
Common Methods of Root Cause Analysis
The following is by no means an exhaustive list of the methods and approaches that can be used in an RCA. We'll go over some of the most popular and widely applicable methods below.
The "5 Whys" Method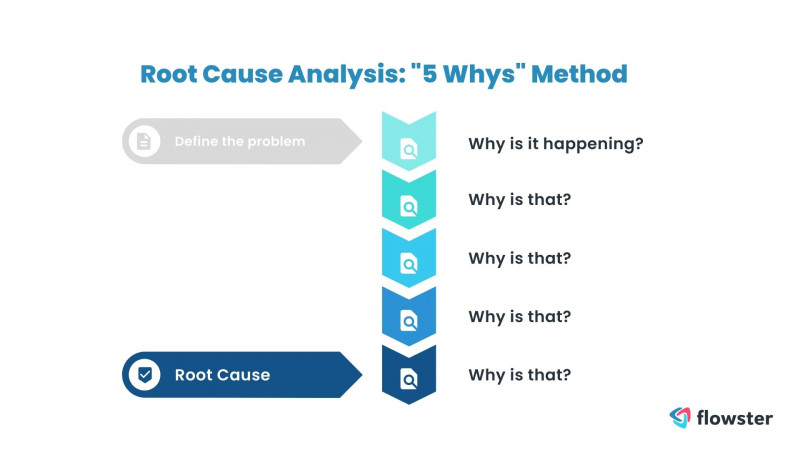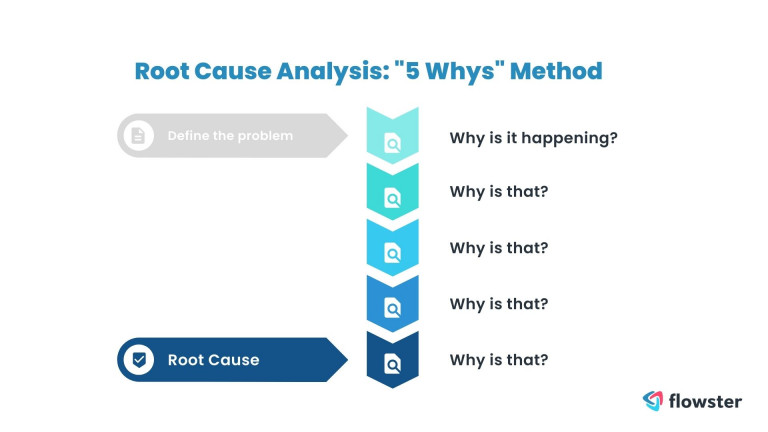 The method known as "5 Whys" is frequently utilized when attempting to figure out what went wrong. If you get an answer to one of your WHY questions, you should ask another WHY question that is more in-depth.
It is commonly believed that by asking five "why" questions, one should be able to get to the bottom of most problems. However, the truth is that you might only need two questions, or you might need fifty.
When you use the 5 Whys to look into a situation, you can leave any ideas you already have at the door.
Event Analysis Method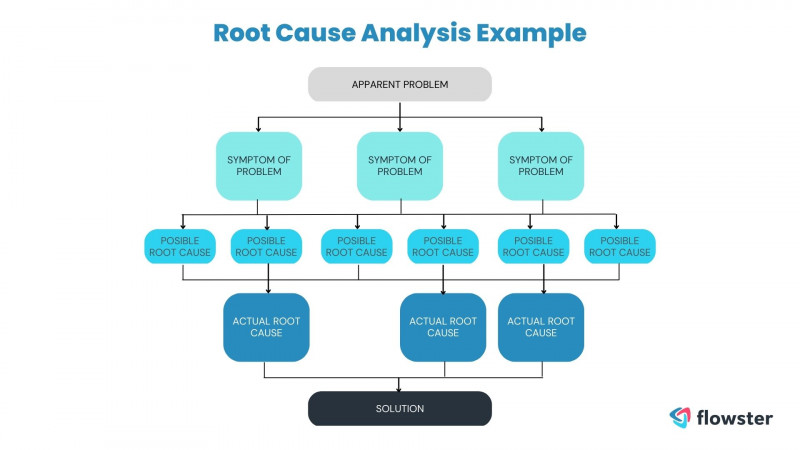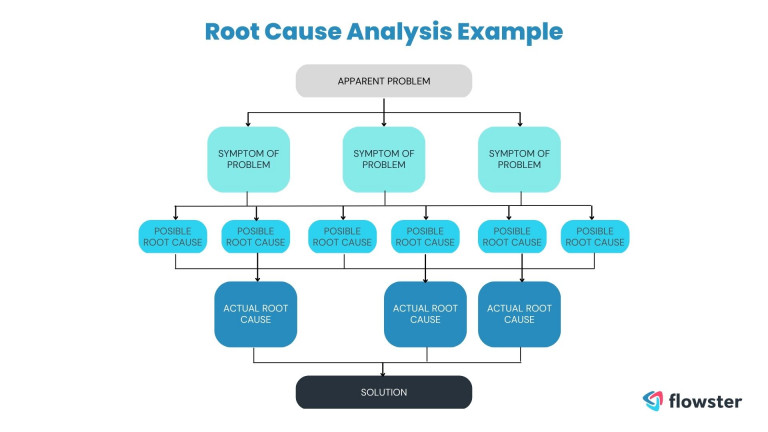 You can also try to determine what caused an event by paying close attention to the things that occurred and how they changed before the event. This is another method for determining what caused an event.
To get started, we would compile a list of every single conceivable cause that led up to an occurrence.
After that, you would go through each individual occurrence and decide whether or not that specific occurrence was a factor that was unrelated to the issue, a factor that was correlated with the issue, a factor that contributed to the issue, or a factor that was likely the root cause.
This is the stage at which the majority of the analysis is performed, and it is also the stage at which other approaches, such as the "5 Whys," can be utilized.
Last but not least, investigate whether or not the problem can be reproduced and whether or not there is a solution to it.
Fishbone Diagram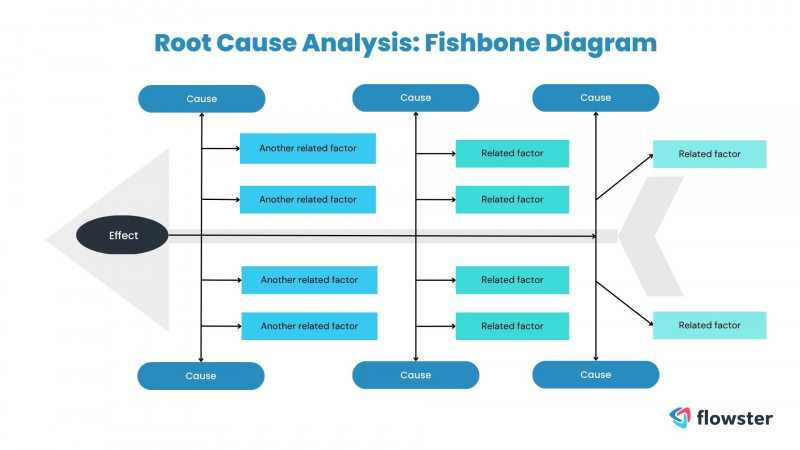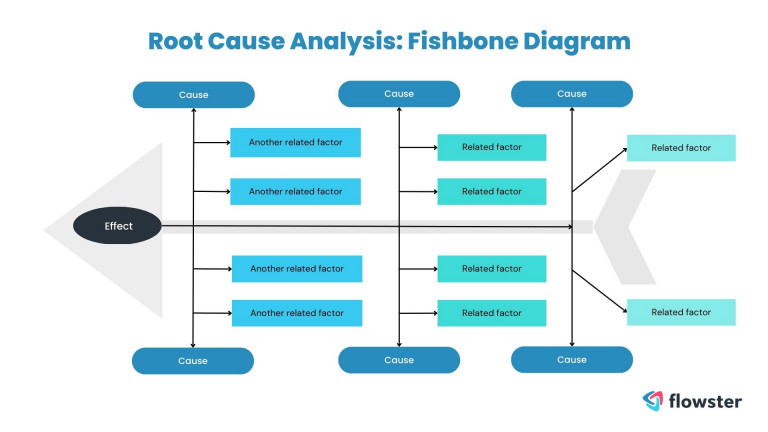 Fishbone diagrams, which are also called Ishikawa diagrams, are another common way to show how causes and effects are connected.
The issue is placed in the middle of the diagram (similar to how the spine of the fish skeleton is positioned), and the various causes are placed around the outside (similar to how the rib bones of the fish skeleton are positioned).
We are getting closer to the root of the issue as we investigate both possible causes and root causes and question each offshoot as we investigate.
By using this method, we can eliminate classes that don't matter while also showing how different causes are linked and where those causes are likely to come from.
How to Effectively Perform Root Cause Analysis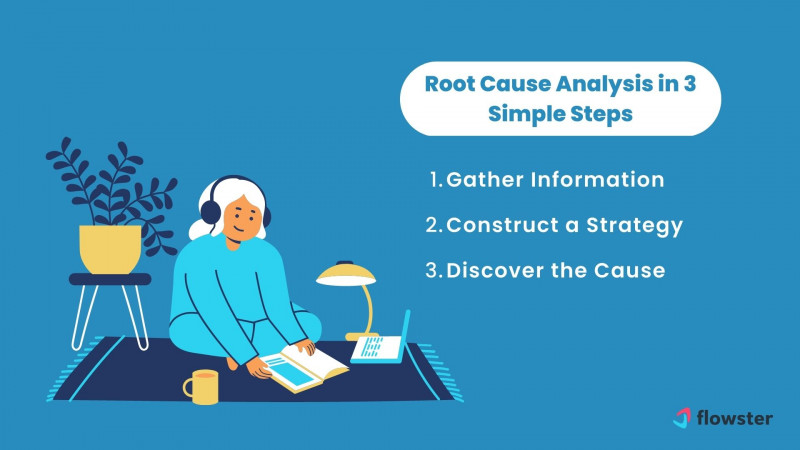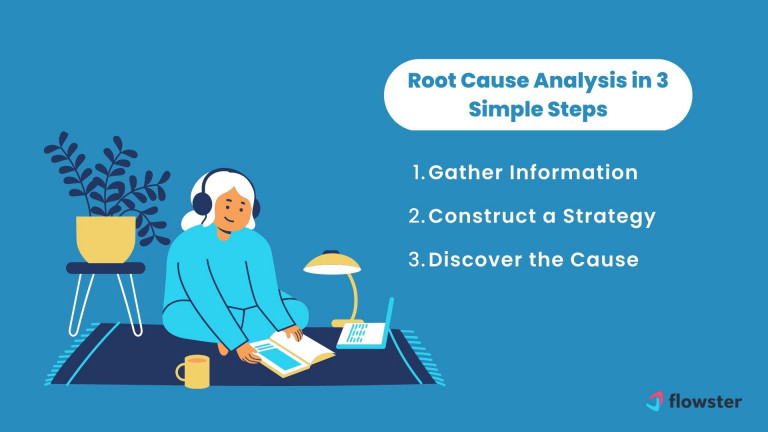 To do a thorough root-cause analysis, you must keep certain guidelines in mind. These guidelines will help you figure out why certain things happen and come up with the best solutions. 
Gather information that shows how the causes you identified led to the effects you saw.

Construct a comprehensive strategy to support the recommendations you have made.

Discover what caused this situation and consider how to prevent it from happening again.
It's important to keep in mind that problems often have more than one underlying cause.
Conclude with the causes you believe to be most at the heart of the problem, and be ready to take on those causes head-on with effective solutions.
The following are some more tips for performing an effective root-cause analysis
Make it a Team Effort
When you and other people work together, you can see things from a different points of view. The process of problem-solving will move along more quickly if you have access to additional perspectives, whether those perspectives come from a partner or from a group of coworkers. This will also help you avoid being overly biased.
Continually Improve Your Process
The process of root cause analysis is very important to understand well. Notate. Investigate the method of analysis. Check to see if a method or technique is right for your company's needs and culture.
Examine Your Success
Investigate not only what led to your success but also the factors that contributed to it. Even though root cause analysis is typically used to figure out what went wrong, it can also be used to figure out why something turned out successfully. This is an uncommon application of the technique, but it is possible.
Begin Implementing the Solutions
The RCA process doesn't produce results right away, but figuring out what caused a problem in the first place leads to a long-term solution. You'll be asked to put your good solution into action after you've developed it.
Start creating workflows to help you put solutions into action. Workflows are a set of activities or steps that are followed to complete a specific task or process.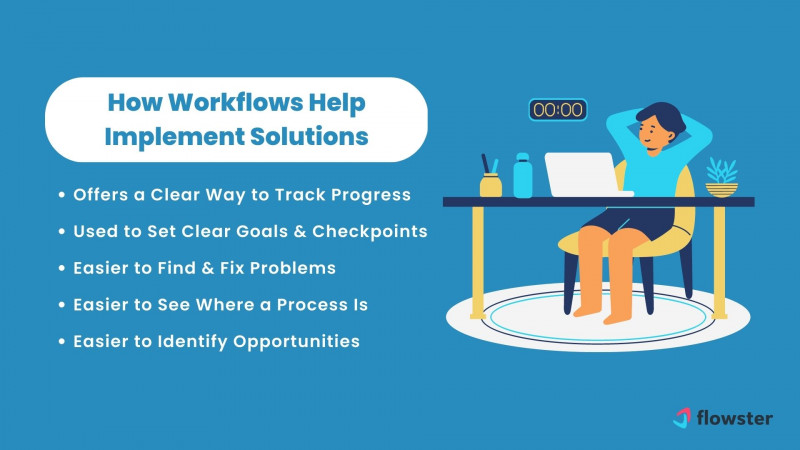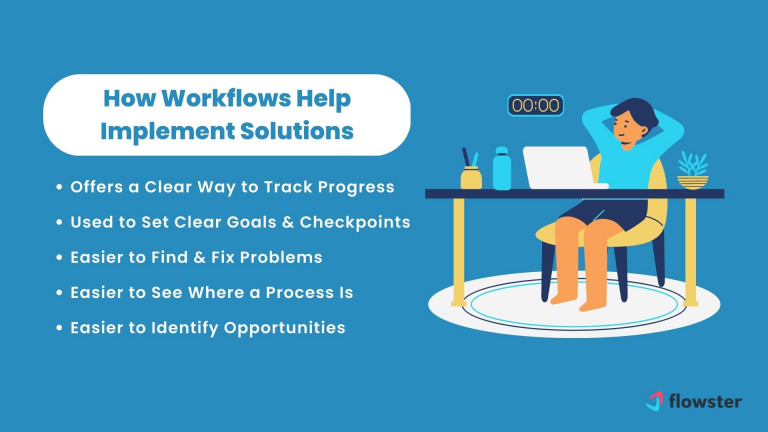 Using workflows to put solutions in place after doing root cause analysis has a number of benefits, such as:
Progress Tracking
Workflows offer a clear and organized way to track the progress of a task or process. This can help you determine whether you are on track and whether there are any delays or obstacles that need to be addressed.
Goal Setting
Workflows can be used to set clear goals and checkpoints for a process or task. This can help to keep the team focused and motivated, as well as provide a way to measure the implementation's success.
Problem-Solving
Solving Problems: A workflow makes it easier to find and fix problems by breaking down a task or process into specific steps. This can help avoid delays and make problems less of a problem for the whole project.
Visibility
Workflows can also make it easier for managers, stakeholders, and team members to see where a task or process is in its lifecycle. This lets them make better decisions about any changes or adjustments that need to be made.
Continuous Improvement
Workflows can be used to monitor performance and identify opportunities for improvement over time. This can help make sure that the implementation is always getting better and more efficient, leading to better results and better solutions.
Overall, using workflows to implement solutions lets you keep track of progress, set clear goals, and work more efficiently to solve problems as they come up and get the desired result.
Your effective solutions need to be put into action, so you should get started right away on developing your workflow.
Conclusion
A root cause analysis (RCA) determines why a problem arises in the first place. Instead of just treating the symptoms of a problem, RCA involves looking into and trying to fix its root causes.
It is important to use the tools and methods that are best for your situation when doing a root cause analysis (RCA). Set up a system for ensuring that the work done at each RCA phase is correct.
Every step of the investigation, from identifying the problem to implementing a solution, should be meticulously documented. By completing an RCA, you will gain a better understanding of how to solve problems effectively.
After developing a decent solution, you'll need to implement it. Start workflows to implement solutions. Workflows let you measure progress, set objectives, handle obstacles, and reach your goals.
We would love to hear your thoughts on root cause analysis. Have you used this method in your own work? What have been your successes and challenges? Please share your comments below, we would love to hear from you!
Ready to Create Your First Workflow?
Visit the Flowster Marketplace to find the newest templates you can use to make your workflows or SOPs.
You can use the templates out of the box or edit them. If you lack time to customize your templates, try our "Done For You" service. Allow our staff to build custom SOPs for your business.
Request a custom SOP today!
Related  Articles
How to Use Workflow Tools to Easily Create Effective Document Workflows
How to Document Workflows for Easy and Efficient Task Management
The Complete Guide to Building Your Workflows – with Free Templates