Ever heard the saying, "A goal without a plan is just a wish?" In the professional world, your plans often come in the form of SOP templates. Learning how to write SOP templates provides you with the blueprint that keeps your business processes running smoothly and ensures that everyone is on the same page regarding internal processes.
If you're diving into the domain of writing SOPs or searching for fresh insights, this piece is for you. We're diving deep into the art and science of crafting top-notch SOP documents. Be it for a startup, a massive corporation, or a quaint family business, these guidelines are universal.
Imagine a scenario where everyone knows their specific task, complete with health and safety warnings, and there's no ambiguity. That's the magic of a well-crafted standard operating procedure (SOP). Stick with us, and by the end, you'll have practical insights that can be game-changing.
Understanding Standard Operating Procedures
Before exploring how to write an SOP template, let's first define standard operating procedures and their perks.
What are SOPs, and Why are They Important?
SOPs, or Standard Operating Procedures, are akin to the business world's GPS. They provide step by step instructions, ensuring we reach our objectives without unnecessary detours or obstacles. These SOP documents ensure tasks are performed consistently, regardless of who's at the helm.
What are the Benefits of Using SOPs? 
Imagine a workplace where errors are few, training newcomers is straightforward, and everything flows. That's the beauty of SOPs. They clarify daily operations and prepare the groundwork for scalability, ensuring that growth is painless.
Now that we've clarified the 'what' and 'why' of SOPs, let's delve into crafting standout SOPs. In the following segment, we'll reveal some actionable steps and expert tips to make your SOP format stand out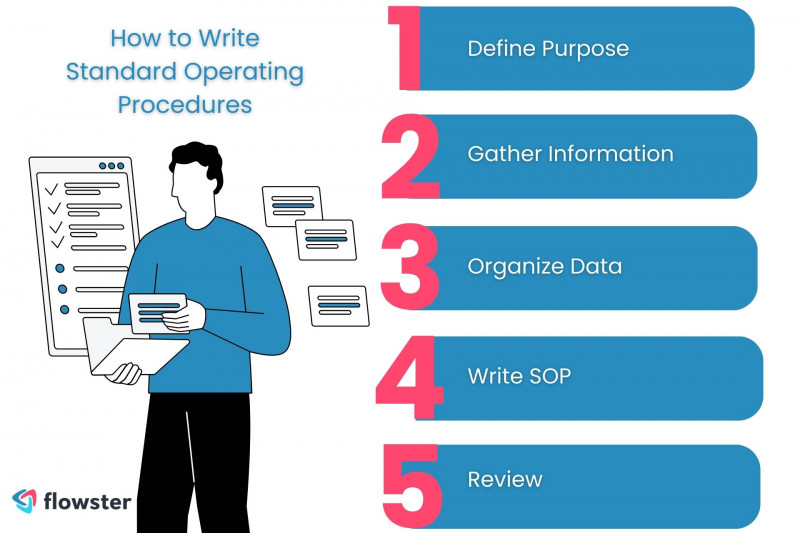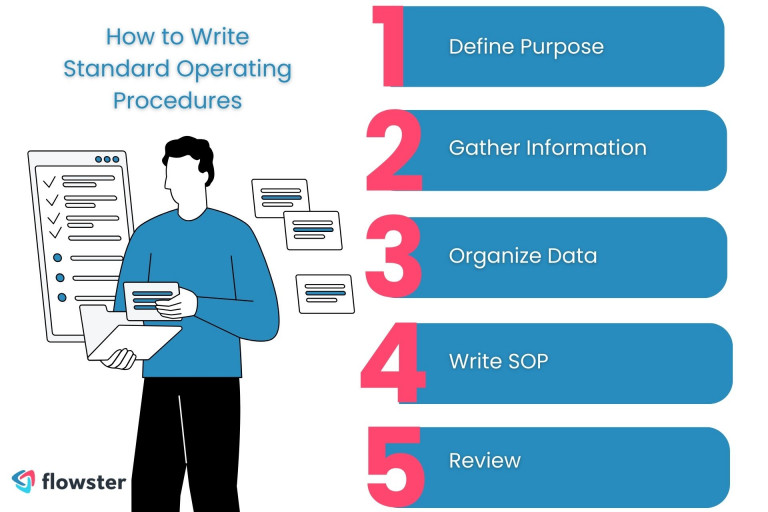 How to Write Standard Operating Procedures
Creating an SOP is a bit like assembling a puzzle. It may seem overwhelming initially, but with the right guidelines and a bit of patience, it comes together.
Purpose:

Every great narrative begins with a "why". What is the mission behind this SOP? Knowing this will determine the tone and direction. It's the guiding light.

Gather Information:

Consider this step like gathering your tools. What's vital for your task? Which resources can streamline business processes? Get all this information to prevent unnecessary pauses.

Organize:

With your data at the ready, it's time to set it out in a logical sequence. Ensure that each step seamlessly follows the previous, creating a streamlined flow.

Write:

Here's the main event! This isn't merely a list of steps. It's about doing so with clarity, simplicity, and precision. Picture guiding someone unfamiliar with the specific task. Your SOP should be their guiding light.

Review:

Once you've drafted your SOP document, step back and then review it. Better yet, get an outsider's perspective. A fresh viewpoint often catches details we might miss.
To enhance our creation, let's sprinkle some magic on your SOPs. In our next segment, we'll share some insider tips to make your SOP templates truly exceptional.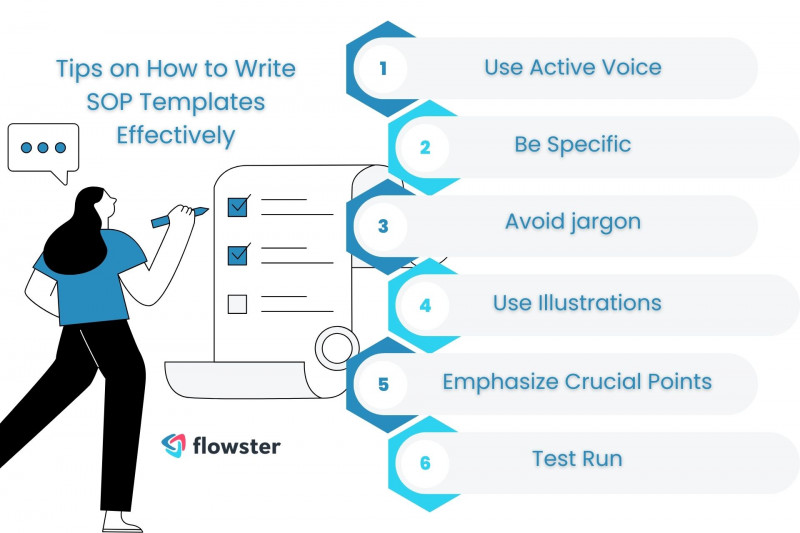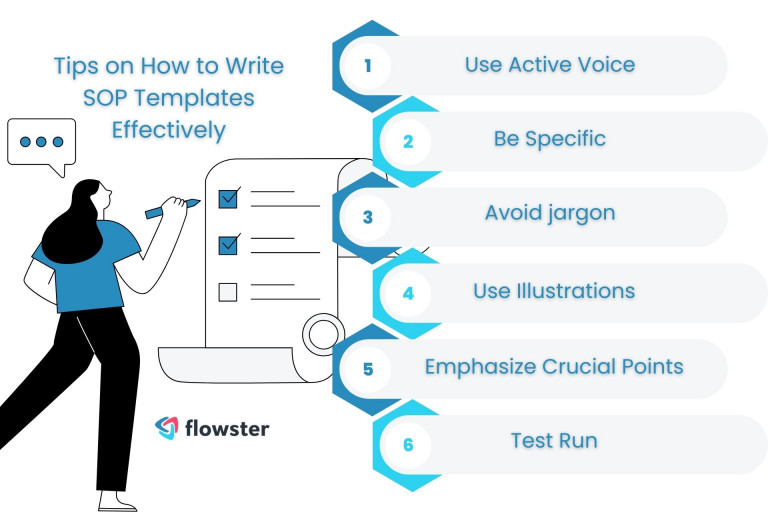 Tips on How to Write SOP Templates Effectively
Elevating a basic SOP document to an exemplary one requires a touch more than mastering the basics. Consider these tips the secret ingredients in a chef's signature dish.
Stay Active:

Ensure your SOPs are active! Using active voice and the present tense makes instructions immediate and engaging.

Detail, Detail, Detail:

Be specific. Every minute detail is vital, ensuring your reader isn't left in doubt.

Language:

SOP is a guide, not a complex novel. Use straightforward language. Avoid jargon or provide clear explanations.

Visuals:

Diagrams or illustrations can

make complex steps understandable

. Additionally, consider employing a flowchart SOP format when needed.

Format:

Use visual cues, such as bold or italics, to emphasize crucial points.

Test Run:

Let someone unfamiliar with the task try out your SOP. If they sail through without hiccups, you're on track!
Wondering if there's a more effortless way to create SOPs? Yes, there are! Let's delve into shortcuts and tools to simplify SOP template writing.
How to Write SOP Templates Easily with AI Integrated Tools
Crafting SOPs from scratch might feel daunting. Fortunately, tools like Flowster offer free SOP templates tailored for different industries, whether you need an HR SOP template or a restaurant SOP template. Customize these, and you're good to go!
Customizing Ready-Made Templates with Flowster:
Why start from zero when you can begin at fifty? Flowster offers an array of SOP templates tailored for different industries and tasks. Whether you're in tech, healthcare, or any industry in between, there's a template waiting just for you. Just pick, tweak to suit your unique needs, and you're golden!
You can get free SOP templates by clicking on the link below. Browse through the many SOP templates available for customization.
Leveraging AI: Introducing Flowster's Integration with ChatGPT:
The future is here, and it's called AI! Flowster's brilliant integration with ChatGPT supercharges the SOP writing process. 
Imagine having a virtual assistant that suggests, edits, and even writes sections for you. This fusion of Flowster's user-friendly interface with ChatGPT's AI prowess is like having a seasoned SOP writer by your side. A perfect blend of human touch and machine efficiency.
So, with tools like these at your fingertips, the process of crafting SOPs becomes less daunting and more exciting. Ready to wrap up? Stick around as we tie everything together in our conclusion.
Transform Your Business Processes with Flowster's AI-Driven Automation
You can streamline your business process and complete more tasks with the sophisticated app Flowster, which uses AI technology. Experience the future of workflow management with Flowster's free 7-day trial. Start optimizing your business processes today!
Conclusion: Dive into Writing Your SOP Templates
So, there you have it! The ins and outs, the nitty-gritty, and the game-changing hacks to crafting a standout SOP From understanding their essence to leveraging technology, we've journeyed through the entire spectrum of SOP creation.
But knowledge without action is just potential. It's time to turn all this insight into a tangible masterpiece. Whether you're starting from scratch or refining an existing SOP, embrace the challenge, employ these tips, and watch your processes become a seamless dance.
So, why wait? Grab that pen, keyboard, or tablet and dive into the world of SOP template writing. With the right approach and a sprinkle of enthusiasm, your SOPs will not just be effective but also a testament to your dedication to excellence. Let's get writing!
Bonus! Free SOP Template to Help You Write SOPs
Here's a bonus template to help you get started. Use this template to create an effective Standard Operating Procedure (SOP). Simply click the "Complete Task" button below.
Creating Standard Operating Procedure Templates
Having Trouble Writing Your Standard Operating Procedures?
With Flowster, you can easily create standard operating procedures or workflows by leveraging the power of AI, or you can browse our library of pre-built templates in the Flowster Marketplace.
Do you want assistance? Use our "Done for You" services to have our quality and improvement professionals create custom workflows for you.