When it comes to employee offboarding, we often focus so much on onboarding new team members that we forget about the importance of a smooth transition when employees leave the company. But here's the thing: offboarding is just as important, which is why an employee offboarding checklist is necessary.
It's all about ensuring that when someone says goodbye to your organization, they do so with a positive experience and leave behind a trail of goodwill. Plus, it's an opportunity to protect sensitive information, preserve institutional knowledge, and showcase your supportive workplace culture.
In this article, we'll guide you through an offboarding checklist to help you master the art of saying farewell to employees in the best possible way. So, let's dive into the world of offboarding and discover how to ensure a seamless transition for everyone involved.
The Importance of the Offboarding Process
Offboarding is not just a bureaucratic process or a box to check off. It's a crucial step in the employee lifecycle, and it's time we give it the attention it deserves. Why, you ask? Well, let me break it down for you.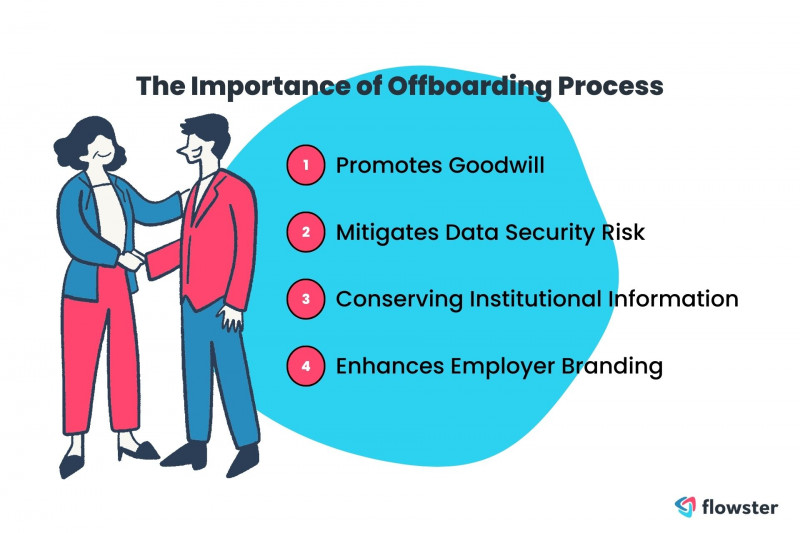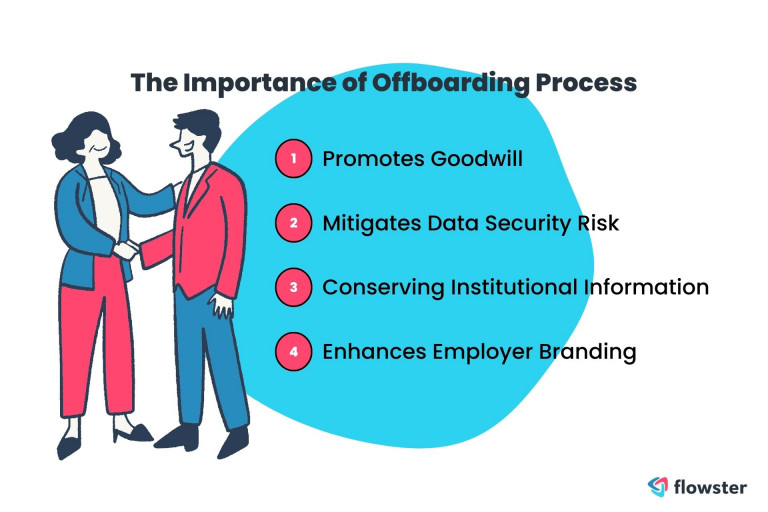 Promotes Goodwill
First and foremost, offboarding is all about maintaining positive relationships as departing employees leave you. When an employee leaves, it's an opportunity for you to show them that you value their contributions and appreciate the time they've spent with your organization. 
It's like giving them a big ol' pat on the back and saying, "Hey, we're going to miss you, but we wish you all the best!"
Mitigates Data Security Risk
Offboarding also plays a vital role in protecting sensitive information. You see when employees leave, they may have access to confidential data, passwords, or company systems. 
By properly managing the offboarding process, you ensure all access is revoked, reducing the risk of data breaches and other security risks from unauthorized access. Safety first, people!
Conserving Institutional Information
Now, let's not forget about preserving institutional knowledge. Each departing employee carries a wealth of knowledge and experiences that could be lost if not properly documented and transferred. 
It's like having a secret recipe for success that you don't want to disappear into thin air. By focusing on offboarding, you can capture that knowledge and make sure it's shared with the right folks, so the organization can keep on thriving.
Enhances Employer Branding
Oh, and here's another thing: offboarding is an opportunity to showcase your amazing workplace culture. When employees leave on a positive note, they're more likely to spread the word about what a fantastic place your organization is to work. 
It's like having a bunch of brand ambassadors out there singing your praises. Who wouldn't want that?
So, offboarding is not something to brush aside or treat as an afterthought. It's a chance to leave departing employees with a smile on their faces, protect your organization's secrets, preserve valuable knowledge, and build a reputation and employer brand as a top-notch employer. 
Now let's get on board with offboarding, shall we?
Getting Ready for the Offboarding Process
Okay, now let's talk about preparing for the offboarding process. It's not as well-known as the onboarding process, but believe me when I say it's just as important. So grab your checklist and let's get started!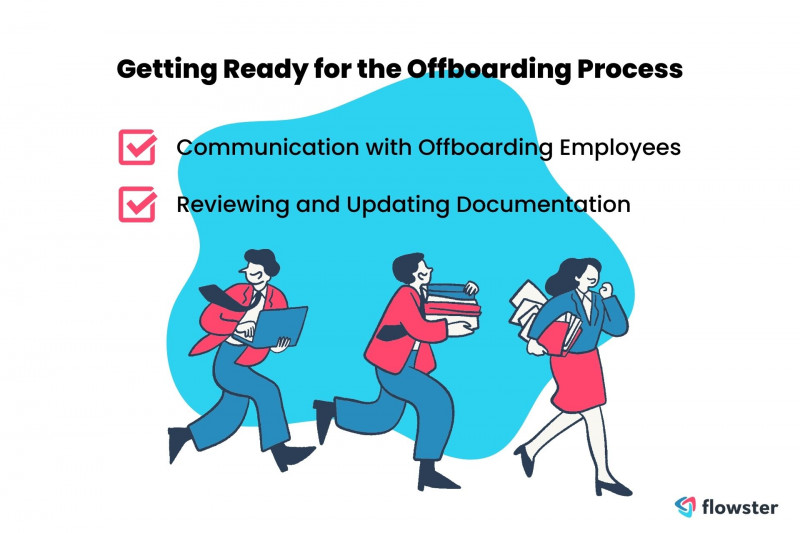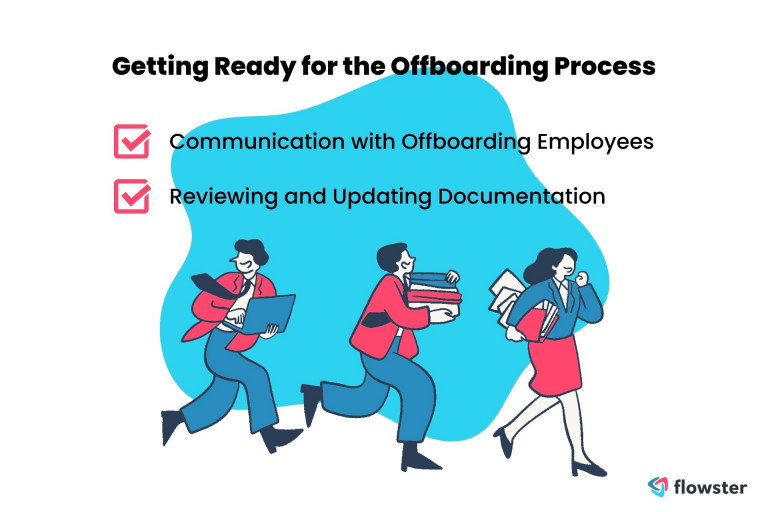 Communication with Offboarding Employees
First things first, communication is key. You need to have a heart-to-heart chat with the offboarding employee. Schedule a meeting, sit down with them, and have an open and honest conversation. 
Find out why they're leaving and address any concerns they may have. It's all about understanding their perspective and showing them you genuinely care.
Reviewing and Updating Documentation
Now, while you're having that chat, make sure to update all relevant documentation. You don't want to be stuck with outdated records, do you? 
Update the employee's information, and the organizational chart, and jot down any outstanding tasks or projects they were involved in. It's like tidying up your workspace before a whole new job or project starts.
Taking Care of Administrative Duties
Alright, let's dive into the nitty-gritty of the offboarding process. We're talking about those essential administrative tasks that must be taken care of. It's time to roll up our sleeves and get down to business!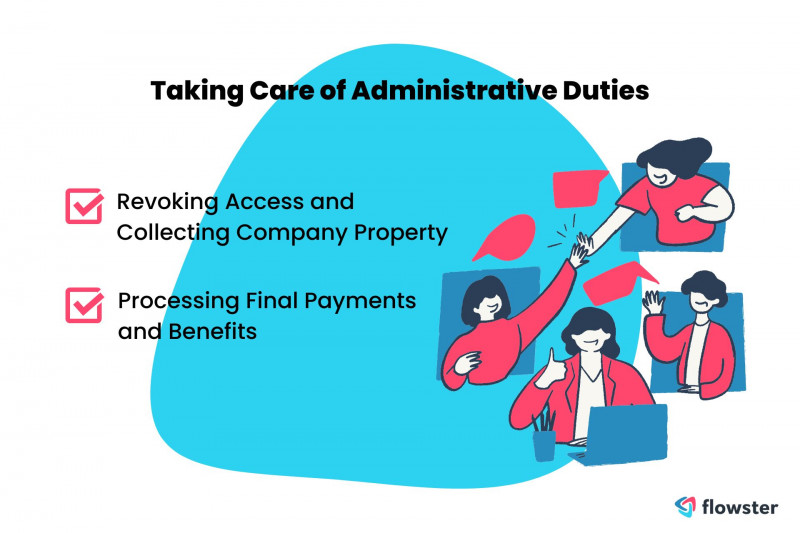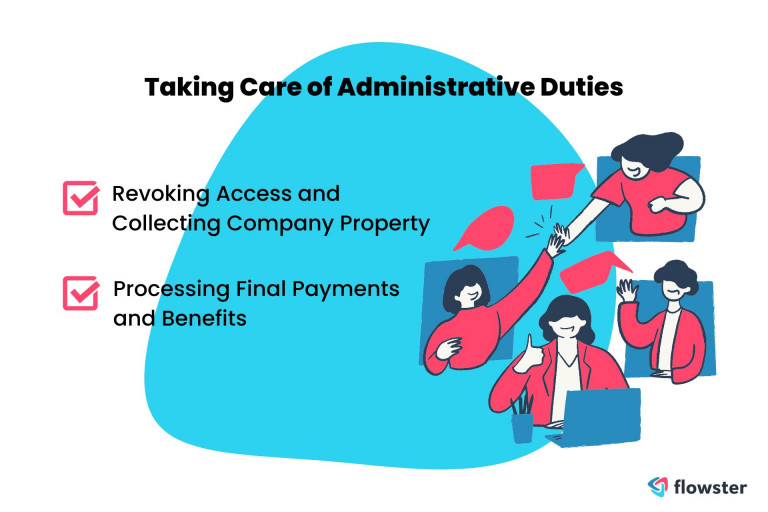 Revoking Access and Collecting Company Property
First up, we need to revoke access and collect company equipment. Think of it like reclaiming the keys to the kingdom. You want to make sure that when an employee leaves, they no longer have access to company systems, networks, or accounts. 
Disable their email account, revoke access to shared files and databases, and collect any company assets they may have, like laptops, company credit cards, access cards, or keys. It's all about keeping things secure and tidy.
Processing Final Payments and Benefits
Now, let's talk about processing those final payments and benefits. It's like settling the books and making sure everything is squared away. 
Calculate the remaining salary, vacation days, bonuses, or any other benefits the offboarding employee is entitled to. You want to ensure that they receive what's rightfully theirs and that the process is in line with legal requirements and company policies. Dot the i's and cross those t's!
Facilitating the Transfer of Knowledge
Alright, let's talk about passing on wisdom! When an employee is getting ready to bid farewell, it's crucial to ensure a smooth knowledge transfer. 
We don't want all that valuable expertise and know-how to disappear into thin air, right? So, let's make sure that knowledge keeps flowing!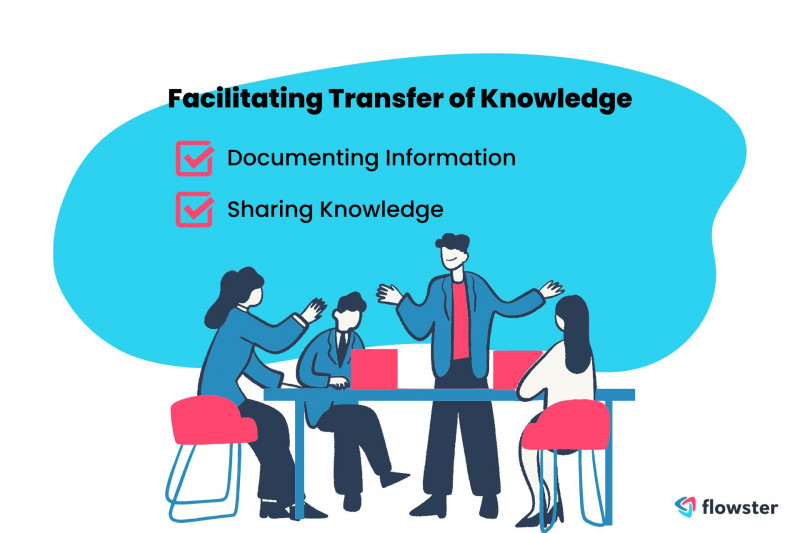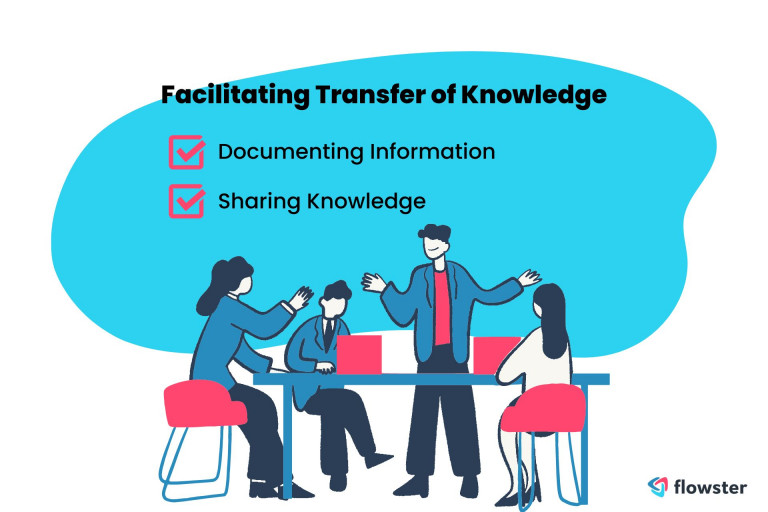 Documenting Information
First things first, let's document everything. It's like creating a treasure map for future explorers. Encourage the departing employee to share their insights, best practices, and tips in a document or through a knowledge-sharing platform. 
Capture that knowledge in a way that others can easily access and understand. Think of it as building a vault of wisdom!
Sharing Knowledge
But it's not just about creating documents. We need to promote collaboration and communication. Encourage the offboarding employee to have informal chats with their colleagues, share stories, and answer any burning questions. 
It's like gathering around a virtual campfire, exchanging ideas, and soaking up that knowledge through conversation. Collaboration fuels innovation!
Organizing Exit Interviews
Okay, now let's talk about a crucial part of the employee offboarding process—arranging exit interviews. It's like having a heart-to-heart chat with departing employees, where we gather valuable insights and bid them a fond farewell. 
Let's dive into the details and discover how exit interviews can benefit both the organization and the leaving employee.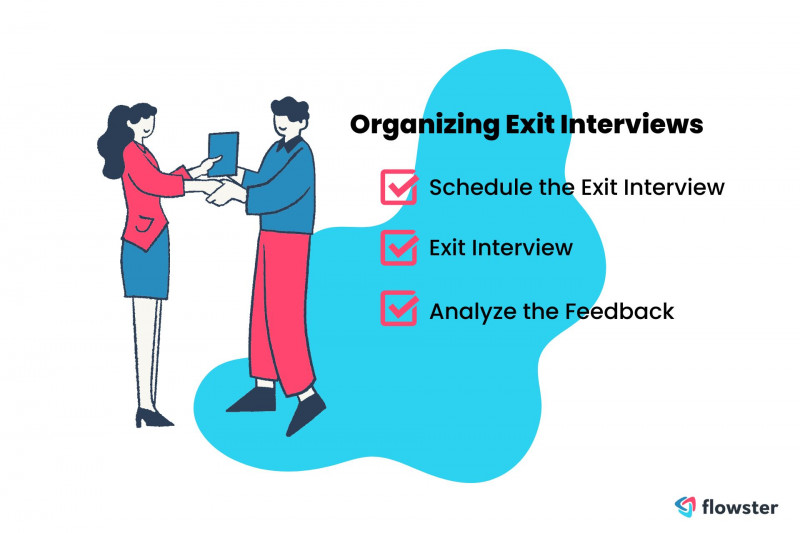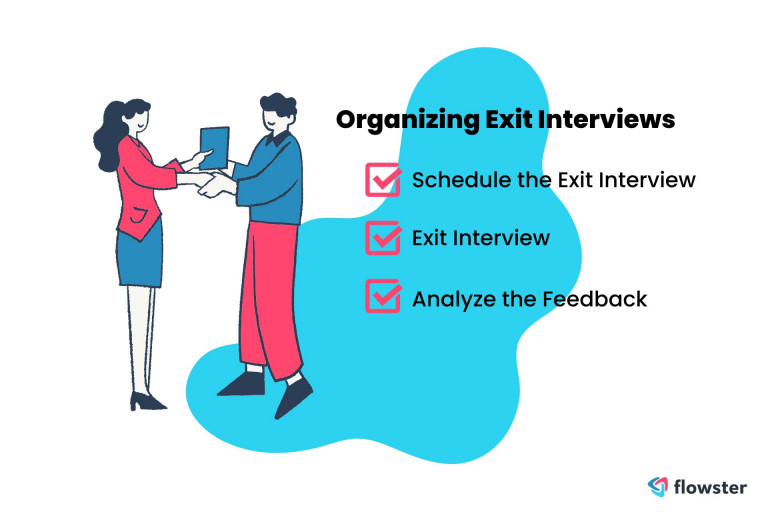 Schedule the Exit Interview
First and foremost, it's important to schedule the exit interview in a timely manner. You want to catch the departing employee while their experience is fresh in their minds, like having a post-game chat right after the match.
 Arrange the interview shortly before their departure, allowing enough time for reflection and thoughtful feedback.
Exit Interview
During the exit interview, employ active listening skills. It's like tuning in to a friend's story, eager to understand their perspective. 
Encourage the leaving employee to provide honest feedback about their time with the organization—the highs, the lows, and everything in between. 
Ask open-ended questions, delve into specific areas of interest, and seek suggestions for improvement. Every piece of feedback is a valuable opportunity for growth.
Analyze the Feedback
But it doesn't end there. After the exit interview, take action! It's like taking the insights gained and turning them into positive change. 
Analyze the feedback received, identify patterns or recurring themes, and use that information to drive improvements in processes, policies, or work environments. 
Let departing employees know that their feedback matters and that it contributes to the ongoing growth and development of the organization. 
Remember, exit interviews are not just a formality; they're an opportunity for reflection, growth, and mutual understanding. By actively arranging and conducting these interviews, we show departing employees that their voices and employee experience are heard and valued. 
We also gain valuable insights that can shape a better employee experience in the future.
Ready to revolutionize your offboarding?
Start using Flowster today and unleash the power of ChatGPT's automatically generated templates right away.
How Flowster Simplifies Offboarding with ChatGPT-generated Templates
Now, let's talk about how Flowster, a powerful workflow and process management app, can revolutionize your offboarding experience. With the help of ChatGPT, Flowster can easily generate customized offboarding templates that streamline the entire process. 
Let's delve into how this innovative combination can simplify your offboarding journey.
Automatically Generate Customizable Offboarding Templates
Flowster leverages the capabilities of ChatGPT, the language model you're interacting with right now, to create dynamic and tailored offboarding templates. 
By utilizing the conversational AI expertise of ChatGPT, Flowster allows you to generate comprehensive offboarding checklists, documents, and workflows with ease.
Manage and Execute Your Offboarding Process With Ease
But it doesn't stop there. Flowster also provides a user-friendly platform to manage and execute these offboarding templates. 
You can assign tasks, track progress, and collaborate with team members, ensuring that nothing falls through the cracks during the offboarding process. It's like having a virtual assistant guide you through every step!
By combining the power of Flowster's workflow management capabilities with the intelligence of ChatGPT, you can create efficient offboarding processes that align with your organization's unique needs.
Whether it's revoking access, collecting company property, or conducting exit interviews, Flowster ensures that every aspect of the offboarding employee process is covered.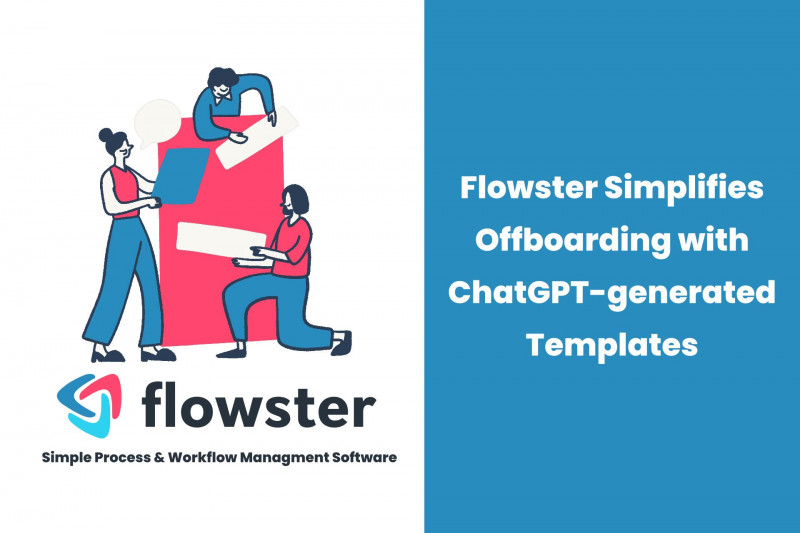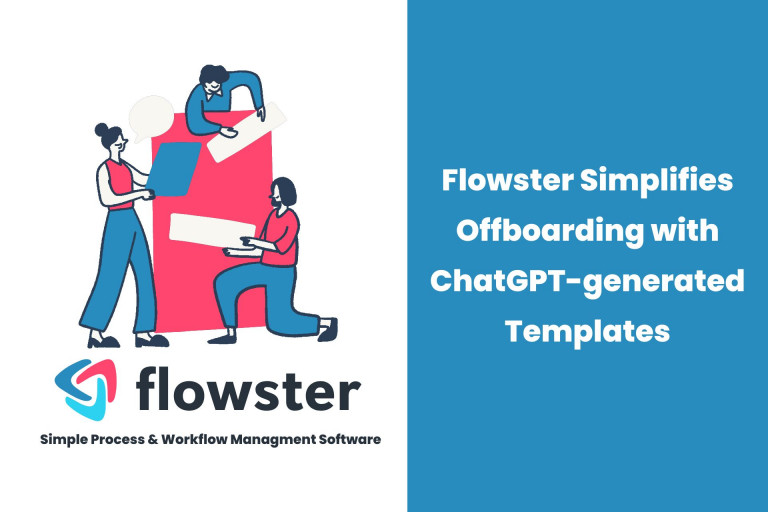 Conclusion
And there you have it! We've journeyed through the realm of offboarding and discovered its importance, explored the essential steps and tasks involved, and learned about the best practices that can elevate our offboarding game.
Offboarding is not just a mere formality; it's an opportunity to leave departing employees with a positive impression and showcase our organization's values. By focusing on clear communication, maintaining a respectful atmosphere, and promoting knowledge transfer, we ensure that the offboarding process is a seamless transition for all parties involved.
Remember, offboarding is not the end; it's a new beginning. It's a chance to show offboarding employees that their time with us mattered and that we care about their future success. By following offboarding best practices, we protect sensitive information, preserve institutional knowledge, and build a reputation as an employer who values its people.
So, let's embrace the offboarding journey with open arms. Let's communicate, support each other, and share knowledge. Let's create an environment where farewells are not bittersweet but rather opportunities for growth and continued success.
Ready to create your first checklist template?
You can start from scratch to create an employee offboarding checklist or any workflow template, or you can look through our templates in the Flowster Marketplace.
Want help? Use our "Done for You" service to let our experts build custom workflows for you.