What Process Management Tool is Right For You? Flowster vs Alternatives
Keeping workers on the same page isn't easy, which is why most companies develop standard operating procedures (SOPs), especially as they grow. Unfortunately, creating simple instructions and workflows that anyone can follow isn't always straightforward, and can be time consuming.
Flowster was designed to streamline the way that you manage your company's processes. You can easily turn the most complex concepts into simple instructions.
Yet, Flowster isn't the only tool for creating and managing SOPs.
We've compiled a roundup of potential alternatives.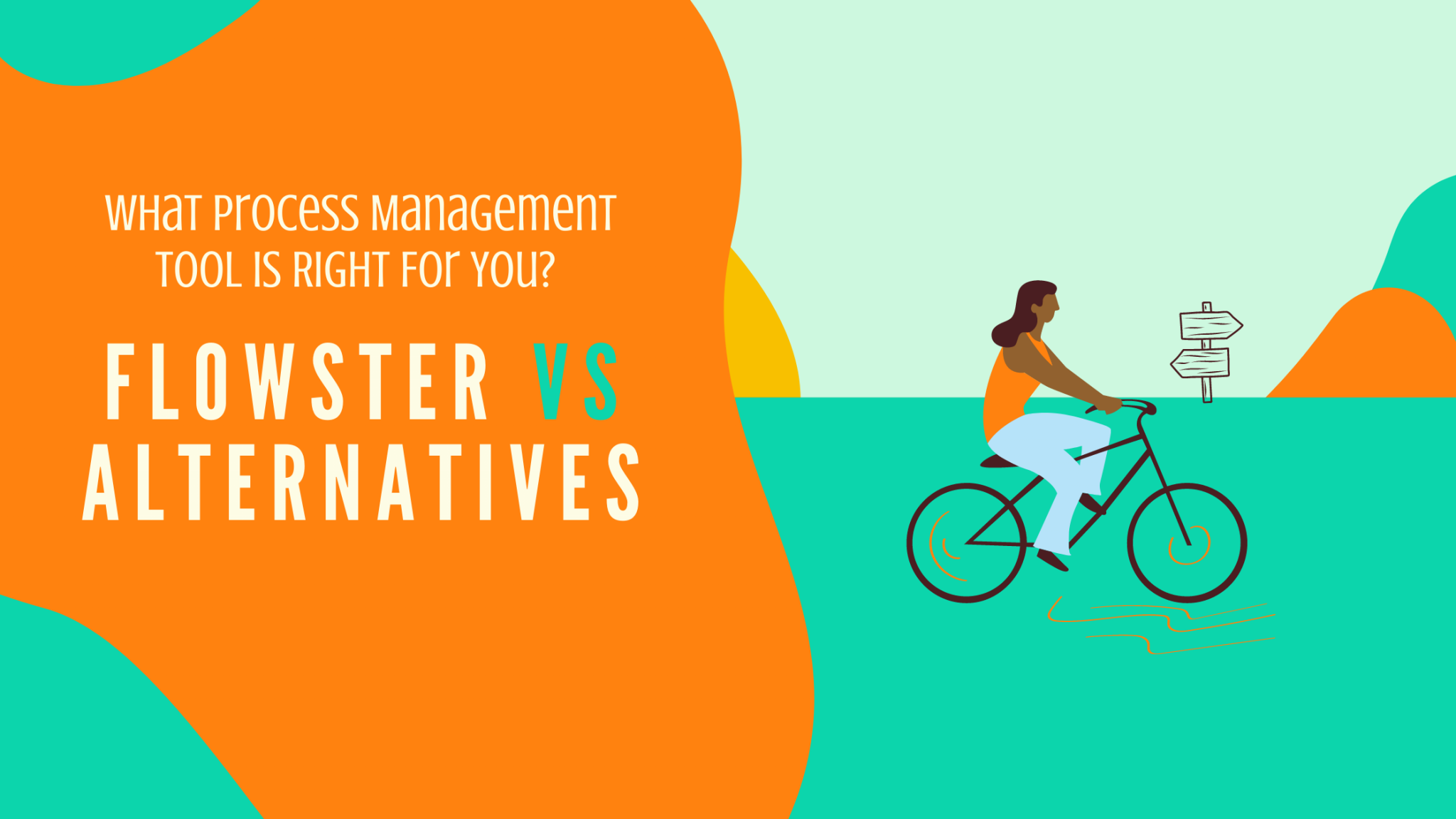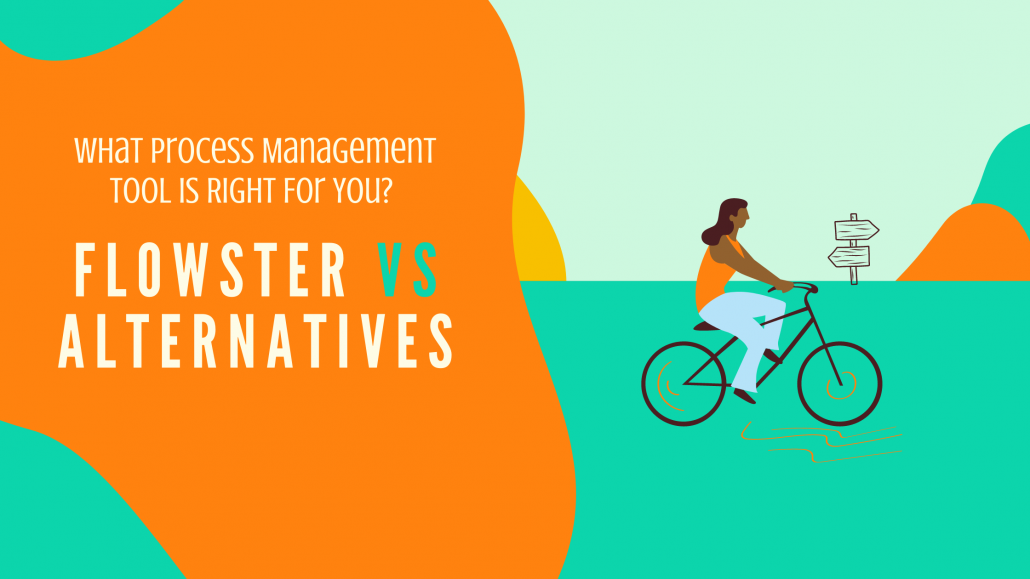 What Is Flowster? (for Context)
Flowster is a web-based solution designed for managing SOPs. As a workflow management tool, Flowster allows you to quickly create, edit, and manage all your company's processes.
Unlike a basic file-sharing platform, Flowster allows you to create templates of your processes.
Document Every Business Process
You can document and standardize any aspect of your business operations, from the simplest task to the most complex projects.
Flowster includes options for creating basic lists or detailed project workflows. You can even create branching sets of instructions for different outcomes. 
Other useful features include adding supplementary content, such as videos, images, or links to other documents.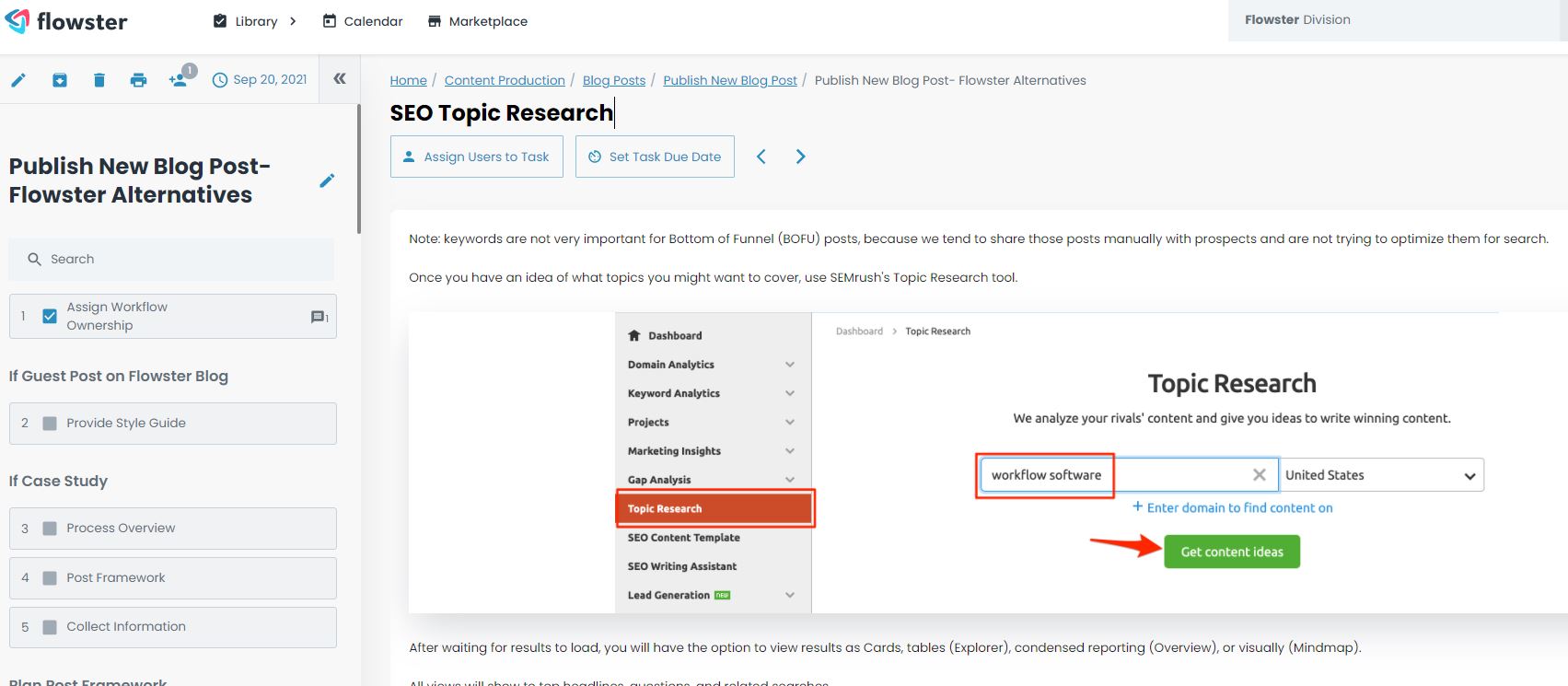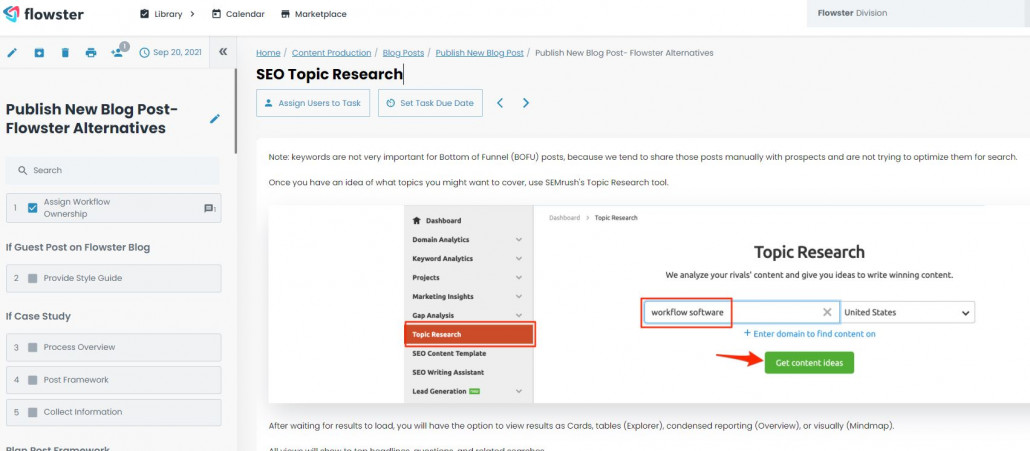 Access a Large Template Library
Along with creating processes from scratch, you can quickly generate instructions using templates. Flowster includes an extensive template library. 
The available templates cover the most common business processes, including:
For example, with customizable SOP templates, you can simplify training and onboarding processes. New hires can receive the instructions they need from day one.
Track Processes with Workflow Checklists
After documenting your processes, you can start managing them.
Flowster allows you to assign tasks, set due dates, and track progress. Workflow checklists streamline collaboration while ensuring everyone adheres to your SOPs.
Using Flowster saves time and increases compliance with your company's procedures. However, not everyone needs a versatile workflow management tool.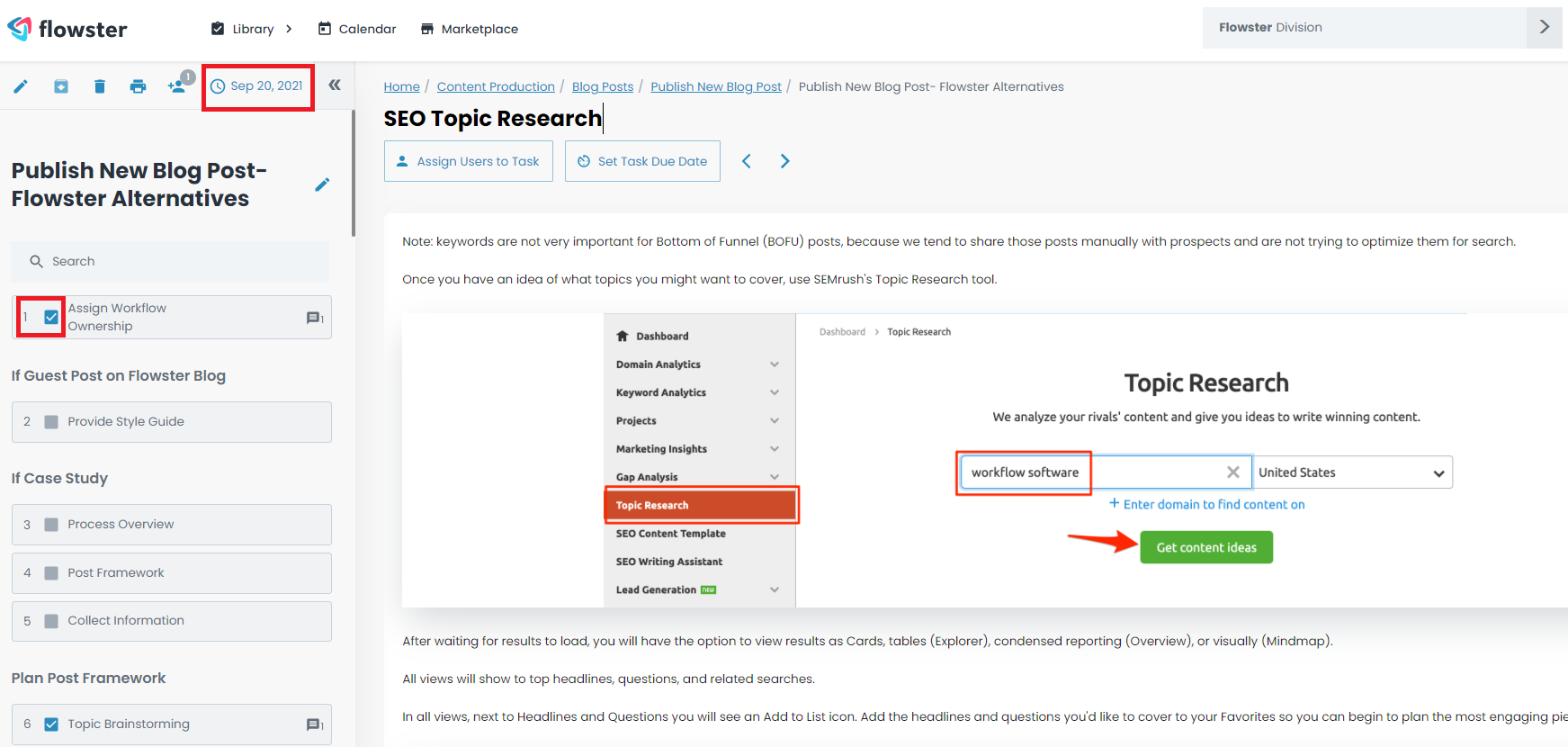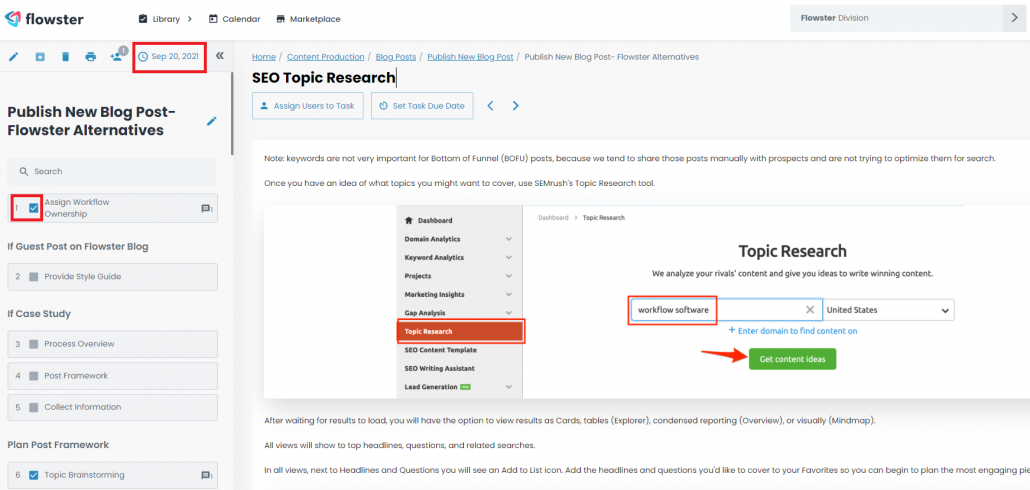 If you need something basic, take a moment to review the following Flowster alternatives:
Office 365 is a well-known suite of tools that combines Microsoft's traditional Office products with a few productivity and collaboration features. 
Users also gain cloud storage and access to Microsoft Planner, OneDrive, Exchange, SharePoint, and Teams.
While Office 365 is easy to implement, managing complex processes is a challenge. Microsoft Word and Excel are useful for simple lists but not much else.
You can't easily create detailed instructions or add supplementary content. 
Office 365 includes access to OneDrive for managing files in the cloud. However, the file structure can quickly become a mess of files and folders.
Office 365 isn't centralized. Each user can create documents and set permissions. 
The lack of structure increases the risk of miscommunication. Your staff also becomes less efficient, as they may spend more time searching for files or folders.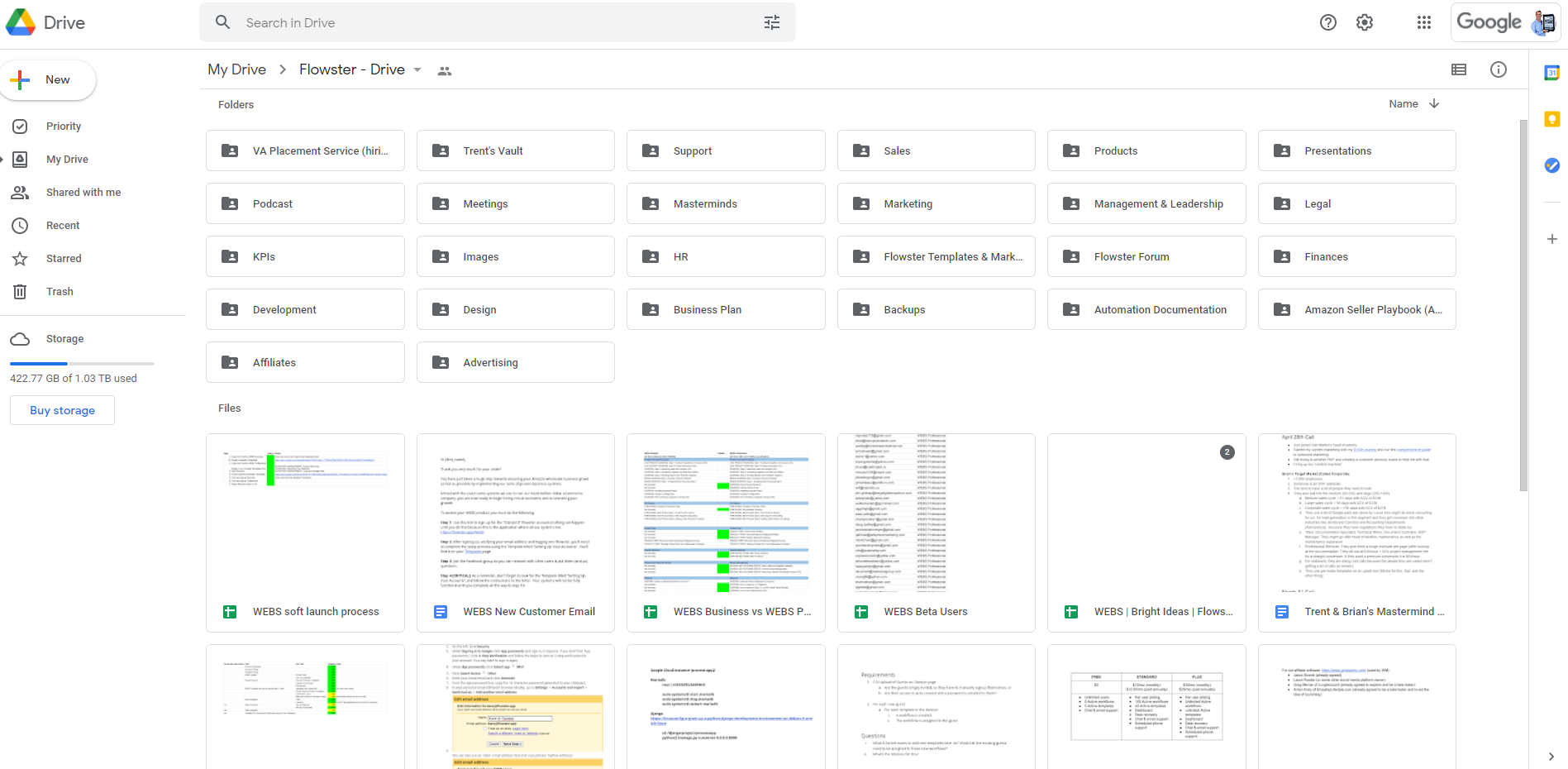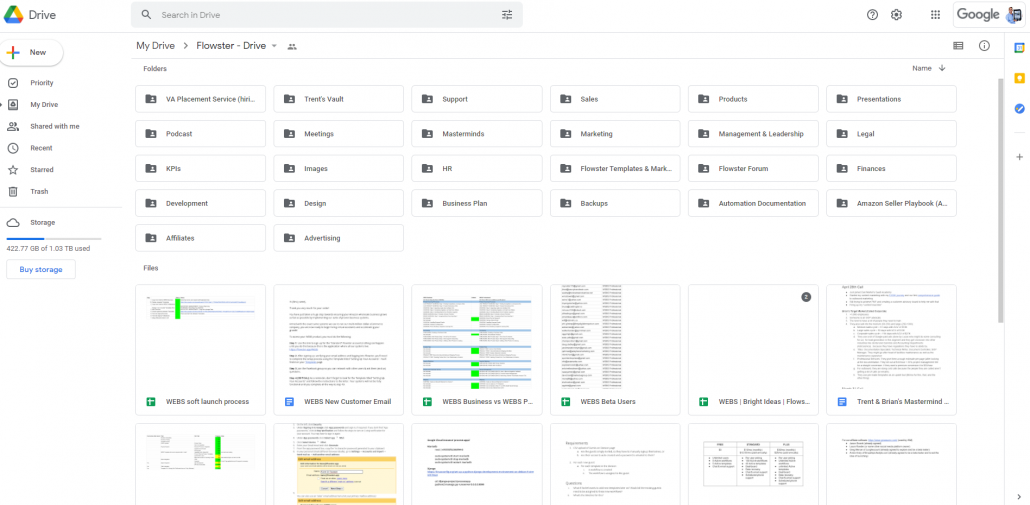 Task and Checklist Management
Office 365 lacks task and checklist management features. You cannot assign tasks or track checklists.
The process of tracking tasks also becomes more of a challenge when users remain offline. You cannot easily sync processes to ensure that everyone has access to the latest version.
Offline processes also result in the need to print physical copies of documents. Printing physical documents results in wasted paper, money, and time.
Physical documents may also pose security concerns, especially if the documents contain sensitive information.
If you make any changes to a process, you then need to print new copies of the documents. 
Without task management or checklists, Office 365 also has no way to monitor progress. You must rely on separate communication or productivity tools to check in with teams.
Most people are familiar with Microsoft Office tools, such as Word and Excel. Familiarity with Microsoft Office is one of the main advantages of Office 365.
You can get new hires up to speed quickly, as they don't need to learn a new system.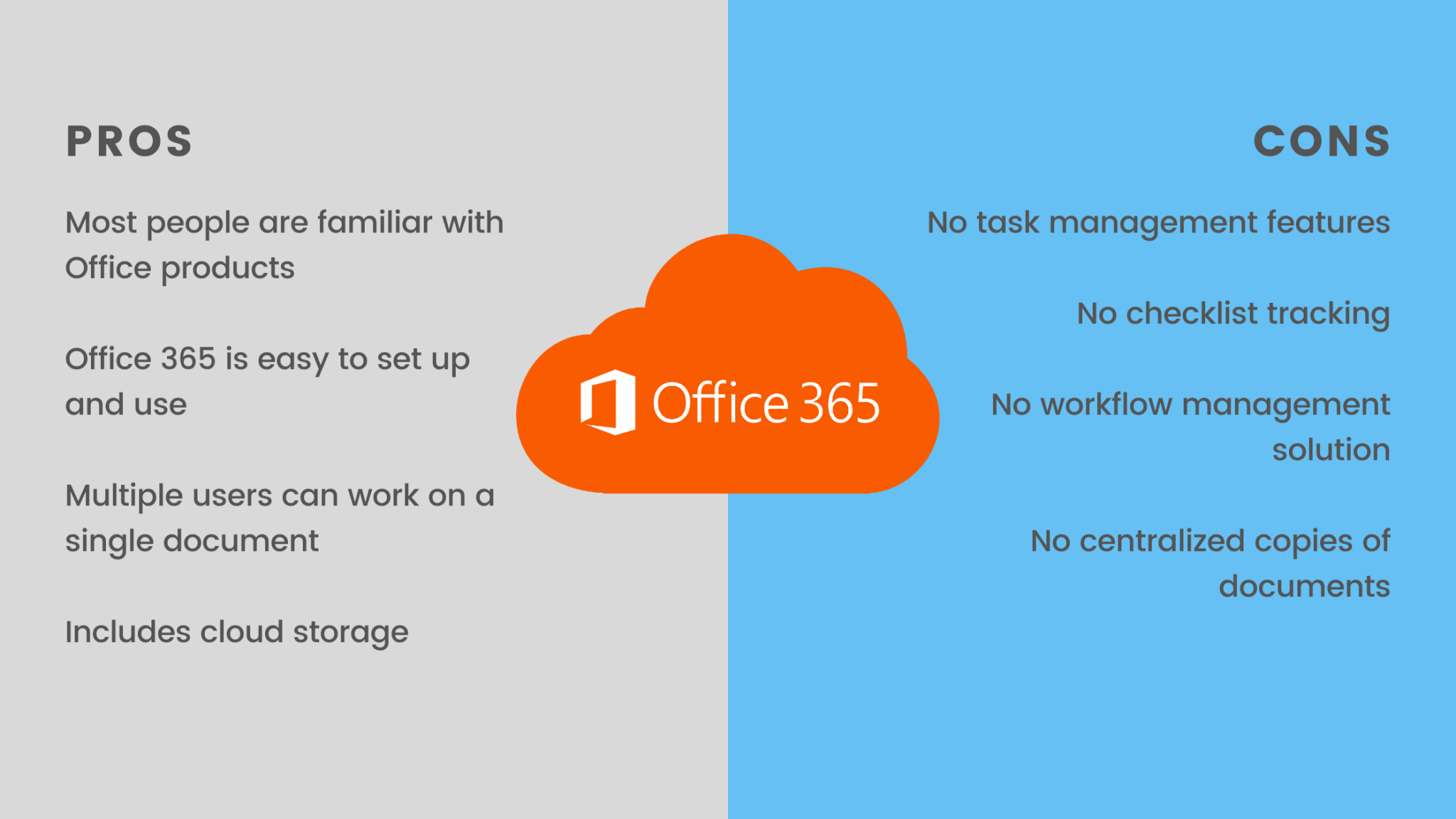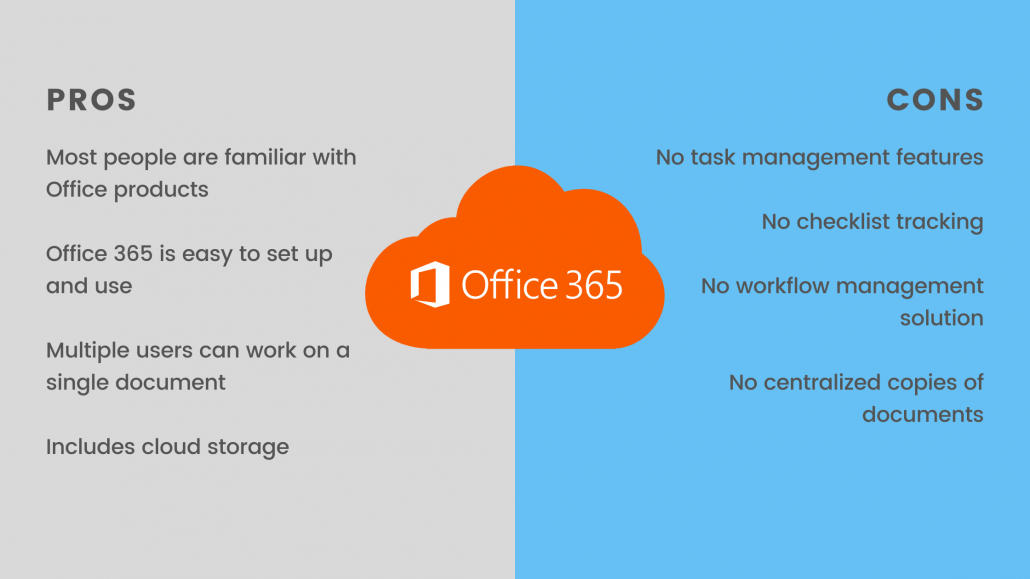 Flowster and Office 365 are aimed at different types of users. 
Office 365 is best suited for small operations with just a handful of employees. It lacks the functionality provided by Flowster, such as active process documentation.
With Office 365, you receive the most used word processing tool and cloud storage. Multiple users can work on the same document at the same time. 
Unfortunately, the documents don't work well for complex instructions. You can't easily add images, videos, or other supplementary content.
Google Docs is another Flowster alternative that may work well for those with just a few team members. As with Office 365, Google Docs is mostly used for file sharing and basic word processing.
The main advantage of Google Docs over Office 365 is the online functionality. Almost everything you do in Google Docs remains online.
As with Office 365, Google Docs allows you to store files locally. However, the sync feature works better on Google Docs.
Documents created with Google Docs are also online first. The files are created in the cloud and synced to offline versions. This is the opposite of how OneDrive typically works.
With Google Docs, you don't need to worry about two users accessing different versions of a file.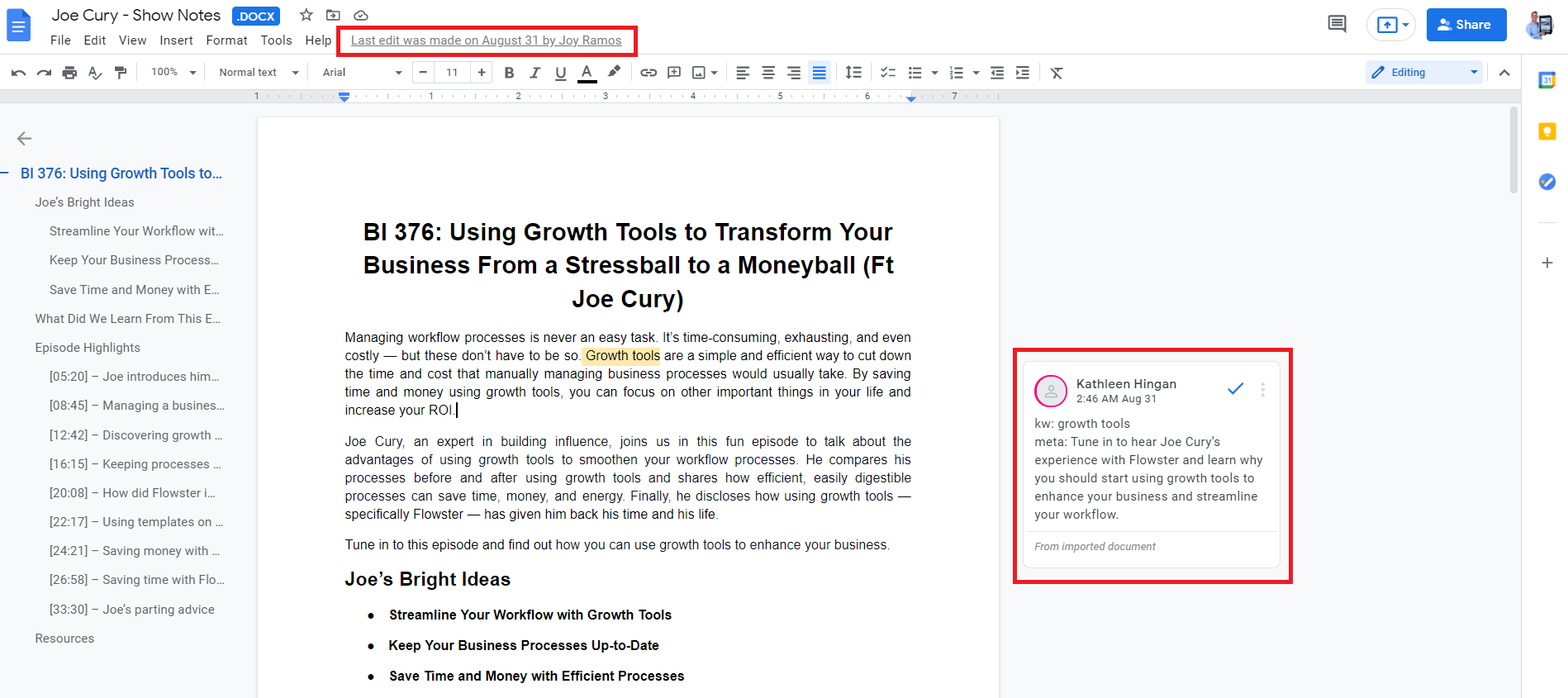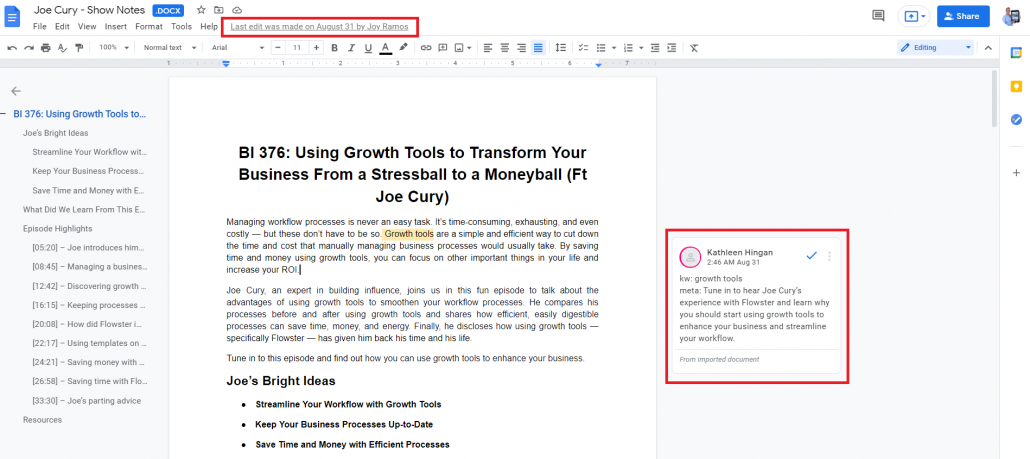 Google Docs is another Flowster alternative that doesn't include a straightforward option for documenting processes. 
If you want to document a process, you can create a basic document. It's almost identical to using Microsoft Office products, but without fewer formatting options.
Google Docs also allows users to collaborate. Two users can view and edit the same document at the same time.
As mentioned, the files are stored in the cloud and synced automatically, making it easy to collaborate.
Task and Checklist Management
While Google Docs is slightly better for collaboration compared to Office 365, neither option provides task management features.
You can't automatically assign tasks or track progress without extra tools.
Google Docs mostly stands out for its ease of use and cost. You can use Google Docs for free.
Most people already have Google accounts, which makes it easy to adopt.
You don't need to train anyone on how to use Google Docs. 
While Google Docs is easy to use, it becomes more of a challenge as your file list grows.
Unfortunately, the file structure is more confusing compared to Office 365 and OneDrive. It's easy to allow folders to become unorganized.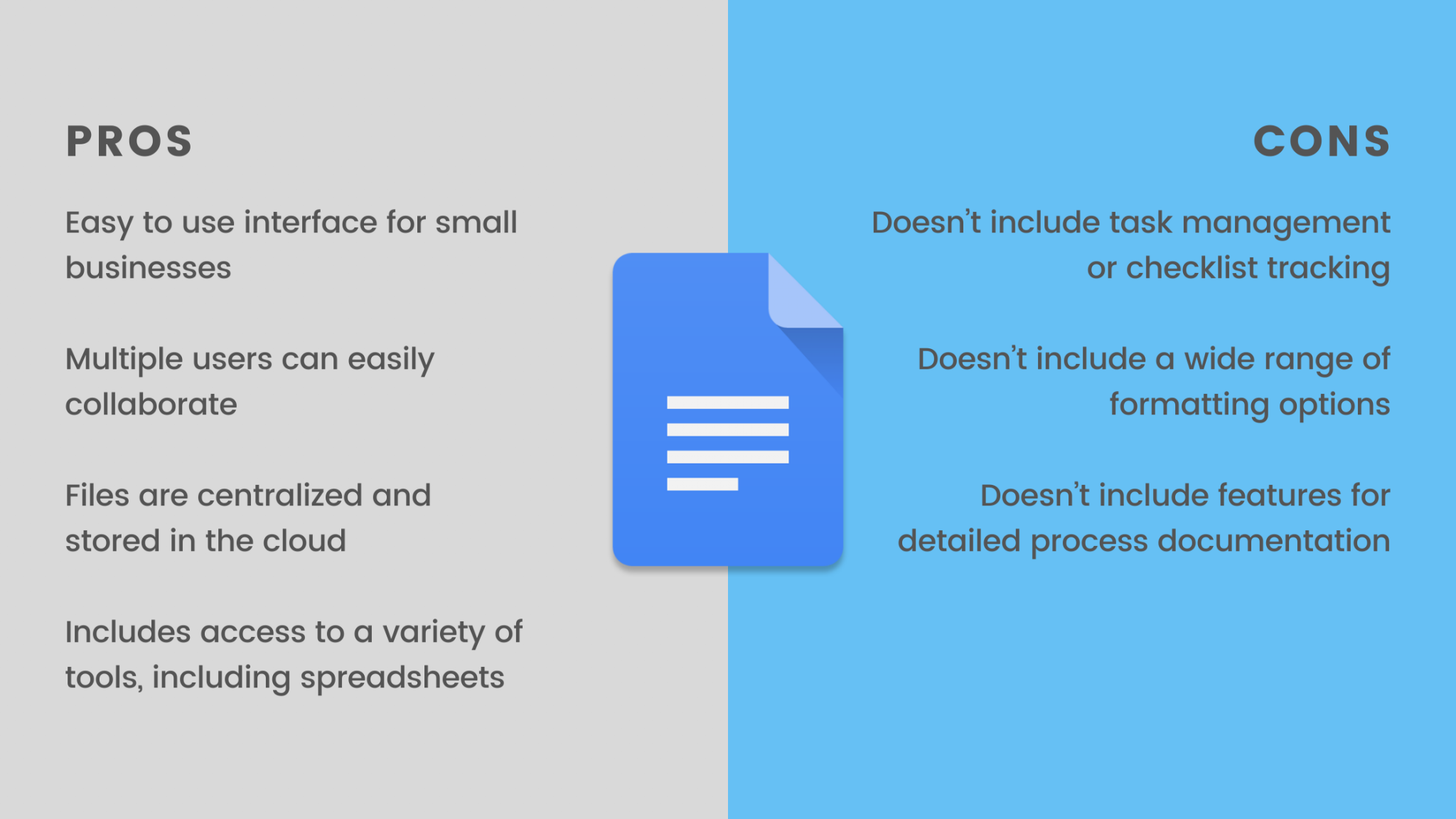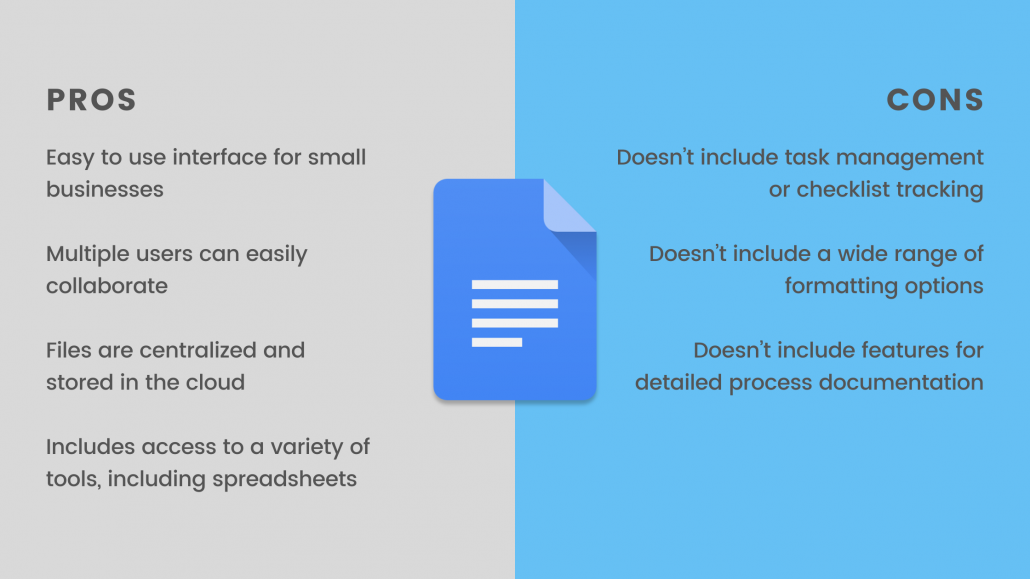 Google Docs and Flowster don't offer the same set of features. Google Docs is mostly a cloud-based platform for creating and sharing documents.
You can create basic sets of instructions with Google Docs. You can also link to other files. 
For complex sets of instructions, Google Docs becomes a burden. You can't easily manage files and folders.
Flowster includes templates for quickly creating processes and allows you to develop highly detailed instructions.
Asana is a project management tool. It's available from a web interface for a mobile app, which is convenient for a modern workforce.
Asana can handle simple tasks and complex processes. However, it's designed as a collaboration tool. 
Documenting processes isn't the focus of Asana. It's made for basic task management for small teams.
Asana allows you to create Kanban boards with a list or simple descriptions. You can arrange the boards to document processes.
Yet, the layout isn't made for complex processes or large projects. As with Trello, Asana is made to handle basic processes.
The software doesn't include a dedicated process creation tool. The processes that you create are built using simple lists and by linking to external files.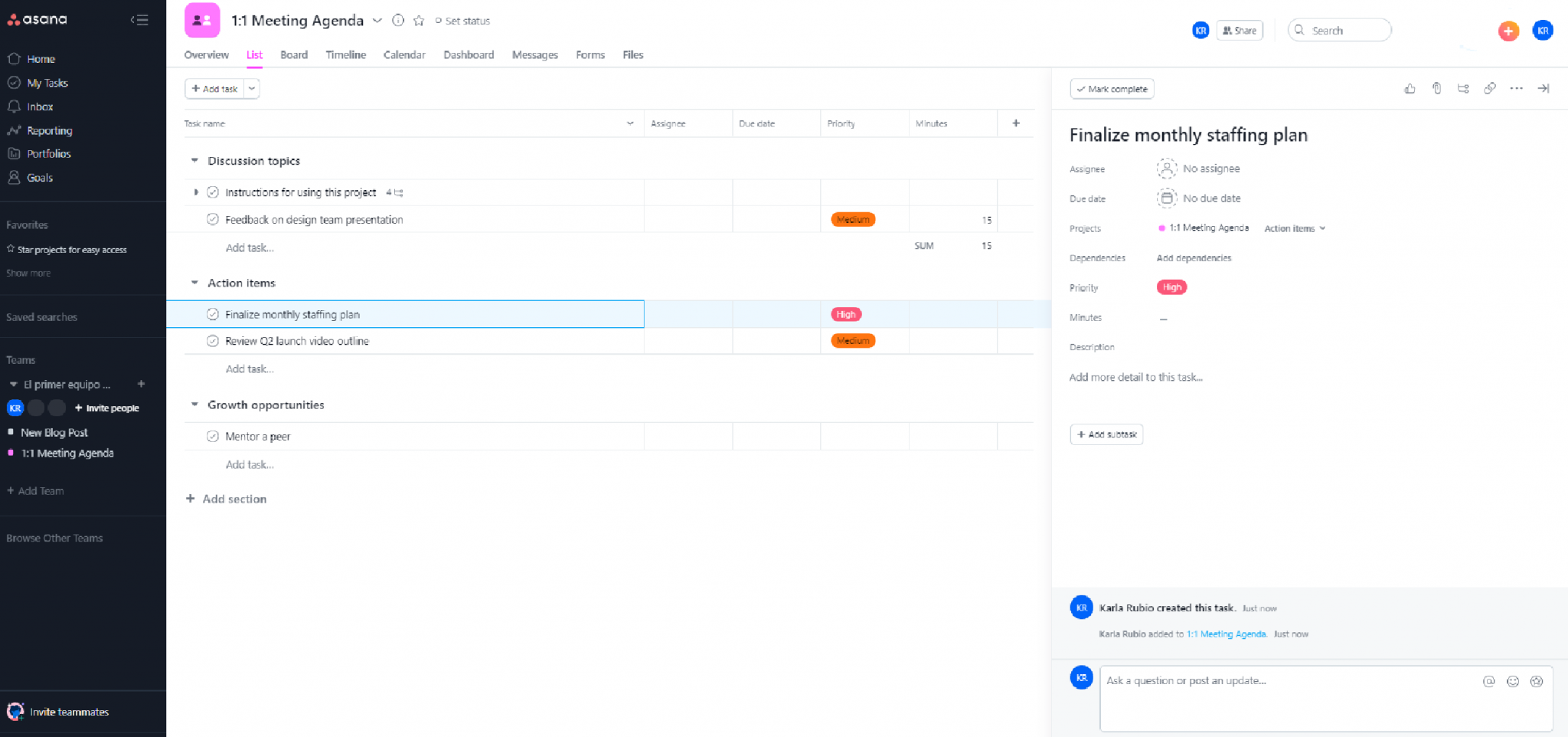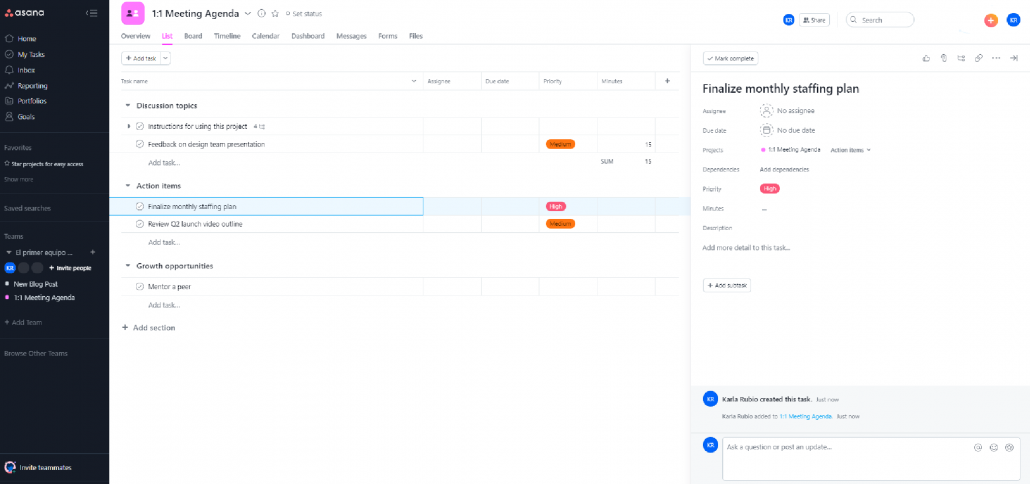 Task and Checklist Management
The task management features on Asana are convenient. You can quickly assign and track tasks.
You can also switch between different views, such as list views and timelines. 
While Asana is convenient, it can create challenges.
For example, managing multiple instances of the same process isn't easy. Managing large groups is also cumbersome due to the layout of the dashboards.
Yet, Asana also offers a few advantages for managing tasks. You can integrate Zapier for process automation.
Asana is easy to use when you stick to simple projects and small groups. Complex projects and large groups make the software less efficient.
As Asana isn't the easiest process management solution to use, some users may struggle to adapt to it.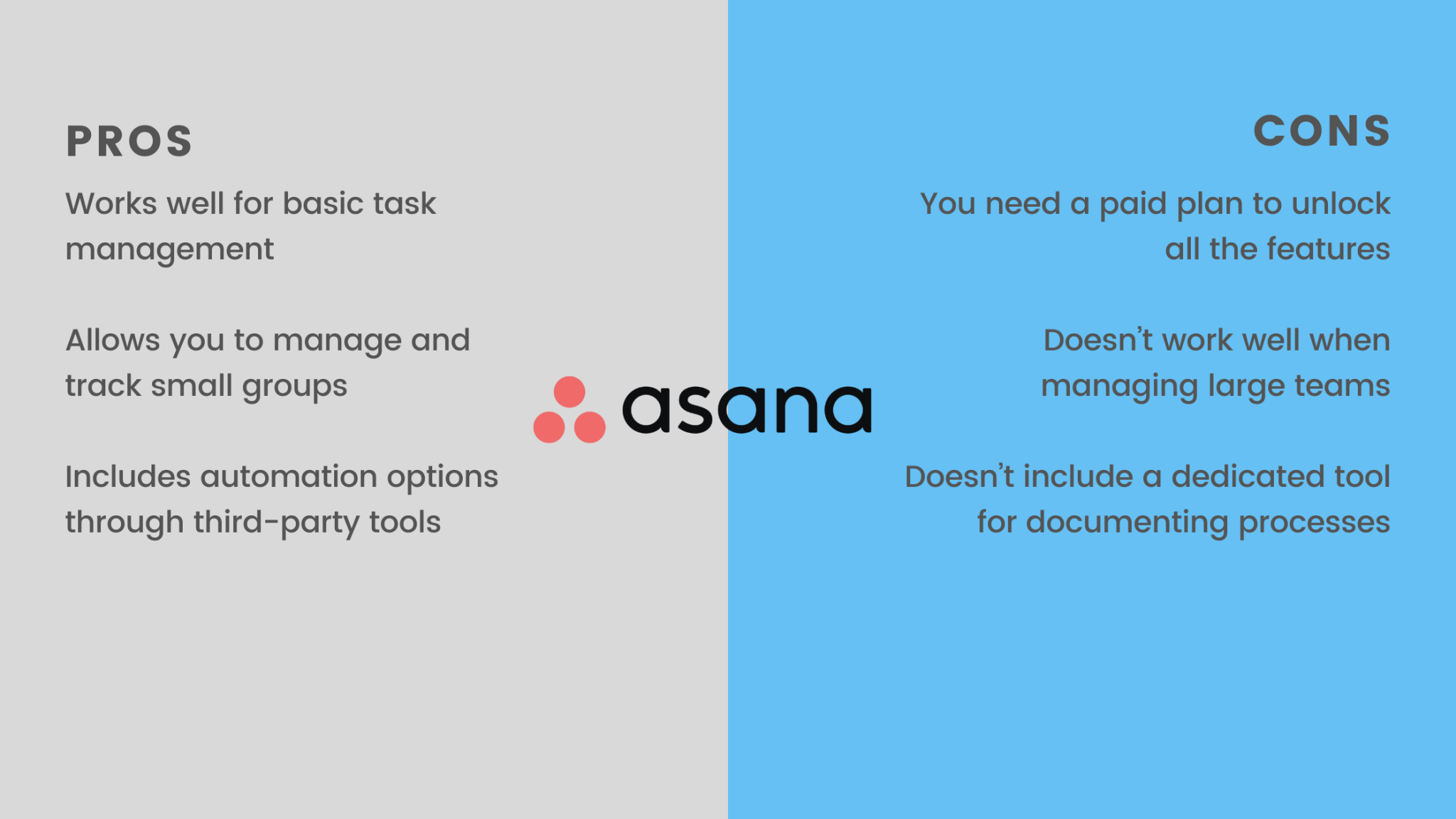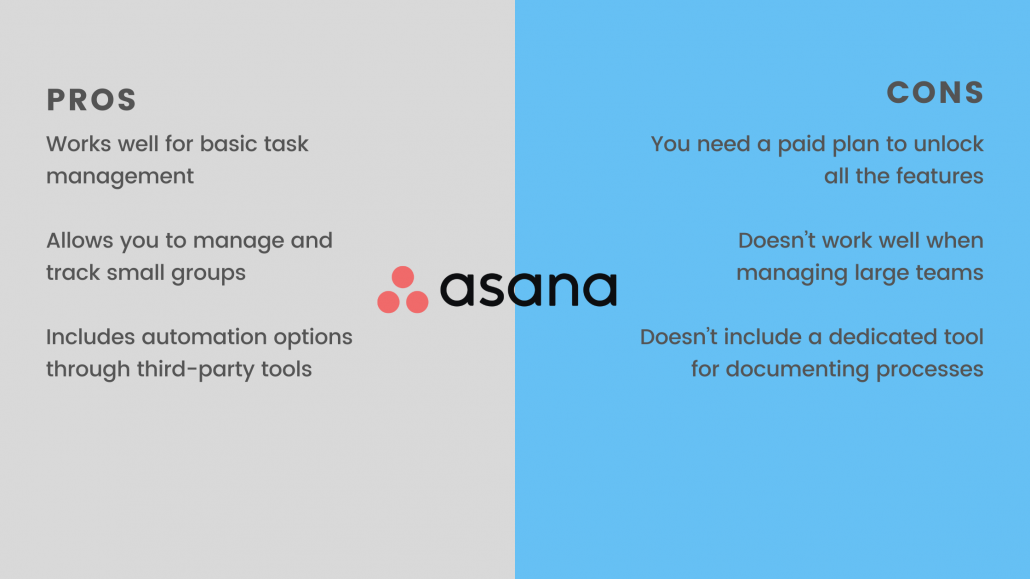 Asana is a good starting point for those who need something more than a word processor. You can create and manage tasks. It also includes options for assigning tasks to users and tracking progress.
The drawback is that Asana doesn't include dedicated process creation tools.
Creating a process is not straightforward. You need to create lists or a Kanban board and link to external files.
Linking to external files means that users need to open other software. Working with multiple tools decreases productivity, as users need to jump back and forth between screens.
You don't face the same challenges when using Flowster. The interface is easy to use and works well with processes of all sizes.
For a more detailed breakdown of Flowster vs Asana, check out Which One is Better? Flowster vs Asana – A Productivity Showdown.
Trello and Asana share many features. Both products are designed to streamline workflow management.
The layout is easy to navigate. Anyone can glance at a Trello board and understand what they're looking at.
With Trello, you create tasks, lists, and messages. You can also link to files stored elsewhere.
Each item is displayed on a board and updated by users with the right permissions.
Trello doesn't include robust process management features. It allows you to create simple lists.
You can also create documents with basic formatting. 
The documents and lists can include links to other files and documents. 
If you want to document a complex process, you need to take the time to upload files to another cloud storage solution.
Yet, Trello includes a few advantages. You can quickly duplicate existing tasks. Trello also allows you to easily update processes. 
Unfortunately, Trello isn't efficient for documenting detailed SOPs with long lists of instructions.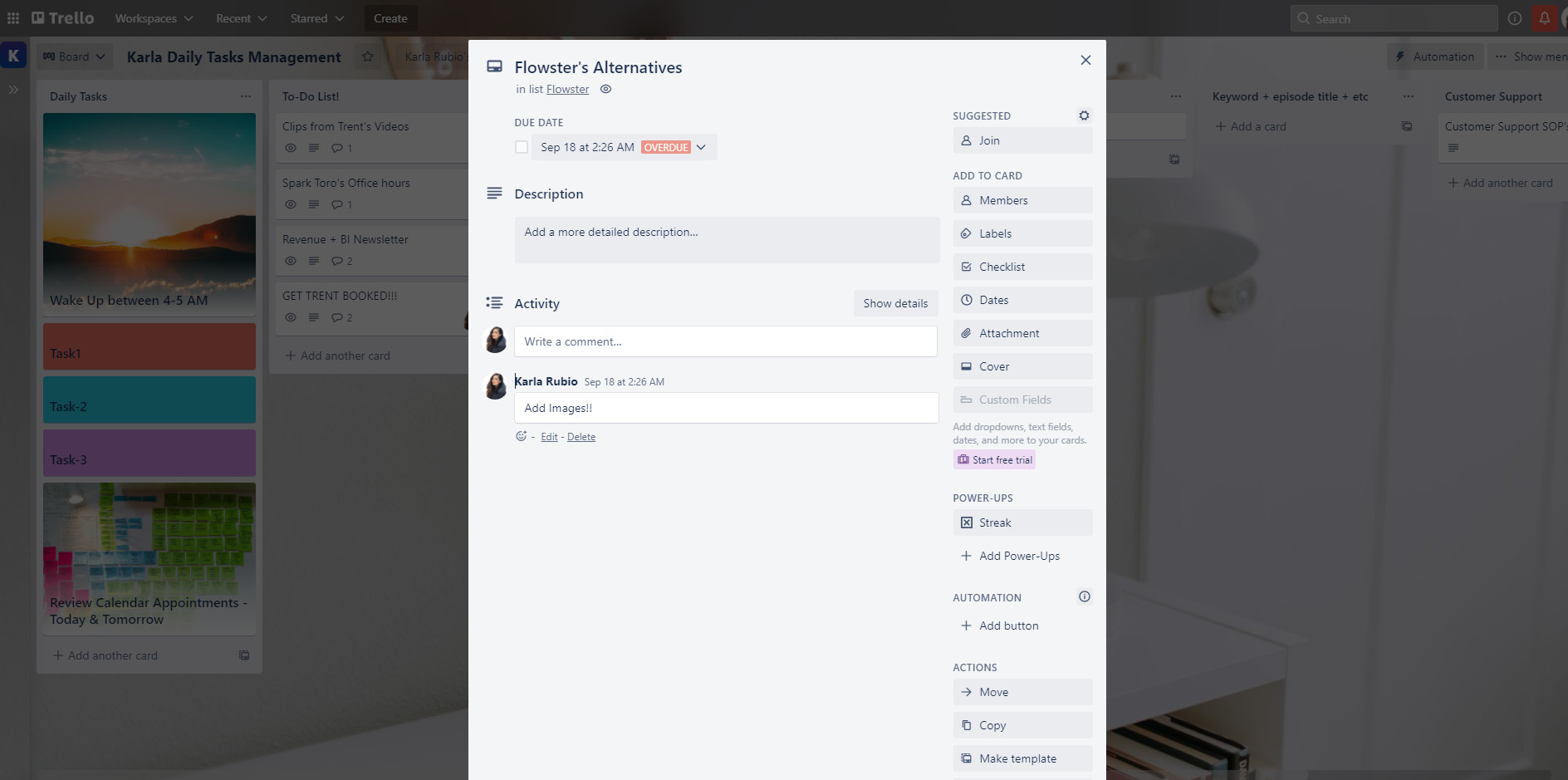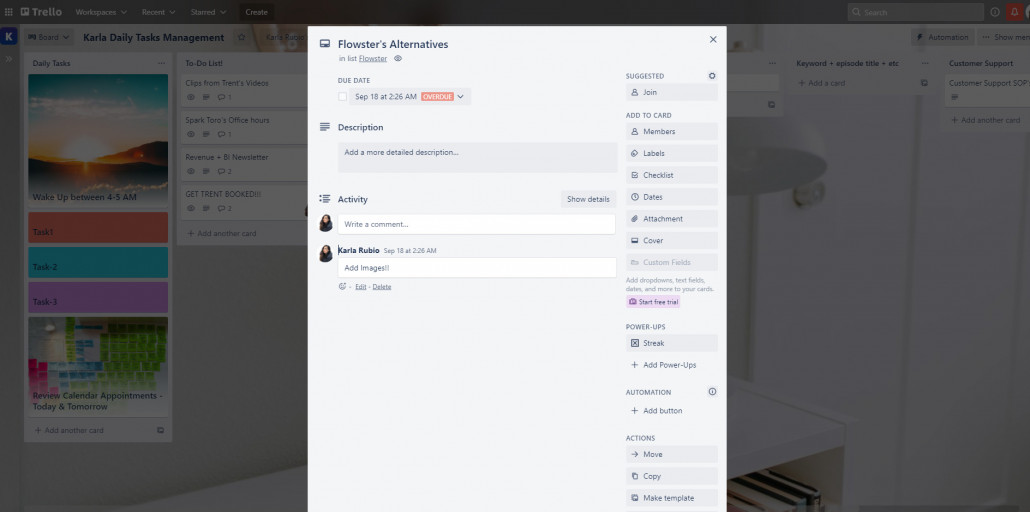 Task and Checklist Management
Trello works well for task management. You can easily create, edit, and assign tasks. 
Checking progress is also easy. You simply need to check the board to see which tasks are completed. Due dates, assigned members, and other data are also readily available.
Problems start to arise as you add members.
With just a few team members, Trello can streamline task management. As your team grows, Trello becomes overwhelming.
The boards that were once simple become cluttered and difficult to navigate.
Trello is very easy to use. The layout is simple and visually appealing. 
As mentioned, Trello becomes more difficult to use as you add users and tasks.
Trello boards are designed for small groups instead of large organizations. It's also best suited for short-term projects.
Longer projects are more likely to have more variables. You can't gain a big picture view of a project with Trello boards.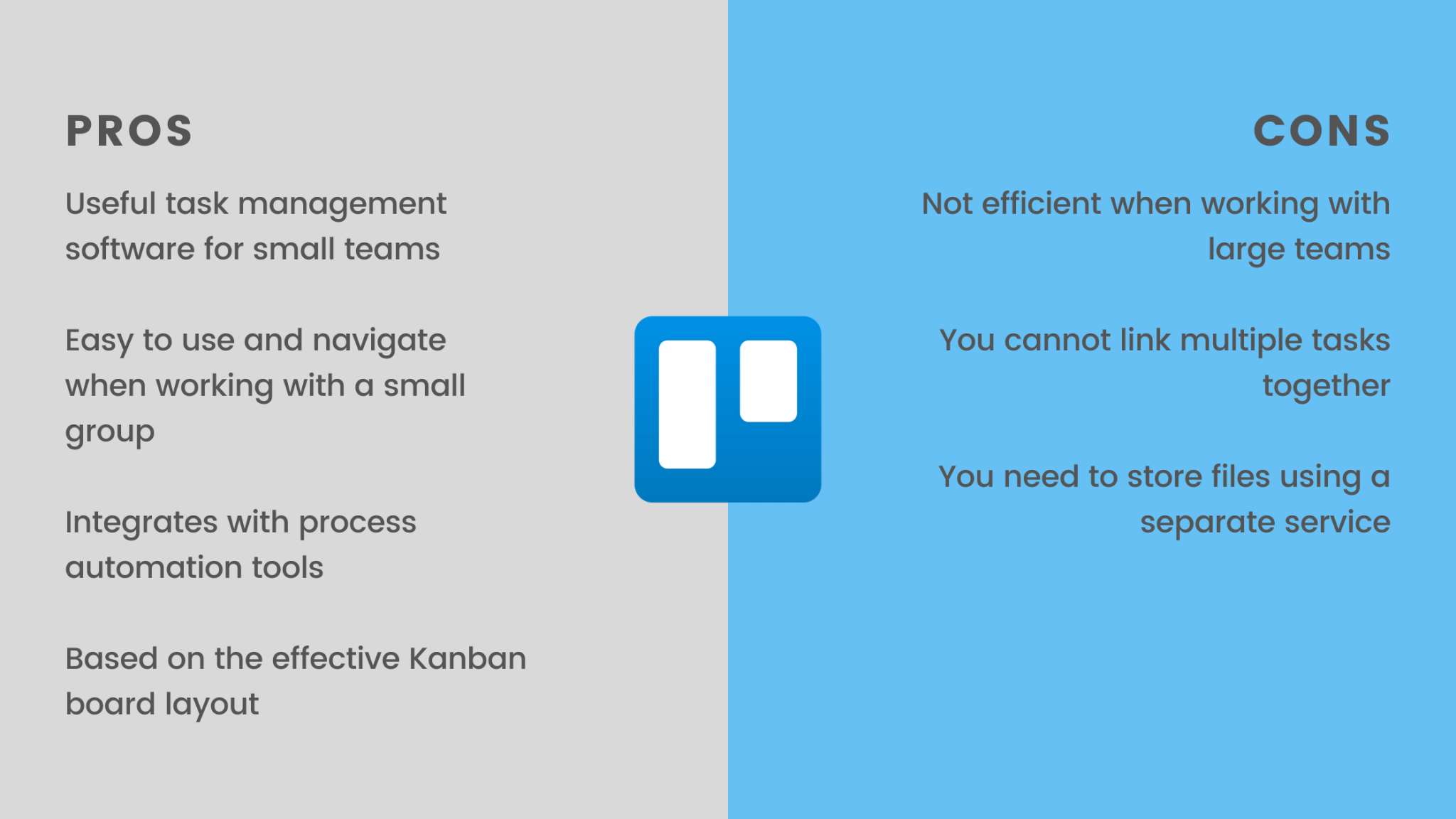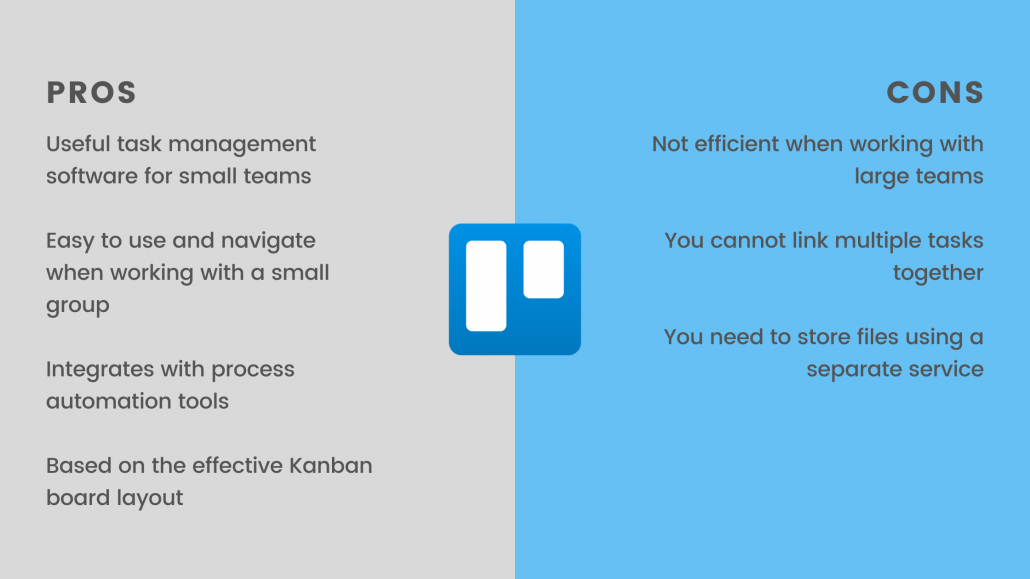 Flowster vs Trello – which should you choose? Trello offers a stripped-down version of what you can do with Flowster. Trello allows you to quickly create and manage simple tasks, and works well for one-off (non repeating) tasks.
You can also assign tasks to specific members, which isn't an option with Google Docs and Office 365.
Yet, Trello doesn't include the same functionality found with Flowster. You can't document more detailed processes, which makes it less effective for large teams.
LucidChart is a web-based solution that allows you to create charts. Users can collaborate on projects, as the files are stored centrally in the cloud.
LucidChart also includes many integrations. You can connect it with apps that you already use to automate processes or streamline task management.
For example, LucidChart integrates with Google, Microsoft, Atlassian, Salesforce, AWS, Slack, and other popular platforms.
Unlike the other Flowster alternatives, LucidChart includes process management features. It allows you to create visual maps of your processes.
Instead of a checklist, you view a flowchart, which is great for instructions with multiple outcomes.
For example, users may need to perform specific steps based on the outcome of a previous step. 
Providing multiple paths isn't easy with a simple list, helping LucidChart stand out compared to the other choices.
The layout of the flowchart is also completely customizable. You can alter the layout to suit your needs.
For example, you may use a chart for people management. The charts may be used to identify staffing needs or quickly access employee data.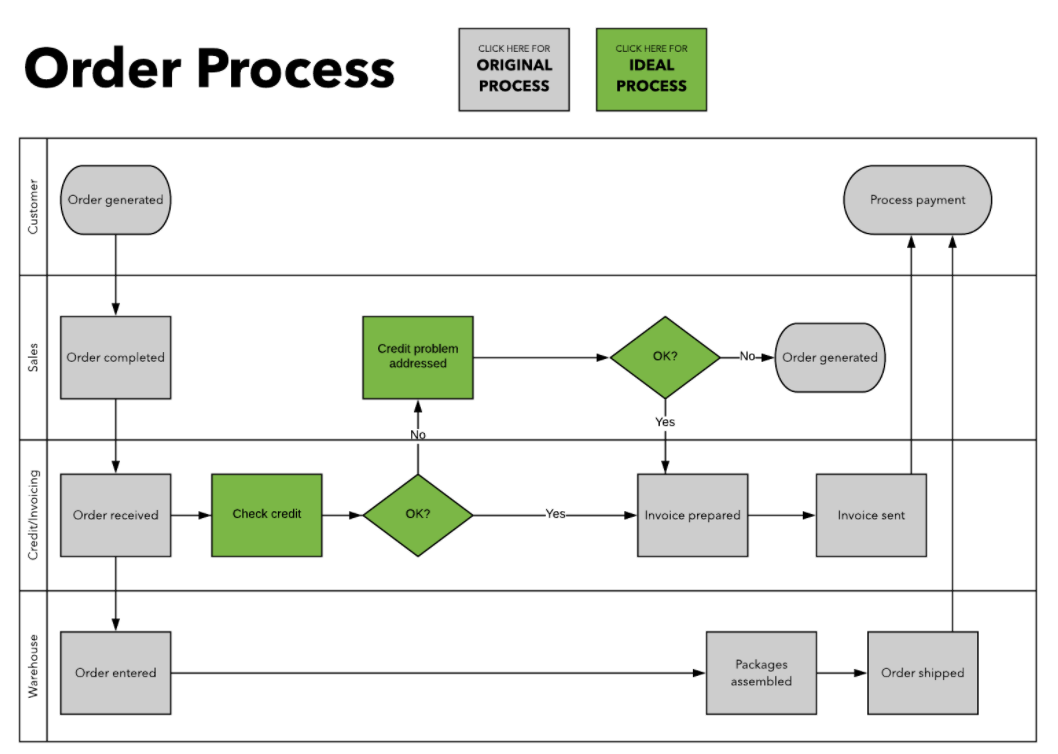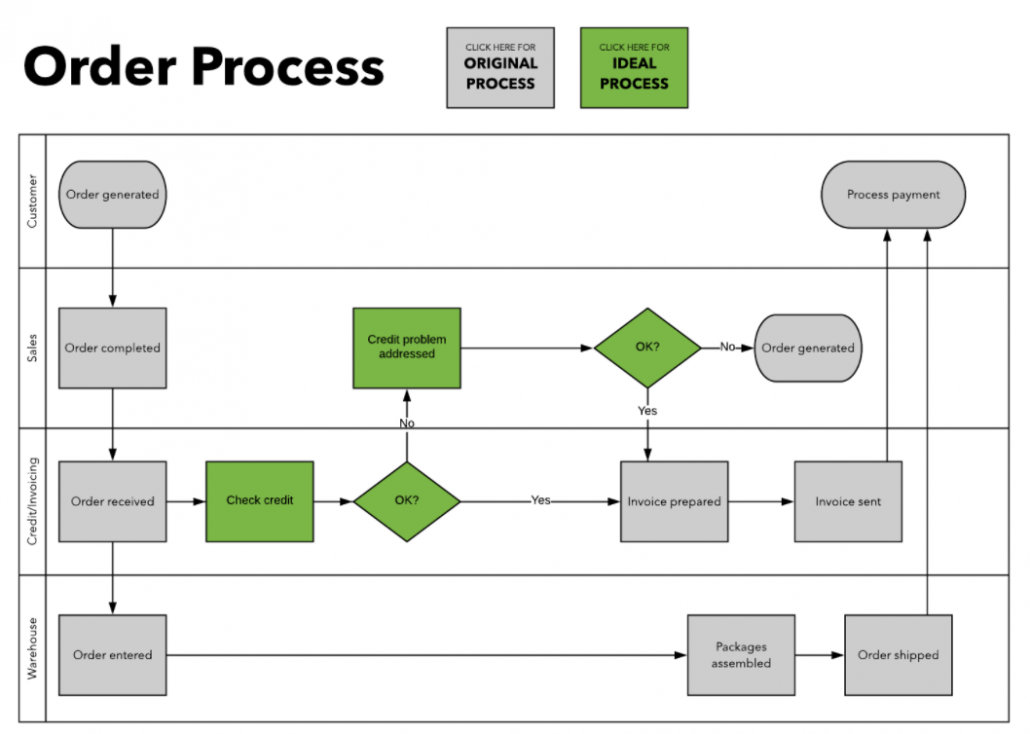 Task and Checklist Management
LucidChart isn't too efficient when it comes to task management. It's also not the best collaboration tool for large organizations. 
You can't easily share resources with users outside of your assigned team. For example, if you share a file with a user outside of your team, the rest of your team cannot access the same file.
Despite a few hiccups, LucidChart is still a better option for task management compared to Office 365 or Google Docs. However, if you have a large team or need to track tasks, Flowster has you covered.
Some users may struggle with LucidChart. The interface is relatively user-friendly. However, not everyone has experience looking at flowcharts and timelines.
You may need to spend some time training individuals on the software.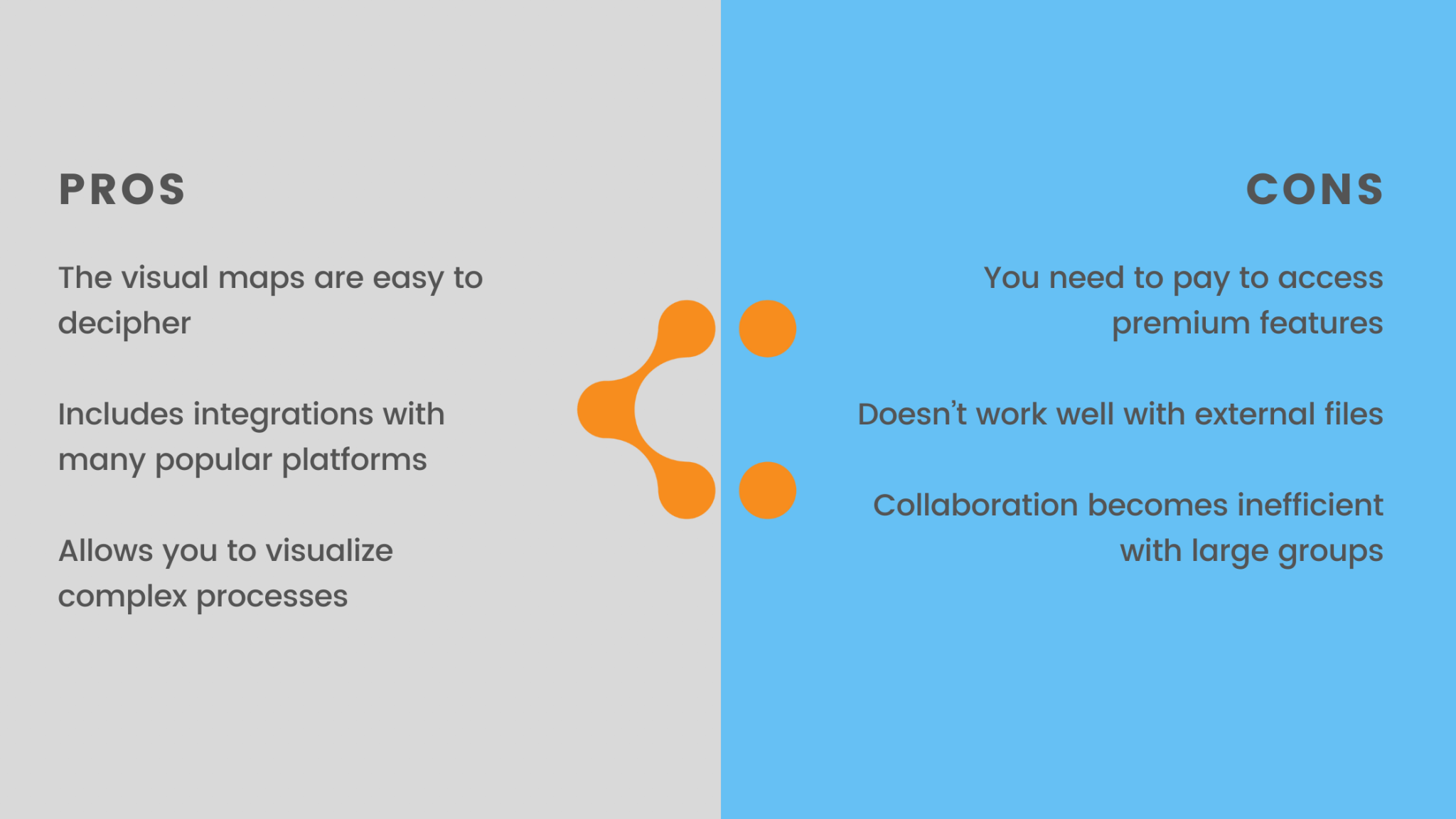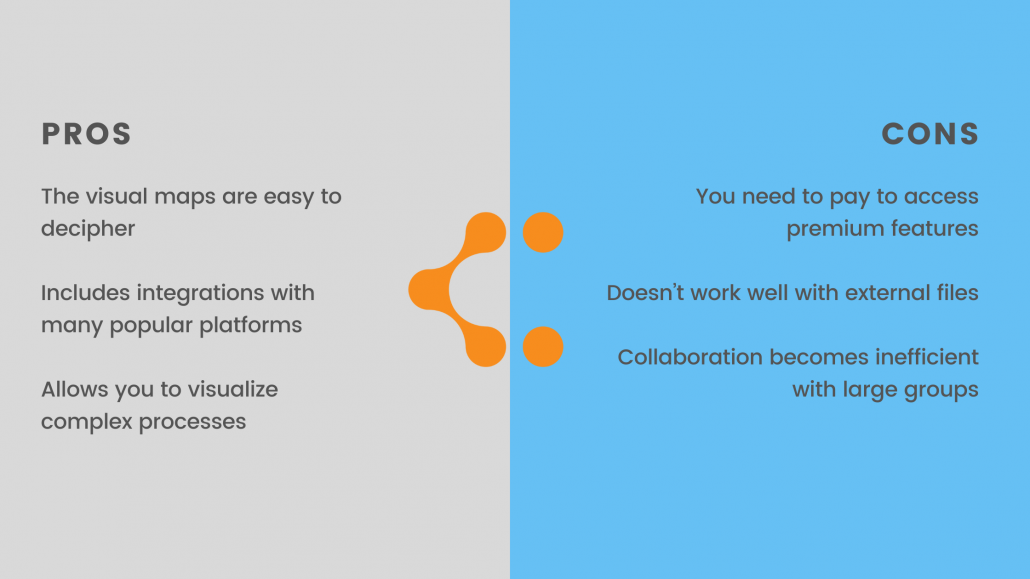 LucidChart is a worthy alternative to Flowster for those who need to visualize processes. You can create simple flowcharts and diagrams using LucidChart.
Yet, Flowster is the preferred choice for developing lengthy processes that require access to external files. You cannot easily share and edit files with users outside of your team.
Flowster also provides access to more features upfront. LucidChart requires you to pay for many of the premium features.
Airtable is one of the most efficient options for data management. You can easily manage large volumes of data.
Unfortunately, Airtable isn't good for much else.
Airtable wasn't made as a process management tool. It's essentially a database with a long list of custom features.
The interface resembles a spreadsheet, with rows and columns of data.
Each cell can include data or links to other files stored on the web. The problem is that it's not a complete solution.
You can't create documents.
Airtable doesn't include process management features but does allow you to create simple tasks. Thanks to the spreadsheet interface, you can create basic lists.
Yet, documenting a complex process is cumbersome.
You need to link to external files or URLs, which requires a separate storage option.
Users cannot open files from within Airtable. Attempting to explain detailed instructions becomes less efficient, as you spend more time searching for files.
After populating a database, you can easily search the data that you compiled. However, building a database is also time-consuming. You may spend months developing a database and linking your documents.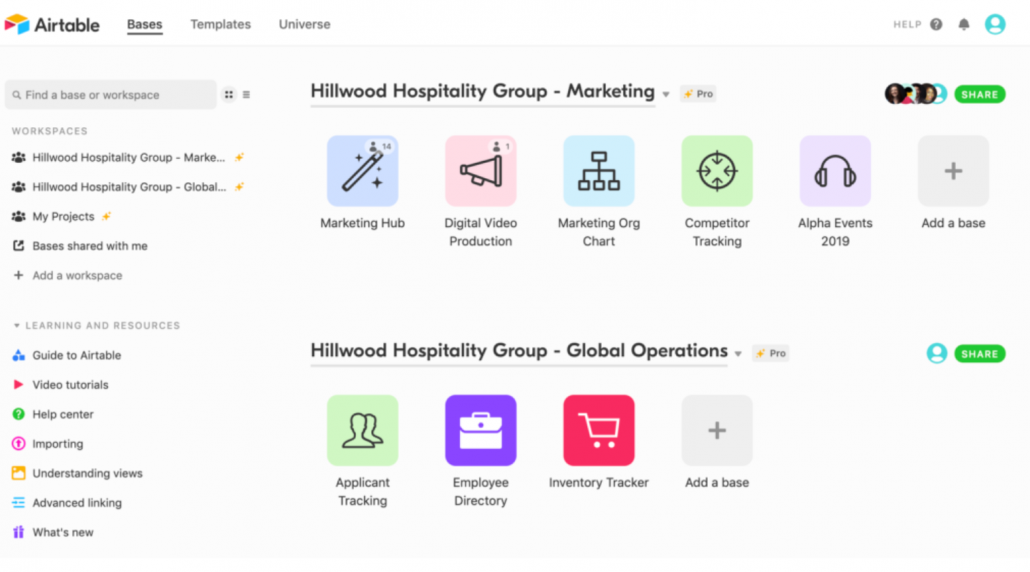 Task and Checklist Management
As mentioned, you can use Airtable for simple task management by creating lists in the spreadsheet-style interface.
The software doesn't include native options for checklist management or tracking projects.
Airtable isn't easy to use. It has a steep learning curve.
You may need to devote more time to get new hires up to speed.
While Airtable resembles a spreadsheet, understanding all the features and custom fields require practice.
Some users may spend a year or longer before fully exploring everything that Airtable has to offer. The complexity of Airtable limits its potential.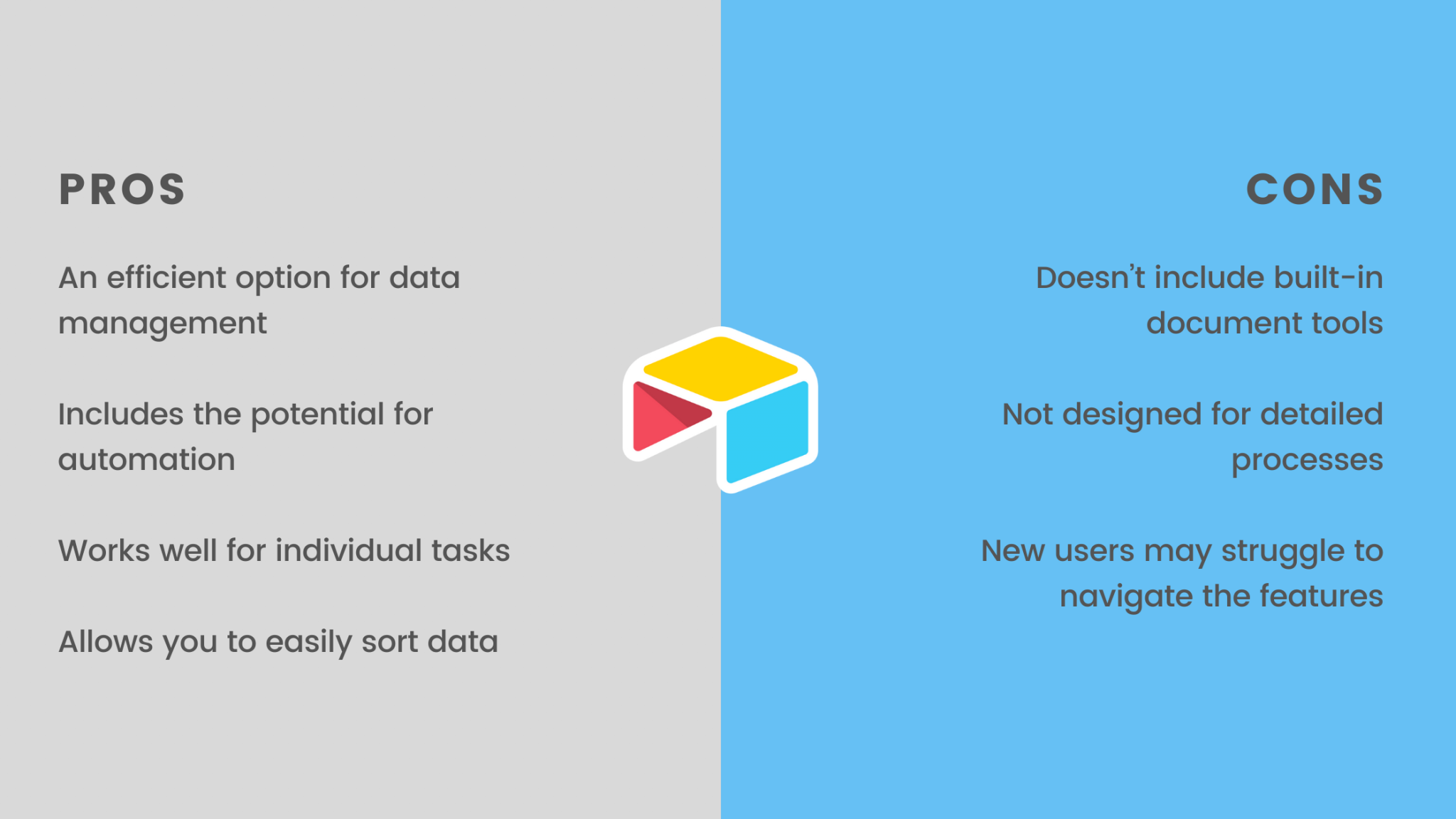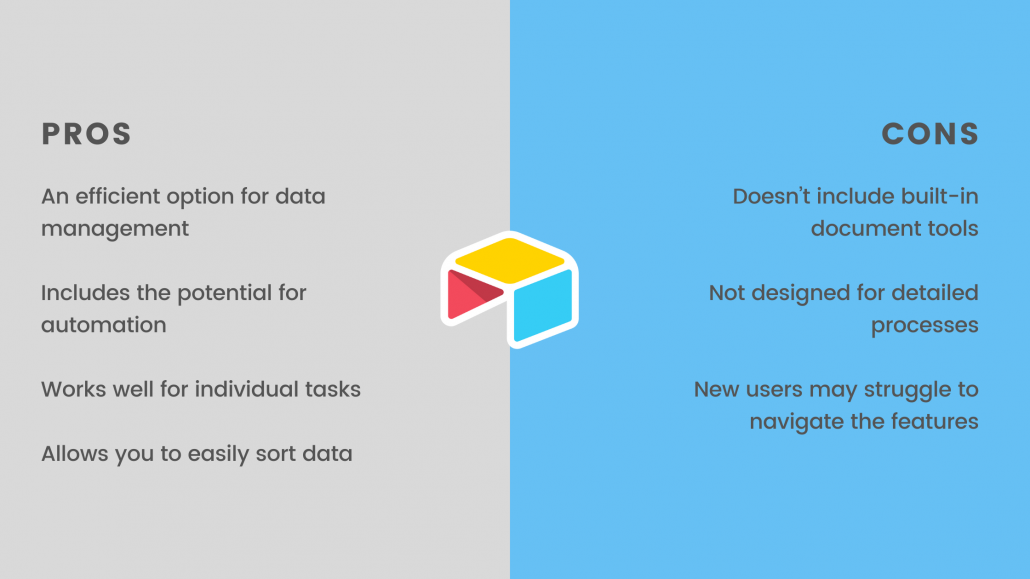 Airtable is great for data management but doesn't include a built-in option for creating documents. Flowster includes templates and allows you to create processes from scratch.
Flowster also has a simple interface while Airtable is relatively confusing for first-time users.
Using Flowster also ensures that your files remain synced. Everything is centralized.
With Airtable, you store files outside of the software. Without centralized storage, you may end up with broken links or outdated versions of files.
You have a variety of web-based options for managing business processes and projects.
Office 365 and Google Docs are useful for sharing files. Both options lack the ability to fully manage workflows.
Asana, Trello, and LucidChart include workflow management features. Yet, they also have limitations.
Flowster is a versatile tool that offers a streamlined option for detailing any business process.
You can create simple checklists, flowcharts, or complex instruction sets with drill-down menus. Few options provide an equally comprehensive solution for managing SOPs.
Sign up for a free trial to discover the value of Flowster for yourself.