Standard Operating Procedures (SOPs) are essential documents that outline the step-by-step processes required to perform tasks within an organization. It is therefore critical that you are familiar with these SOP best practices.
Whether it's a small business, a multinational corporation, or a government agency, SOPs play a crucial role in ensuring consistency, efficiency, and compliance. 
In this article, we will explore the best practices for writing effective SOPs that are easy to understand, implement, and maintain. So, if you are ready, let's start learning
Understanding Effective Standard Operating Procedures
Before diving into the details, let's establish a clear understanding of what SOPs are and why they are important. Standard operating procedures are detailed instructions that guide individuals through various tasks and processes. 
These procedures are designed to standardize operations, eliminate guesswork, and provide a consistent framework for employees to follow. By documenting SOPs, organizations can streamline their operations, minimize errors, and ensure that tasks are performed in a consistent, efficient, and consistent manner.
Knowing Why You Need Standard Operating Procedures
One of the key objectives of SOPs is to streamline processes and ensure consistency. When employees have a clear set of instructions to follow, it eliminates ambiguity and reduces the likelihood of errors. 
SOPs also help enhance efficiency and productivity by providing a standardized approach to performing tasks. With SOPs in place, employees can focus on executing their work effectively without spending unnecessary time figuring out how to complete a task.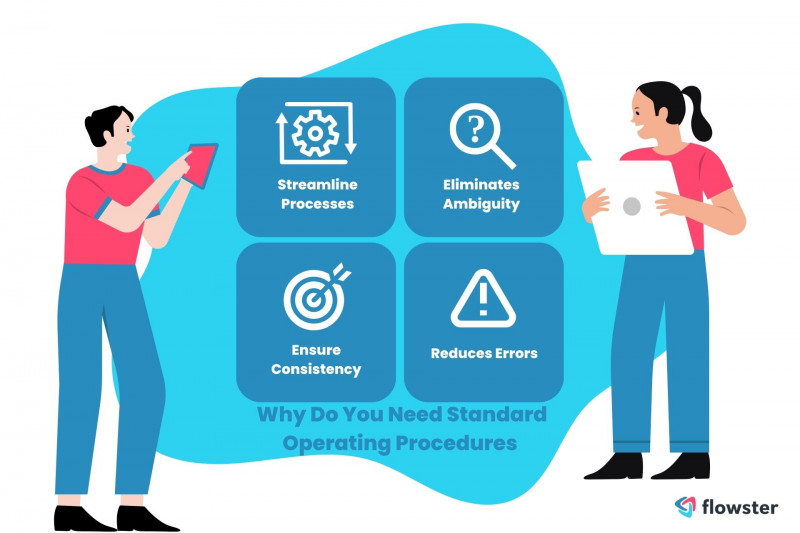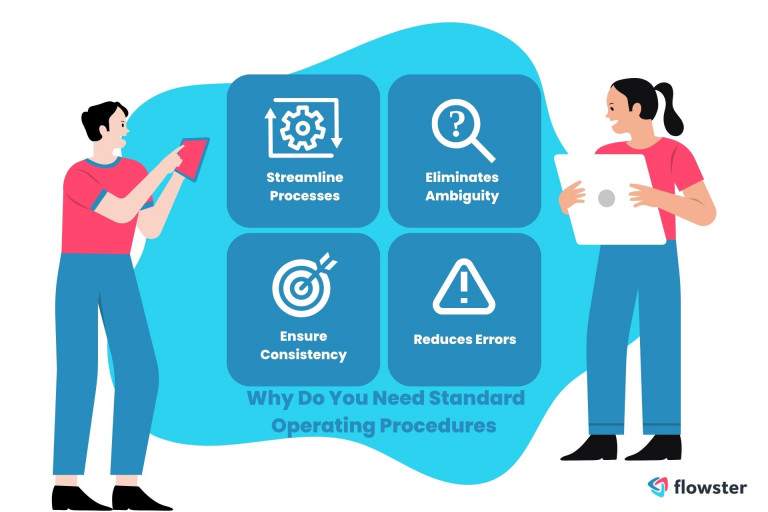 SOP Best Practices You Can Easily Implement
After you have gained an understanding of what constitutes an effective SOP and the function that they serve, we will now discuss the best practices for writing SOPs and putting them into action.
Gathering Information and Conducting Research
Before you start writing an SOP (standard operating procedure), it's crucial to gather all the necessary information and conduct thorough research.
Identify the process that needs to be documented and gather input from subject-matter experts who are familiar with the task. Interviewing these experts will provide valuable insights and the tools needed to ensure that the SOP captures all the essential steps and best practices.
Structuring the SOPs
To create effective SOPs, it's important to adopt a clear and concise writing style. Break down the content into sections and use headings and subheadings to guide the reader through the process. 
Start with a clear introduction that provides an overview of the task and its importance. Use headings to divide the SOP into logical sections, making it easier for readers to navigate and locate specific information.
Within each section, include step-by-step instructions that are easy to follow. Use bullet points or numbered lists to present the actions or procedures clearly. Be specific in your work instructions and avoid ambiguous language to ensure there is no room for interpretation.
Tips for Writing Engaging and Informative SOPs
While adhering to the structural guidelines mentioned above, it is equally important to write SOPs that engage readers and effectively convey the necessary information. Consider the following tips when creating your SOPs:
Use Clear and Concise Language
Write in a straightforward manner, using simple and concise language to ensure that readers can easily understand the instructions. Avoid using unnecessary jargon or technical terms that may confuse or alienate readers who are unfamiliar with industry-specific terminology.
Use an Active Voice
Using an active voice in writing an SOP is of paramount importance as it enhances clarity, directness, and accountability within the document. When writing in the active voice, the subject of the sentence performs the action, which results in more engaging and concise instructions.
Provide Real-World Examples
Include relevant examples or case studies within your SOPs to illustrate how the procedure is implemented in practical scenarios. Real-world examples can help employees better understand the context and application of the instructions, facilitating their learning and implementation of the SOPs.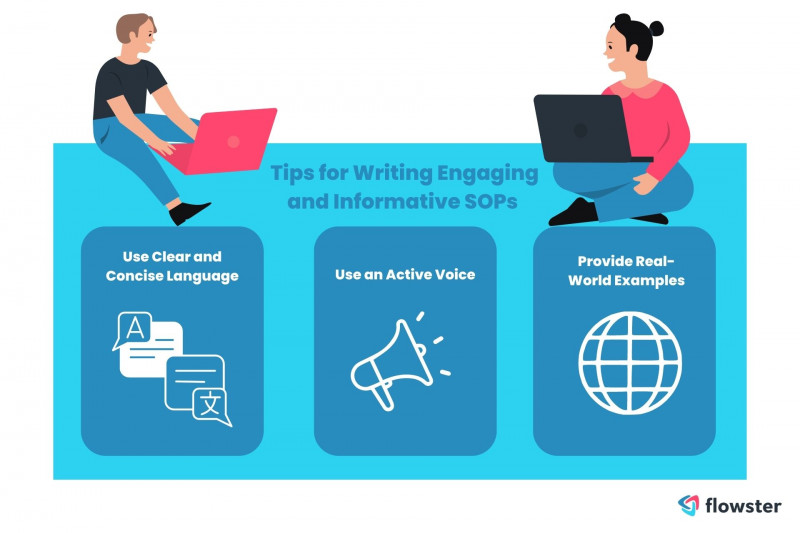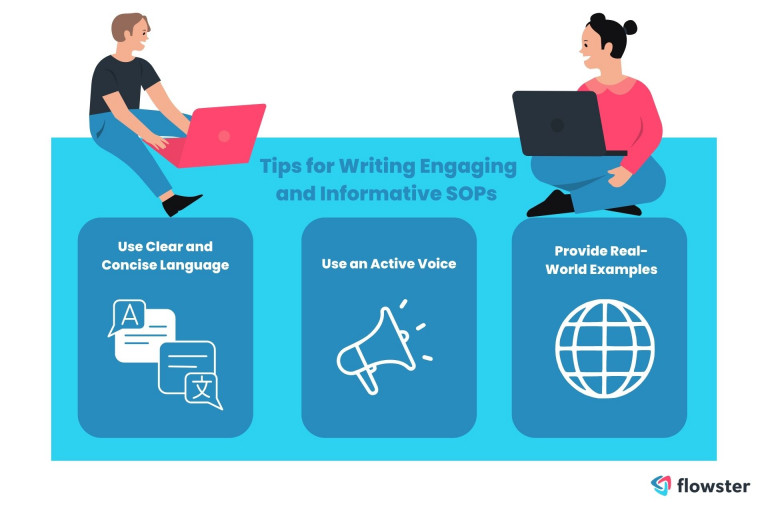 Incorporating Visual Aids
To enhance the clarity and comprehension of SOPs, consider incorporating visual aids such as diagrams, flowcharts, and screenshots. Visual representations can effectively convey complex processes or relationships between steps. They provide a visual reference that helps readers understand the sequence of actions more easily.
When using visual aids, ensure they are clear, labeled appropriately, and relevant to the content. Use colors and highlighting techniques to show relevant information and draw attention to critical elements or important points within the visuals.
Consistency and Version Control
Maintaining consistency is vital when writing SOPs. Establish clear naming conventions and numbering systems for your SOPs to ensure they are organized and easy to locate. Consistent formatting, font styles, and spacing contribute to a professional and cohesive appearance.
Additionally, implement a version control system to manage changes and updates effectively. Clearly indicate the revision history and document the changes made in each version. This allows users to identify the most recent and accurate version of the SOP.
Review and Approval Process
Before finalizing an SOP, it is crucial to involve the entire team of relevant stakeholders and subject-matter experts for review and approval. Their input ensures that the procedures are accurate, comprehensive, and aligned with the entire organization's standards and objectives. Incorporating feedback from different perspectives helps identify any gaps or potential improvements in the SOP.
Training and Implementation
To ensure successful implementation, provide comprehensive training to employees on how to use and follow the SOPs. Training sessions can be conducted through presentations, demonstrations, or hands-on exercises. Communicate the purpose and benefits of the SOPs to the team members to create buy-in and encourage adherence to the documented procedures.
Create and Implement SOPs with Flowster's AI-Driven Automation
With the sophisticated AI-powered app Flowster, you can easily create and implement your SOPs. Experience the future of workflow management with Flowster's free 7-day trial. Begin optimizing your business processes right away!
Monitoring and Continuous Improvement
SOPs should be periodically reviewed to ensure their effectiveness and relevance. Establish a process for collecting feedback from users and stakeholders. This will provide feedback that can be used to identify areas for improvement, address any challenges or inefficiencies, and update the SOPs accordingly. Continuously improving SOPs helps optimize processes and maintain high levels of efficiency.
Maintaining Documentation Repository
Organizing and archiving SOPs in a centralized repository is essential for easy accessibility and retrieval. Implement a system that categorizes SOPs based on departments, processes, or functions. Ensure that the repository is easily searchable and that employees can access the most up-to-date versions of SOPs.
Ensuring Compliance and Regulatory Requirements
When writing SOPs (standard operating procedures), it is essential to consider and adhere to industry standards, legal regulations, and safety guidelines. Incorporate any necessary compliance requirements into the procedures to ensure that tasks are performed in a manner that meets the established standards. This helps mitigate risks and maintain regulatory compliance.
Documenting Exceptions and Deviations
It's important to acknowledge that there may be instances where deviations from standard procedures are necessary. In such cases, provide clear instructions on how to handle exceptions and document any deviations from the SOPs. This ensures that these exceptional situations are addressed appropriately and captured for future reference and improvement.
SOPs in a Digital Environment
With advancements in technology, organizations are increasingly adopting digital solutions for managing SOPs. Electronic systems can simplify the SOP development and management process by providing features like version control, access control, and electronic signatures. Workflow automation can streamline the approval process and ensure timely updates and distribution of SOPs.
Communicating SOP Changes
Whenever updates or changes are made to SOPs, it is crucial to notify key stakeholders and ensure that they are aware of the revisions. Effective communication is key to ensuring that employees are informed about the changes and understand how to implement them.
Use multiple channels, such as emails, intranet announcements, or team meetings, to communicate SOP updates. Provide a summary of the changes and emphasize the importance of adhering to the updated procedures.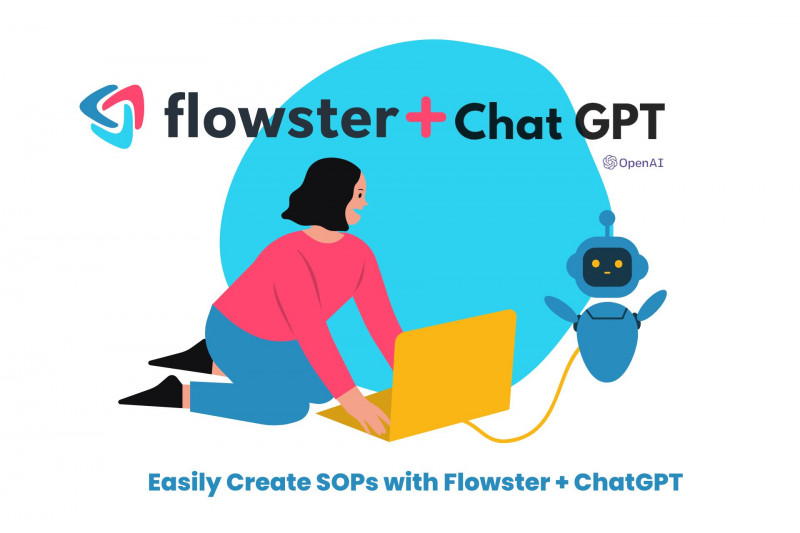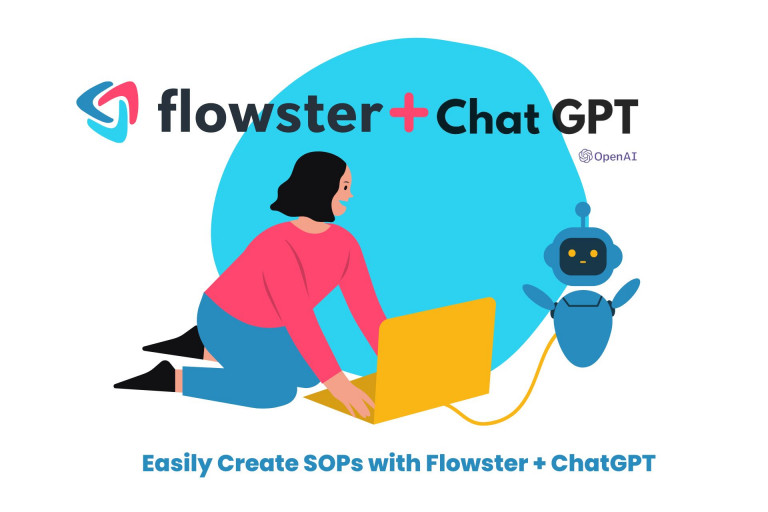 FAQs About Standard Operating Procedures
How often should SOPs be reviewed and updated?
SOPs should be reviewed periodically, preferably annually, or whenever there are significant changes in processes or regulations. This ensures that SOPs remain relevant and reflect current best practices.
Are SOPs only useful for large organizations?
No, SOPs are beneficial for organizations of all sizes. They help standardize processes, improve efficiency, and ensure consistency, regardless of the organization's scale.
Can SOPs be used for any type of process?
Yes, SOPs can be created for any process within an organization. From administrative tasks to manufacturing processes, SOPs provide a framework for standardizing processes and performing tasks consistently and effectively.
How can SOPs contribute to compliance?
SOPs outline procedures that align with industry standards and regulatory requirements. By following SOPs, organizations can ensure compliance and mitigate the risks associated with non-compliance.
Can employees make changes to SOPs?
Employees should follow SOPs as documented. However, if an employee identifies an improvement or deviation that could enhance efficiency or address a specific situation, they should communicate it to the relevant team members or stakeholders for proper evaluation and consideration.
Remember, these SOP best practices are critical for enhancing efficiency, maintaining consistency, and achieving compliance within organizations. By following these best practices, organizations can create SOPs that are clear, user-friendly, and easy to maintain, resulting in improved operational performance and overall success.
Conclusion
In conclusion, writing effective SOPs (standard operating procedures) is a critical aspect of maintaining operational efficiency and consistency within an organization. By following these SOP best practices, such as conducting thorough research, structuring the SOPs clearly, incorporating visual aids, and maintaining version control, organizations can ensure that their SOPs are easy to understand, implement, and update.
Regularly reviewing and improving SOPs, training employees, and using technology for both SOP documentation and management contribute to continuous process improvement and compliance. By implementing these best practices, organizations can enhance productivity, reduce errors, and achieve greater consistency in their operations.
Ready to create your first SOP template?
You can start from scratch to create a standard operating procedure or workflow template, or you can look through our templates in the Flowster Marketplace.
Want help? Use our "Done for You" service to let our experts build custom workflows for you.