In today's fast-paced business world, knowing how to implement SOPs (standard operating procedures) is absolutely essential for the smooth running of your organization. SOPs are like the guiding lights that keep your operations consistent, efficient, and error-free while also reducing waste. 
However, let's face it, many businesses struggle to get SOPs up and running effectively. This can lead to problems such as low adoption rates or lackluster implementation. But don't worry, we've got you covered! 
This article will walk you through implementing SOPs in your business. plus some practical tips on implementing SOPs to add real value to your organization. Let's get started!
Understanding Standard Operating Procedures (SOPs)
Before we dive into the specifics of writing and the practices for implementing SOPs, it's essential to understand what they are and give examples of why they are important.
What are Standard Operating Procedures?
Standard Operating Procedures, commonly known as SOPs, are detailed written instructions that describe how to perform a task or process within an organization. 
SOPs are crucial for businesses of all sizes, as they provide a standardized way of performing and automating both routine and repetitive tasks and ensure that everyone is on the same page. SOPs can help businesses streamline their processes, increase productivity, and reduce errors.
Why are Standard Operating Procedures Important?
SOPs are essential for businesses, and they offer companies several other business benefits, including: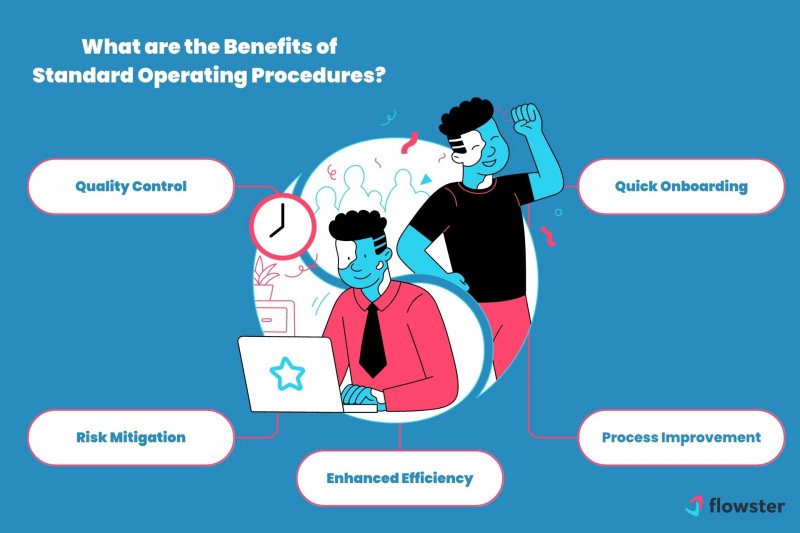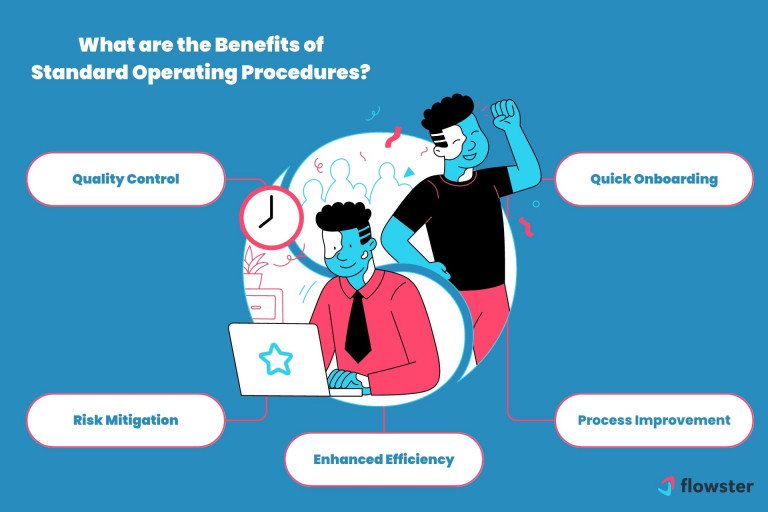 Enhanced Efficiency: SOPs provide a systematic approach to completing tasks, eliminating ambiguity and confusion created between several tasks performed and other factors resulting in improved productivity.
Consistency and Quality Control: By establishing standardized procedures, SOPs ensure that every task is carried out consistently, leading to high-quality outcomes.
Training and Onboarding: SOPs serve as an example and a valuable resource for training both new hires and employees, allowing them to quickly grasp the required processes and become productive and compliant members of the team.
Risk Mitigation: SOPs outline safety procedures that facilitate complex processes and protocols, reducing the likelihood of accidents or errors that could lead to costly repercussions.
Process Improvement: Through regular evaluation and maintenance of documented processes and updating of SOPs, businesses can identify areas for improvement and other resources to continually optimize their operations.
How Do You Implement Standard Operating Procedures?
Implementing SOPs effectively requires careful planning and execution. Here are some steps to follow when implementing SOPs: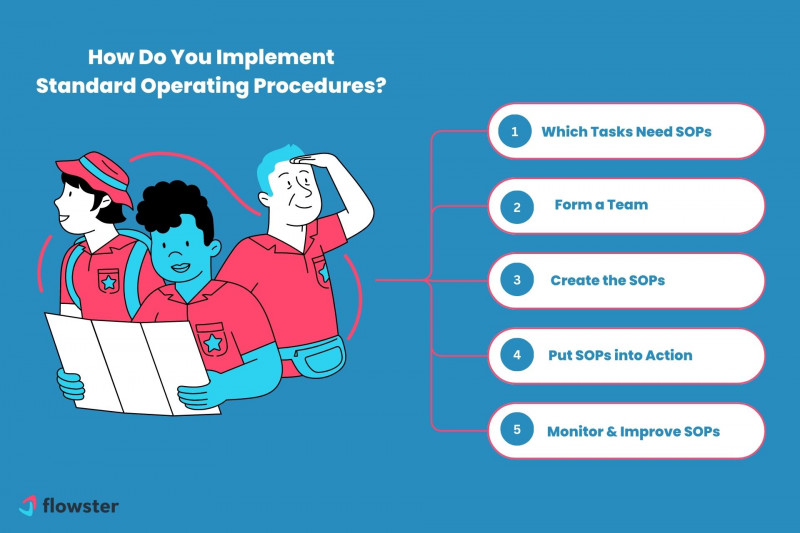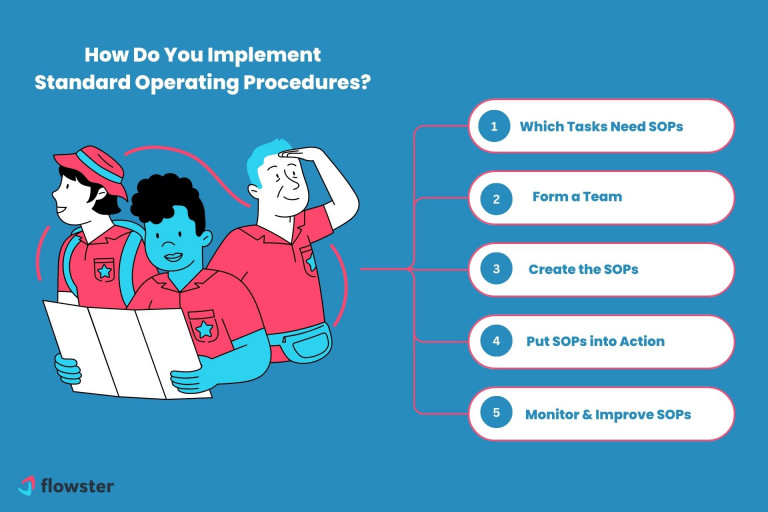 1. Determine Which Tasks Require Standard Operating Procedures
The first step in standardizing processes and implementing SOPs is identifying the processes within your organization that require standardization. Consider the following factors during this phase:
Defining Scope and Objectives
Clearly define the scope and objectives of the SOP implementation project. Identify the teams, departments, or particular business processes that the SOPs will cover.
Analyzing Existing Processes
Conduct a thorough analysis of your organization's current processes to understand its strengths, weaknesses, and opportunities for improvement. This analysis will serve as the critical foundation for developing effective company SOPs.
Involving Key Stakeholders
Engage key stakeholders, such as department heads, managers, and experienced employees, in order to gather insights and expertise regarding the processes under consideration. Their input and prior knowledge will contribute to decision-making and the creation of comprehensive and accurate SOPs.
2. Form a Team to Develop Your Standard Operating Procedures
Assign a team responsible for creating and maintaining the SOPs. This team should consist of subject-matter experts who are familiar with the tasks or processes being documented, including employees who perform the tasks and managers who oversee them. 
The various team members should work together to define the process and document it in a step-by-step format.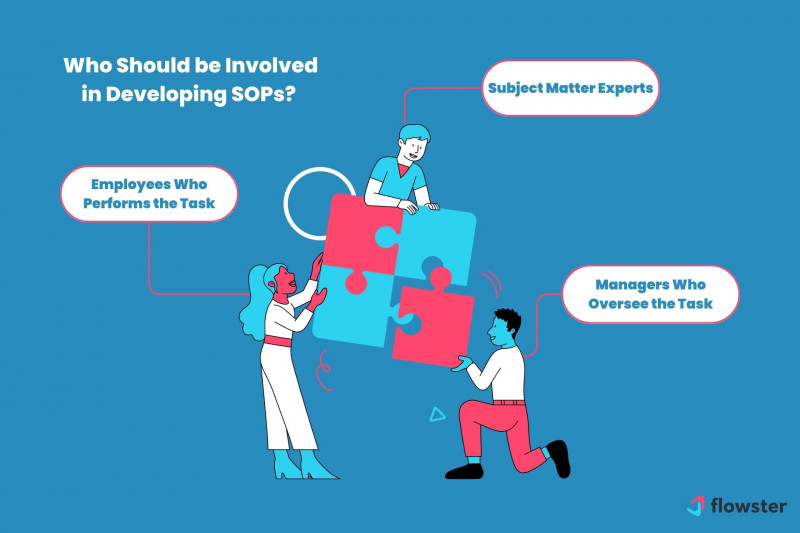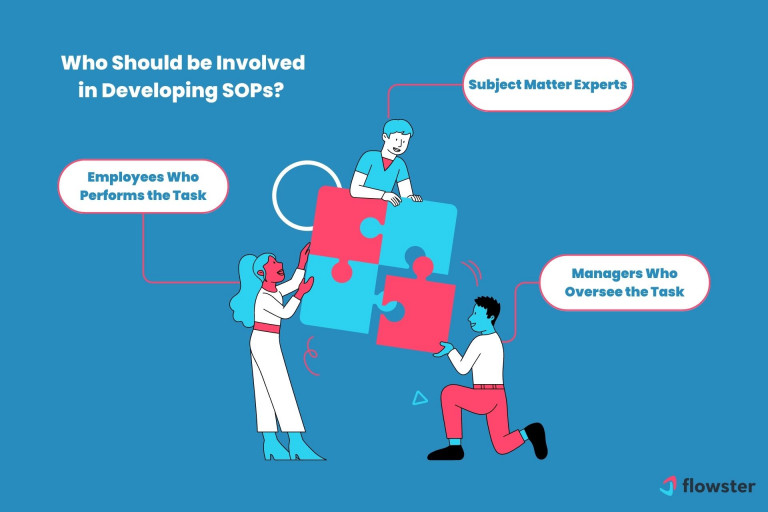 3. Create the Standard Operating Procedures
Once you have identified the processes that require SOPs and formed your team, it's time to create clear workflows and detailed documentation. Make sure to include any health and safety precautions or regulations that need to be understood and followed.
Follow these steps to ensure the effectiveness of your SOPs:
Outlining Step-by-Step Procedures
Break down the hierarchical steps required for each process into clear and concise step-by-step procedures. Use action verbs to describe each step with step-by-step instructions and the action required to achieve something, ensuring that the instructions are easy to follow.
Formatting and Structuring
Organize the SOPs into logical sections and subsections. Use bullet points, numbering, and headings to enhance readability and make it easier for employees to find and reference the information they need.
Incorporating Visual Aids
Consider including visual aids, such as diagrams, flowcharts, or infographics, to visually represent complex processes. Visual aids can help employees understand the procedures more intuitively and increase quality throughout the entire process.
Reviewing and Testing
Before finalizing the draft of the company's SOPs, conduct thorough reviews and tests. Engage subject matter experts and employees who will be using the SOPs to ensure accuracy and clarity.
and effectiveness. Incorporate their feedback and make necessary revisions to refine the SOPs.
Create and Implement SOPs with Flowster's AI-Driven Automation
With the sophisticated AI-powered app Flowster, you can easily create and implement your SOPs. Experience the future of workflow management with Flowster's free 7-day trial. Begin optimizing your business processes right away!
4. Put the Standard Operating Procedure into Action
Implementing SOPs successfully requires proper training and effective communication. Follow these steps to ensure a smooth transition:
Training Sessions
Conduct training sessions to familiarize employees with routine procedures and the newly developed SOPs. Explain the purpose, benefits, costs, and importance of following the procedures outlined in the SOPs.
Hands-on Practice
Provide employees with opportunities for hands-on practice to test and reinforce their understanding of the SOPs. Encourage questions and address any concerns or suggestions they may have during the course of this phase.
Regular Updates and Communication
SOPs should not be static documents but living resources that evolve with the growth of your organization. Establish a system in place for regularly managing, updating, and communicating changes to ensure employees always have access to the most current version.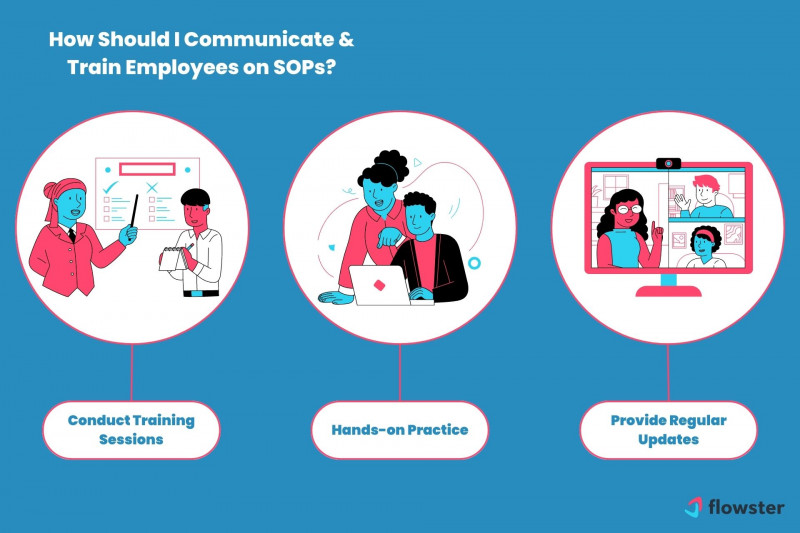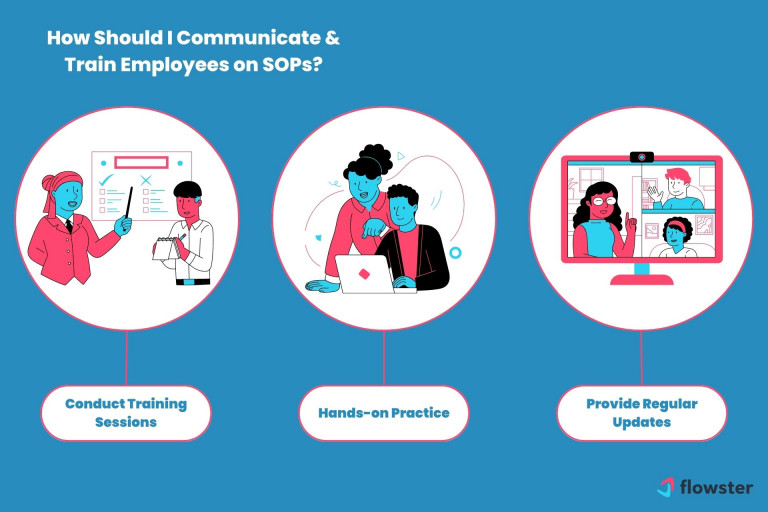 5. Continuously Monitor and Improve Your Standard Operating Procedures
To maintain the effectiveness of your SOPs, it's essential to monitor their implementation and continuously seek opportunities for improvement:
Performance Metrics
Establish key performance indicators (KPIs) to track the impact of SOP implementation on productivity, quality, and other relevant areas. Monitor these metrics regularly to identify any deviations or areas requiring attention.
Feedback and Evaluation
Encourage feedback from employees who use the SOPs regularly. Their insights can help identify areas where the standard operating procedures can be further refined or clarified.
Regular Audits
Conduct periodic audits to assess adherence to SOPs and identify potential gaps or non-compliance. Use these audits as an opportunity to update and improve the documentation based on real-world experiences.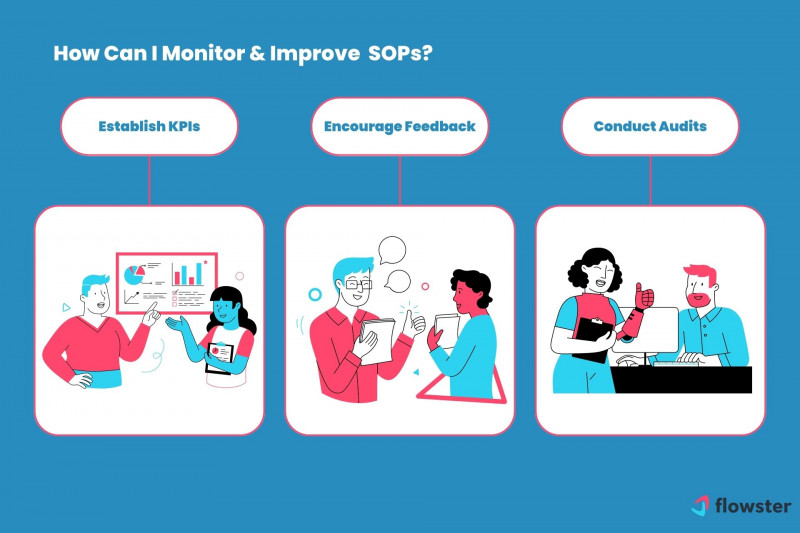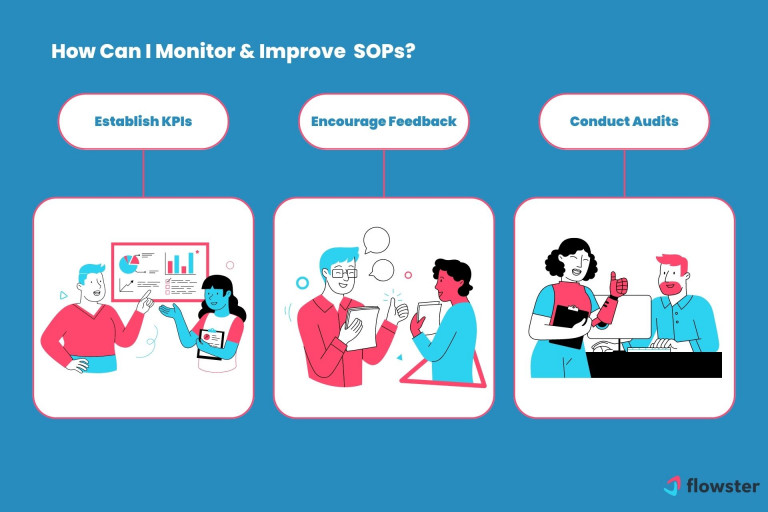 FAQs on Standard Operating Procedure Implementation
What are SOPs, and why are they important?
SOPs are detailed instructions for business tasks and routine operations. They ensure consistency and predictability in business operations and enable quality management, quality assurance and control, cost reduction, and teamwork.
How do I assess my business's needs for SOPs?
To assess your business's SOP needs, identify the areas and tasks that require SOPs. Employees, managers, and other stakeholders should participate in this process. 
Think about the task's complexity, frequency, and potential consequences. The assessment should also review relevant regulatory requirements, safety considerations, equipment, and industry standards.
Who should be involved in developing SOPs?
A team of subject matter experts, including employees who perform the job or task and managers who supervise it, should develop SOPs. The team should define the standard operating procedure and document the process to complete it step-by-step.
How should I communicate and train employees on SOPs?
Communication and training are essential for SOP implementation. All workers should know the SOP and why it's important. Employees should review the SOP, practice, and receive feedback during training. 
Employees must be informed of SOPs' efficiency, error reduction, and consistency benefits.
How can I monitor and continuously improve SOPs?
Update and improve SOPs regularly. Encourage employee, manager, and stakeholder feedback to identify areas for improvement and resolve issues quickly. 
Regularly check SOP compliance and provide feedback and coaching. To keep people motivated, acknowledge successes and areas for improvement.
Conclusion
Implementing SOPs is essential for ensuring a smooth operation. SOPs bring consistency, efficiency, and waste reduction to every stage of your organization. Additionally, SOPs mitigate risks and provide a solid foundation for ongoing process improvement.
Throughout this article, we've emphasized the importance of SOPs, explored their numerous benefits, and provided insights on effective implementation strategies. 
Remember, a simple and effective way of implementing SOPs requires some effort, careful planning, clear documentation, and proper training.
Now it's time for you to take the next step and put this knowledge into action. By implementing SOPs, you'll experience enhanced efficiency, an improved customer experience, and consistency of service.
We'd love to hear about your experiences with SOP implementation. Have you encountered any challenges or witnessed significant improvements? Share your thoughts, success stories, or any questions you may have in the comments below. Thanks for reading!
Ready to create your first SOP template?
Start from scratch to make an automated SOP or workflow template, or look through our templates in Flowster's Marketplace.
Want help? Use our "Done for You" service to let our experts build custom workflows for you.