Welcome to the new norm that's sweeping the globe: remote work. On the surface, it's the freedom to trade stuffy office spaces for your cozy nook at home or a sunny spot at your local café. But this shift comes with its own unique set of hurdles, aptly dubbed remote work challenges.
While you enjoy the morning sun with your laptop, there's a whole host of considerations and obstacles that come into play. So let's unpack what remote work really entails and the main challenges associated with it, ensuring you're well-prepared for this modern work revolution.  So, buckle up!
What is Remote Work?
Simply put, it's when remote workers are employed from a location outside of a traditional office environment. It means you can work almost anywhere—at home, in a café, or even in a local co-working space.
Picture doing your job while you're in your comfiest clothes or having a lunch break in your own kitchen. Technology makes this possible, letting you connect with your job like you're there, even if you're miles away.
It's a big change from the usual nine-to-five office job. When you're a remote worker, your boss isn't looking over your shoulder all the time. You have to be good at making a plan for your day and sticking to it. 
This way, you get your work done while still having time for your personal life. The aim is to get your tasks done and have a good work-life balance.
But let's not skip ahead too fast. Working remotely isn't just about your workplace; it's about how you tackle your work and the time zones of your team. Up next, we're going to chat about some common remote work challenges and how they can make things a bit tricky sometimes.
Benefits and Drawbacks of Remote Work
Jumping into remote work can be a bit like finding a shiny coin on the sidewalk—there's a bright side and a flip side. Let's start with the perks, shall we? 
One of the biggest benefits of remote work is that it can give you a killer work-life balance. You can manage your own time, which means you might be able to take a break to play with your dog or go for a jog when it suits you.
Another plus? No more rush-hour traffic. Imagine that extra sleep instead of sitting in a car or on a train. Plus, working away from an office can sometimes mean you get more done because it's quieter and there are fewer interruptions.
While remote work offers flexibility and freedom, it's not all sunshine and pajamas. On the upside, ditching the commute can save remote workers a lot of time and stress, allowing for a better work-life balance. 
However, the disadvantages of remote work can include feelings of isolation and the challenge of separating work from personal life, especially if co-working spaces are not an option.
Now that we've looked at both the good and the tricky parts, let's slide into the core of our chat: those remote work challenges that can pop up and how we can tackle them to keep our work-from-home life as smooth as a good cup of coffee.
Common Challenges Faced by Remote Teams
Alright, let's get real about the common challenges faced by remote teams. Working remotely can sometimes feel like you're on an island, especially when you're trying to juggle different tasks and stay on the same page as your teammates, who might be scattered all over the globe.
Remote teams often face specific hurdles that in-office teams might not. A key issue is maintaining effective team communication when everyone is spread out. 
Additionally, teams must avoid the inevitable technical challenges that can arise without a centralized IT department. This challenge requires careful strategies to ensure that all team members are on the same page and feel included.
Another challenge is building trust and keeping that team spirit alive. It's hard to high-five through a screen, right? Plus, it takes more effort to show your boss that you're on top of your work when they can't actually see you working.
But don't worry; we won't leave you hanging. In the next part, we're going to talk about how to overcome these hurdles. From staying in touch to keeping your motivation up, there are some smart ways to make sure your remote team runs like a well-oiled machine. Ready to dive in? Let's go!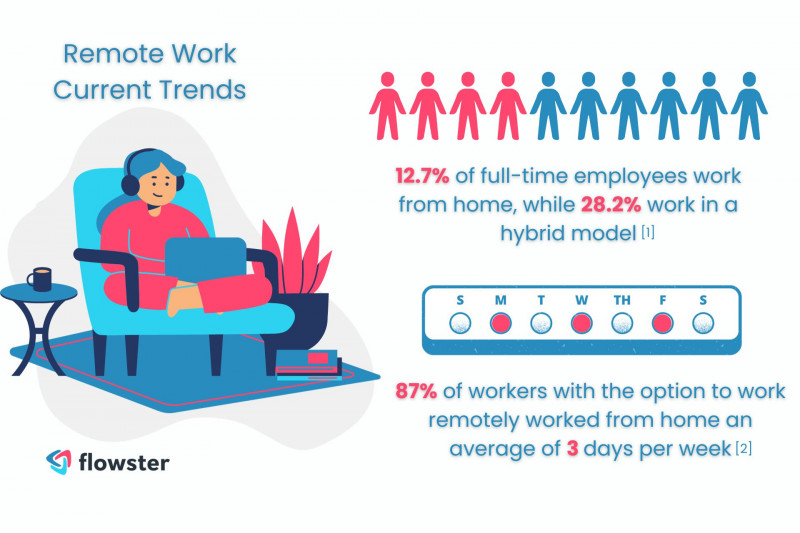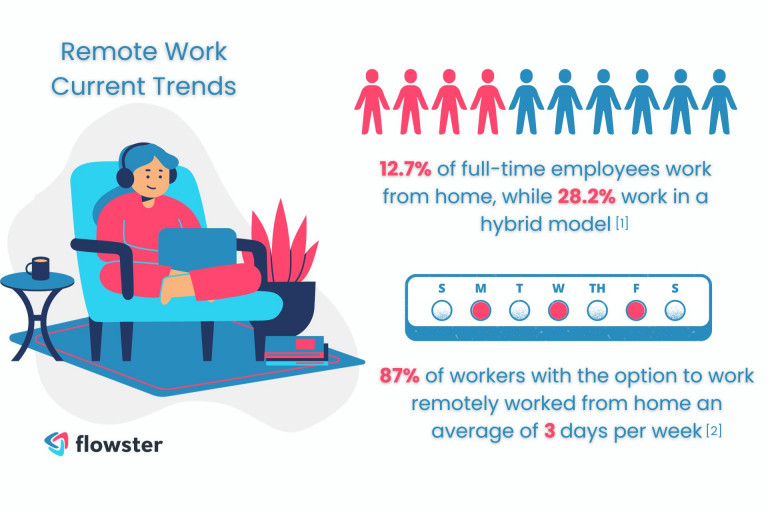 Challenge #1: Stay Connected and Communicate Effectively
Here we are at Challenge #1 that remote teams often run into: keeping the lines of communication open and clear. It's super easy to feel out of the loop when you're not bumping into folks at the office. You might miss out on news or even forget you're part of a team when it's just you and your computer.
Solutions:
First things first, let's talk about tools. Using the right apps and technology can make all the difference. There's a bunch out there like Slack, Microsoft Teams, or Trello that can help you stay on track with what everyone's doing.

Next up, guidelines. When everyone knows the best times to talk and the best ways to share information, things run smoother. Setting these rules helps a ton.

Last, but not least, overcommunication can be a lifesaver. In the remote world, it's better to say too much than too little. Think of it as being your own broadcaster, making sure everyone stays in the know.
Staying connected isn't just about work stuff, though. It's about feeling like you're part of something. And that's why these little things can make a big difference. Up next, we'll look at how to keep trust strong and relationships solid, even when you're miles apart.
Challenge #2: Build Trust and Relationships
Onto Challenge #2: Remote employees can struggle with building rapport since they don't have physical proximity to rely on. When the closest you get to a coworker is their profile picture, it can be tricky to really connect.
It's like trying to make a new friend without ever meeting up. You don't get those casual coffee breaks or spontaneous lunches to bond over.
Solutions:
To tackle this, how about setting up regular virtual coffee breaks or after-work hangouts? Just like a virtual watercooler, these can be for anything that's not about work. Share a hobby, a joke, or what happened on your walk this morning.

Celebrate the wins, big or small. When someone knocks it out of the park, shout it out in your group chat or have a virtual high-five. It makes everyone feel seen and valued.

And don't forget feedback. It's the breakfast of champions. When people can speak up and share ideas or concerns, it makes the team stronger. Regular check-ins or surveys can be great for this.
Building trust isn't just a nice-to-have; it's a must-have. It's the glue that keeps the team together, even when you're all in different places. Now, let's move on and talk about keeping productivity pumping and motivation high. Ready for more? Here we go!
Transform Your Business with Flowster's AI-Driven Automation
You can streamline your business process and complete more tasks with the sophisticated app Flowster, which uses AI technology. Experience the future of workflow management with Flowster's free 7-day trial. Start optimizing your business processes today!
Challenge #3: Maintain Productivity and Motivation
And here's a biggie: Challenge #3: Keeping that productivity up and the motivation motor running while working remotely. Remote working work requires self-discipline and strategies to keep the momentum going.
Some days, the struggle is real. You wake up, and your bed is so cozy, or there's a new season of your favorite show just a click away. Distractions are everywhere, and the couch is calling your name!
Solutions:
Setting clear goals can be a game-changer. When you know exactly what needs to be done, it's like having a map for your workday. You wouldn't hit the road without knowing your destination, right?

Break down those big, hairy tasks into smaller, bite-sized pieces. It's less daunting, and you get to tick things off your list more often, which feels awesome.

And breaks—don't skip 'em. Step away from the screen, stretch, go for a walk, or just bask in the sun for a bit. It's not slacking; it's recharging. This way, you avoid burning out and keep the energy levels nice and high.
By nailing down these habits, you'll feel like you've got this remote work thing in the bag. But hold on, there's more good stuff to cover. Next up, we're sorting out how to juggle time and tasks like a pro. Let's keep rolling!
Challenge #4: Manage Time and Tasks Effectively
Alright, let's dive into Challenge #4: mastering the art of time and task management. When your home is your office, the lines between "at work" and "at home" can get really blurry. 
You might find yourself doing laundry when you should be logging into a meeting or working late because time just slipped away. This is where a task management or project management tool becomes indispensable, offering a way to keep track of deadlines and stay organized.
Solutions:
With project management tools like Asana, Monday.com,or task management software like

Flowster

, you can see your tasks laid out as clearly as day. It's like having a personal assistant tell you what's next on the agenda.

Prioritizing is key. What's the big fish you need to fry today? Tackle that first. And delegation? If you're in charge, spread the tasks like butter across toast. It lightens your load and gives others a chance to shine.

Now, let's talk focus. It's tempting to try to do a million things at once, but that's like spinning plates while riding a unicycle. Stick to one task at a time, and you'll do it better and faster.
By getting a grip on your schedule and your to-do list, you're setting yourself up for that sweet victory of a productive day. It's about working smarter, not just harder. And with that, we've just got one more hurdle to jump: ensuring everything's safe and secure. Onwards we go!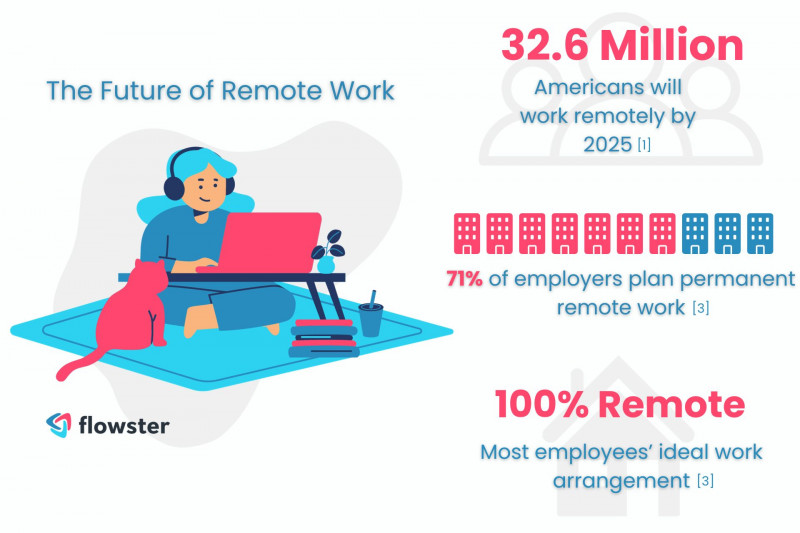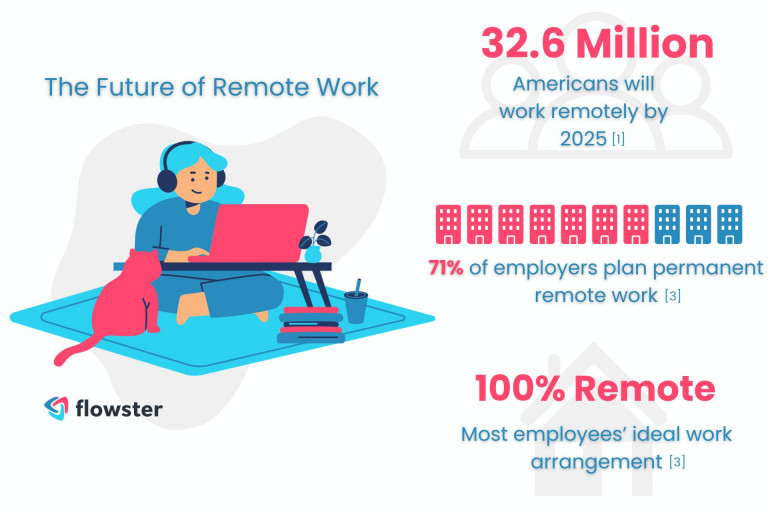 Challenge #5: Ensure Security and Compliance
Now, onto our final hurdle: Challenge #5. When you're all spread out, ensuring security and compliance becomes a bit like guarding a castle with many gates. You've got sensitive info floating around in the cloud, and you don't want the wrong eyes on it.
Solutions:
Step one is to get everyone on board with secure tools for communication and file sharing. Think of it as choosing the right armor for your data—platforms like Signal for chats or Tresorit for files that keep everything under lock and key.

Next, lay down the law with security policies. It's not just red tape; it's about knowing who can access what and how they should handle information. And yes, that includes strong passwords that aren't just 'password123'!

Finally, don't skimp on the training. A team that knows their cybersecurity ABCs is your frontline defense. Regular workshops or updates on the latest scams can make all the difference.
Having these measures in place isn't just about avoiding a mishap; it's about peace of mind for you and your clients. And with that, we've navigated through the maze of remote work challenges and solutions like champs. Let's wrap this up and bring it all home, shall we?
Conclusion
Well, there you have it—our expedition through the common challenges faced by remote teams and the smart solutions to keep your remote work experience from hitting a snag. From staying dialed into the team vibe to keeping those tasks and projects neatly lined up, it's all about finding the right balance.
Remember, whether it's battling the isolation monster with regular check-ins or keeping those cyber-gremlins at bay with top-notch security, each challenge has a solution ready for you to grab hold of. Embrace the tools, cultivate the practices, and watch your remote team not just survive but truly thrive.
In the end, the goal is simple: create a remote working environment where everyone feels connected, engaged, and secure. It's about making sure that no matter where you are, you're set up for success. So, here's to overcoming remote work challenges and unlocking all the potential that remote work has to offer. Cheers to that!
Want to get your remote teams to work better?
Find out how simple it is to use Flowster to create AI-powered SOPs and workflows and automate repetitive tasks. On the Flowster Marketplace, you can also look through our huge collection of already-made templates.
Do you need help from a professional? Part of our "Done for You" services is that our quality and improvement experts will make custom workflows for you.