Today's fast-paced business world is changing. And so, the spotlight is on AI workflow management for remote work. More companies are feeling the pressure to automate repetitive tasks. Why? Efficiency and productivity are key. Enter AI workflow automation tools, which are becoming the go-to for businesses adapting to remote work.
Now, diving a little deeper, remote work has exploded in popularity. And why not? The flexibility, the comfort of home, the lack of commute—it's all quite enticing. But here's the twist: with this surge in distance work, there's a growing need to manage tasks and projects efficiently.
Enter AI-powered solutions. These nifty tools are not only redefining how teams work together but also ensuring productivity never takes a hit. And trust me, once you get a taste of this AI magic, there's no going back. It's like the perfect blend of tech and teamwork, sprinkled with some future-forward vibes. Ready to explore?
AI Workflow Automation: The Future of Remote Work
You know, there's something liberating about freeing up your time from repetitive tasks. That's exactly where AI-powered workflow automation steps in. It's not just a tool; it's like your digital teammate, eager and ready to take on those time-consuming chores.
Now, if you're picturing robots taking over jobs, pause right there. This is about complementing human skills, not replacing them. By handling the mundane, AI allows us humans to flex our creativity and focus on the big picture. Think of it as decluttering your work desk, but in a digital way.
Assessing the Need for AI in Business:
So, where does one start? Well, the journey to implementing AI workflow automation kicks off with understanding your company's unique needs. Before diving in, it's essential to figure out which tasks are perfect for automation. And, of course, finding the right tools. You'd be surprised at how many businesses are now leaning on AI tools. Their aim is to streamline and manage workflows like pros.
And here's the cherry on top: with tasks streamlined and processes optimized, team collaboration becomes a breeze. No more back-and-forths, no more confusion. And, as we move on to the next topic, you will see how Intelligent Process Automation (IPA) takes this to a whole new level. 
Intelligent Process Automation (IPA) for Remote Work Efficiency
You might've heard of automation, but have you met its smarter sibling, Intelligent Process Automation (IPA)? It's like the secret sauce that supercharges regular automation. Rather than just following rules, IPA gets its smarts from AI and machine learning, making it a dynamo in the world of remote work.
But why does IPA matter for remote teams? Well, it's simple. With diverse tasks, time zones, and to-dos, it's easy for things to get tangled. IPA jumps in here, dissecting workflows. pinpointing inefficiencies and, most importantly, offering solutions. It's like having a 24/7 consultant that constantly finds ways to make work smoother.
And as amazing as it sounds, the wonders of AI don't end here. Next up, we'll dive deep into how specialized remote work management software, infused with AI, becomes a powerhouse for teams. Intrigued? Let's keep the momentum going!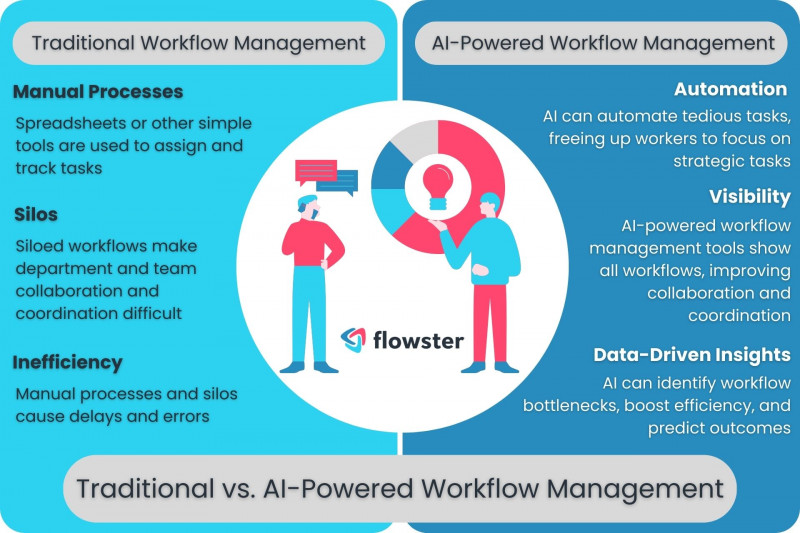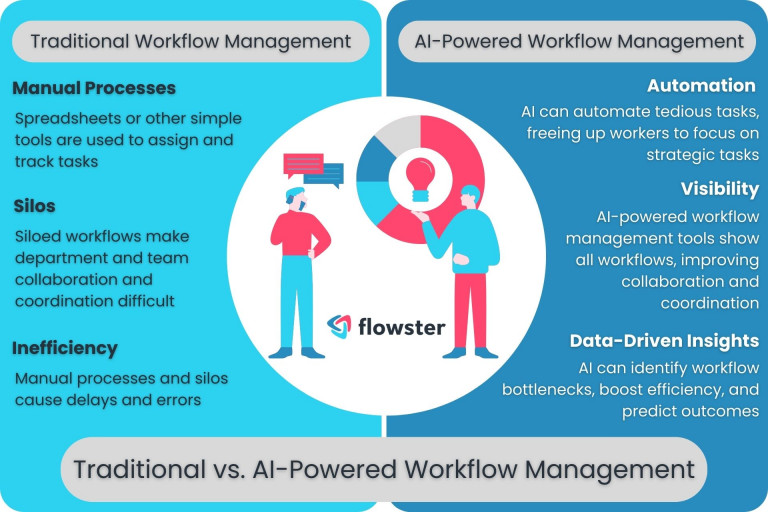 Remote Work Management Software: Empowering Teams with AI
Let's face it, in this era of remote work, a good management tool isn't a luxury—it's a downright necessity. And when do you throw AI into the mix? You get remote work management software that's akin to a super-powered Swiss army knife, ready to tackle challenges with grace and efficiency.
So, why's everyone buzzing about these AI-powered platforms? For starters, they're intuitive. They predict your team's needs, streamline communications, and even give recommendations on task prioritization. It's like your work routine got a major upgrade! Plus, with features galore, collaboration feels more like a dance than a tug-of-war.
Wondering which platforms are leading the charge? Here are five popular AI-powered remote work management software platforms that are making waves:
Ready to move on? Next, we'll tackle how virtual assistants, powered by AI, are becoming every remote worker's best buddy. Curious? Stay with me!
Virtual Assistant for Workflow Management: Your AI-Powered Ally 
Raise your hand if you've ever wished for a personal assistant! Someone to remind you of that crucial meeting or sort out your overflowing inbox Well, in the digital realm, we've got the next best thing: AI-powered virtual assistants. They're smart, they're efficient, and they're ready to give your workflow a makeover.
Imagine this: Instead of slogging through a mountain of emails or scrambling to set up last-minute meetings, your virtual assistant handles it all. With advanced AI algorithms, they not only manage tasks but also adapt to your preferences, learning the nuances of your work style. It's personalized help, minus the hefty price tag.
But wait, there's more! Beyond just task management, these virtual sidekicks offer insights, suggestions, and even automated processes to optimize your day. And as we move forward, you'll see how AI doesn't just stop at individual tasks but revamps team collaboration as a whole. Eager to discover how? Let's dive right in!
Want the Best Virtual Assistant Services?
Let Flowster find and train a virtual assistant for your business processes to save time and focus on what matters. Flowster's dedicated team recruits and trains virtual assistants.
AI-Powered Task Management: Streamlining Remote Team Collaboration 
Ever been in a situation where your tasks feel like jigsaw puzzle pieces scattered all over? You're not alone. But here's the exciting bit: AI-powered task management tools are like the guiding hand that helps fit those pieces seamlessly. From prioritizing tasks to nudging you about deadlines, they've got your back.
Now, let's talk about remote teams. Distances can often muddle communication, right? Enter AI. These intelligent systems ensure that even if your teammates are oceans apart, everyone's on the same page. Assigning roles, tracking progress, or even adjusting task timelines—it all becomes a piece of cake. The beauty lies in how these tools adapt, learn, and suggest improvements over time, making collaboration feel less like a chore and more like a rhythm.
But that's not the end of our AI journey. As we proceed, you'll witness how AI brings the magic of collaboration to entire workflows, fostering team synergy like never before. Intrigued about the possibilities? Let's glide into the next section!
Collaborative Workflow Management: Fostering Remote Team Synergy
Picture this: a group of talented individuals, each bringing their unique skills to the table. Yet, something's amiss. It's like a band where everyone's playing a different tune. That's where AI-powered collaborative workflow management comes in. It's the conductor that ensures every instrument, or in this case, team member, harmonizes perfectly.
The essence of remote work lies in synergy. However, with different time zones, work rhythms, and communication styles, achieving that harmony can be tricky. AI-powered tools come to the rescue, breaking down barriers and ensuring that file sharing, real-time collaboration, and brainstorming sessions happen seamlessly. Think of it as a digital bridge, connecting every member, irrespective of the physical distance.
And as we journey further, you'll see that this is just the tip of the iceberg. The world of AI has even more to offer, especially when it comes to automating tasks and elevating productivity for remote teams. Ready to delve deeper? Let's keep the momentum going!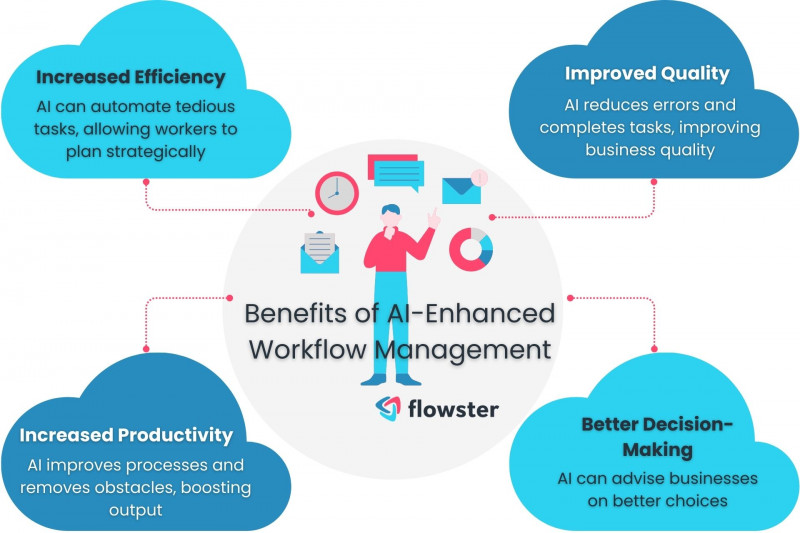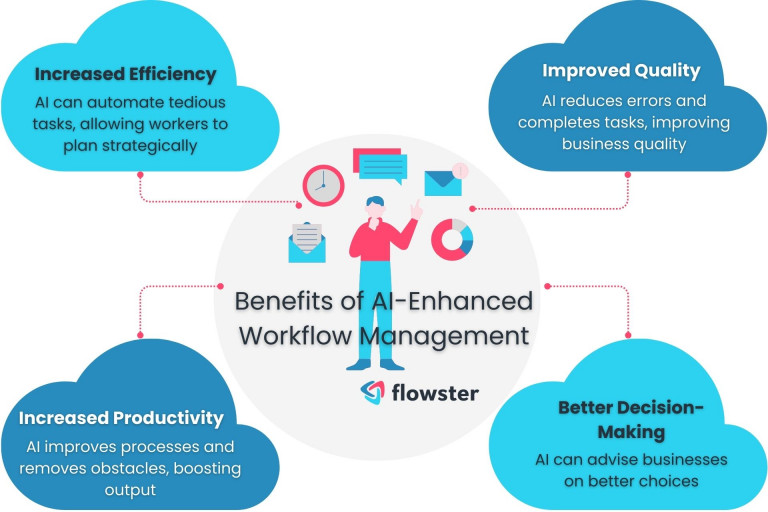 Automated Workflow for Remote Teams: Enhancing Productivity and Efficiency 
Ever heard of the saying, "Work smarter, not harder"? That's the anthem of automated workflows, especially in the realm of remote teams. When tasks get repetitive and processes seem drawn-out, automated workflows, powered by AI, come swinging in like a superhero to save the day.
Imagine routine tasks being sorted without you having to lift a finger. From generating reports to sending out regular updates, AI ensures everything ticks like a well-oiled machine. The real magic? By reducing errors, it guarantees that your team won't become bogged down in menial tasks and can soar high on the wings of efficiency.
But, as wondrous as this sounds, the AI realm still has more avenues to explore. Up next, we'll dive into how AI project management is changing the game for remote teams, ensuring that projects are not just completed but truly shine. Eager to discover more? Let's journey onward!
AI-Powered Project Management: Optimizing Remote Team Performance
Imagine a symphony, with each instrument playing its part to create a harmonious melody. That's your remote team and AI-powered project management? Well, that's your maestro. It doesn't just keep the rhythm; it ensures every note hits just right.
Projects, especially in a remote setup, are intricate. From planning stages to execution, there's a myriad of components to juggle. But here's the kicker: with AI by your side, you've got insights galore. Predictive analytics to foresee potential roadblocks, real-time feedback to adjust your course, and even recommendations to optimize each phase. It's like having a bird's-eye view, coupled with x-ray vision.
The Role of Robotic Process Automation:
But hold on, there's another player in the game: robotic process automation (RPA). When picking an AI project management tool, it's not just about features. It's also about seamless integration. RPA has been a game-changer, aiding companies in handling administrative tasks with unmatched accuracy. It's the fusion of AI and RPA that truly propels businesses into the future.
Yet, the wonders of AI don't conclude here. As we venture ahead, we'll explore more tools specifically designed to boost the productivity of remote teams. Curious about what's next on the AI frontier? Stay with me, and let's navigate this together!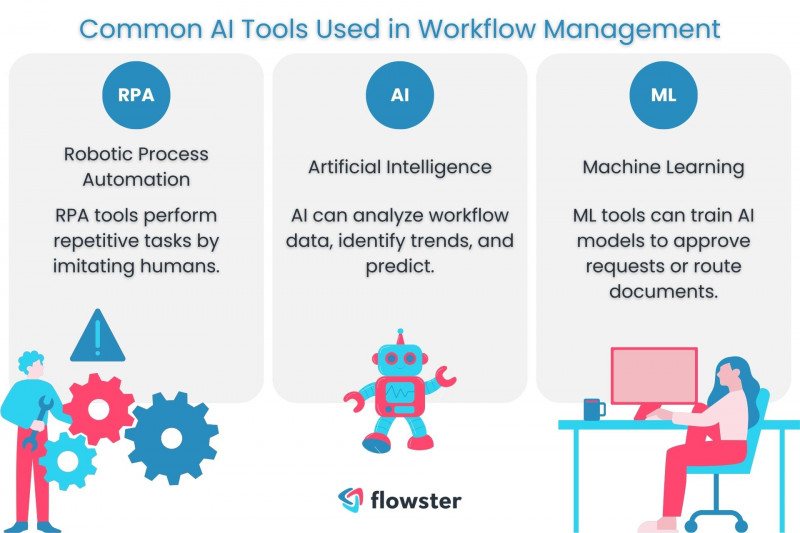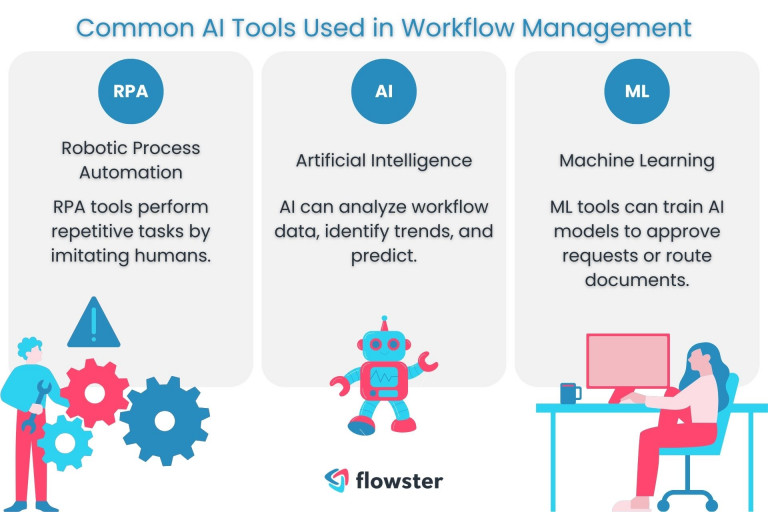 Remote Work Productivity Tools: Empowering Teams to Achieve More
Here's the thing about remote work: it offers freedom and flexibility, but it also has its set of challenges. Distractions, time management, and maintaining focus top the list. Yet, the AI realm has unfurled a solution-laden path, crafting tools to convert those obstacles into milestones.
Harnessing the Power of AI Workflow Tools:
But there's more to it. With AI workflow tools, processes aren't just enhanced; they're transformed. It goes beyond mere AI automation. It's about leveraging the expansive might of artificial intelligence to reshape task management from its core. How tasks are perceived, approached, and concluded undergoes a sea change.
Back to the practical side of things. AI tools aren't just about crunching numbers. They're tailored to resonate with us, learning our rhythms and nudging us towards peak productivity. They offer insights into work patterns, minimize distractions, and even recommend timely breaks, making remote work not just feasible but efficient. 
Wondering about some top-notch tools? Dive into this list of AI-infused remote work productivity enhancers:
As fascinating as these tools sound, our AI expedition has a bit more in store. Stick around as we culminate our exploration, reflecting on AI's monumental role in reshaping remote work. Ready to wrap it up?
Transform Your Business with Flowster's AI-Driven Automation
You can streamline your business process and complete more tasks with the sophisticated app Flowster, which uses AI technology. Experience the future of workflow management with Flowster's free 7-day trial. Start optimizing your business processes today!
Conclusion
And there we have it—a whirlwind tour of the wondrous world of AI and its transformative touch on remote work. With the ability to automate tasks, especially those that tend to be repetitive, and streamline processes, the influence of AI is undeniable. From fostering teamwork across continents to assisting businesses to implement AI workflow automation, it's clear that AI-powered workflow management is not just a fleeting trend; it's the future of productivity in the digital age.
Let's not forget the essence: at the heart of every tool, every algorithm, and every virtual assistant lies the goal of making remote work more human. By eliminating the mundane and amplifying collaboration, AI lets us zero in on what's truly pivotal—innovation, creativity, and those irreplaceable human bonds.
As we stand at the threshold of this AI-orchestrated epoch, one revelation stands out: the terrain of remote work and workplace productivity is on an exciting trajectory. So, whether you're a team leader, a freelancer, or just an enthusiast eager for the future, gear up. The AI revolution is in full swing, poised to redefine the contours of how we work, unite, and flourish. Cheers to a brighter, cleverer, and more interconnected horizon!
Ready to Maximize Your Workflow Management with Flowster?
Discover Flowster's effortless ability to automate routine tasks and create AI-powered SOPs and workflows. You can also look through our extensive library of pre-designed templates on the Flowster Marketplace.
Do you require expert assistance? With our 'Done for You' services, our quality and improvement experts will design custom workflows for you.