Ever been in a digital marketing meeting, planning the next big campaign, and heard the term "SOP templates for Digital Marketing" thrown around? Maybe you nodded along but secretly wondered, "What on earth is that?"
Don't sweat it. Whether you're mapping out digital marketing campaigns or formulating a larger digital marketing strategy, this blog post is for you.
So, what are you waiting for? Let's get started!
What is a Digital Marketing SOP Template?
A solid SOP, or Standard Operating Procedure, is the backbone of any successful digital marketing effort. It's like the secret sauce to your most delicious digital marketing activities. 
And guess what? Businesses, from nimble startups to large corporations, are turning to standard operating procedures to elevate their marketing efforts.
In the whirlwind of digital marketing, agencies are increasingly leaning on SOPs—or, as we'll cheekily call them, digital marketing SOPs—to navigate the storm. 
They provide a roadmap, ensuring every digital marketing strategy gets implemented effectively and efficiently.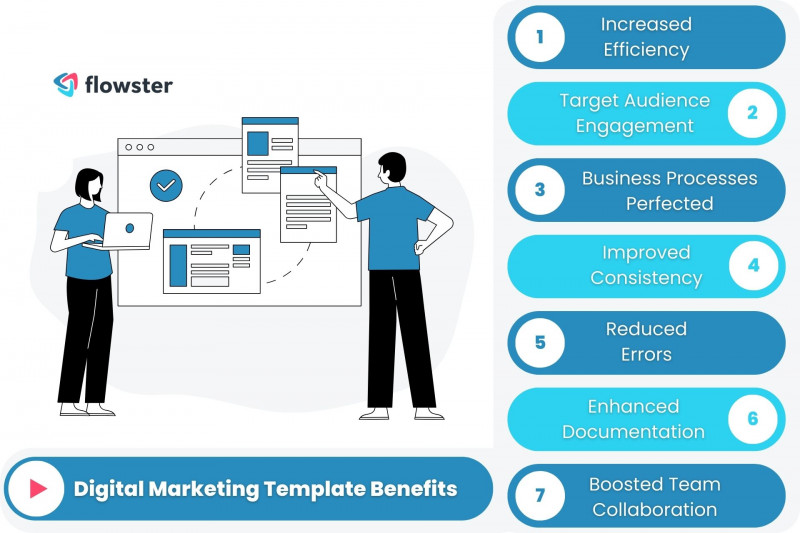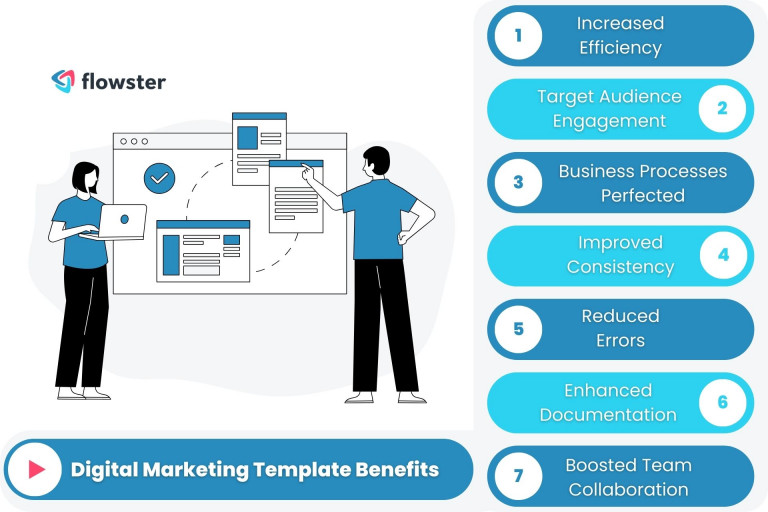 7 Benefits of Using SOP Templates in Digital Marketing
There are a lot of advantages to using templates for standard operating procedures. Here are some of them:
Increased Efficiency: For every marketing team, from content creators to those who swear by the

Google Keyword Planner

, time is gold. And with a clear SOP, you're never lost.

Target Audience Engagement: By streamlining your digital marketing campaigns with SOPs, you ensure that every message hits home with your target audience.
Business Processes Perfected: Using an SOP template is like having a

playbook for your business processes

, ensuring every task is executed flawlessly.

Improved Consistency: This isn't about cookie-cutter solutions; it's about ensuring your digital marketing strategies always hit the mark.
Reduced Errors: Let's face it, no one likes those awkward "Oops, we messed up" emails.
Enhanced Documentation: Because trying to remember everything without proper documentation is just asking for trouble.
Boosted Team Collaboration: With a clear SOP template in place, everyone in your agency is singing from the same hymn sheet.
Now, are you ready to get your free SOP templates for digital marketing? Let's go get'em!
Get These Free Digital Marketing Templates!
Hold onto your hats! Here are the free SOP templates that might just change your agency's life:
Marketing Agency Client Onboarding Template
We've all been there – the jitters of onboarding a new client. This guide's got your back, from that initial handshake to a successful campaign rollout.
To get a free copy of this template, just click the button below that says "Complete Task."
Effectively Manage Your Marketing Projects Template
This isn't just about project management. It's about mastering it. Get your free copy of this template by clicking the "Complete Task" button below.
Want more free SOP templates for Digital Marketing?
More Digital Marketing SOP templates are available by clicking on the link below.
What is better than making your own customized sop templates for digital marketing? Find out how to make them easily using AI technology!
Create Your Own Digital Marketing SOP Template Easily
Now, here's a little secret sauce I bet you'll love. While those free SOP templates are brilliant, what if you could craft one that's tailored just for you? Enter Flowster's AI feature.
Got an idea for a killer blog post? Or diving deep into keyword research? Flowster's AI is here to help you create the perfect guide for your digital marketing activities. 
Not only does it help you create your unique SOPs using clear and concise language, but it also makes it easier for the entire marketing team to collaborate.
It's like having a super-smart digital buddy who's had a few too many cups of coffee. Ready and eager to assist, it simplifies the process of creating and customizing your very own SOP template. 
Transform Your Business Processes with Flowster's AI-Driven Automation
You can streamline your business process and complete more tasks with the sophisticated app Flowster, which uses AI technology. Experience the future of workflow management with Flowster's free 7-day trial. Start optimizing your business processes today!
Here's the scoop:
Ease of Use:

Even if you're a newbie to the digital marketing or SOP template world, Flowster's AI guides you step by step. It's like having a co-pilot while you're still learning to fly.

Personal Touch

: Every agency is unique, and every project has its quirks. The AI adapts to your inputs, making suggestions and tweaks that align with your brand's voice and objectives.

Save Time, Big Time

: No need to start from scratch. Use an existing SOP template, sprinkle in your requirements, and let Flowster's AI do the heavy lifting. Before you know it, you've got an SOP that fits like a glove.

Collaboration Made Easy:

This isn't just about you. Bring your team on board, gather feedback, and let the AI incorporate everyone's insights. The result? An SOP template that truly represents your collective brilliance.
So, whether you're looking to refine client onboarding, optimize project management, or any other process, remember: with Flowster's AI, you're never alone in the journey. Happy crafting!
It's Time to Create Your SOP Template for Digital Marketing!
At the end of the day, whether you're crafting a single blog post, rolling out expansive digital marketing campaigns, or refining your overall digital marketing strategy, remember: a solid SOP template is your roadmap to success.
So, are you game to elevate your marketing efforts with these tools? Dive in, optimize, and watch as your digital marketing endeavors transform. Let's make some digital magic!
To get started, use this template for creating an effective Standard Operating Procedure (SOP). Simply click the "Complete Task" button below.
Having trouble writing standard operating procedures?
With Flowster, you can easily create standard operating procedures or workflow templates by leveraging the power of AI, or you can browse our library of pre-built templates in the Flowster Marketplace.
Do you want assistance? Use our "Done for You" services to have our quality and improvement professionals create custom workflows for you.