Ever wondered how some HR departments manage to be super-efficient, make fewer mistakes, and always seem on point? It might be due to a standard operating procedure template being in place. Well, if you peek behind their curtain, you'll probably find SOP Templates for HR working their magic.
These templates are the roadmap for HR managers to streamline processes, maintain consistency, and achieve unparalleled efficiency in managing new employees and ensuring employee performance stays at its peak.
Now, you may be thinking, "How do I get and use these templates in the proper SOP format?" Don't worry! We've got you covered, from understanding their essence to customizing them to fit your organization's rhythm to even trying some freebies (who doesn't love freebies?).
Everyone, from HR novices to veterans, can find something here, whether it's about training programs, setup procedures, or the onboarding process. So, what are you waiting for? Let's get started!
Understanding HR SOPs
Let us define SOPs and why they are important in HR before we get into your free SOP templates for HR and how to customize them.
What is a Standard Operating Procedure?
SOP stands for Standard Operating Procedure. It's basically a set of step-by-step instructions compiled by the person responsible to help people carry out their tasks. Think of it as a recipe for success in human resources!
This "recipe" for HR helps employees complete tasks correctly and consistently. These documents, which often act as thorough documentation, can cover everything from sorting mail to onboarding a new employee or working through a crisis.
But why all this fuss about SOPs, especially in HR? As with your grandma's spaghetti sauce, HR SOPs improve everything! Let's get to know why: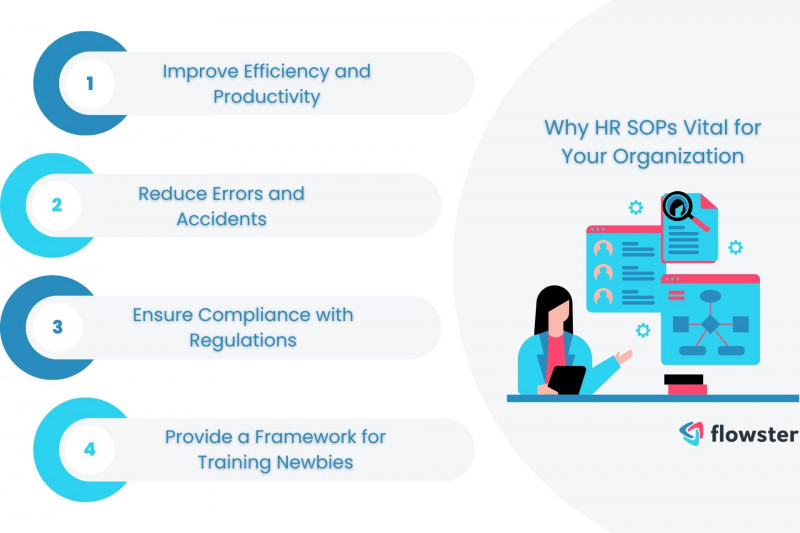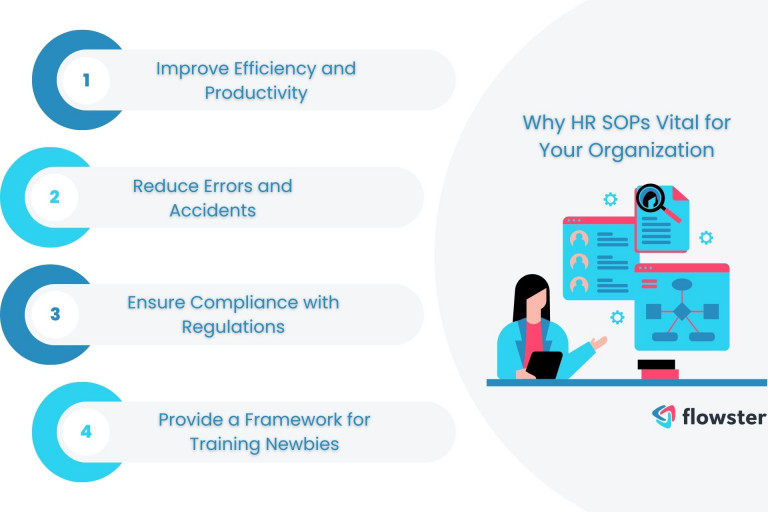 Why are SOPs Important in HR?
Here are some of the reasons why HR SOPs are important:
Improve Efficiency and Productivity

: Have you ever felt like you were reinventing the wheel every time you took on a task? SOPs eliminate that feeling. They give a clear path, ensuring tasks are completed faster and better.

Reduce Errors and Accidents

: No more "Oops! I did it again" moments. With SOPs, processes are standardized, reducing room for mistakes.

Ensure Compliance with Regulations

: In the world of HR, missing out on legal regulations can be a costly mistake. SOPs ensure everyone's in line with the latest rules.

Provide a Framework for Training Newbies

: Remember your first day? It probably felt like a maze. With SOPs, the onboarding process becomes a structured, less overwhelming experience, spearheaded by the HR manager or the person responsible.
Now that you know what an SOP is and its importance in business, especially in human resources, you might want to make your own HR SOP templates. With platforms like Flowster, you can!
How Flowster Can Help Create HR SOP Templates
Flowster is the unsung hero of the standard operating procedure template world. It's designed with a singular mission: to make the creation, customization, and implementation of SOPs, especially in the HR department, as smooth as butter on hot toast.
Here's How Flowster Gets Down with SOPs:
Generate Templates from Scratch

: Starting can be daunting. But with Flowster, creating SOPs tailored to your HR managers and their training programs is made simpler.

Customize Existing Ones:

Got an SOP but feel like it's missing some nuances? Or maybe it needs to evolve for employee development? Flowster is right by your side.
So, whether you're an SOP newbie or a seasoned pro looking for some refreshing tweaks, Flowster is your go-to buddy. With its new AI feature and other packed offerings, it's like having an all-terrain vehicle in the ever-evolving landscape of HR SOPs. And honestly, who wouldn't want that kind of support?
Transform Your Business Processes with Flowster's AI-Driven Automation
You can streamline your business process and complete more tasks with the sophisticated app Flowster, which uses AI technology. Experience the future of workflow management with Flowster's free 7-day trial. Start optimizing your business processes today!
Free HR SOP Templates
Alright, brace yourselves, because it's freebie time! We all have a little soft spot for free stuff, especially when it's genuinely valuable and can make our lives a tad bit easier. And when it comes to HR, who wouldn't love a handcrafted, ready-to-use guide to streamline processes?
Determine Your Next Priority Hire Template
Hiring can be like walking through a maze. Which position should I prioritize? Where to channel the resources? This template is your trusted guide, ensuring you make hiring decisions that align perfectly with your company's needs and growth trajectory.
Get More Standard Operating Procedure Templates
More Free SOP templates for HR and more can be found by clicking on the link button below. Browse through the many SOP templates available for customization. From content creation to HR processes and financial reporting – the list goes on. 
Dive into these templates, customize them for your employee development needs, and let the onboarding process and other HR department functions transform from mundane to magical.
Conclusion
In human resources, SOPs play a pivotal role, acting as the silent guides ensuring flawless execution of every task. They guide ships through HR processes' turbulent seas.
So, start exploring SOPs and let them lead your HR efforts to success, consistency, and growth. With Flowster, creating and maintaining a standard operating procedure template becomes all the more effortless.
Bonus Template to Assist You in Creating Your HR SOP
Here's a bonus template to help you get started. Use this template to create an effective Standard Operating Procedure (SOP). Simply click the "Complete Task" button below.
Having Trouble Writing Your Standard Operating Procedures?
With Flowster, you can easily create standard operating procedures or workflows by leveraging the power of AI, or you can browse our library of pre-built templates in the Flowster Marketplace.
Do you want assistance? Use our "Done for You" services to have our quality and improvement professionals create custom workflows for you.