Ever been lost in the maze of work processes, unsure of who did what? Fear not, because we've got the solution: learn how to create a workflow audit trail. It might sound complex, but we're here to break it down into simple steps and guide you through, making the path as clear as day.
Imagine having a map that traces every step of your journey, highlighting important landmarks. That's what a workflow audit trail or audit log does—recording every move and adding transparency to your work.
In this guide, we'll walk you through each step, ensuring you understand the "what," "why," and "how" of creating a workflow audit trail. Ready to bring order to your processes? Let's dive in—no magnifying glass required!
What is a Workflow Audit Trail?
So, what exactly is this thing we call a "workflow audit trail"? Well, think of it as a digital breadcrumb trail—a meticulous record of every action taken within a process. This trail serves as a detailed account, showing precisely who did what, when they did it, and often why they did it.
But why bother with such detailed tracking? Because in the dynamic world of work, clarity is king. When you're navigating complex tasks or managing team efforts, having a complete audit trail means you're equipped to retrace your steps and understand the sequence of events. It's like a reliable compass for your business journey.
Now, let's explore why creating a workflow audit trail is a smart move for any organization.
Why Create a Workflow Audit Trail?
Creating a workflow audit trail isn't just a trend; it's a smart strategic move. 
Picture this: you're working on a project with multiple hands on deck, and something unexpectedly goes awry. With a well-kept audit trail, you're armed with the ability to investigate what happened, identify the misstep, and collaboratively find solutions.
Financial and accounting, manufacturing and product design, health and medical information, clinical research data, IT tracking and data, digital content management systems, e-commerce sales records, and many others use audit trails.
Beyond crisis control, an audit trail boosts accountability. When team members know that their actions are being tracked, they're more likely to take ownership of their tasks and decisions. This proactive approach nurtures trust and teamwork within your organization.
But that's not all; let's uncover the remarkable benefits that come with creating a workflow audit trail.
Benefits of Creating a Workflow Audit Trail
Now that we understand the essence of a workflow audit trail, let's delve into the delightful benefits it brings to the table.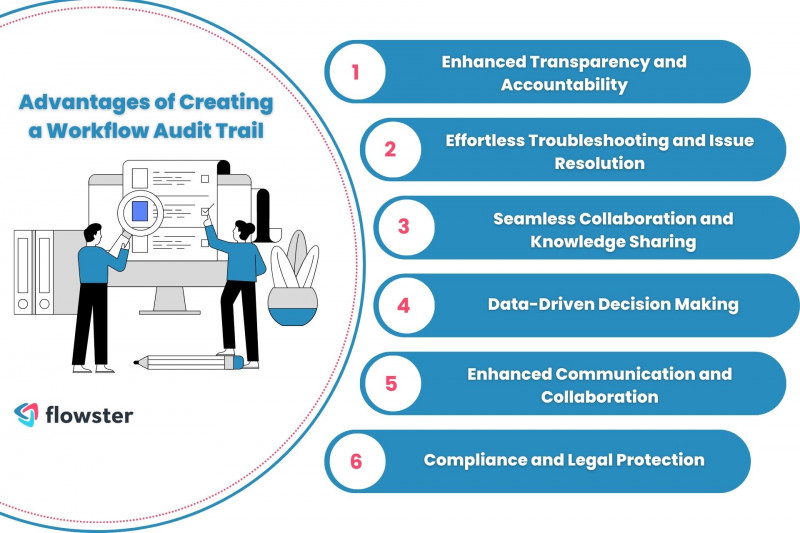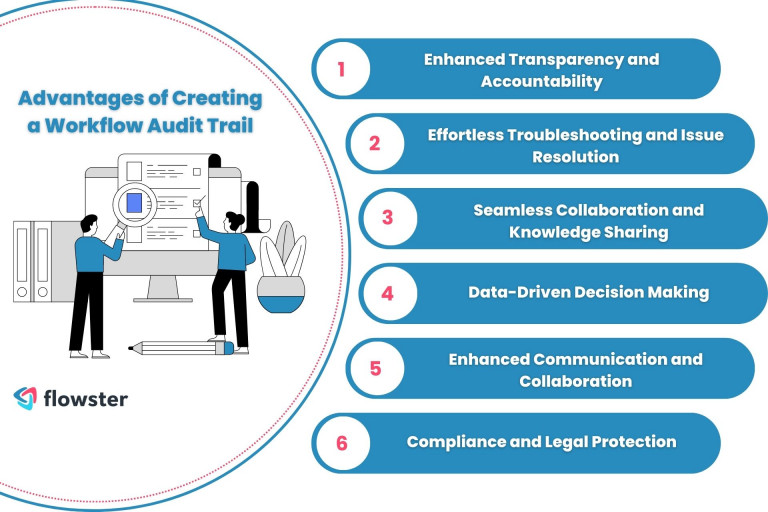 Enhanced Transparency and Accountability
By having a detailed record of every action and decision, you're fostering a culture of transparency within your organization. Team members can easily track the progression of tasks, which means no more guessing games about who did what. This heightened transparency naturally leads to increased accountability, a vital ingredient for a thriving team.
Furthermore, An audit trail captures information about a financial transaction, work activity, stage of product development, or financial ledger entry.
Effortless Troubleshooting and Issue Resolution
Imagine a scenario: a glitch occurs in a critical process, and chaos ensues. With a workflow audit trail, you don't have to rely on guesswork. You can pinpoint the exact moment the glitch appeared, analyze the events surrounding it, and efficiently troubleshoot the issue. It's like having a troubleshooting toolkit at your disposal.
Seamless Collaboration and Knowledge Sharing
In a collaborative environment, information flow is essential. A workflow audit trail acts as a knowledge-sharing hub. New team members can quickly catch up on project history, and understand decisions made and actions taken. This ensures a seamless handover and minimizes disruptions when team members transition in and out.
Transform Your Business Processes with Flowster's AI-Driven Automation
You can streamline your business process and complete more tasks with the sophisticated app Flowster, which uses AI technology. Experience the future of workflow management with Flowster's free 7-day trial. Start optimizing your business processes today!
Data-Driven Decision Making
Here's where the power of data comes into play. A well-maintained audit trail provides you with a treasure trove of data points. By analyzing this audit trail data, you can identify patterns, bottlenecks, and areas for improvement. This data-driven approach empowers you to make informed decisions that steer your processes in the right direction.
Enhanced Communication and Collaboration
Picture a scenario where a project involves different departments or teams. Without an audit trail, misunderstandings can easily arise, leading to misalignment and frustration. With an audit trail, you're not just communicating the outcomes but also the journey itself. This boosts collaboration by ensuring everyone's on the same page.
Compliance and Legal Protection
Certain industries have strict compliance requirements, and legal matters can arise unexpectedly. A well-documented regulatory audit trail serves as your shield. It provides evidence of actions taken, decisions made, and approvals given. When compliance audits or legal inquiries come knocking, you're armed with comprehensive record keeping that safeguards your organization.
In essence, the benefits of creating a workflow audit trail extend far beyond simple documentation. It's about cultivating a culture of transparency, enabling smoother operations, and making smarter decisions—all while positioning your organization for success.
Now that we understand what an audit trail is and its benefits, let us get started on creating your workflow audit trail.
Planning the Workflow Audit Trail
Ready to embark on your journey to creating a robust workflow audit trail? Let's break down the process into simple, actionable steps: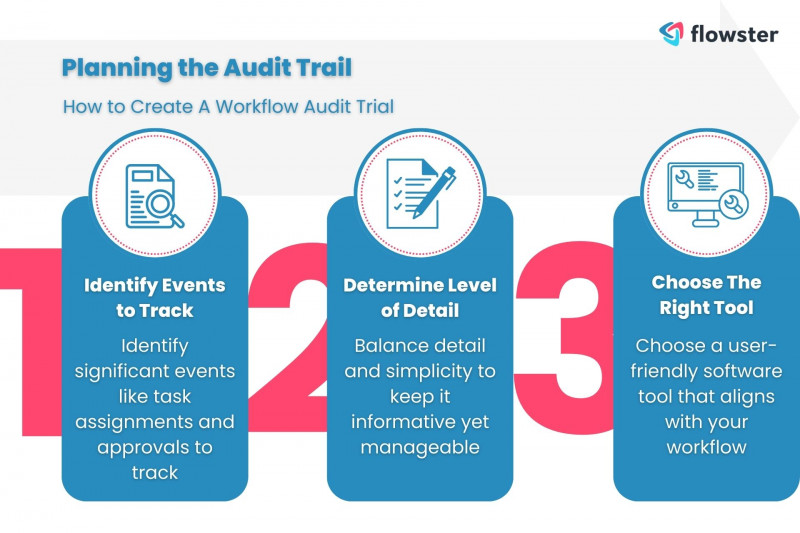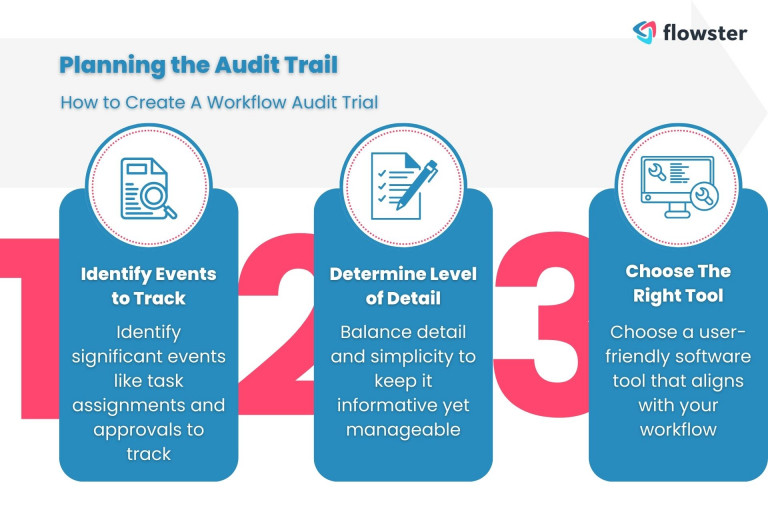 Step 1: Identify the Events to Track
Think of your workflow as a story, and every event is a plot point. Start by identifying the significant events that shape your process, from task assignments and approvals to revisions and handoffs. These are the breadcrumbs you'll follow to understand the journey.
Step 2: Determine the Level of Detail to Track
Balance is the key here. Decide how deep you want to dive into the details. Are you after a comprehensive play-by-play or a concise overview? Think about what's necessary to capture the essence of each event without overwhelming yourself or your team.
Step 3: Choose the Right Tool
It's time to equip yourself with the right gear for the expedition. Look for a software tool that aligns with your workflow and caters to your needs. User-friendliness, customization options, and integration capabilities should be your guiding stars.
Implementing the Workflow Audit Trail
With your plan in hand, it's time to put things into action.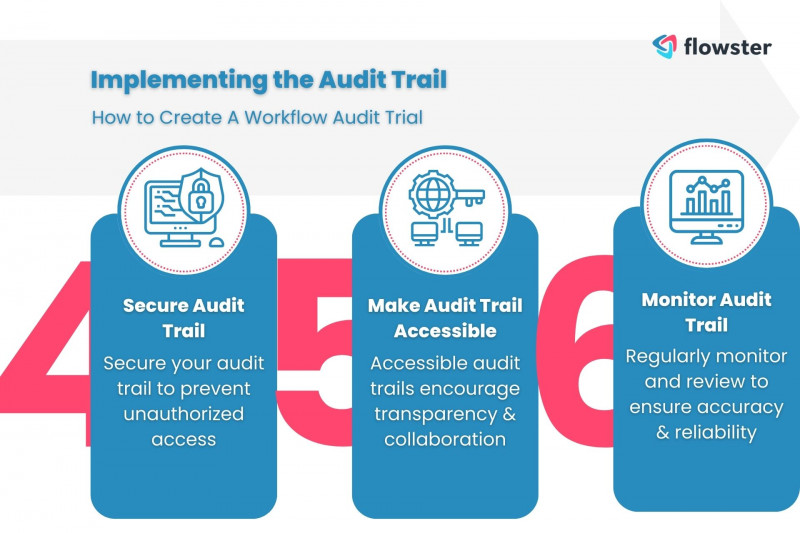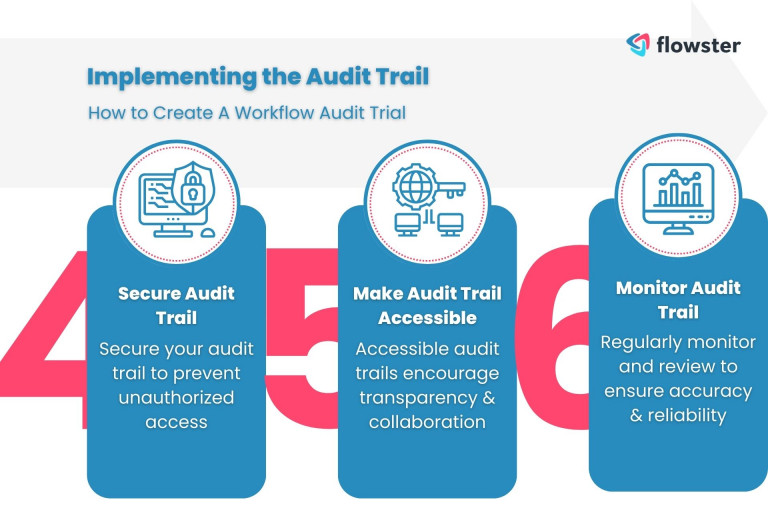 Step 4: Secure the Audit Trail
Imagine your audit trail as a precious artifact that needs protection. Implement robust security measures to ensure only authorized individuals can access and modify it. This guarantees the integrity and trustworthiness of your electronic records.
Step 5: Make the Audit Trail Accessible
A hidden map won't lead anyone anywhere. Make sure your audit trail is easily accessible to those who need it. Clear pathways and intuitive navigation ensure that your team has data access and can use the trail as a valuable resource for insights and collaboration.
Step 6: Monitor the Audit Trail
Just like tending to a garden, your audit trail requires regular care. Additionally, it is a wise strategy for businesses to routinely perform internal audits.
Maintaining the Workflow Audit Trail
Keep the trail fresh and relevant with continuous upkeep.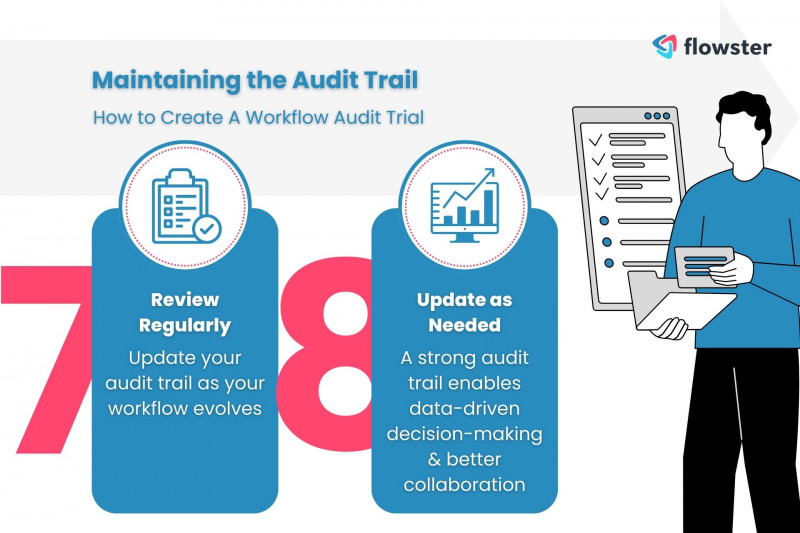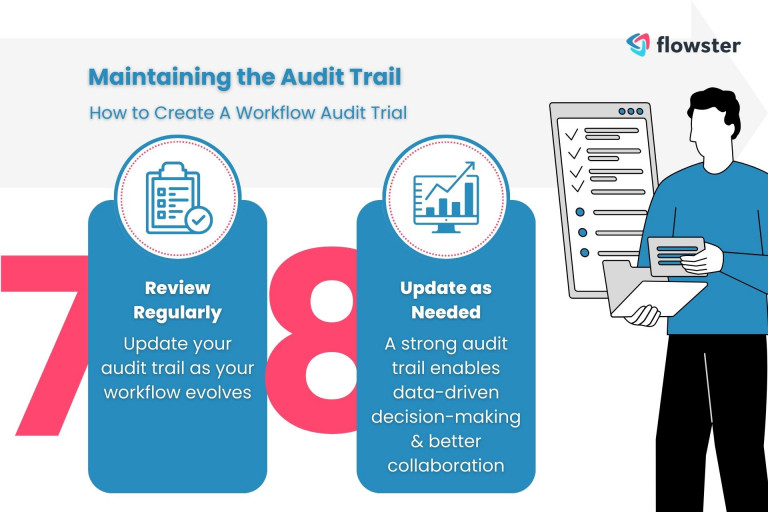 Step 7: Review the Audit Trail Regularly
Think of this as flipping through a photo album. Regularly review your audit trail to catch any irregularities, patterns, or opportunities for improvement. This keeps your trail aligned with reality and ready for any challenges that may arise.
Step 8: Update the Audit Trail as Needed
Change is a constant companion in the world of business. As your processes evolve, your audit trail should adapt accordingly. Add new events, retire obsolete ones, and ensure your trail evolves with your workflow.
By embracing these steps, you're not just creating a workflow audit trail; you're crafting a dynamic guide that empowers your team with transparency, accountability, and the power to navigate complexities with confidence. 
So gear up, follow these steps, and let your audit trail be the North Star of your work journey!
FAQs About Workflow Audit Trails
What is the purpose of a workflow audit trail?
A workflow audit trail serves to transparently track process activities, changes, and participants, ensuring accountability and efficiency.
Can automated workflow tools enhance audit trails?
Absolutely! Automation minimizes errors and ensures consistent data collection, elevating the reliability of your audit trail.
Are audit trails or audit logs relevant for small businesses?
Yes, audit trails provide businesses of all sizes with benefits by enhancing transparency, identifying process bottlenecks, and ensuring compliance.
Transform Your Business Processes with Flowster's AI-Driven Automation
You can streamline your business process and complete more tasks with the sophisticated app Flowster, which uses AI technology. Experience the future of workflow management with Flowster's free 7-day trial. Start optimizing your business processes today!
Conclusion: Time to Make Your Workflow Audit Trail
Creating a workflow audit trail might seem like you're diving into the techy deep end, but trust me, it's like having a magic map for your work journey. As you follow each step we've laid out—from identifying those key moments to picking the right tools—you're not just creating a trail; you're crafting a story of transparency, teamwork, and smart decision-making.
Picture this: fewer "wait, who did that?" moments, smoother collaborations, and a clear path to solving hiccups. Your workflow will be more organized than ever, and that's a win for both you and your team.
So, whether you're tackling projects solo or dancing in harmony with your colleagues, remember that your workflow audit trail is there to guide you. It's your trusty sidekick that ensures you never lose your way, even in the maze of complex tasks and processes.
Get ready to trailblaze with confidence; you've got this!
Ready to create your first workflow templates?
With Flowster, you can easily create standard operating procedures or workflow templates by leveraging the power of AI, or you can browse our library of pre-built templates in the Flowster Marketplace.
Do you want assistance? Use our "Done for You" services to have our quality and improvement professionals create custom workflows for you.