Amazon is not merely just a technology company based in Seattle, Washington. It's also the world's largest online marketplace. In addition to Amazon.com, they also focus on artificial intelligence, cloud computing, consumer products, mobile applications, package delivery and logistics, digital streaming services, and are even in the supermarket industry via Whole Foods. Amazon's driving force seems to be addressing the many issues consumers face on a daily basis.
Let's take a look at the increasingly popular Amazon Marketplace, how Amazon Sellers use this ecosystem, and an Amazon Sellers Forum that connects sellers and provides a medium for them to share ideas and help one another.

Amazon Marketplace
The Amazon Marketplace is an online platform which enables merchants to sell new and used goods and services to consumers, alongside Amazon's regular offerings.
This arrangement is a benefit to ecommerce sellers, because they gain access to Amazon's enormous customer base (they currently ship to over 100 countries). On the other hand, it's also a benefit to Amazon because it expands its online inventory without having to store, ship, or fulfill any extra products or orders.
Third-party sales account for over 30% of Amazon's annual sales, so it's no surprise that Amazon is mostly known and revered for their Marketplace.
Amazon Sellers
Amazon Sellers are merchants that are not affiliated with Amazon Inc. These merchants are independent, and use the Amazon Marketplace platform for selling their products. The Amazon Marketplace acts as the "middleman", connecting consumers with sellers.
Transactions executed through the Amazon Marketplace are done online. Goods are shipped to the buyer while services are delivered through email or various online services.
If you're interested in selling on Amazon, the process is basically:
Sign up for an account (choose a category and set up your profile)
List your product(s)
Manage your inventory
Fulfill, and ship orders (or have Amazon take care of this)
Earn money (minus any fees due to Amazon)
3 Problems Amazon Sellers Can Encounter
1. Banning of Your Account for Factors Beyond Your Control
There have been many reports online from Sellers in the Amazon Marketplace who lost their business overnight. Although it sounds hard to believe, getting banned from the Marketplace really does happen unexpectedly. And apparently a lot of the times, Sellers are not given any reason as to why they were banned.
From our research, the most common reason for Sellers getting banned from the Amazon Marketplace is because they get too many negative reviews from customers.
2. Amazon Decides the Price of Goods
Sellers don't really have complete control over the price of their goods on the Amazon Marketplace. Amazon scans other websites for listed prices of products on a daily basis. If Amazon discovers that the seller's price is too high, they can deactivate that particular product which will hurt the Sellers' sales.
It's stated in Amazon's Policies and Agreements that sellers shouldn't price items higher than any other platform.
3. Other Amazon Sellers Will Copy Your Listings
Sellers can copy photos or even text descriptions of items being sold by other Sellers in the Amazon Marketplace. This is particularly frustrating for Sellers that paid for professional photos or graphics design for their products.
Official Amazon Sellers Forum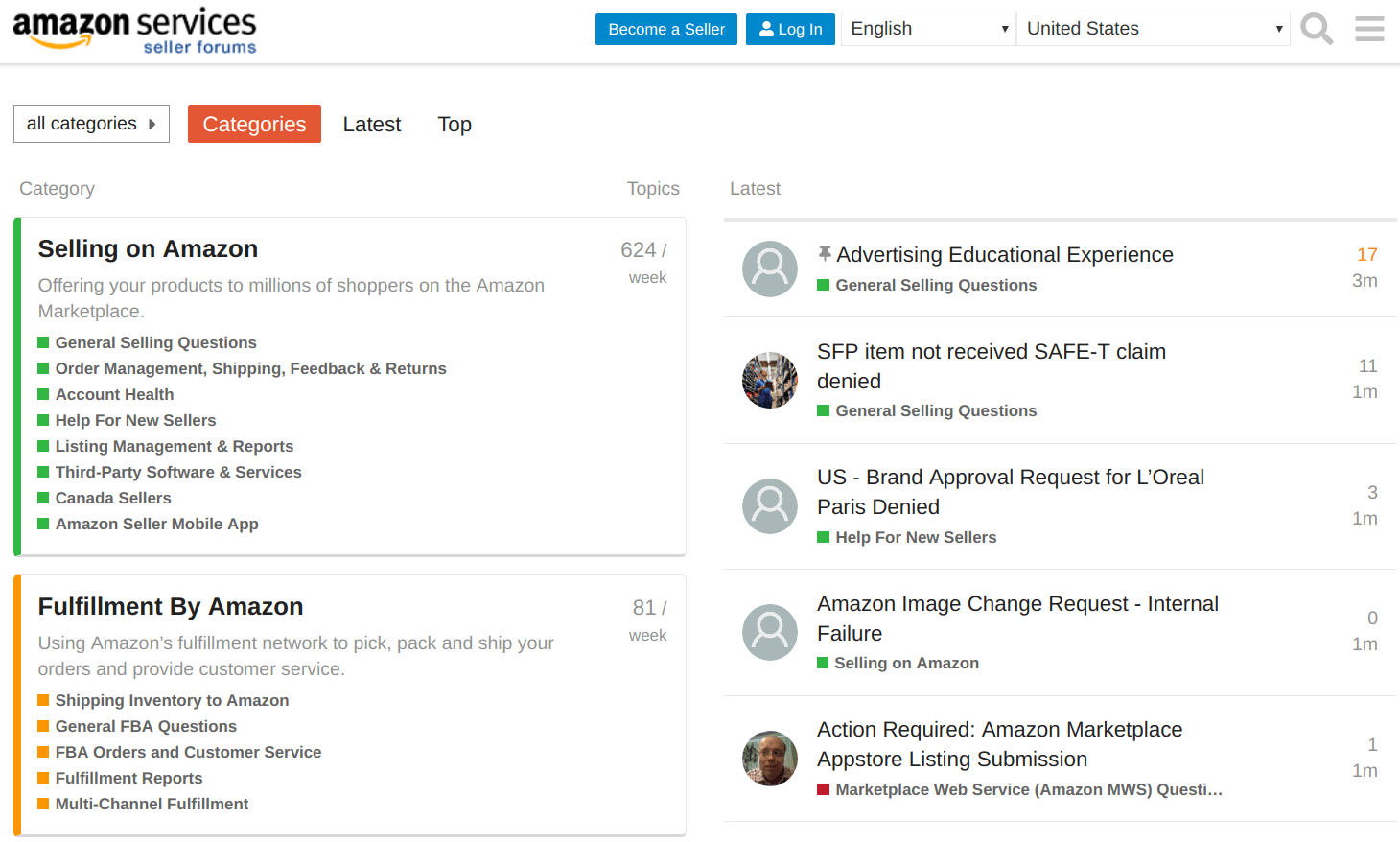 The official Amazon Sellers Forum is a discussion platform that was established by Amazon for Sellers in the Amazon Marketplace to be able to engage with each other through online conversations. The topics in the forum vary quite a bit, but in general cover these main categories:
Selling on Amazon
Fulfillment by Amazon
Amazon News
Sponsored Products
Health & Safety
Global Selling
Amazon Pay
Amazon expects Sellers to interact with each other in a professional way, however there's no Amazon employee moderators.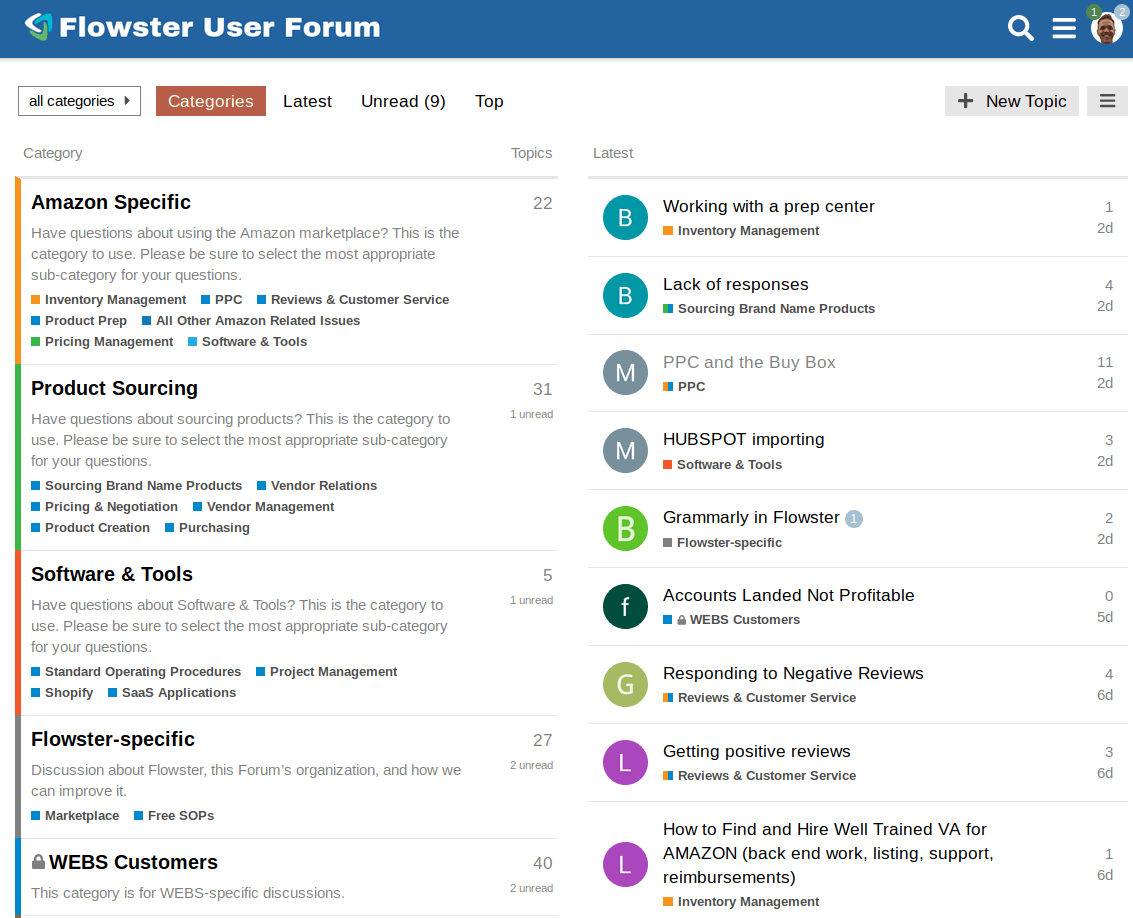 Flowster's Amazon Sellers Forum is another excellent resource for Amazon Sellers, and other eCommerce entrepreneurs. It's free to join and easy to get started sharing stories or commenting on other member's queries.
The discussion categories include:
Human Resources (managing a virtual team, employee onboarding, recruiting, etc)
eCommerce Marketplaces (including Amazon, eBay, Walmart, Jet)
Product Sourcing (pricing and negotiations, vendor relations, etc)
Software & Tools (Shopify, SaaS applications, project management tools, and more)
Fulfilment (shipping, warehouse management, third-party fulfilment, etc)
Financial Management (accounting, bookkeeping, fundraising)
Traffic Sources (PPC, email marketing, social media, SEO, content marketing, crowdfunding)
Management (delegation, leadership)
Store Management (copywriting, branding, video and photography, etc)
A Sampling of Topics Posted
There have been many topics posted in Flowster's Amazon Sellers Forum. Below are only a few, but they give you a good idea of the variety of issues that members are facing, or nuggets or wisdom that they've shared:
I'm about to hire my first VA and want to know how much workload is ideal for him
I have setup my corporation in Canada and going to setup in the U.S.(Delaware) soon to qualify for a resale permit. Is it advised to setup warehousing in U.S. over Canada?
As I've been working my way through my leads (replies to the emails we sent out), I thought I would share with you my ultra-quick brand analysis strategy.
I currently use the amazon inventory planning tool. Is this enough or are many of you paying for a 3rd party service?
I'm just about to make my first slideshow for a brand presentation and I'm coming across so many different software options such as Skype screen sharing, Google Hangouts/Slides and many paid services with unlimited features and templates. To keep it simple what do you guys do for the live "webinar" like screen sharing call?