Many digital marketing specialists have been using Google Keyword Planner in order to do keyword research for their marketing, SEO strategies, or PPC campaigns. It's precise, free, easy to use, and you can even use it without having to run a Google Ads campaign.
However, there are a few essential things that Google Ads (previously called Google AdWords) Keyword Planner can't do. Let's take a look.
Keyword Planner Can Do All Of These Things
Search for new keywords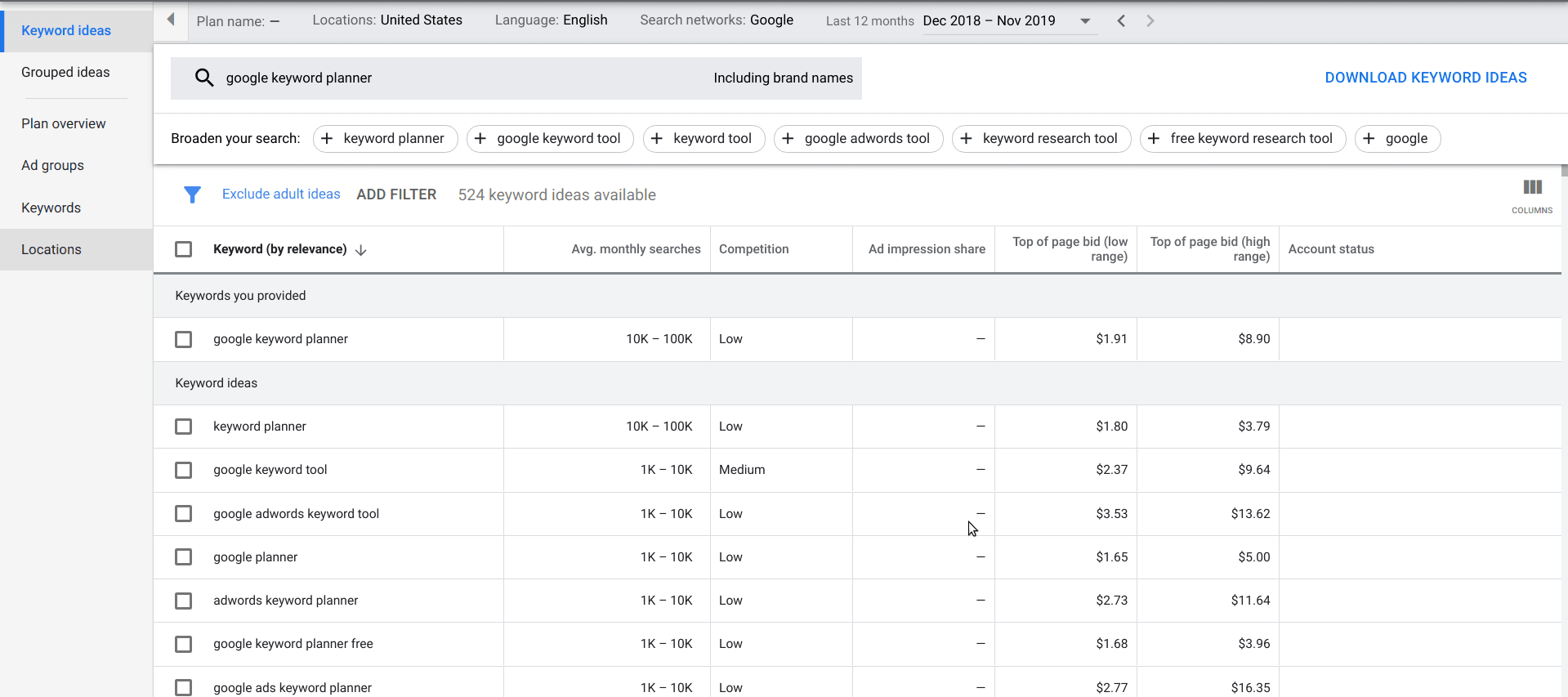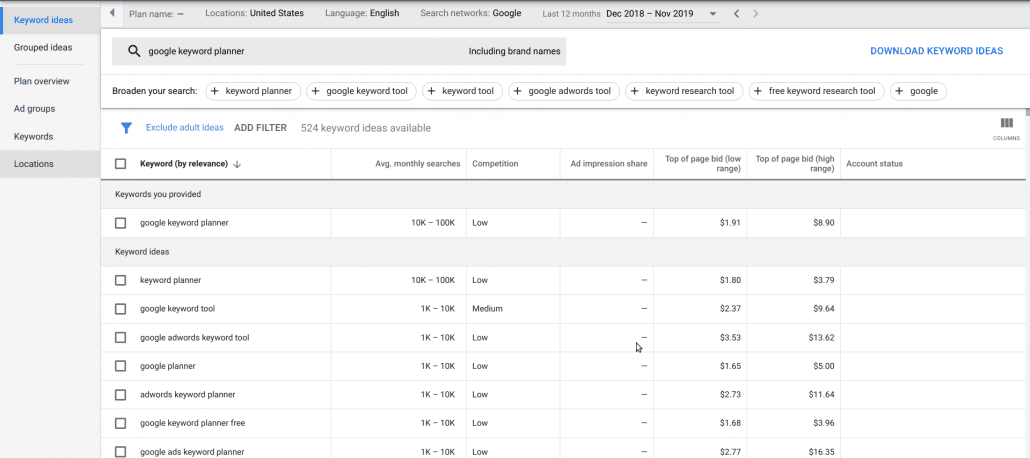 All you've gotta do is enter words or phrases (or even lists of keywords) into the Keyword Ideas tool and get hundreds or thousands of related results.
You can then:
See average monthly search volumes for each keyword idea
Add keywords to your Ad Plan to create new search network campaigns, and get forecasts by language, location, or network
Filter the results by text, search volume, bid prices, organic impressions, or level of competition
Use the results to make the most competitive bids
Get Ad Group ideas to help you properly setup your Google Ads account
See visuals broken that detail platforms, locations, and search trends
Add keywords into an Ad Group so you can start running ads for them
Download the results to a CSV file
Get search volume and forecasts
If you've already got a list of keywords and you just want to view their metrics, no problem!
Just paste them into the box and click "Get Started":

You may wonder where the keyword suggestions are, but don't worry, that's not the purpose of this feature. Rather, Keyword Planner will analyze the historical statistics for these keywords, and show you how many impressions and clicks you should receive if you ran ads for these keywords.
You'll also get an idea for how much these clicks will cost you.


One cool trick is to click the "Historical Metrics" tab to see average search volumes for your keyword list:

Get exact search volume
You may have noticed that Google Keyword Planner typically just shows you a wide range for average monthly search volume: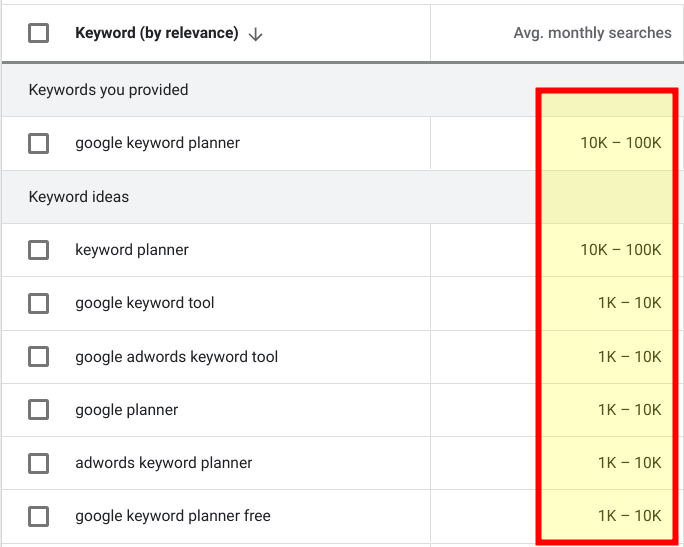 That's a bit annoying, because the difference between 10,000 – 100,000 is HUGE.
However, savvy Keyword Planner users have figured out a life hack to get around this.
Check the box for the keyword you want exact search volume for
Click the blue "Add to Plan" button that appears
Click "Plan Overview" on the left side
You'll then see your chosen keyword in a table. The Impressions column is what you're interested in.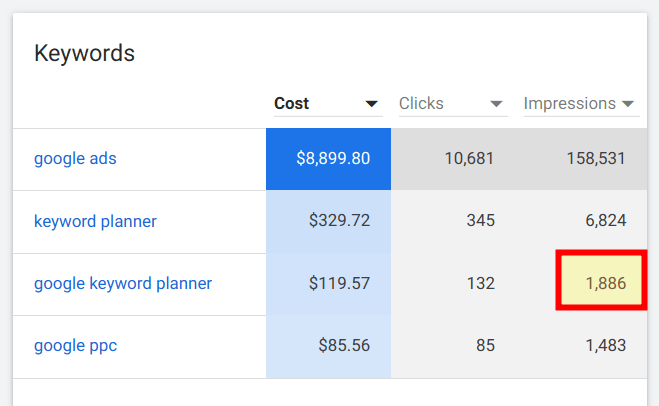 This is the number of people searching for that keyword each month. Good thing we looked this up, right? Because 1,886 is a lot closer to 1,000 than 10,000.
This increased accuracy can be helpful in planning your marketing campaigns and budgets.
Find keywords related to a website (ie "the competitor hack")
One flaw of the Keyword Planner is it only shows you keywords that are very similar to your search phrase.
Let's assume, for instance, that your company sells t-shirts. Here's what you see when searching for the seed keyword "tshirts":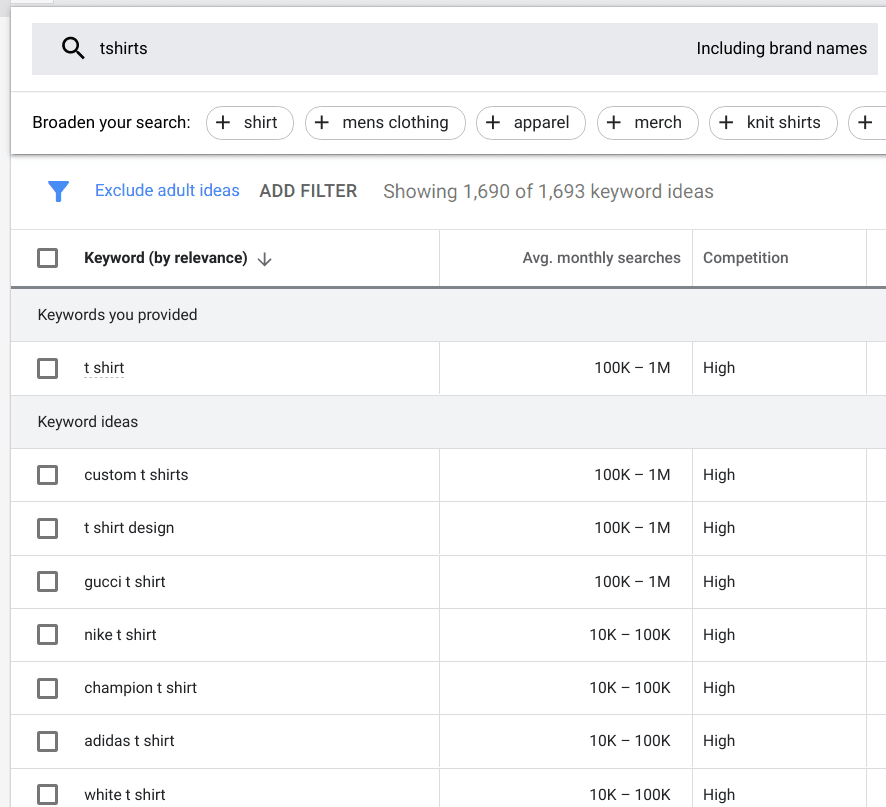 Notice they're all pretty generic, and closely related to your search word "tshirts".
Now let's try a different method. Instead of selecting "Start with Keywords" we'll use "Start with a Website", and enter the URL of a competitor. For this example that competitor is teepublic.com:


Now the new keyword list we get contains longer-tail keywords that are way less generic: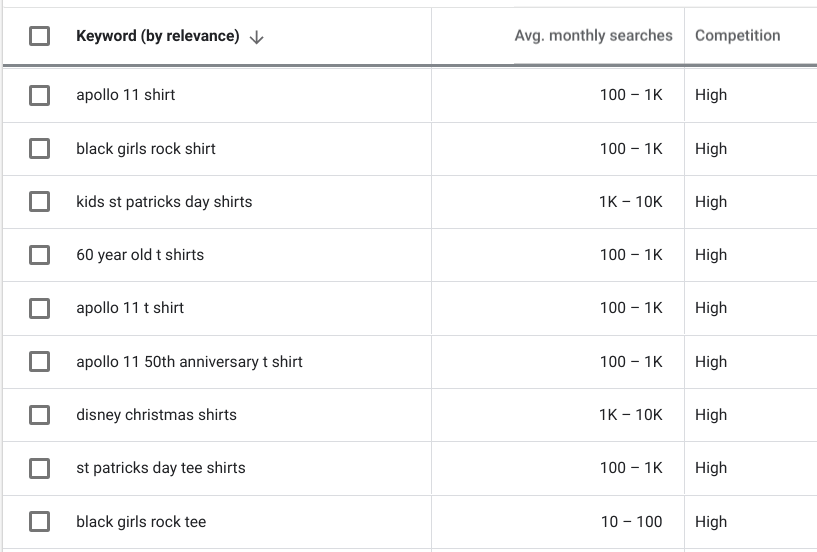 As you can see, this method is very effective for discovering keywords that your competitors rank for, many of which you wouldn't have found otherwise.
Except It Can't Do These Things
Show Indications of Trends
Experienced advertisers know the value in finding trending topics online. Unfortunately Google's Keyword Planner doesn't show trending keywords, as it shows its results based on search volumes over the last 12 months.
The good news is there's plenty of other tools out there that DO show this data. Here's some of the more popular ones:
Provide Quality Score Estimates
Since Keyword Planner doesn't know which keywords relate to which landing page of yours, it cannot provide Quality Score estimates. In order to see those values, you need to use the Google Ads platform itself.
Multiply Keyword Lists
The old AdWords Keyword Planner used to have a feature called "Multiply keyword lists to get estimates". With this AdWords tool you could combine multiple keyword lists to get new and different permutations. However, the new version doesn't provide this functionality anymore.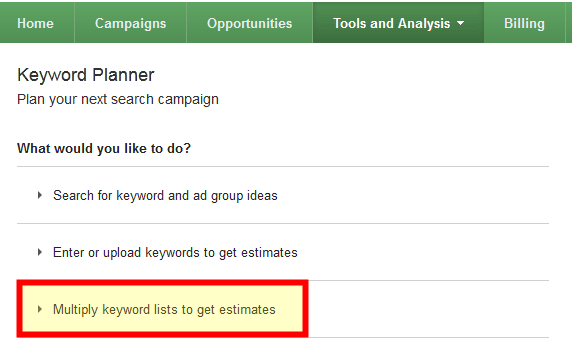 Show Specific Desktop and Mobile Traffic Data
In the past, it was possible to filter search volume by device (such as a desktop computer or mobile phone). It's important to know this, so you can optimize your website and landing pages for the most commonly used devices.
But Google Keyword Planner removed that feature. Luckily, though, you can jump over to Google Analytics and get this data – however it will only appear for keywords you're getting traffic for already.
Free Keyword Planner Standard Operating Procedure (SOP)
Want a step-by-step template for using Google Keyword Planner? This is useful for delegating to a virtual assistant. You can assign specific tasks within it and even set due dates for them. Here it is: How to Use Google Keyword Planner for Free.
Conclusion
As you can see, Keyword Planner is a fantastic tool with many useful features, however it can't do everything! Fortunately for all the gaps in its functionality, there's always an alternative tool out there that can do what you need.
Got any gripes about Keyword Planner that we didn't cover? Please let us know in the comments below.