Online shopping is predicted to capture a market of 4 trillion potential customers worldwide by this year. Of all potential customers, on average 2 out of 3 abandon checkout in their shopping cart. In the eCommerce business, cart abandonment massively impacts sales to your Shopify store.
What's an
abandoned cart
?
All this means is, a customer has added items to their cart but not completed their purchase before eventually exiting the website. This causes significant lost revenue for online eCommerce sites and platforms. However, it can be easily turned into an opportunity as it holds a substantial amount of potential revenue.
Why do shoppers abandon
 carts
?
Many potential customers abandon their shopping carts because of the following reasons:
They are not ready to make a purchase at the

checkout page

They are unsure of the product(s) in the

online store

They find the delivery or return policy unfavorable or inefficient

The

checkout process

is complicated
This is where abandoned cart emails come into play. They trigger the customer to reconsider, remember and even increase their current online activity. Abandoned cart emails provide more value for the customer shopping experience, leading to a higher conversion rate and increase sales for Shopify store owners.
Email Marketing enables online store owners to improve their abandoned cart recovery rates. Abandoned cart emails also promote engagement with the customer for a more personalized experience.  By far, these are the most effective abandoned cart emails:
Reminder email: simple and casual and should be sent 10-30 minutes after

cart abandonment


This works for

abandoners

who just simply forgot about their purchase. It should be sent quickly so the customer's intention to buy will still be there.

Assertive email: creates urgency and sent within 24 hours after the

cart abandonment


This works for

abandoners

who are sure of buying the product but lack the urgency to buy it right away.

Value email: creates value for the customer and sent within 72 hours after the

cart abandonment
By this time, the customer's intention to buy would have decreased or uncertainty of the product might have increased. This email should convince the customer that making the purchase right away would be a great bargain.

Abandoned Cart Emails do come with the disadvantage that an outbound email's open rate could also affect the outreach to potential customers.
Abandoned Cart Recovery Email
Tips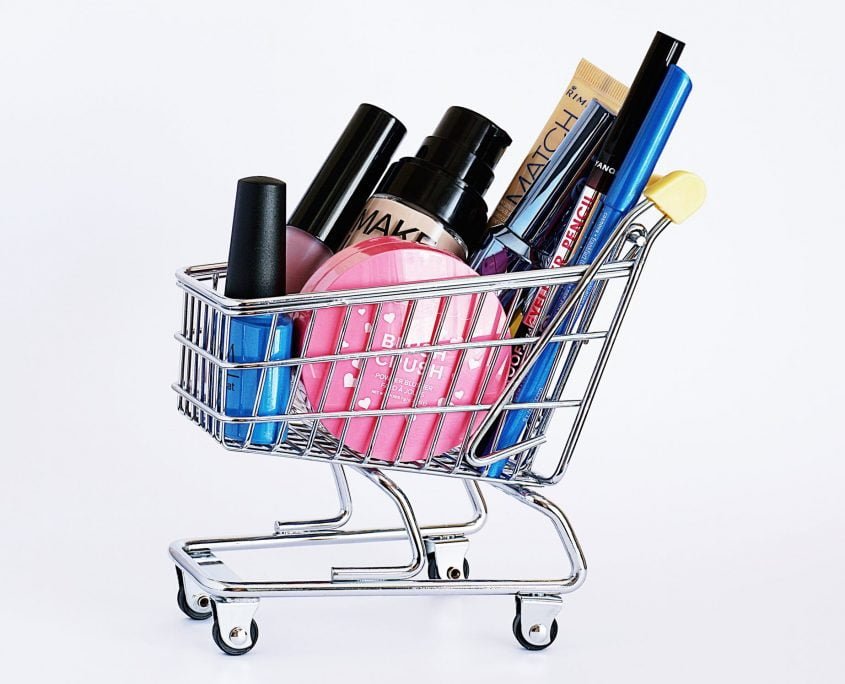 If you left something in your cart, what would make you change your mind, or even run back and grab the precious thing you almost missed out? Maybe some confirmation it was a good choice: a fresh look at it, or a bit of a "brand seduction". Maybe the information you overlooked, or even a discount code or coupon!
There are ways to ensure that potential customers will open your email to increase your campaign email open rate (be sure to optimize your subject line), and we will help you with that in our free SOP. But just to give you the idea, we will point out some of the best tactics to reduce cart abandonment.
Show Your
Product Images
You must have in mind that the customer may have browsing through numerous sites, and may not remember your product well. You should include the product images in your cart abandonment email, and make it shiny and irresistible!
Visual Details and Less Text
Your cart abandonment emails should look similar to your site. Use the same fonts and design, make it eye appealing. Remember, you are working on abandoned cart recovery, and the best way to change someone's mind is to remind them why they liked your product. Use a picture that showcases your brand, a certain lifestyle, something that will take them right back into your universe!
You should also make sure that your CTA (Call-To-Action) is clear, and you can use more than one button. Avoid using words buy and pay. Don't be pushy, simply invite them back to their cart.
Small fonts and too much text can easily make people close the email you've sent them. Use your words wisely: address shoppers by their name, remind them of the options they have, and entertain them. 
Information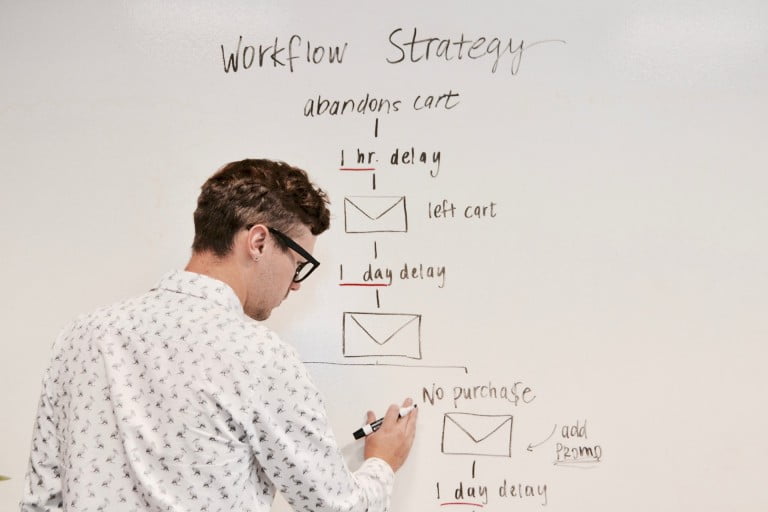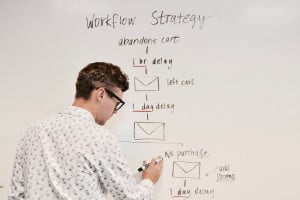 Remind your potential customers of your offers: for example, free shipment, product replacement, nearest store pick-up. Share with them your best selling products, ensure them that your eCommerce store is safe (there are Shopify trust badges you can use), address possible issues they had that made them abandon their cart. Pull all the cards you have up your sleeves!
Let's look at some of the email templates companies use:
1.  Bring It All In
This cart recovery email helps a potential customer resolve any issues. It grabs their attention with an image of a woman who's workout paid out, and that is what they desire. They are looking for sneakers!


It gives them a chance to look at their shopping cart again and shows them the best selling products. There are many CTAs paired with the information about the free shipping, creating a sense of urgency as they are offered if they go back right away. They can look at every product again. They can decide to return to the shop or to finish their checkout.
Everything customers need to reconsider buying the product is there and just to be sure, the total price is calculated. It is way better than letting them roughly calculate on their own. 
2.  Be Bold
This is a bold move. This email shows you the brand, and offers you a great discount if you complete your order in 48 hours.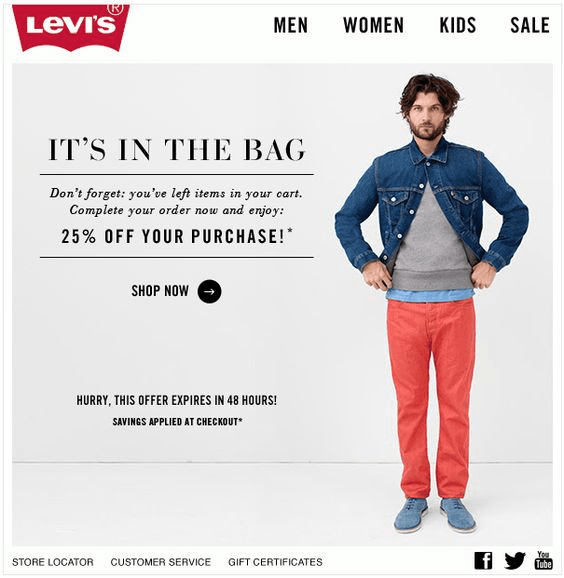 Offering discount codes like this is risky because you can make your customers fish for coupons, and you don't want to do that. You should calculate whether it pays off to give discounts for abandoned cart recovery. Our advice is to make a series of 3 recovery emails and offer a discount code in the last email. Offering a 10% discount is generous enough!
Our suggestion: They could have added a product image in the cart. There is also space for information that would be handy, like shipment or payment options.
3.  Remember that Joke?
Humor is always welcome, especially in situations like these. This email will catch customers' attention, they will remember the joke.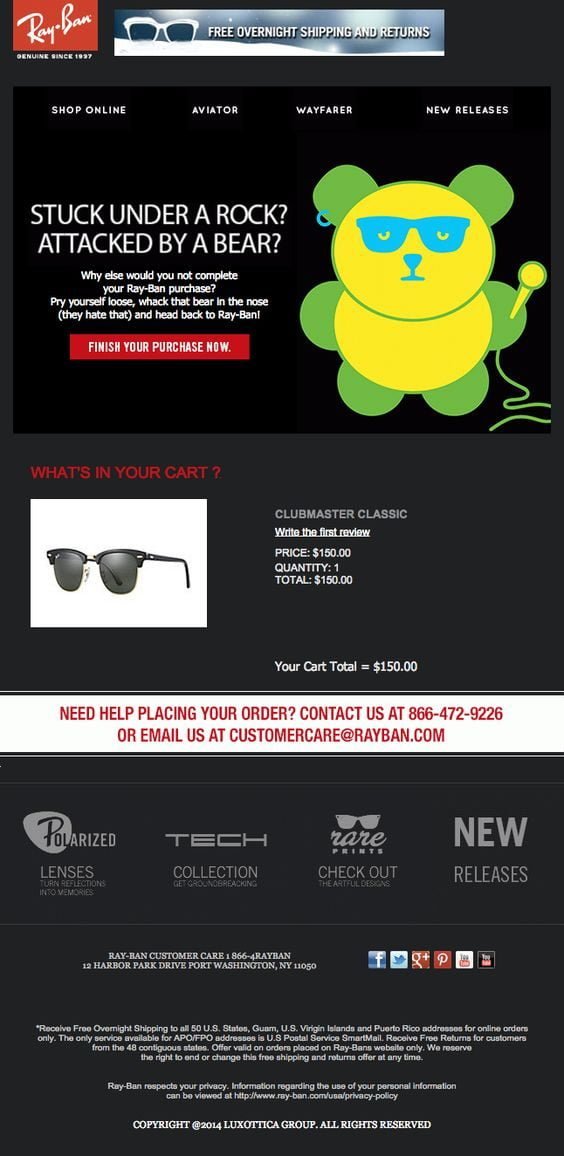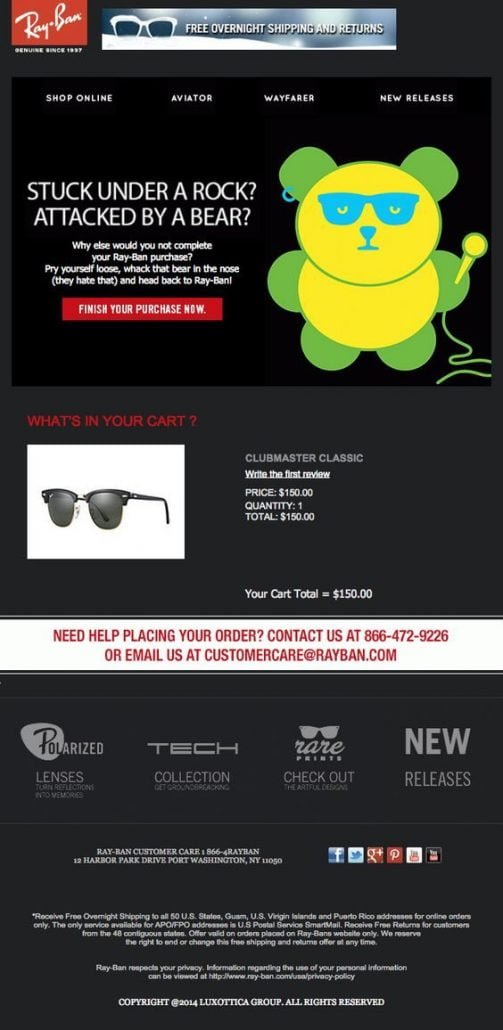 There is information that can make them decide to order: free and fast shipping, offer to help, an image of the product and price. Clear CTA that matches the tone of the content. Plus, there are reminders of other products they offer. There is everything they need to decide! And if those glasses were not what they wanted anyway, the joke will stick with them and make Ray-Ban stand out among other brands.
Our suggestion: The design of the email template may be appealing to some, but wouldn't it be better to tell us a Ray-Ban story with an image that makes us want to be there? Fonts can be different, too, they are too plain.
Another good idea would be to show a few other models: Maybe you would like these better… followed by product images.
These are some of the good strategies we suggest, and there are a lot of ideas out there that can help you increase your Shopify sales!
You are interested but you don't know how to make your cart abandonment emails? Get the Optinmonster app and have it all done for you! Pro version (29$/month, billed annually) or the Growth version (49$/month, billed annually) will do everything, just look at all those customers coming back!
We'll walk you through step by step with our free Increase Shopify Sales By Using Abandoned Cart Recovery SOP. You can turn those shoppers into customers!