We've all got a ton of clothes that sit in the back of our closets or drawers, neglected, and that we haven't worn in years. Well guess what? There's many places to sell clothes online! And it's much easier than you'd expect.
Or perhaps you're not interested in selling your own, used t-shirts and other clothes online, rather you want to learn how to start an online clothing business. Maybe you've got some killer shirt design ideas? We've got you covered here too!
Let's first take a look at the best places to design and sell t-shirts and other clothes online …
The Best Places to Sell Clothes Online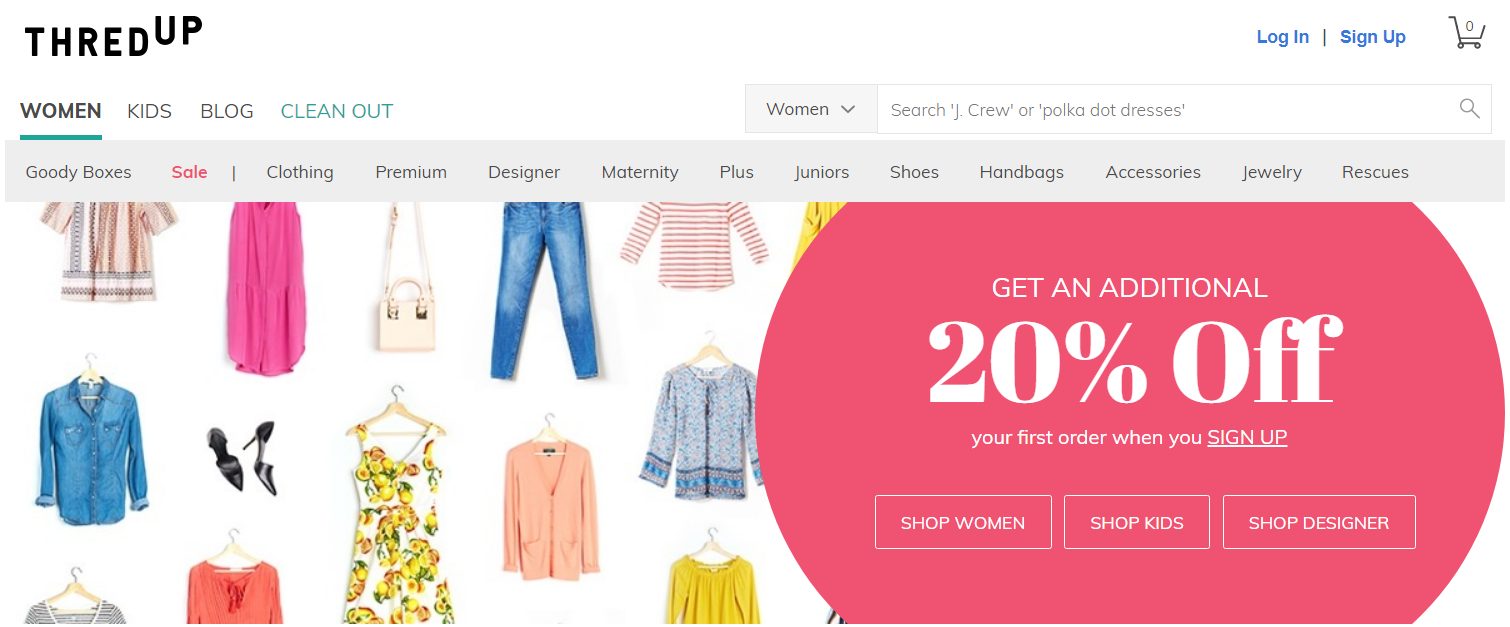 thredUP is the world's largest online consignment and thrift store. However, before we go into more details about it, we should make it clear that it's only for women and children's clothes. If you're hoping to learn how to sell t-shirts online for men/boys as well … you'll have to use another service!
One of the features that makes thredUP so popular, is their "easy returns". This means you can try on as many clothes as you like, and then return them with free shipping … only paying a shockingly-low $1.99 restocking fee. That's almost as painless as taking a trip to a local consignment store! This is why they've had so much success and get so many great reviews. For you, as a seller of clothing … this means you'll have an eager group of buyers ready to try on your stuff, essentially risk-free.
thredUP has thousands of like-new styles from the most popular brands at up to 90% off retail. In most cases, the clothing is in such good shape it looks brand new. Keep this in mind if you decide to use thredUP to sell your clothes – they don't want your old, ripped t-shirts 😉
Here's how to get started selling your clothes online via thredUP:
First,

make sure it's one of the brands they accept

. It's highly likely, as they accept over 35,000 brands, but you definitely should check first. By the way, it's not only clothes that thredUP accepts … you can even sell shoes, handbags, and other accessories. How cool is that?

Next,

order a kit

from them.

When the kit arrives, just package up all the clothing you want to sell, and send it back.

thredUP will let you know which items they accept, and anything they don't can be returned to you or donated to charity.

When an item sells, you'll receive a payout, either as a store credit or you can withdraw your earnings to a PayPal account or Visa Prepaid credit card. The payout % varies per item. Here's their

Payout Estimator

.

This one may seem obvious, but yes … eBay has been for years (believe it or not, but it was founded in 1995!), and still is one of the best platforms for selling t shirts online to make money. One very attractive reason to choose eBay over other services, is they have some of the lowest commissions in the industry. This means more $ in your pocket!
It's fairly easy to setup an eBay Store and their monthly subscription fee starts at $7.95, which is quite reasonable.
Unfortunately all the other fees involved in running an eBay Store can be quite confusing. They charge you:
Insertion fees (when you list an item for sale). These are non-refundable if your item doesn't sell.
Final value fees (when your item sells). These are calculated as a percentage of the total amount the buyer pays.
Listing upgrades. You can optionally choose to upgrade parts of your listing, for additional fees. These include:

1 or 3-day duration
Bold
Gallery Plus
Listing in multiple categories
Listing Designer
Scheduled Listing
Subtitle
Buy It Now
Reserve Price
Promoted Listing
We don't want to scare you away from eBay, as there's many benefits to using the platform. It's just best to be aware of all the fees you may be facing.
Let's look at some of the benefits that eBay offers:
Flexibility between Auction Listings and Fixed Price Listings. Since you're running a clothing store, you may have certain, popular items that require an "evergreen" price. Alternatively, you could have outdated clothes that you want to run an auction for, because you're not sure how much the market will pay for them. eBay gives you this flexibility.
Ease of International Selling. It's a breeze to sell items on eBay worldwide. You just have to ship it to their US warehouse, and then eBay will take care of delivering it to your buyer.
Discounted Shipping. eBay has partnered with various couriers like USPS, Fedex, and UPS to offer sellers huge discounts (we're talking upwards of 40%!) on shipping.
Promoted Listings. With their ad platform, you only pay for your promoted items that sell. So there's no risk for you. By promoting your items, you can boost visibility by up to 36% (according to eBay).
Here's how it works:
Assuming you've signed up for eBay and filled out your profile, the next thing you'll want to do is

research your market

. This means searching for similar items, and seeing how they're photographed, priced, and described. Rather than re-inventing the wheel, it's best to just borrow ideas from existing clothing listings.

Next, you'll want to

list your item

. You'll have to:

Choose an appropriate title

Upload pictures of your clothing

Enter a description

Pick a selling format (online auction or Buy-It-Now)

Define shipping options and costs (it's recommended to include shipping in the price and offer it for free – you'll get more sales this way)

Save your listing

Then,

watch your auction

and respond to any questions from potential buyers.

Once someone wins your item and pays, you'll then have to

package it up and ship it

.

Typically, you'll

receive payment through PayPal

immediately when a buyer has checked out.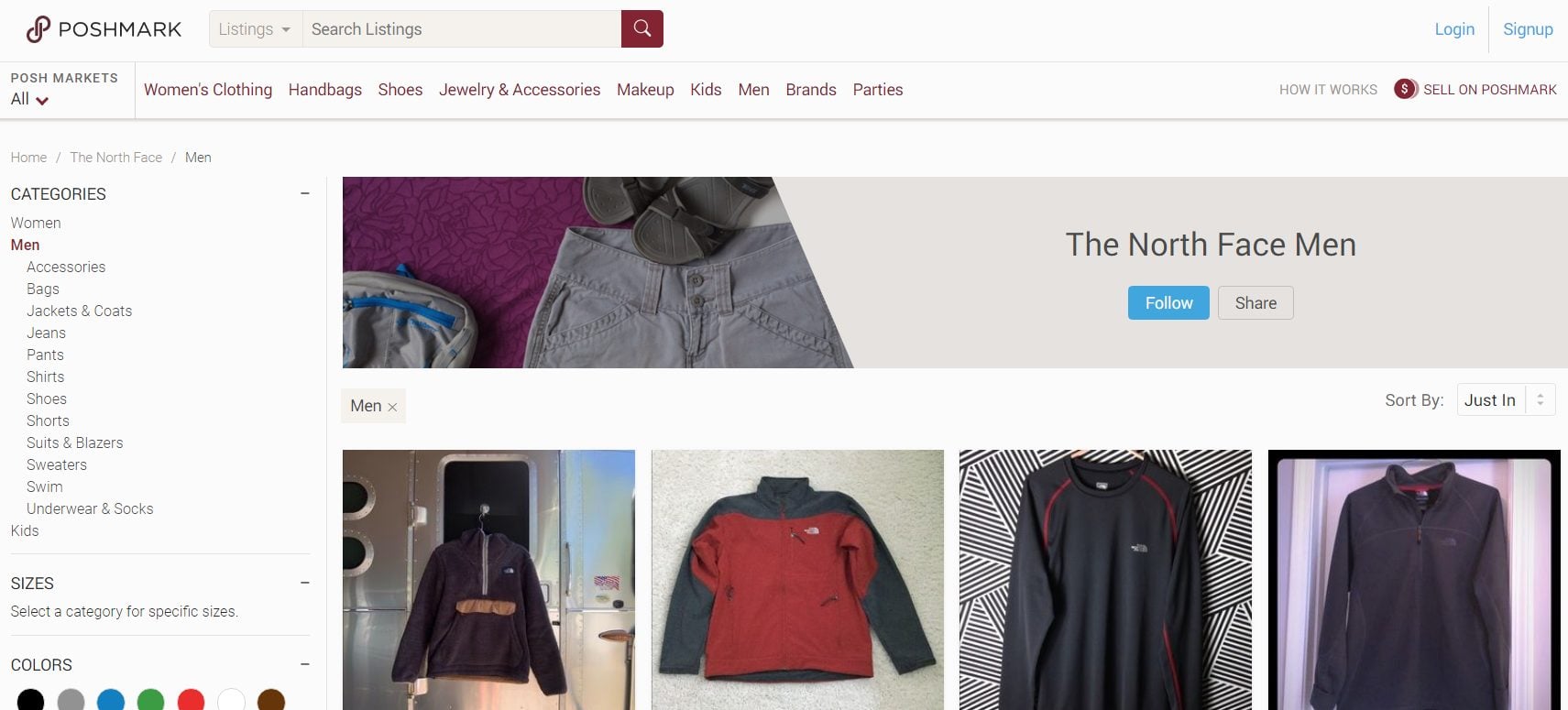 Poshmark is an online fashion marketplace with a very unique model. Of course, you can buy and sell used t-shirts and other clothing on Poshmark, but the platform can also connect you to people whose style you adore. This makes it the largest "social marketplace for fashion".
Another great thing about Poshmark is it accepts men's clothing as well! Many other online clothing sites (like thredUP) do not deal in men's fashions.
With Poshmark, it's super easy to sell your items: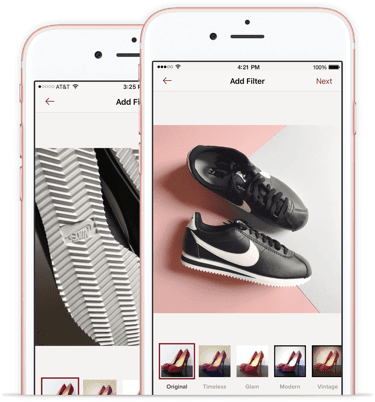 1. Snap a Photo
You can use their Android or iPhone app to take a picture of your t-shirt, dress, jeans, shorts, skirt, sweater, handbag, shoes, jewelry, and even makeup! Then add a description and set a price. That's it!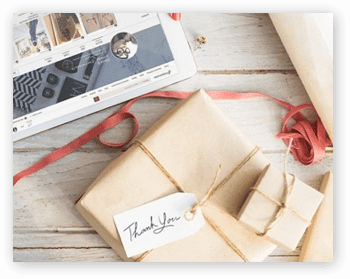 2. Ship It
When your item sells, Poshmark will provide you with a pre-paid, pre-addressed label. All you have to do is find a suitable box, package it up and drop it off at USPS.
3. Get Paid
Poshmark's fee structure is very simple:
For all sales under $15, Poshmark takes a flat commission of $2.95. You keep the rest.

For sales of $15 or more, you keep 80% of your sale and Poshmark's commission is 20%. Easy peasy!
Once your sold item has been delivered to your buyer, the earnings from your sale are yours. You can spend your earnings within the Poshmark app or withdraw your money to your bank account. You can even request a check if you'd prefer!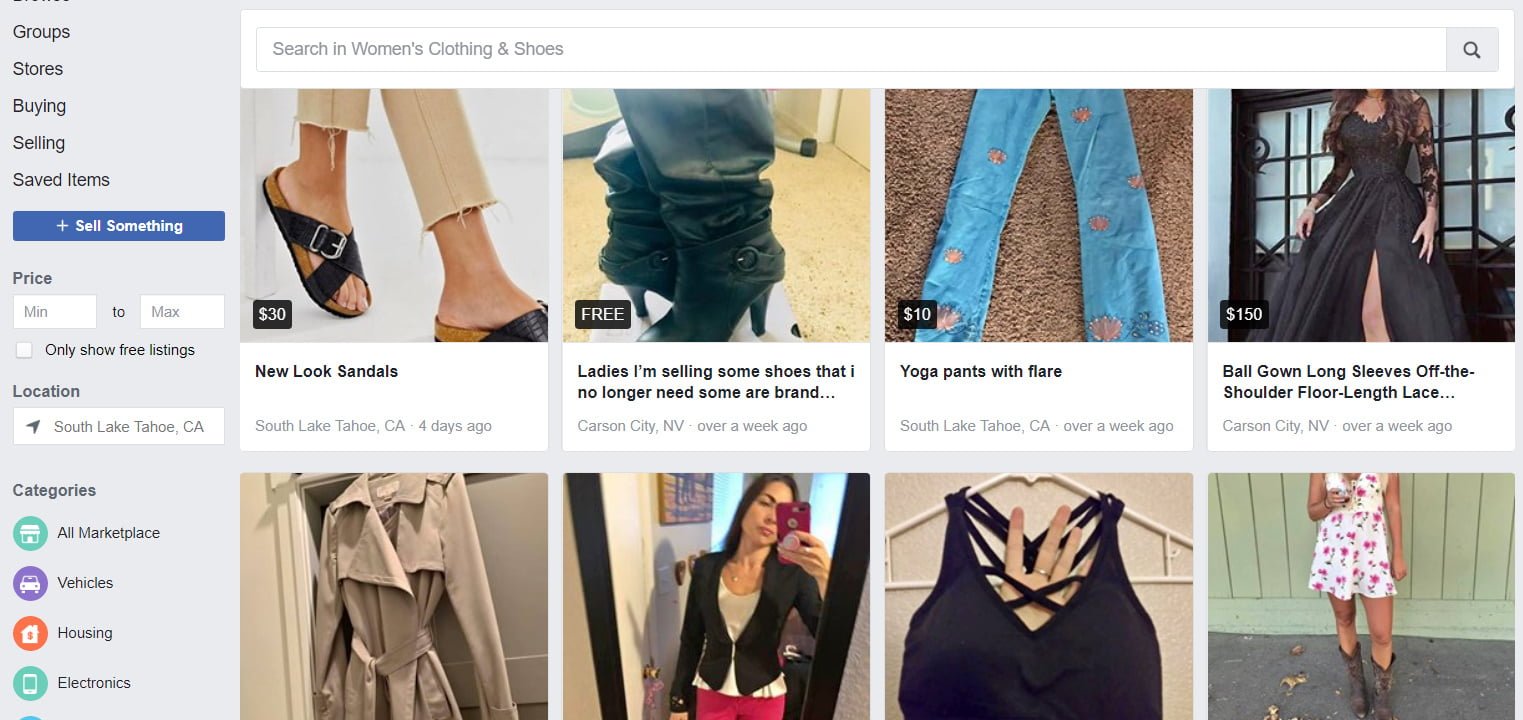 Although the Facebook Marketplace is fairly new compared to many of its competitors, and often overlooked, it seems to be getting some impressive traction lately. In 2018 it was reportedly used by 800 million people in 70 countries each month.
The concept of the Facebook Marketplace is pretty simple. Think of it like a hybrid between Craigslist and Facebook itself (in other words, Craigslist with some social networking sprinkled in). You simply post items you have for sale, along with pictures, and if someone local is interested, they send you a message via Messenger. The best part … it's completely free to use!
Here's some of the benefits of using the Facebook Marketplace:
Fees: none!
Local exposure: since the Marketplace is integrated with your local Facebook Groups, when you post something to the Marketplace, you can also choose to post to numerous Groups. This gives you a ton of extra exposure and helps your item sell faster.
Ease-of-use: it's incredibly quick and easy to list an item for sale. There's much less steps involved than other platforms.
Social media power: since the Marketplace is running on Facebook, this means you can harness the power of your friends to promote your item. When your friends share your listing, you'll get more eyeballs on it, Facebook's algorithm will think it's popular, and it'll sell faster.
But alas, there's also some drawbacks. Let's take a look:
Safety – since you're selling locally, that means you typically have to meet the buyer in person. Although incidents are rare, it's best to meet up in a public place and not share your home address.
Profits – local buyers are generally pretty cheap. This means you may not get the most money for your clothes versus other platforms.
Incompetence – this one isn't talked about nearly enough. But for some reason, local buyers are notorious for saying "I'll meet you at such-and-such place in 30 minutes" and then simply not showing up. So be prepared that you may need to work your way through some "dud" buyers before finding a gem.
So, knowing all that, are you ready to sell your t-shirts or other clothes on the Facebook Marketplace?
Here's how it works (easy 5-step process)
1. Open up the Marketplace page and click the "Sell Something" button on the left: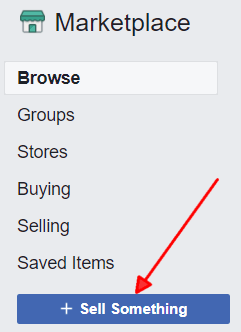 2. Select what you're listing (in this case, an "item for sale"):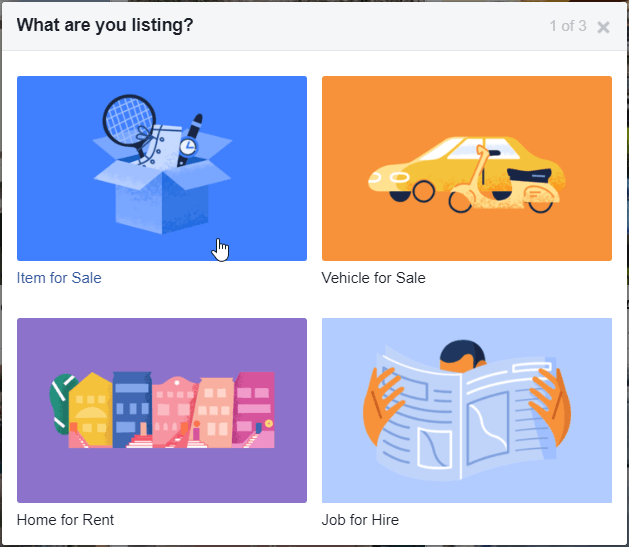 3. Choose a Category: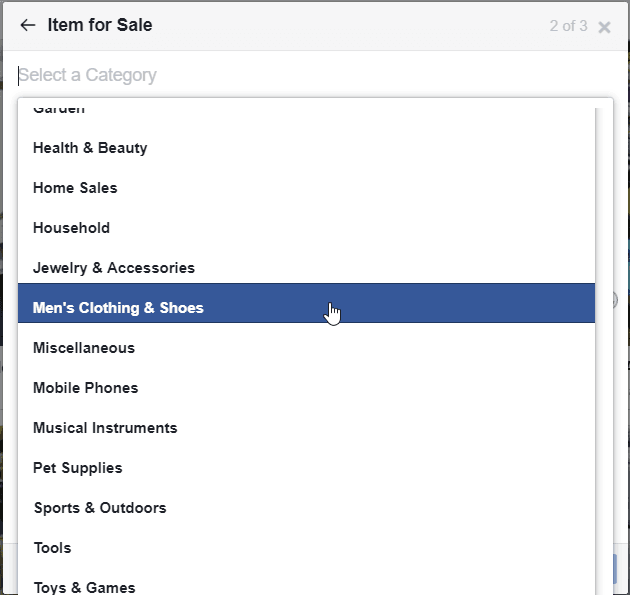 4. Enter a title, price, location, and upload at least one photo: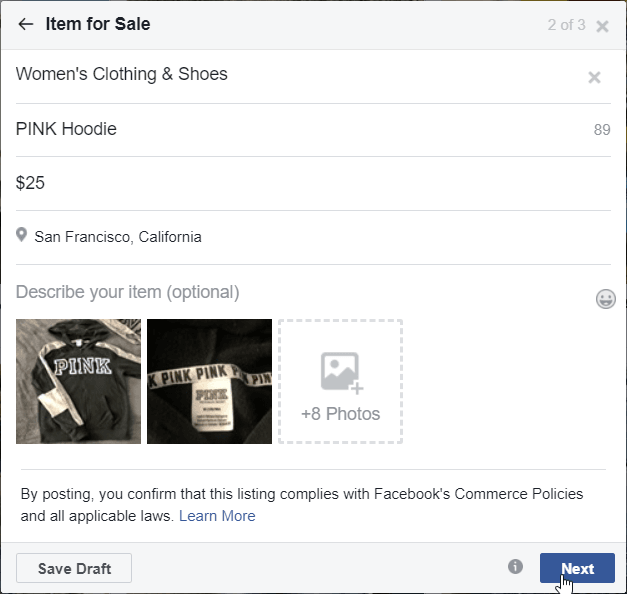 5. Select where you want to post it. The Marketplace is chosen by default, but you can also post to other local Groups. Here's a good guide on finding and joining those Groups.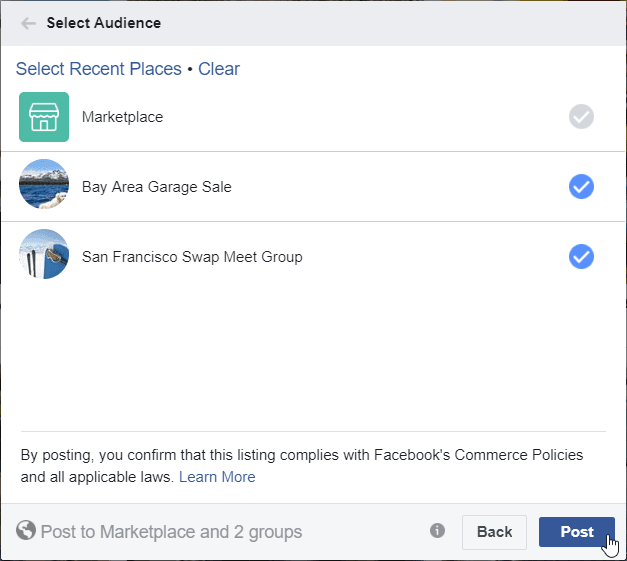 How to Open an Online Clothing Store
Ok, so you're not looking to sell a few lonely items from your closet. You want to take it to the next level. You want to start your own online t-shirt or clothing store! Maybe you even want to learn how to start an online clothing store with no money?
Let's take a look at your best path to success if your goal is to design and sell t shirts online …
1. Decide What You're Going to Sell
The first thing you need to do is figure out your niche. If you're selling t-shirts, are you creating your own custom designs? Are you sourcing the shirts from another vendor and white-labeling them? Or perhaps you want to start a community where 3rd party artists create designs and sell them through your platform. And what's the "theme" of your store?
Here's some ideas to give you inspiration: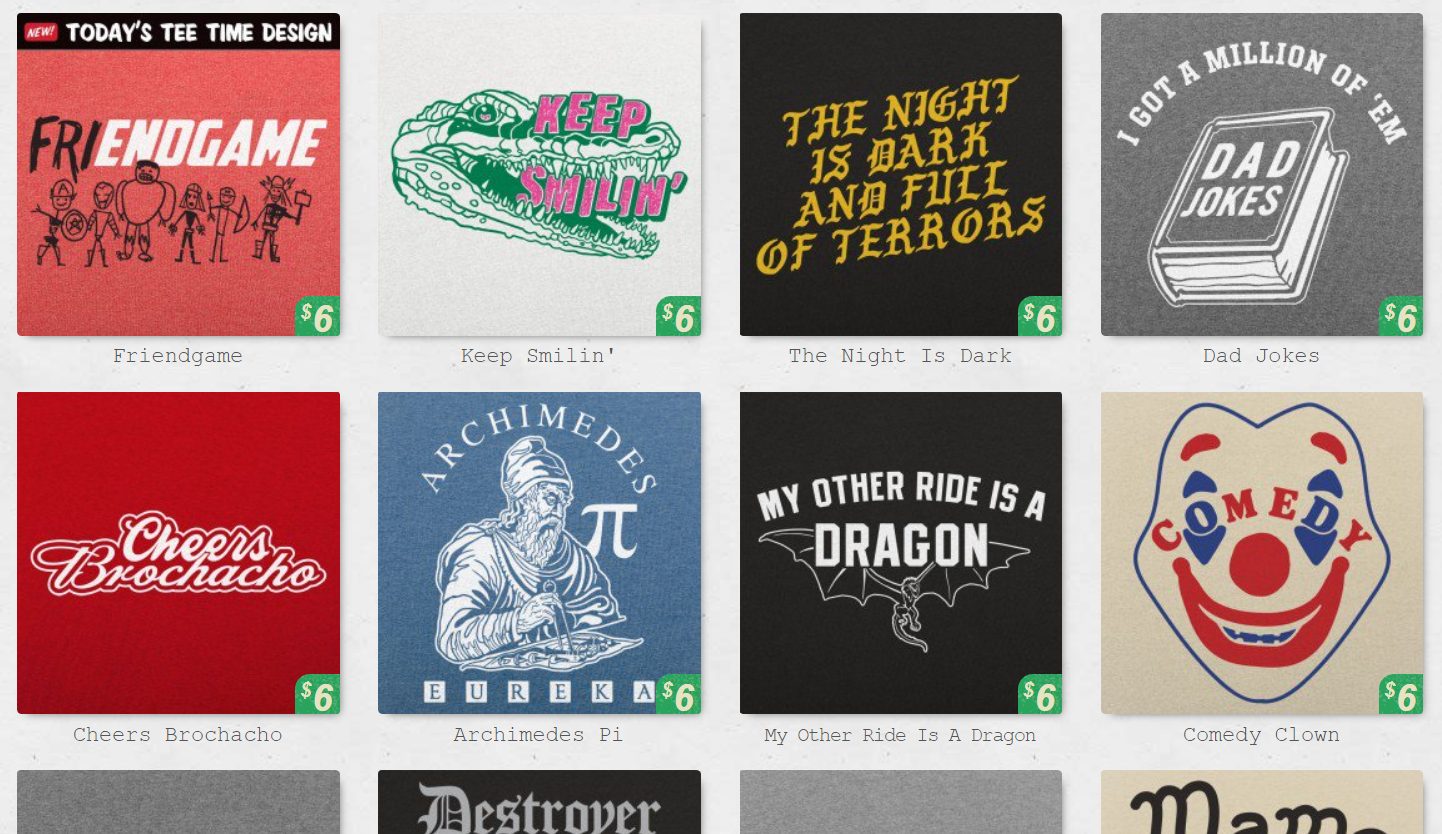 These guys have been around for years. They were one of the original cheap, hilarious meme t-shirt sites. Their shirts start at $6 each or 10 for $50. Pretty hard to beat that! For designers, it's easy to upload your design and start to earn money quickly. If you want to hit the ground running and sell t shirt designs quickly and painlessly, 6 Dollar Shirts should be high on your list.
Dolls Kill – Online Boutique for Misfits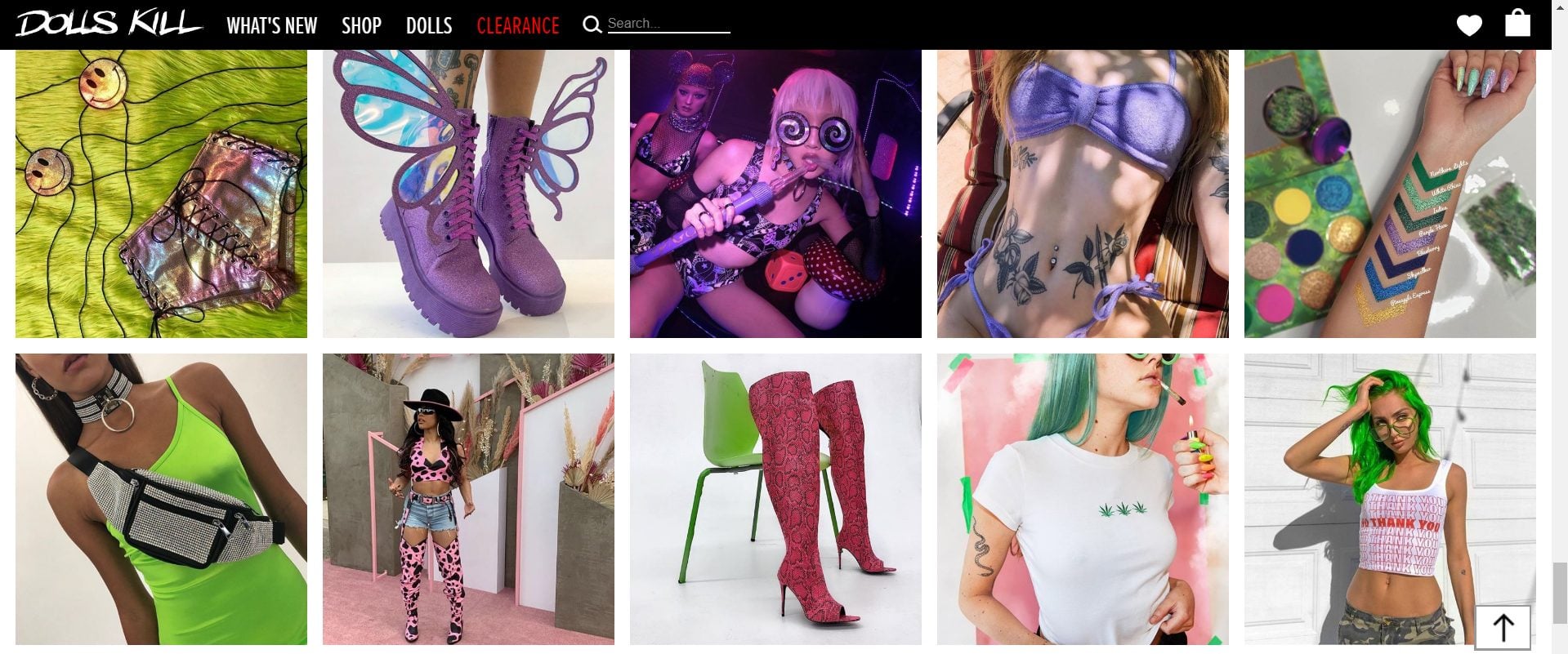 Dolls Kill offers cool clothes for women that can't be found anywhere else. The brand combines a bit of punk rock, goth, EDM, and hippie styles.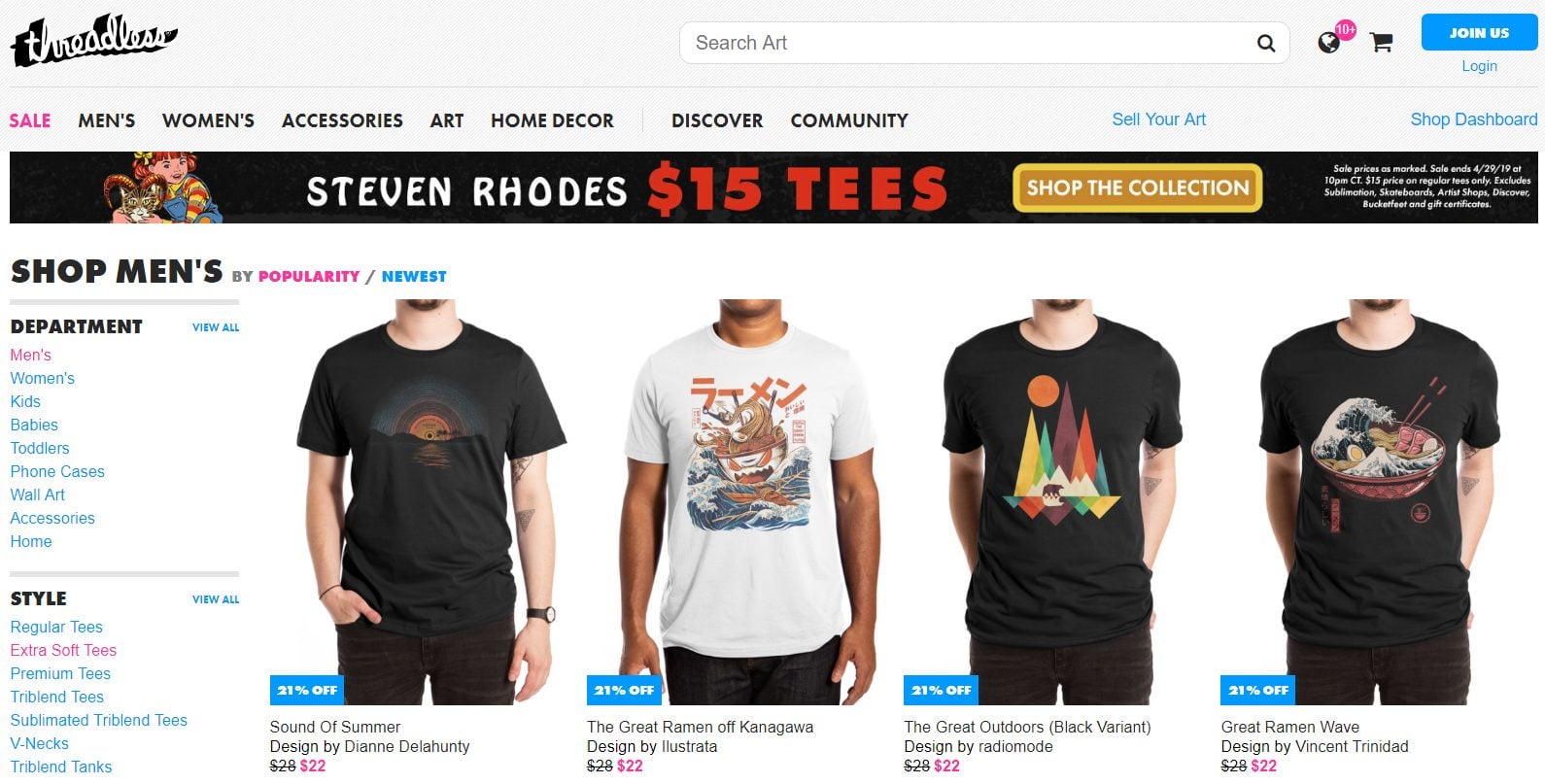 Threadless is unique because they allow 3rd-party artists to submit designs and make money off clothing sold through the site. In other words, you can sell shirts online without inventory. How cool is that? And when a customer places an order, Threadless takes care of the "print and ship" process, so the artists (you) can focus solely on creating amazing designs.
Originally just an online t-shirt store, Threadless now offers:
Hoodies

Hats

Shoes

Leggings

Dresses

Bags

Mugs

Towels

And even skateboards!
Hopefully these examples helped. You now need to determine what products you're going to sell, what your niche will be, and a name for your store.
2. Choose the eCommerce Platform
Now that you've decided what you're going to sell and what your niche is. The next step is figuring out what platform to use.
Hosted
This is the easiest option, however you're fully dependent on the features and capabilities of whichever service you choose. You won't be able to have complete control to customize your store however you wish, compared to if you were running your own open-source software. But for the majority of folks, this is the best option.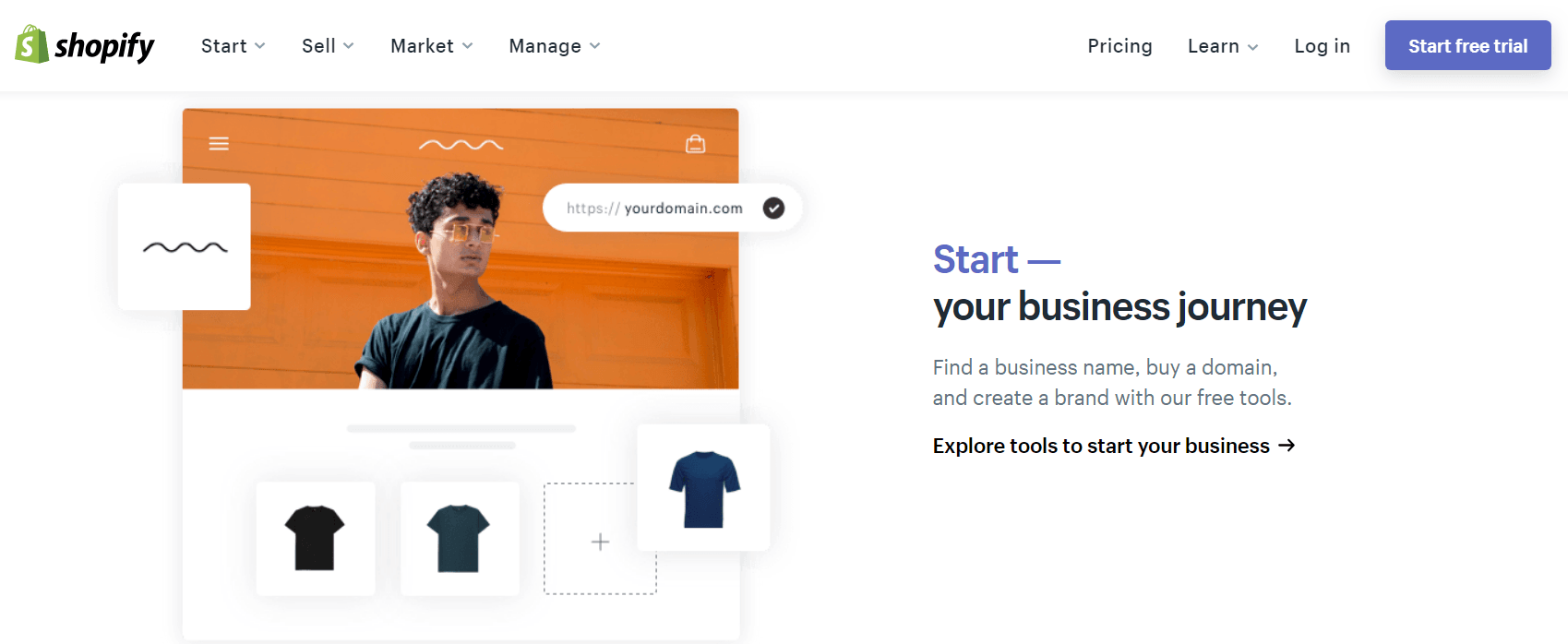 Shopify is the most popular hosted eCommerce platform on the web today. In fact, Shopify businesses have made over $100 billion in sales – that's nuts!
They offer many desirable features, such as:
Dozens of pre-made themes to make your store stand out

World-class customer support

A full blogging platform to complement your store

Ability to edit the HTML and CSS of your store's theme

An easy drag-and-drop website builder tool

Integrations with over 100 payment gateways (you can even accept Bitcoins if you like!)

Shipping integration with all the top carriers

Social media integration

And much more …
And their plans start at a mere $29/month!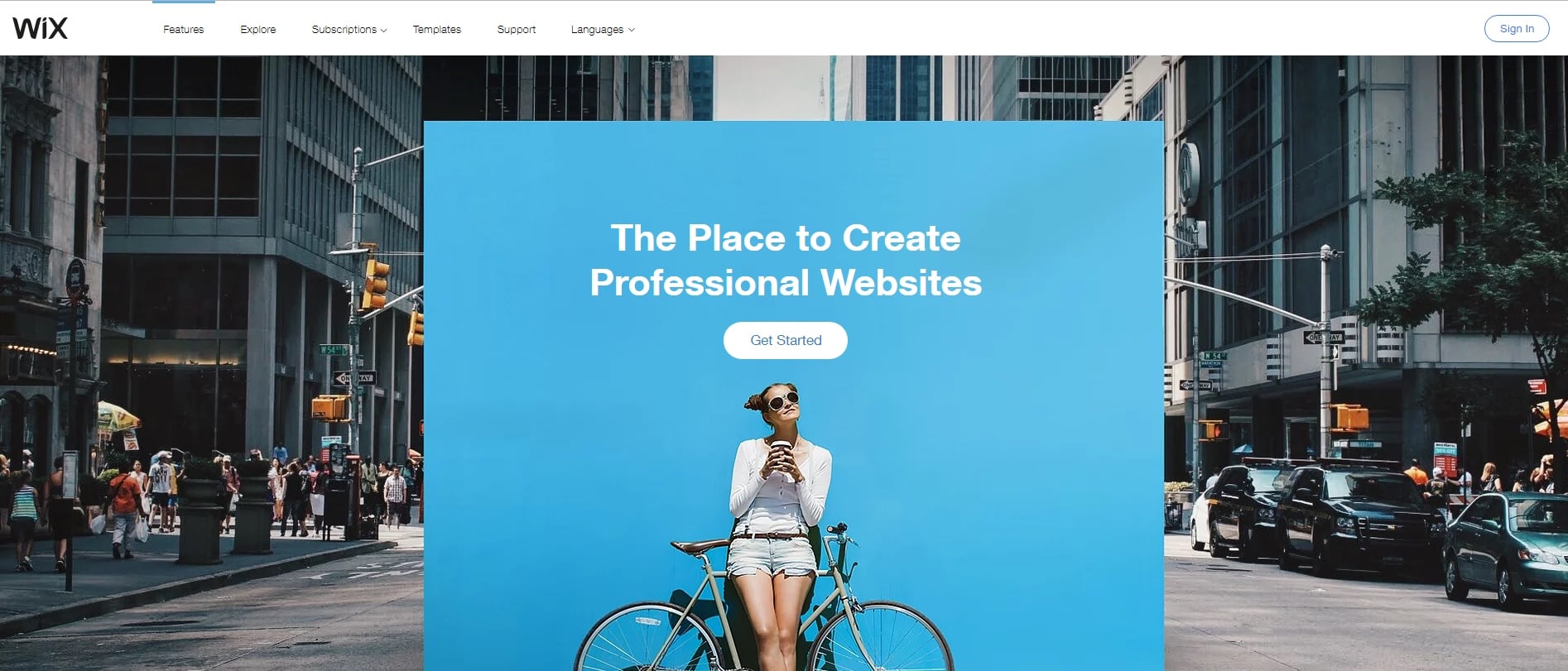 Wix isn't as popular as Shopify yet, but it sure is giving them a run for their money! Let's take a look at some of the features that Wix offers:
The Wix Editor makes it easy to design your site exactly the way you want, using their innovative drag-and-drop tool. You can also choose from over 500 designer-made templates.
It's mobile-optimized so your online store will look great on any device.
Industry-leading SEO to help get your store lots of traffic from Google.
The Wix Artificial Design Intelligence (ADI) tool is the first ever AI that can automatically create a website. It learns about you and applies this knowledge to design a stunning site that matches your personality. How neat is that?
Multiple payment methods: accept PayPal, credit cards, checks and more … commission free!
Coupons and discounts. It's easy to offer discounts and other bonuses, like free shipping.
Wix Bookings. If you have a services-based business, such as a yoga studio or gym, Wix makes it easy to offer appointments, classes, courses, and workshops. It's even integrated with Google Calendar to keep you organized!
Their pricing is very competitive too. You can get started for only $11 per month! That should match anyone's price point.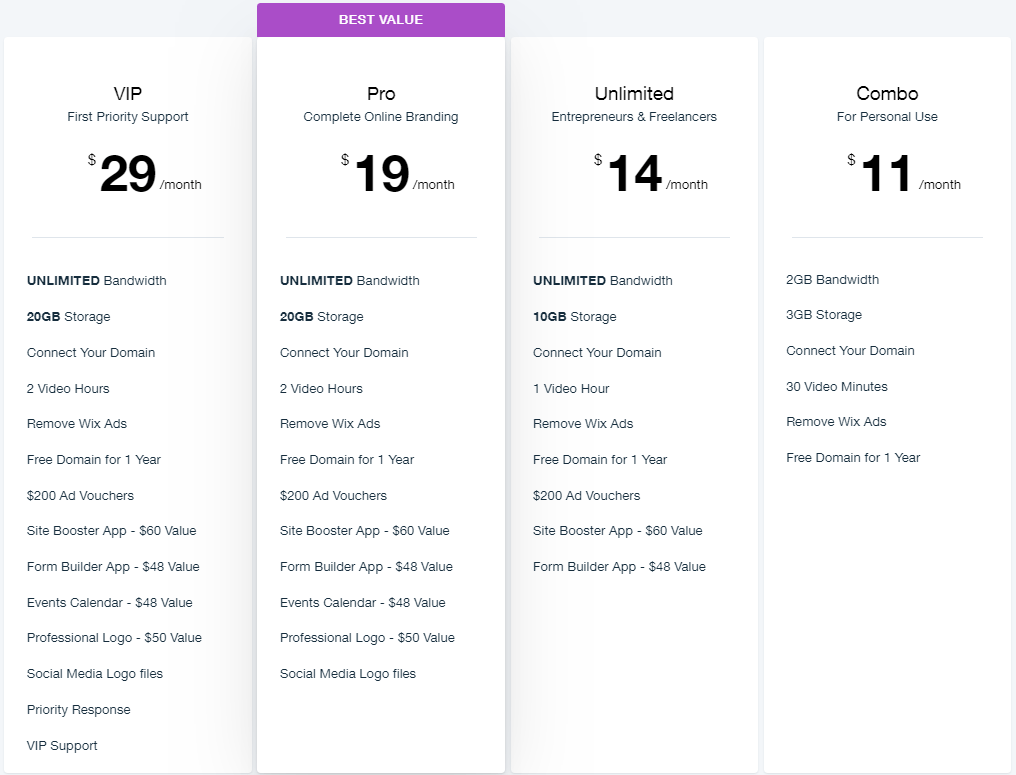 Open-Source Software
With this route, you'll be buying a domain, setting up your own web host, and installing open-source software to run your store. One advantage is that you have full control over customizing the look and feel of your store, however you're also responsible for server maintenance, hiring developers (if you're not one yourself), and security issues.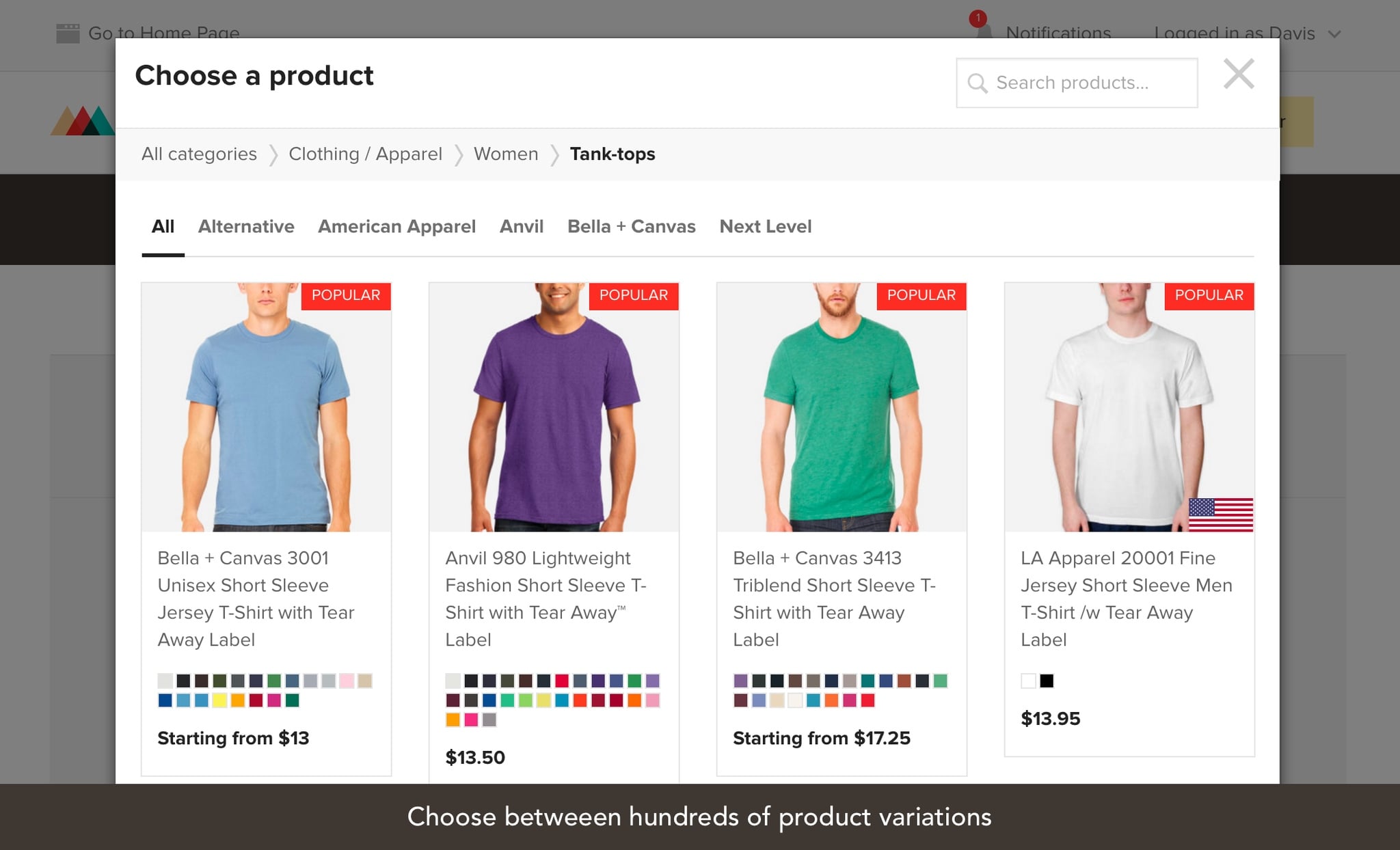 WooCommerce is a plugin that runs on WordPress. If you haven't heard of WordPress (you need to get out more often!), it's the most popular website software in the world. In fact, approximately 30% of sites on the Internet run WordPress.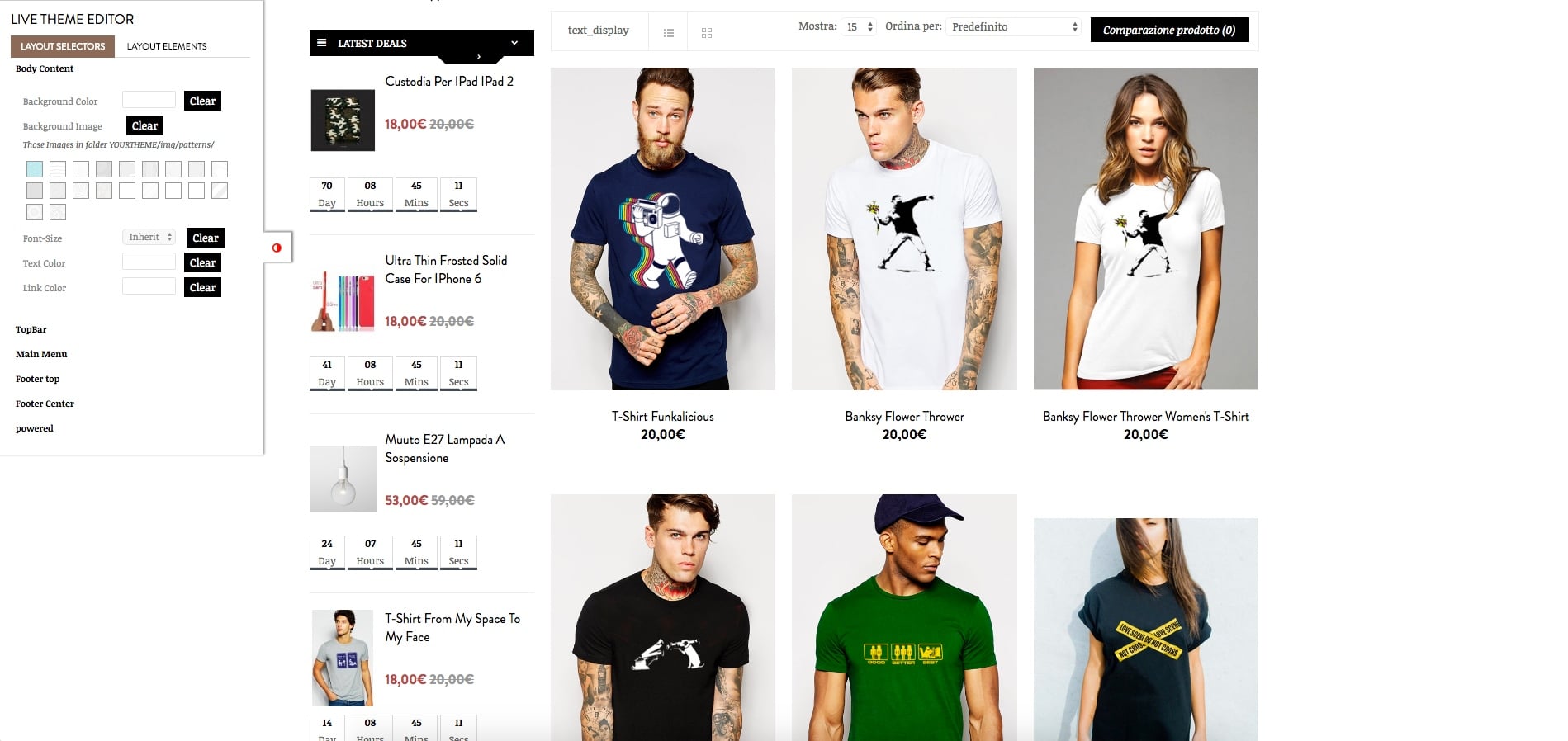 OpenCart is easier to setup than WooCommerce, however it has less extensions and themes. There's also way more WordPress developers available to hire than OpenCart developers. So you'll need to consider all these pros and cons before making an open-source ecommerce software choice.
Online Marketplaces
Your final option is to sell through a 3rd-party marketplace like Etsy or Amazon. You may be able to reach a bigger audience, however you won't be able to establish your own online identity.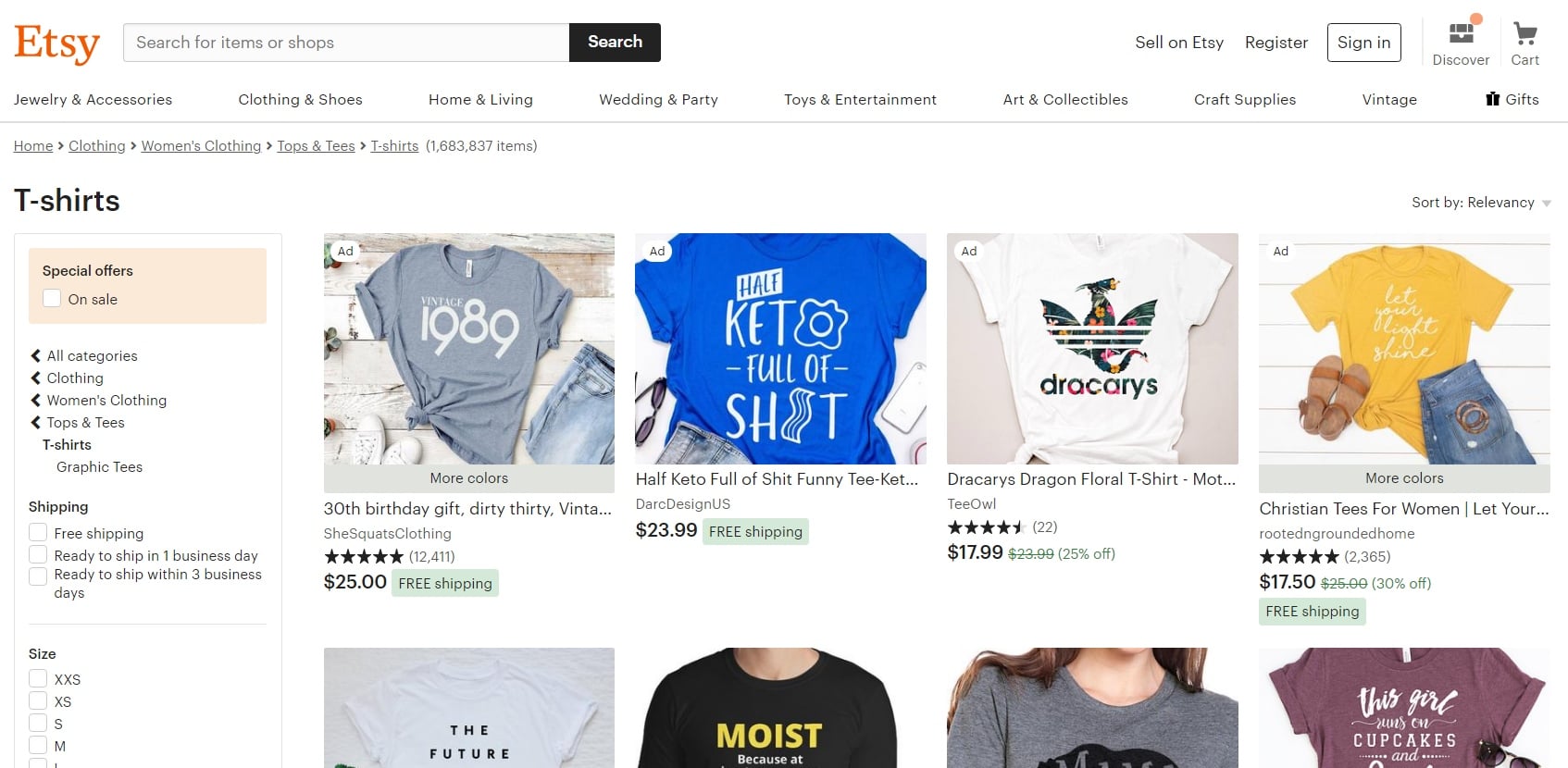 Etsy is a very unique, global, online marketplace that supports independent artists and creators. They make it super easy for anyone who makes their own stuff to sell it online, worldwide.

Everyone's heard of Amazon, so an introduction isn't necessary 😉 That being said, Amazon is probably the best way to reach the biggest audience, however their fees and Seller platform leave much to be desired.
3. Set up Your Store
Now, you'll need to work on customizing your theme, setting up payment processors, and adding products. The actual steps involved vary depending on which eCommerce platform you decided to use, however they generally follow this flow:
Choose a Theme that is appropriate for your branding.

Enter a Name for your store (you should have previously decided what this is).

Choose a

Tagline

.

Make a Logo (or

pay to get one designed

).

Add your Products.
4. Market Your Store
By merely creating an online store, it's unlikely customers will randomly find it. Effective marketing is crucial.
Some marketing ideas you should consider are:
Social media

: create channels for your brand in Facebook, Twitter, Instagram, YouTube, and Pinterest.

Pay-Per-Click (PPC) advertising

: Google Ads, Facebook, and Instagram are your best bets.

Partnerships

: contact popular blogs to see if they'd be willing to review your products. Connect with social media influencers. Join industry networking groups.

Email marketing

: by building an email list, you can send promotions to your customers. People love a good deal!

SEO

: here's a

great guide

.

Blogging: provide your potential buyers with valuable content and help to build trust in your brand. You'll also get organic traffic from search engines that should help create sales too.
---
Did you find this article helpful? Let us know below 🙂