Are you looking for a system that you can follow to recruit guests, record episodes, and publish your podcast on iTunes and beyond? Would you like to be able to save time by easily delegating portions of the podcast publishing process to a virtual assistant or other members of your team?
In this article, you'll discover the exact step-by-step process that Trent Dyrsmid has used to publish 300+ podcast episodes on his Bright Ideas website.
Types of Podcasts
Before we get too deep into the weeds on guest recruitment, recording and publishing a podcast, let's quickly cover the two main types of podcast episodes that you can create.
The first is the monologue, and as the name suggests, you are the only one doing the talking. This format is a lot of work, and for that reason we recommend your focus on the second type – interviews.
In the interview format, your goal is to be the one asking the questions, and then you let your guest do most of the talking.
Interviews are a fabulous way to tap into expertise you don't have. They are much easier to produce, plus, as a side benefit, you are going to develop one heck of a professional network.
Where to Find Potential Guests
Over the years, I have used a variety of methods to find guests to be on my show. These methods include:
Existing relationships
Manual cold email
Automated cold email
Podcast agency pitches
Existing Relationships
For many new podcasters, reaching out to people you already know is the low hanging fruit. It's a great way to get started, but as you might guess, you will soon run out of people that you have an existing personal connection with who would also be good guests for your show.
Manual Guest Searches
The easiest way to find experts in your niche that are predisposed to being interviewed on a podcast is to simply look at the existing podcasts in your niche.
Once you have a list of these shows, start reaching out to guests that were interviewed more than 3 months ago and you will find they will most often warmly accept your invitation.
I'd suggest you create a Google Sheet where you can have a virtual assistant make a list of all the potential guests in your niche.
Here's what my guest list sheet looks like.

The process is very simple and is a task that I would have one of my virtual assistants perform.
Automated Guest Searches
Starting in 2020, I decided to place a much greater focus on interviewing other SaaS founders on my show; largely because I'm a SaaS founder and interviewing other SaaS founders allows me to do two really valuable things at once:
Uncover proven strategies that I can then implement in my own SaaS business
Demonstrate my software to them and land new customers
To find suitable candidates, all I do is create a saved search on LinkedIn Sales Navigator that has filters that would give me a list of the people I'd like to interview.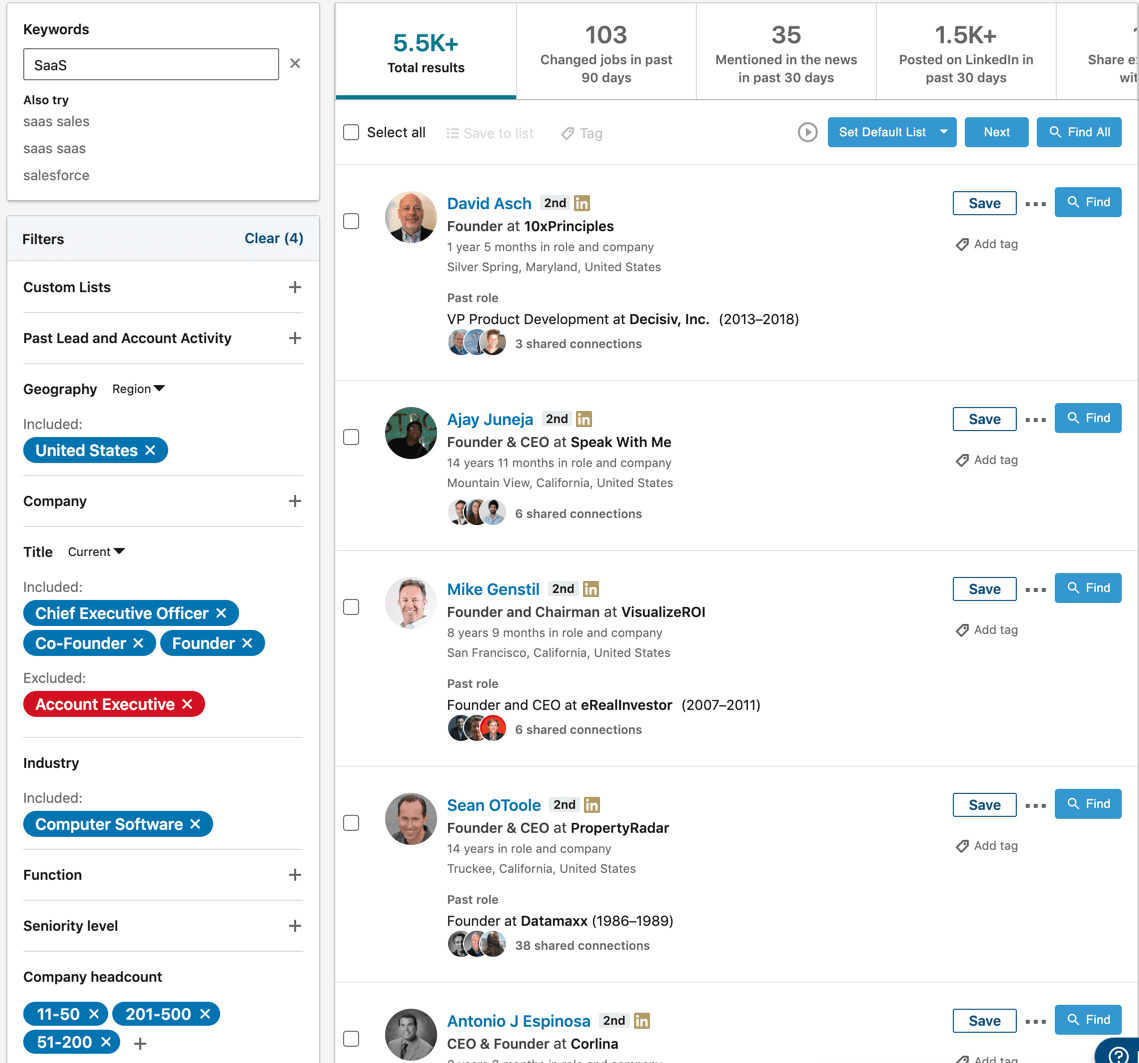 Inviting & Scheduling Guests
Once you have a list of potential guests, now you need to start reaching out to each one with an invitation to be on your show. This can be done manually, delegated to a virtual assistant, or entirely automated.
Back in 2010 when I started, I was pretty early in the podcasting game, so pretty much everyone I invited said yes, so I didn't have to send many invitations out.
These days, there are a lot more shows, so, depending on the caliber/fame of your guest, you are going to have to work a little harder to get them to say yes.
Tip: Don't go after A-list guests right out of the gate. Instead, you need to work your way up to them. I'd suggest you focus first on less well-known guests, connect with each one on LinkedIn, and then once you have recorded your interview with them (assuming it went well), you can ask them if they know of anyone else that would be a good fit for your show.
Manual Outreach
If you are interested in targeting guests that you have been on other shows, manual outreach is probably your best bet because this is something that you can easily delegate to a virtual assistant.
Manual Email Invitation Template
In the email template that we use for invitations, the first paragraph is generally customized in such a way that they know I'm not spamming hundreds and hundreds of people with my invitation. The easy way to do this is to say how you found their name.
From there, I explain how being a guest on the show will give them exposure to my audience of 50K entrepreneurs, etc…
If you don't yet have an audience of 50K people, you simply need to be smart about how you position your invitation and/or look to invite people who you know are actively promoting something (like a new book) so that they are keen to get as much exposure as they can.
When sending the email, you can choose to include a link to your registration page in the very first email, or better yet, you could just ask them if it is ok to send the link. By taking this softer approach, you are more likely to get some engagement before you go ahead and send the link.
The Landing Page
Here's the page we link our potential guests to once they say they are interested.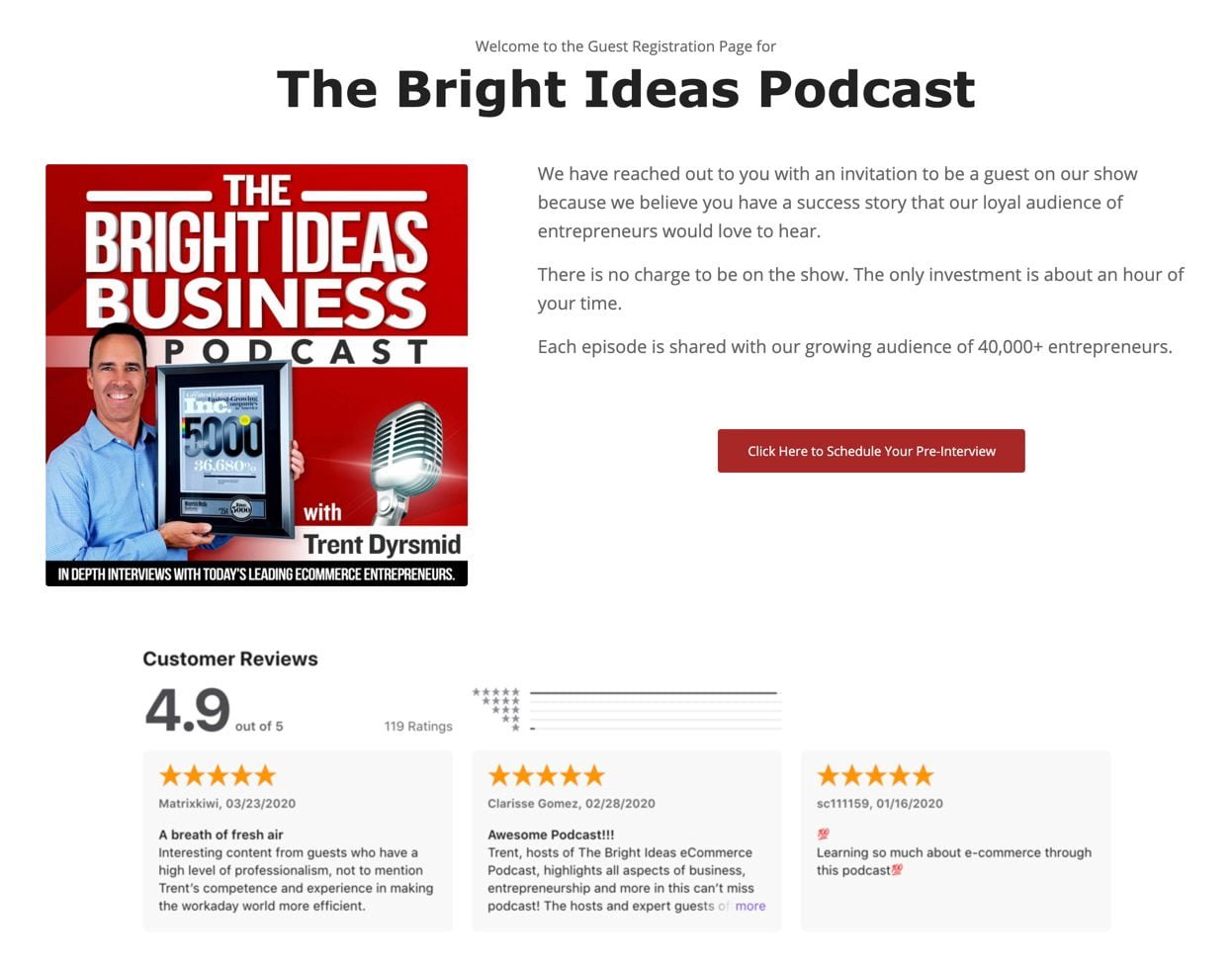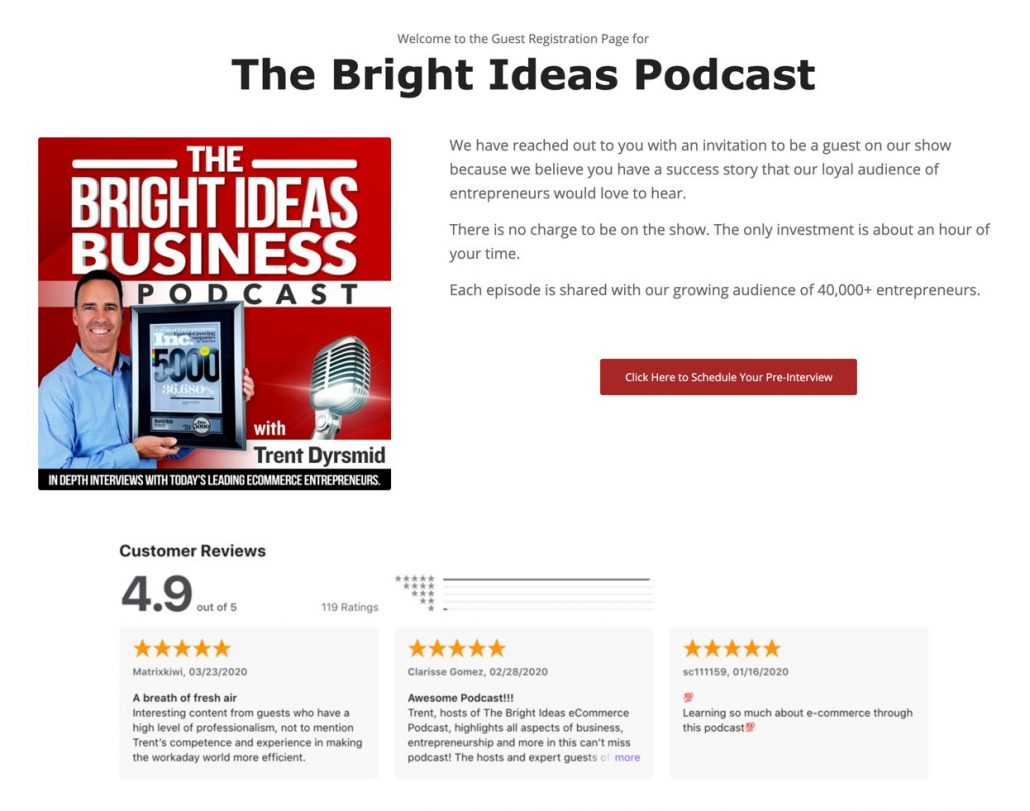 Each time we invite a guest to be on our show, we are keen to make a positive first impression and look as professional as possible.
Ensuring you have great looking album art, info about the show, info about the audience, etc… is a good step in this direction.
Automated Outreach to Potential Guests
In 2020, I decided to run some micro-experiments for guest recruitment and as of this writing, the results have been pretty stellar.
As I mentioned above, I started by creating a saved search on LinkedIn. I then used a LinkedIn automation tool to make connection requests with each of my target guests and scrape their email.
I then used another piece of software to validate the email, and once it was validated, that software sends their contact info into a third software application that actually sends out the email inviting them to apply to be a guest on my show.
As you can see below, at the time of my writing this post, we have sent cold email to 303 SaaS founders and I have received a reply from 24% of them; most of which contained "sure, I'd love to be on your show" in their reply.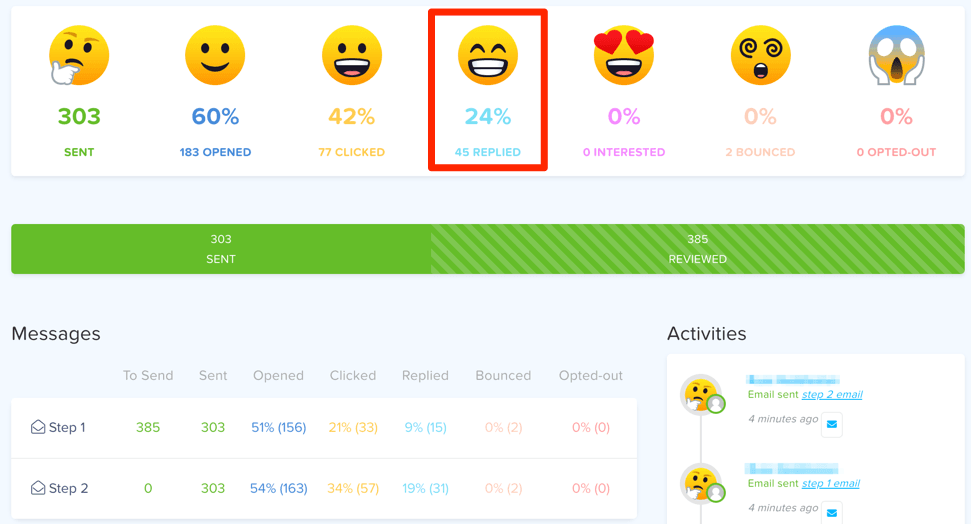 For me, the real beauty of this automated approach is that it is entirely automated and 50 emails are sent out every single business day.
When I get a reply, I simply forward the reply to a VA, who then follows another SOP that I wrote to evaluate the guest's company and determine if they are a definite fit for the show (based on the achievements of their company) or if we need more information from them.
Assuming we do want to approve their application to be on the show, the next steps include:
Scheduling the pre-interview
Performing the pre-interview
Scheduling the recorded interview
Recording the interview
Obtaining their headshot, bio, key links, etc…
Episode post-production
Episode publishing & promotion
As you might guess, there is a lot of work to be done in these 7 steps. The only one that I'm personally responsible for is step 4; recording the interview.
In the remainder of this post, I'm going to give you an overview of how I have either automated or delegated everything else to someone else on my team.
Tracking and Managing Guest Applications
Starting this year, every one of our guest applications is now tracked in our podcast guest pipeline.
Much like a traditional sales pipeline in the CRM of your choice, our guest pipeline has a column for each stage of the guest in the pipeline.
The stages in our pipeline include:
Application received
Application approved
Pre-Interview Scheduled
Never booked
Guest not a fit
Interview scheduled
Interview recorded
Interview published
When a potential guest fills out the online application form, a new guest opportunity card is automatically created in the Guest Application Received column on the far left.
Once we have reviewed a guests application and approved it, all we do is move their card from Guest Application Received to Guest Approved, and thanks to the automations we created, when we do that, the guest then receives an email asking them to schedule their pre-interview.



Thanks to our guest pipeline, our podcast manager can easily tell at a glance if we have enough guests in the pipeline to ensure that we are able to publish the number of episodes we want on the schedule laid out in our editorial calendar.
Scheduling the Pre-Interview
The last thing you want to do is go back and forth trying to find a date that works. That is a waste of everyone's time.
The simple solution to the issue of finding a mutually beneficial time is to use an online calendar. I use Calendly and that way, guests can simply pick a time that is convenient for them and self-register in my calendar.
Once the guest schedules via Calendly, we have a Zap that will fire to create a new workflow for that episode. To see a very brief overview of the workflow and why/how we use it, just watch the video below.
In addition to the workflow being auto-created in Flowster, the guest's episode card is automatically moved to the Scheduled Pre-Interview column in the pipeline.


The Power (and Value) of the Pre-Interview
Over the years, my show has afforded me the opportunity to connect with a large number of other entrepreneurs that I might not have otherwise crossed paths with, and much to my delight, it is not uncommon for conversation that started with "we'd like to interview you on my show" to morph all the way into that guest becoming a customer or business partner.
This is the primary reason that I have kept my show going for a decade now. The networking and business development opportunities that the show produces are simply too good to miss out on.
So, during the pre-interview, not only do I work with my guest to map out all the questions that I'm going to ask them, I also devote a significant portion of the call to learning more about their business with an eye towards persuading them to become a user of my software, an affiliate, and/or a business partner.
Once the pre-interview is complete, I manually email my guest a copy of the questions so both of us are now well prepared to conduct the recorded interview.
In addition to that, thanks to the automations I have built, my guest also receives an email asking them to visit my Calendly page to schedule a suitable time for the recorded interview, and as soon as they do that, within our guest management pipeline, their card is automatically moved to the Booked Interview stage.

Recording the Episode
Anywhere from just a few days to a few weeks after the pre-interview has been completed, my guest and I will meet online again to record the full interview.
Prior to hitting the record button, I quickly run through another portion of the SOP I show you in the overview video above.
As you can see in the image below, I have a few other items on my checklist to run through before we hit record.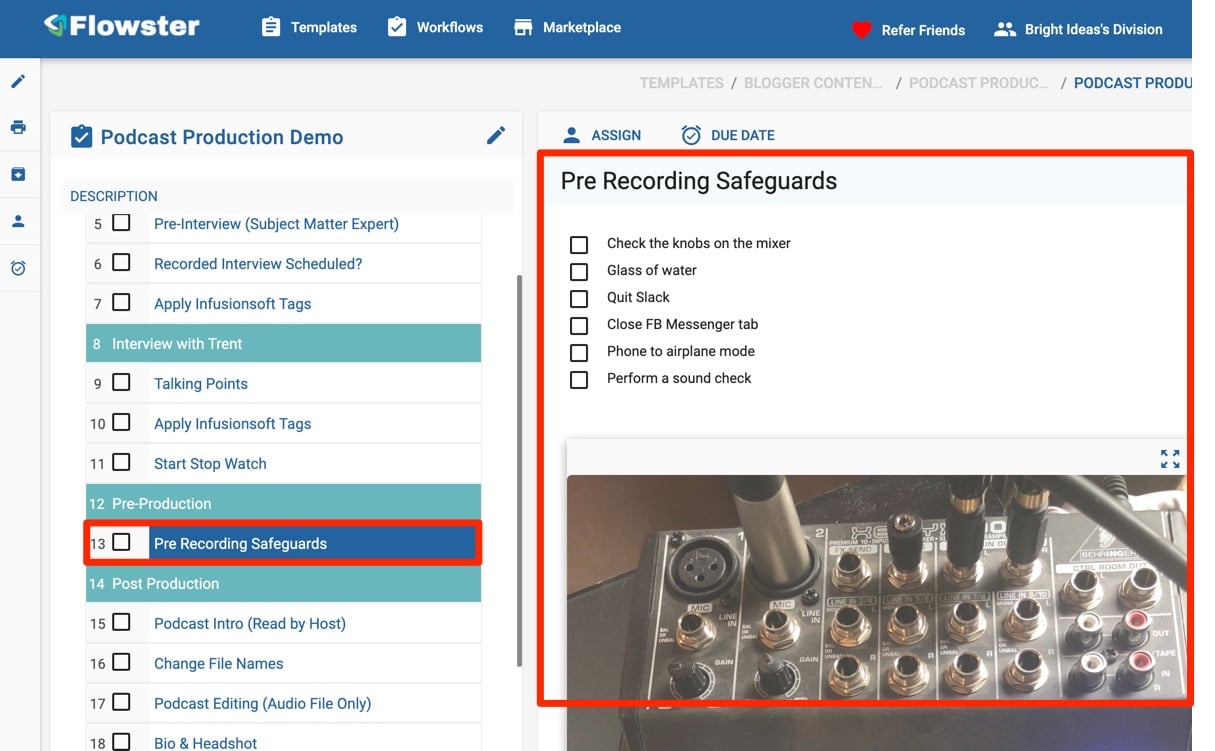 In step 9, I am going to ask the which conferences they attend, plus I'm also going to plant the seed about asking them for a referral to another guest.
In step 11, I'm reminded to start my stopwatch when I hit the record button. This allows me to note the starting time of one of my guest's answers that I will select as a 30 second intro clip that plays at the very start of each episode.
Then, in step 13 (shown in image above), are the pre-recording safeguards that I (and my guest) need to run through before hitting record so that we virtually eliminate the possibility that either one of us is going to end up contributing an unwanted noise into the recording….which would then result in increased editing time to find/remove said noise.
Getting Headshot, Bio and Links
While getting this information seems simple enough to do, once you are into the rhythm of publishing episodes, if you don't have an automated system for this, it becomes a real pain in the ass to have to remember to send the emails to ask for this stuff.
To make this step a breeze, I have created automations in my ActiveCampaign account that will send emails to the guest asking for their headshot, bio, and any links we discussed during the recording. All I have to do is apply a tag to their contact record, and the automation is triggered.
Editing & Post Production
Once my recorded call with my guest is completed, we have plenty yet to do in the podcast production workflow, but, thankfully, I personally don't have to do much of it at all.
Instead, thanks to the way we have created the Podcast Episode SOP template, the vast majority of this work is done either by a virtual assistant or my podcast manager and when we hit the date that the podcast is due to be published, the podcast just "magically" shows up on my blog.
In reality, the "magic" is merely the result of my team simply following the workflow in Flowster.
Publishing the Episode
Whenever we publish an episode, we publish the audio only portion to iTunes and the video version to my YouTube channel.
Create a Draft Post in WordPress
As you can see in the screenshot below, in this podcast workflow, steps 31 to 40 are devoted to creating the post in WordPress.
By providing my VA with this level of detail, they are easily able to do everything needed to get the blog post containing the episode ready for publication on the date specified in my editorial calendar.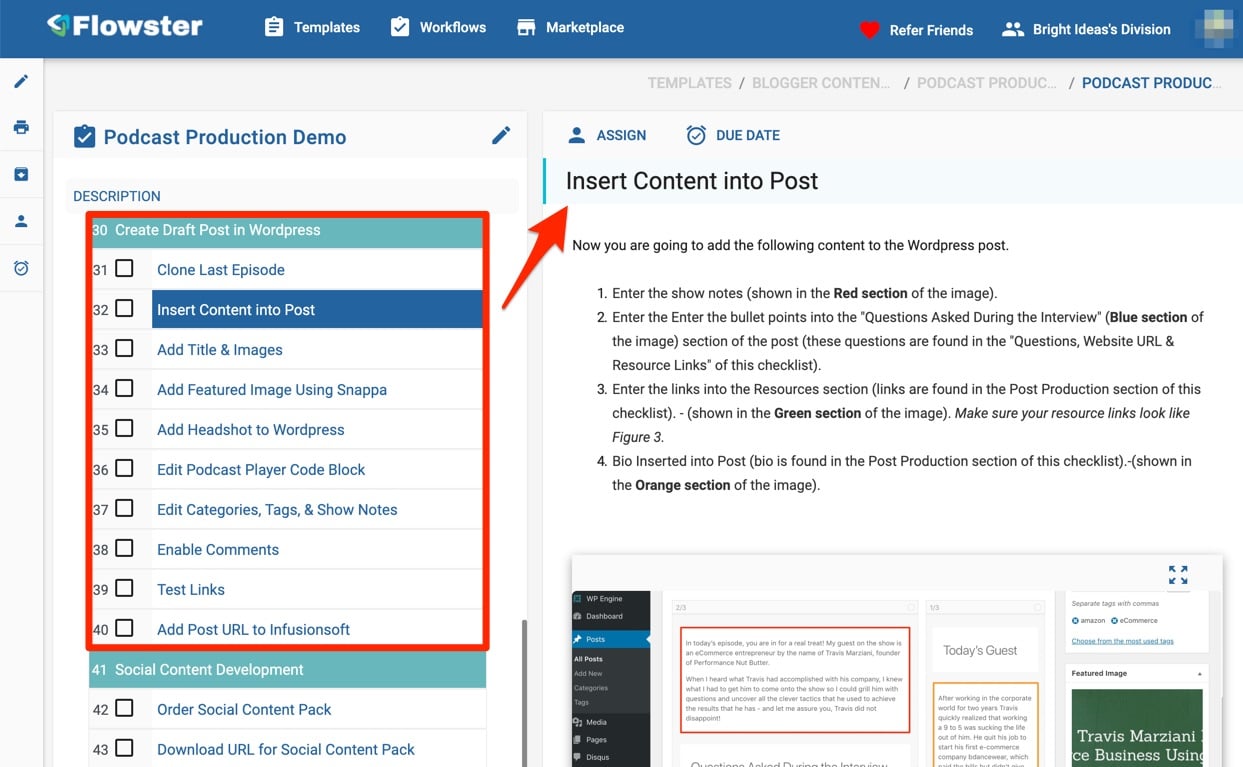 Upload To YouTube
Once the draft post is ready, the next portion of the workflow instructs my VA to upload the video file to YouTube, and as you can see below, steps 52 through 60 provide my VA with all the necessary information to upload to YouTube in the exact way that I prefer.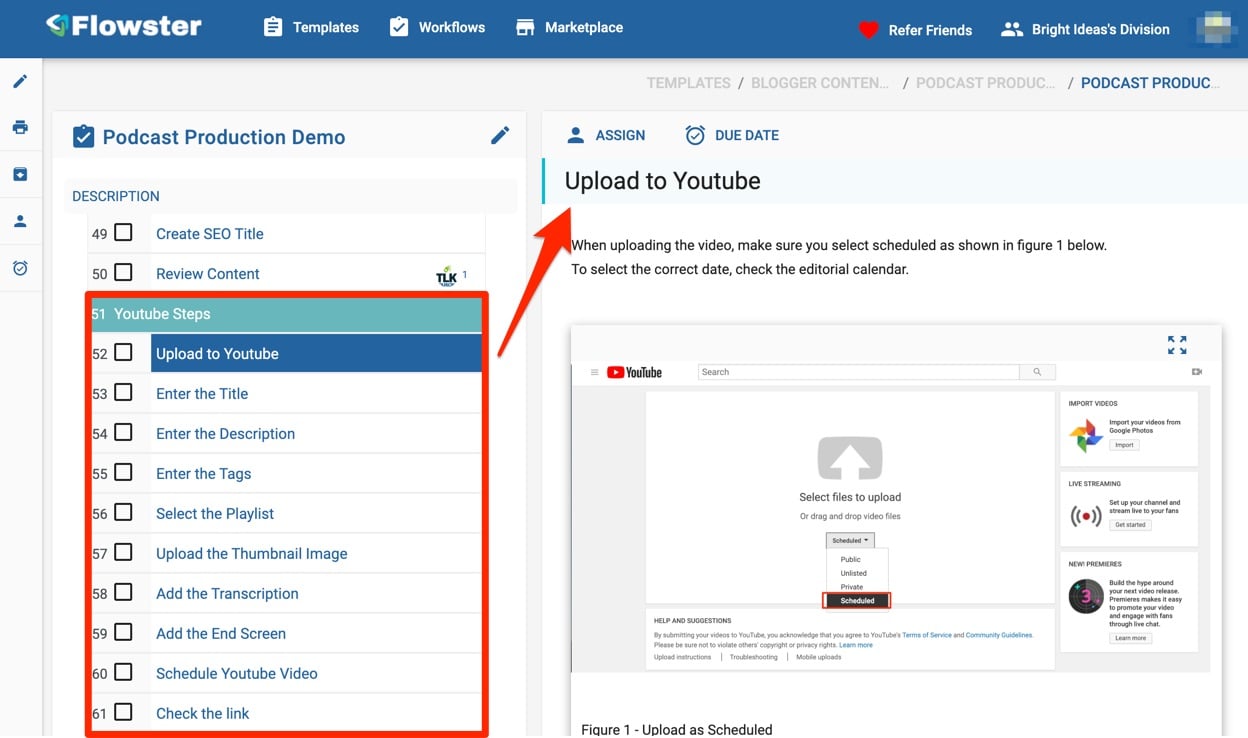 Once the YouTube upload is complete, the WordPress post, the audio file, and the YouTube video will all go live at the exact same time, on the date that we have determined in the editorial calendar.
Now that the content is live, it is time to begin promotion.
Final Review
Once the draft post is ready for publishing, we then have our editor review all the aspects that are called out in our workflow.
As you can see below, creating a meta description is just one of the 6 steps that are a part of our final review.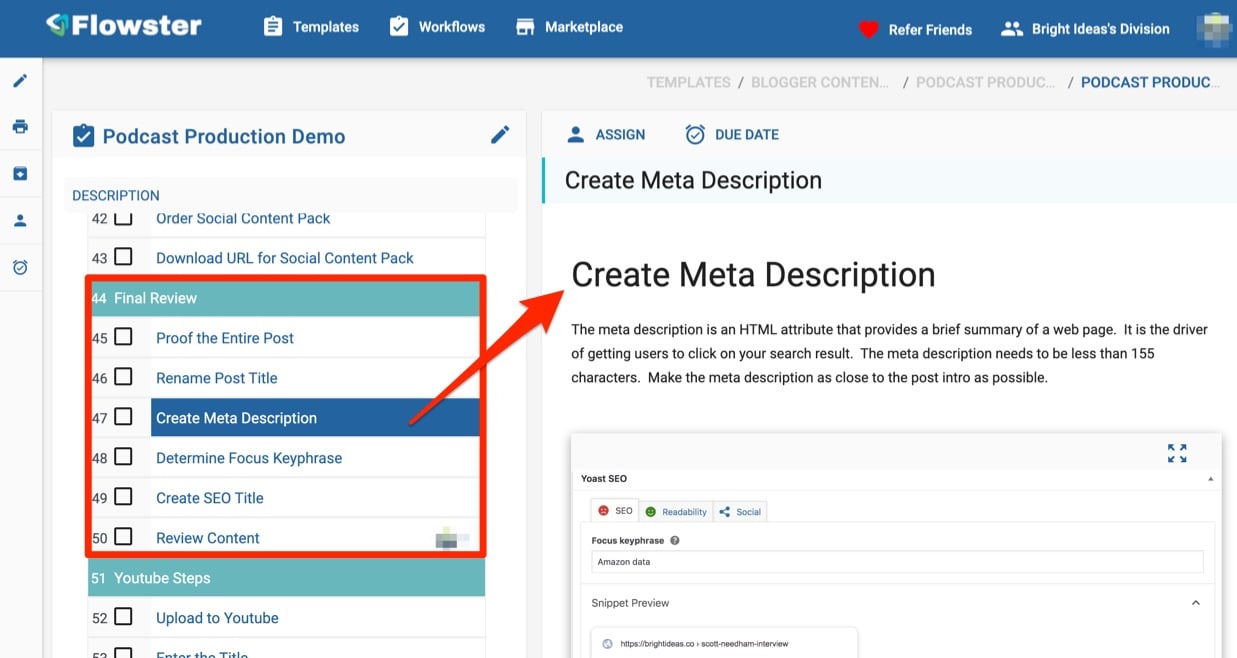 Promoting the Episode
For every episode that we publish, we promote it by:
Posting on social media
Asking my guest to mail their list
Emailing my list
All of this is covered in the steps 64 through 74 of my podcast production workflow.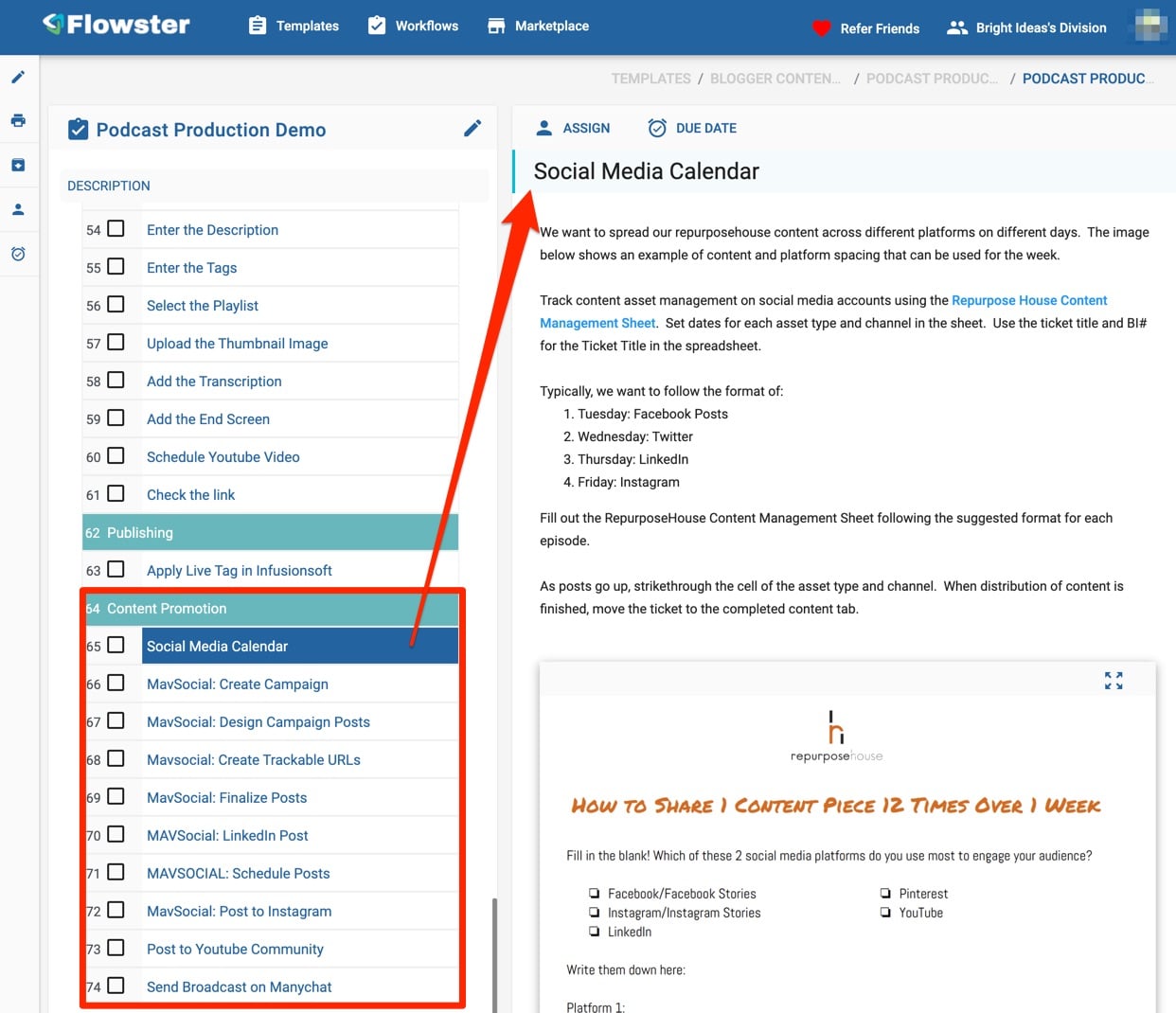 Want to Download My Workflow?
By now you have probably concluded that I'm a very process-oriented guy…and you'd be right. I own 3 companies and have people that work for each, and without all my Standard Operating Procedures, we'd be lost!
Should you wish to purchase only the workflow for creating podcast episodes, you can get it here.