Want Free SOP Templates? You Came to The Right Place.
If you don't have a Flowster account, you'll need to Sign Up first (don't worry, it's free!)
We are continually adding new free SOP templates, so be sure to check back often
---
Standard Operating Procedure (SOP) templates are extremely useful, as they guide you, step-by-step through a routine, repeatable process.
They can help you run your business more efficiently, as well as make it simple to delegate tasks. This will free up your time to work on higher level activities, rather than mundane work.
The Flowster Marketplace contains many free SOPs that will help you streamline and grow your business. Some of these include:
Why are Standard Operating Procedures important?
If you don't currently use SOPs in your business, you may be unsure as to why you should spend the time and effort implementing them. Well, there's actually numerous benefits!
They enforce consistency
By documenting a recurring process, step-by-step, and having employees follow it, it doesn't matter if Jill or Bob are doing the work. It'll always be done the same way, every time. Companies that use procedure documentation templates notice improved consistency and quality with their products and services.
They save money
Related to the consistency benefit, a standard operating procedure checklist streamlines a set of tasks, so that the overall job is always done right. This saves time, which saves money for your business.
They enforce accountability
By having a system like Flowster managing your SOPs, you have transparency and an audit trail into everything that your employees work on. You can see exactly how long it took various tasks to be completed, who did the work, and even be automatically notified by email when it's done. This improves efficiency!
They improve communication
When following an SOP in Flowster, your team members can assign each other tasks, and add comments or attachments to the work they've done. This keeps everyone in the loop and your business running as a well-oiled machine 🙂
How can I use Flowster to create my own SOPs?
The easiest way to get started is to:
1. Sign up for the free plan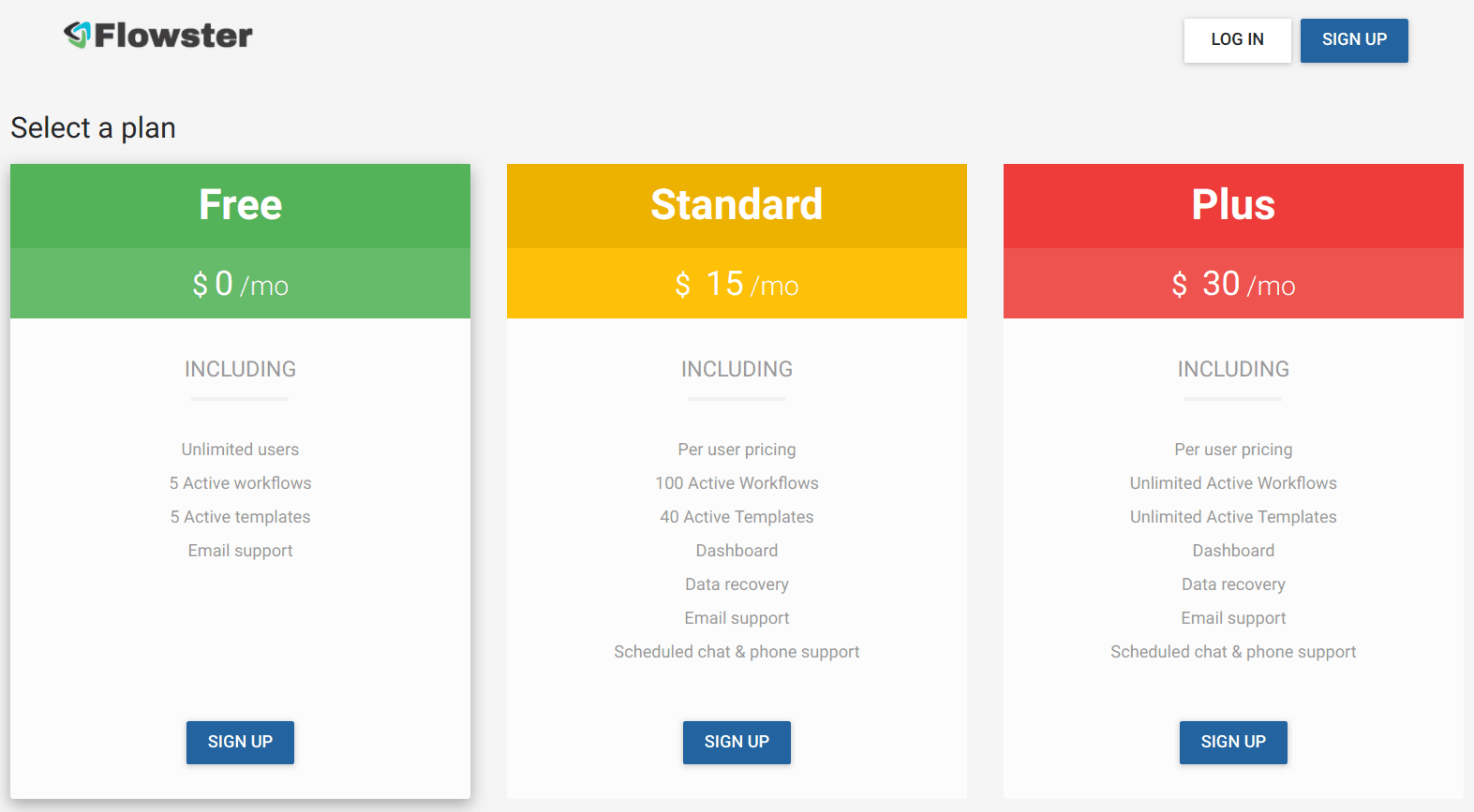 2. Visit the SOP Marketplace
https://in.flowster.app/marketplace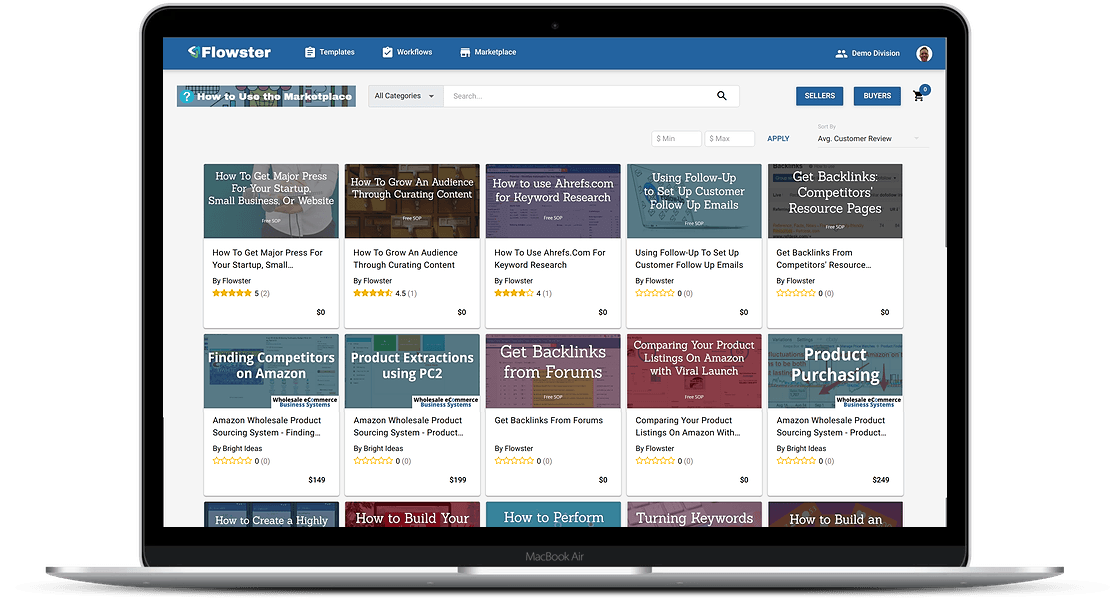 3. Find a SOP template for free that looks useful
Add it to your cart, and checkout.

4. Open the SOP in the Template Editor
And see how it's designed – you'll be impressed by how intuitive it is!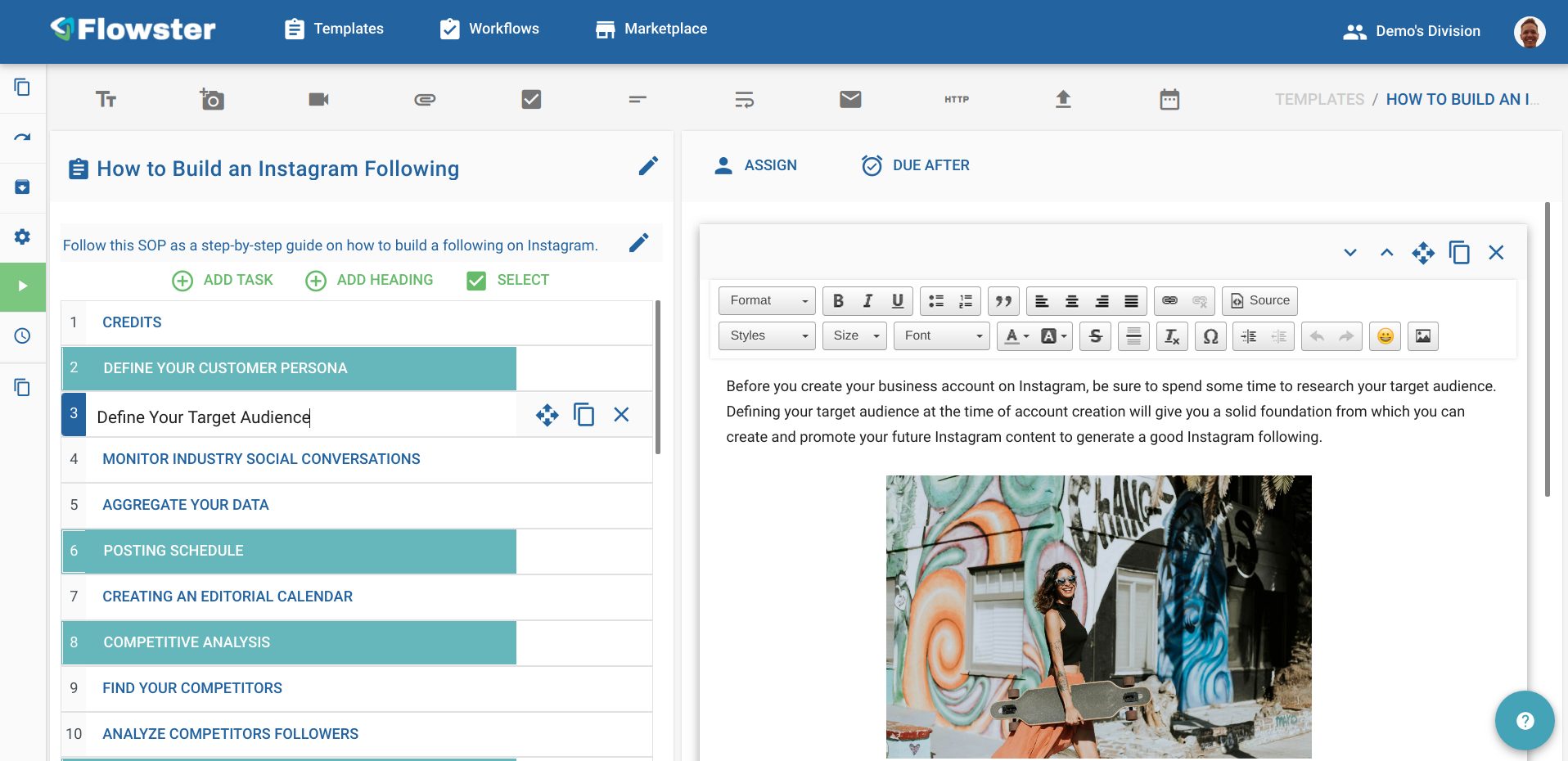 Is there a specific Standard Operation Procedure format I should be following?
The great thing about SOPs, is you can tailor them to whatever your needs are, whatever media you're using, and whatever hardware/software/systems your company uses.
Flowster has a unique drag-and-drop interface that makes it easy to create SOPs. Then once they're created, it's simple to assign tasks to team members, set due dates, and make sure the work gets done on time.