Standard Operating Procedures
for Digital Marketing
Here at Flowster, we're all about Standard Operating Procedures (SOPs). If you're not familiar with this term, or their benefits, let's review it really quick.
What are Standard Operating Procedures?
Standard operating procedures are step-by-step instructions that describe how to perform a routine process. They should be brief, easy to understand and contain actionable steps that are simple follow.
Why are Standard Operating Procedures Important?
Although there's many reasons why SOPs are important, let's look at a few of the main ones:
They make your business run more efficiently
When you create effective SOPs, you ensure that every business process is executed exactly the same way, every time, no matter which person is doing the work. Without SOPs, projects are left to chance and chaos reigns.
They minimize the impact of turnover
If the details of a proprietary process in your company all reside within one employee's head, that's a huge risk. By documenting this process in a SOP, you protect your business in the off-chance that this employee was to leave or retire.
They improve accountability
When you use Flowster to manage your business processes, you have transparency and an audit trail into everything that your employees work on. You can see exactly how long it took various tasks to be completed, who did the work, and even be automatically notified by email when it's done.
They enforce quality control
If your business has created a product or service that sells well and differentiates itself from your competitors, you'll want to maintain a high standard of quality. SOPs guide your employees and reduce the chance of errors or skipped steps that may impact the quality of your product. Standard operating procedures provide a blueprint for your staff that protects the integrity of whatever they're creating.
They improve teamwork
Collaboration with your team is vital. When following a Standard Operating Procedure (SOP) in Flowster, team members can easily assign each other tasks, give due dates, upload files, and add comments to the work they've done. This keeps everyone in the loop and your business running at peak efficiency.
Digital Marketing Standard Operating Procedures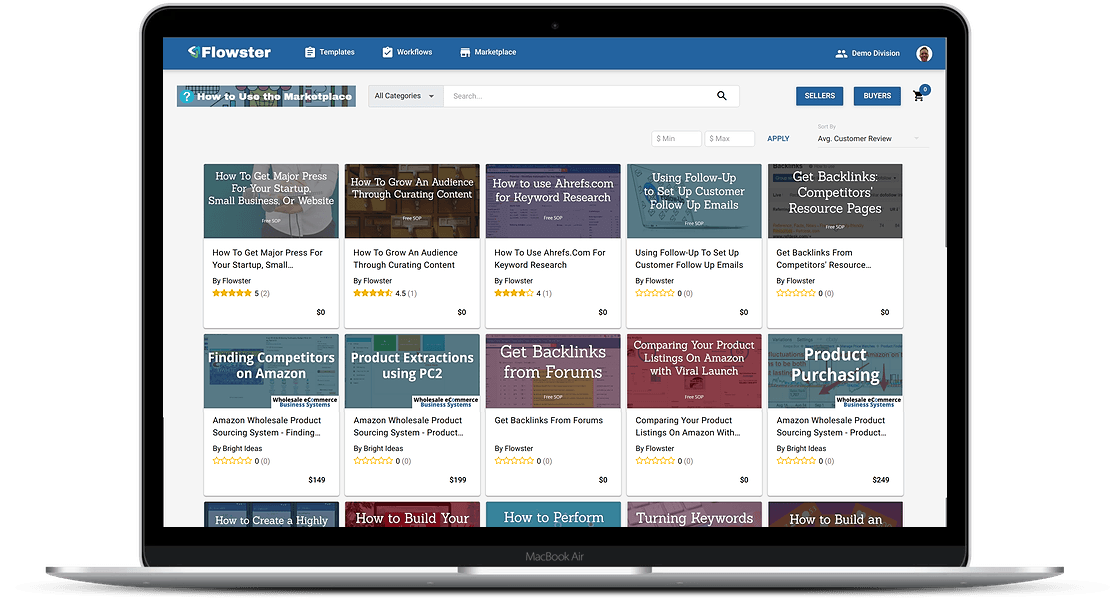 The Flowster SOP Marketplace has many SOPs for various aspects of digital marketing. Whether you want to boost your SEO, increase your social media followers, or get more press coverage, you can likely find a standard operating procedure that'll help get you there.
Here's some of our popular, free SOPs for digital marketers:
SEO Standard Operating Procedures
Learn how to use Ahrefs.com to generate keyword ideas, analyze search results for the keywords, and even reverse engineer the keywords your competitors rank well for.
Learn how to discovery good quality forums, and add comments that provide value but also link back to a page on your website. This is an easy-to-implement yet effective SEO strategy.
This strategy is has been used since the dawn of the internet: locate "resource pages" on the internet and request that those websites add your company to the list.
This SOP will teach you to find keywords with Google Keyword Planner, Google Search, Answer The Public, Google Webmaster Tools, Quora, and Ubersuggest.
In this free SOP, you will learn how to leverage your title tags, publish long content, analyze keyword prominence, and tap into user experience signals.
Learn how to improve your page speed, optimal keyword placement, image filename and alt tag recommendations, and how to implement Schema markup.
Social Media Standard Operating Procedures
You'll learn about optimal keyword placement in your content, how to use tags effectively, quality content generation principles, and finding partnerships with other channels.
Learn how to grow your Facebook Group membership organically, proper onboarding for new members, and various methods of engaging with your members.
This SOP will teach you how to monitor your industry, create an editorial calendar, analyze your competitors followers, connect with guest bloggers, and much more!
This SOP will teach you how to make improvements to your Twitter profile so you'll increase the chances of appearing in search results and get more followers.
Other Digital Marketing Standard Operating Procedures
This SOP will help you figure out what you're going to promote, find people who would be interested in it, and persuade these people to cover you using various incentives.
You'll learn how to choose a cadence, setup your website, share it to the world, setup an email broadcast message, and write captivating content for your email.
---
(if you don't have a Flowster account yet, you'll need to Sign Up first in order to access these SOPs)
/
0 Comments
/
by Kane Miller
https://flowster.app/wp-content/uploads/2019/08/Standard-Operating-Procedures-for-Digital-Marketing.jpg
720
2200
Kane Miller
https://flowster.app/wp-content/uploads/2019/09/Flowster-Logo-v2-WP-266x90.png
Kane Miller
2019-04-29 18:02:49
2019-09-12 05:19:50
Standard Operating Procedures for Digital Marketing
Workflow Automation
Flowster makes it simple to create SOPs and manage your company's recurring workflows.
Standard Operating Procedures (SOPs) are a recipe for success, and will help transform your company into a finely tuned, highly scalable, profit generating machine.
Your ability to create SOPs is only limited by your own imagination!
Scroll to top