Last fall, I realized I had to make a big change.
Allow me to explain….
For the first two years of Flowster existence, I didn't spend a dime on marketing.
Instead, I put all my effort into selling my WEBS playbook to small and aspiring Amazon resellers.
Unlike a typical SaaS business, we sold the playbook for a one-time fee of $2,500.
While this approach was very profitable, it generated very little recurring revenue…and in the world of SaaS, that is a big problem.
If we are to hit our goal of $100,000 in monthly recurring revenue, we need to change our approach.
"Flowster's game plan is to shift from selling a single playbook for a one-time fee to offering our customers an extensive library of playbooks all for a flat monthly fee."
Are you grinding it out trying to grow your startup?
Since making the pivot I described above, that is exactly how I've felt.
Some days, I feel like I know exactly what I'm doing. Other days, I'm scared shitless and wondering if my plan is worth the paper it is written on.
My goal with this series of blog posts is to provide other founders with a very transparent look over my shoulder as we work our way towards our first major goal of $100,000 a month in recurring revenue.
As a reader, you can expect me to share the details of our wins and losses, as well as the real numbers behind all the experiments we are performing.
For example, I've got posts in the works to talk about the following:
How we generated an additional $5K in MRR from one webinar… and why we aren't doing that webinar again
How our conversion rate from our home page sucked and what we are doing to fix it
How our outbound marketing playbook is helping (or not) to attract new customers
How we are planning to create new playbooks and drive adoption without hiring writers or spending on ads
The post ideas above are a tiny drop of what I'll be writing about over the next year.
In addition to what you are reading today, we are going to be writing about design, development, marketing, sales, growth hacking, hiring, fundraising, culture, customer support, and so much more.
So, am I saying that what I'm doing is 100% unique?
No, definitely not.
What I am saying is that my promise to you is to provide not only my unique perspective, but also to provide you with copies of all the workflows that we create along the way!
Yes, that is right. If we are having great success with SEO, we'll make our workflows public. Same for advertising, webinars, customer support, hiring, etc…
"My vision is for Flowster to become the Netflix of business process so we can provide a vast array of standard operating procedures that other small business owners will need to fuel the growth and profitability of their businesses!"

Trent Dyrsmid
Why $100,000 in Monthly Revenue?
I chose $100,000 for several reasons.
First, because having a big goal is important, and $100,000 is 10x where we are today.
Second, because at $100,000 we should have no trouble being profitable.
Third, because I thought that $100,000 was a number large enough to inspire other founders to want to follow along on the journey.
My hope is that by sharing our journey, other founders will see our progress and then be keen to try Flowster so they can get access to all the workflows we make available as a part of the journey.
In other words, this entire series of blog posts is all about my trying to create as much value for other founders as possible!


Our Journey Starts Here
In the chart below, you can see that in September of 2020 our MRR was $5,972.
That was when I realized that continuing to sell only the Amazon reseller playbook wasn't going to propel Flowster's revenue high enough to achieve my goals.
To see why, read this post.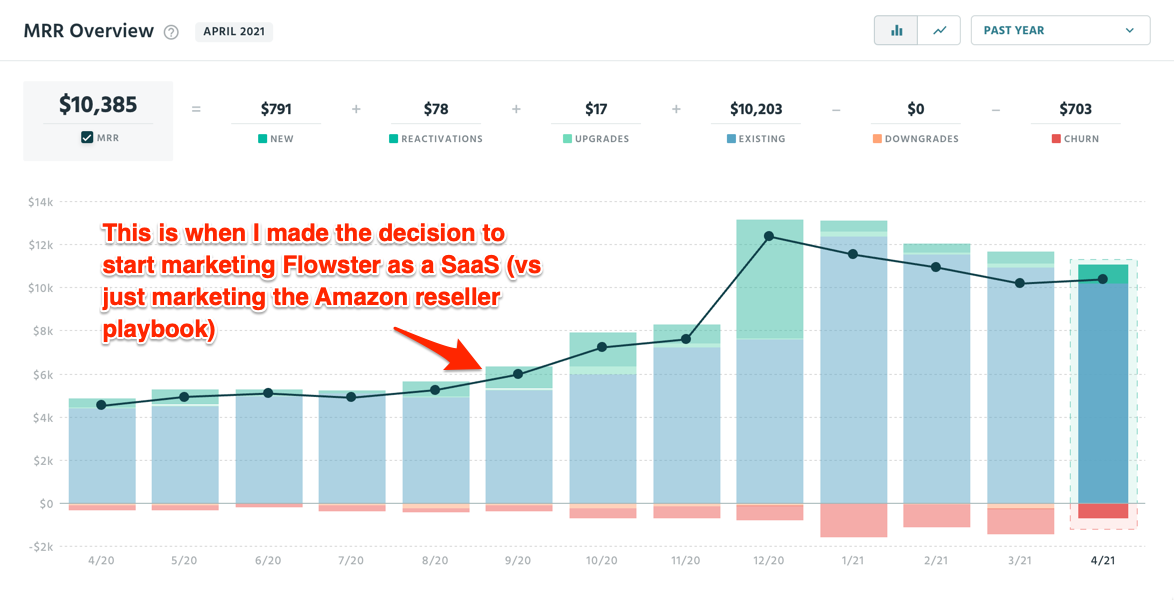 For this reason, I consider Sept 2020 as the "start" of Flowster's journey.
Sept 2020 was also the date that I decided to put 100% of my focus into growing Flowster vs devoting that energy to my other two businesses.
As of today, we have $10,341 in MRR with 370 customers – a far cry from our goal of $100,000 in MRR.

As you can see, we are in the same place as a lot of other founders: in transition.
As Marc Andreesen puts it, the life of a startup can be divided into two parts: Before Product/Market Fit (PMF), and After Product/Market Fit.
"When you are BPMF, focus obsessively on getting to product/market fit. Do whatever is required to get to product/market fit. Including changing out people, rewriting your product, moving into a different market, telling customers no when you don't want to, telling customers yes when you don't want to, raising that fourth round of highly dilutive venture capital — whatever is required."

Marc Andreesen, VC
Back when we first offered our Amazon reseller playbook and sold $400,000 worth of it in the first week, I thought we had achieved PMF.
The truth is that I was only partially correct.
Yes, for that playbook, we'd achieved PMF, BUT for Flowster, we had not because customers weren't signing up to use Flowster per se.
Instead, people were becoming Flowster customers only because what they really wanted was the Amazon reseller playbook – and to get it they had to become a Flowster customer.
In my last post, I wrote about the first experiment that we performed with this customer cohort, why it was a failure, and what we are working on to fix this problem.
While this cohort of solo-preneurs is not our only cohort, at this point in time, it is our largest cohort.
Our challenge now is to figure out how to attract a cohort of customers that are willing to pay for Flowster on an ongoing basis.
To help solve this problem, we are running all sorts of experiments as we speak. I will report on the results of these experiments in future posts.
Here's what I know for sure at this point: when we ran the Product/Market fit survey pioneered by Sean Ellis, the results confirmed that we have achieved product/market fit (PMF) for most of the users we have so far attracted.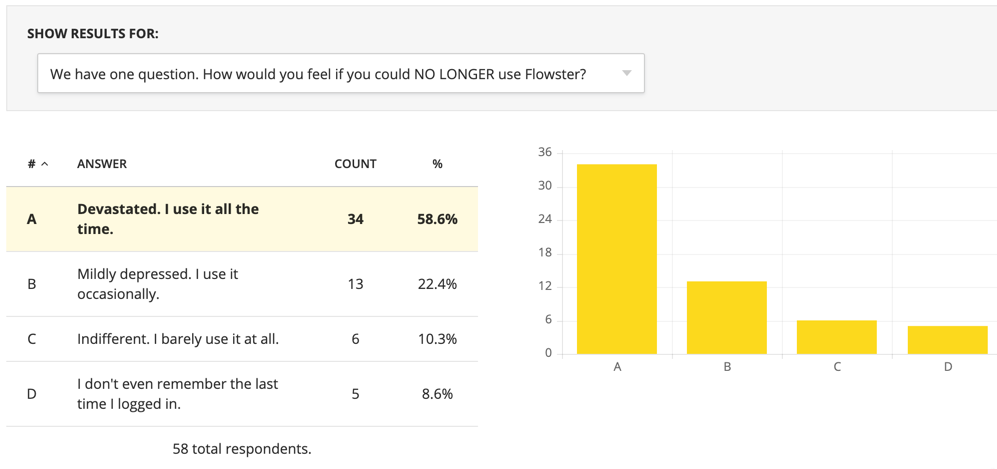 "If you find that over 40% of your users are saying that they would be "very disappointed" without your product, there is a great chance you can build sustainable, scalable customer acquisition growth on this "must have" product."

Sean Ellis
We were on our way to product/market fit….but it was far from smooth sailing.
Here's why…
Unlike most SaaS apps where customers value the features & functionality of the software, a huge part of what customers value when it comes to process management software is having access to an extensive library of pre-made process templates.
The reason for this is simple: creating processes from scratch takes a lot of time.
A process management application without any pre-made process templates is only going to appeal to the most hard core process junkies.
These "process junkies" are the people willing to invest the time needed to create their own processes from scratch.
To solve this problem, we are continually adding new process templates to our template marketplace, plus we are also creating new premium playbooks (larger collections of related process templates) like our Outbound Marketing Playbook.
Side note: we are planning to offer a "done for you" process creation service at some point soon, so if you would like to speak with me about that, please either schedule a call or send us a note.
What You'll Learn
Starting with our next post, I'm going to share all the nitty gritty details on how – exactly – we got to where we are today and what we are working on to move forward.
Here's a quick summary of what we are working on, and what I'll be writing about next:
How to build a content engine that allows me to publish hundreds of social posts per week without having to invest more than a 1/2 day per month
How to build a funnel that segments and qualifies all our leads and then routes them to the appropriate webinar so they see the right offer
How to continue to scale our SEO with Power Pages
How to improve our UI and UX so that we further reduce churn
If you'd like to follow me on this journey, be sure to subscribe using the form below, as well as follow me on Twitter, LinkedIn or Instagram.


Sound interesting to you? I'd would love it if you left a comment, shared this post, and/or signed up to receive email alerts of future posts.
If you have a collaboration idea, please connect with me on LinkedIn.
Thank you so much!